How to Choose the Best Kitchen Island Lighting?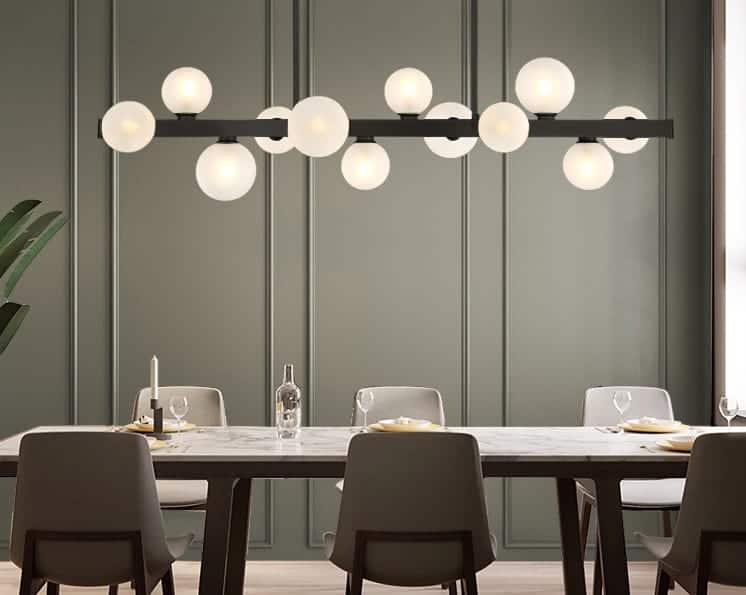 Top Best Kitchen Island Lighting Based on Reviews and Price
Last updated on January 24, 2022 5:11 pm
Why Kitchen Island Lighting is Important?
The kitchen is one of the essential rooms in the house. Perhaps, it is only the place for prepping meals. But we all know that it serves many more purposes than that. It is a multi-purpose space where many activities take place. Sometimes we got a visitor over a cup of coffee. Other times, we need to complete some craft projects, and the kitchen's island is the perfect space. In any case, you get the idea!
Here is a series of tips and recommendations that can help you choose the best island lighting for every type of activity.
Top 10 Factors to Consider When Buying Kitchen Island Lighting
For starters, you might consider the level of brightness you need for your typical activities. That opens the first question:
#1 How Much Brightness is Enough?
The light (brightness) that comes out from the bulbs is measured in lumens. How many lumens your bulbs need to produce depends on the area they need to cover. To put it simply, more lumens mean brighter light and vice versa.
For example, if you often cook detailed baking projects, you will need the area to be quite bright. That typically translates to 30 lumens per square foot. Let's say that your kitchen island measures 3 x 7 feet. That comes down to a total of 21 square feet of space. 30 lumens multiplied by 21 square feet of space equals to a total of 540 lumens.
However, not all kitchen islands are the same size. Make sure that you measure your kitchen island first before you calculate the needed lumens. It is a simple equation; just multiply the square footage of the kitchen island by 30.
#2 How Many Lights to Use?
Determining the number of lumens is one thing; figuring out how many light bulbs you need for even distribution of light is another. As a general rule, 50 to 75 watts of lighting is recommended for every twenty inches of kitchen island space.
Ideally, the light source needs to be centered, or if there are multiple light fixtures, they need to be spaced evenly.
#3 Types of Pendant Lights
There are thousands of designs and styles, but there are only four prevailing types of pendant lights: accent, decorative, task, and ambient. Before choosing, it is best to know your options and their primary purposes.
They are mainly used to highlight a specific area like an ornate shelf or some piece of art. Accent lights are not often used as kitchen island lighting unless you have a unique countertop, and you want to emphasize its appearance.
Similar to accent lights, task lights are also used to illuminate a particular area. The idea is not to illuminate some aesthetically pleasing area, but one where you can complete a specific task. This type of fixture can provide direct light downward over the area where the task will take place. It creates a perfect spotlight that will help you complete even the most complex tasks. Plus, if the fixture comes with a dimmer, the user can modify the brightness.
Decorative lights can produce impressive ceiling shadows, especially if the kitchen has high ceilings. Now, if you want to increase the visual appeal of your kitchen, decorative lighting might be the right fit for you.
One of the main reasons why many people use ambient lights in kitchens so often is because they can make the room appear much bigger. They are capable of brightening the entire room, but the light fixtures need to be evenly spread so that there is uniform lighting.
This type of light is mounted inside the ceiling and doesn't hang down. The primary reason why people use recessed lightning because light spreads equally in all areas, as well as it is visually pleasing. It is the type of lighting that can make a certain area feel bigger and wider than it is.
#4 Hanging the Pendant lights
Choosing the right type, the right lumens, and the number of light fixtures, all that matters a lot. The same way, the proper installation matters, too. Here are the key factors to proper pendant light installation.
Ideally, pendants need to hang 11 to 20 inches below an eight-foot ceiling. If the ceiling is one foot higher, three inches are added to the pendant's length. If the ceiling is two-foot higher than six inches, are added. It is a simple mathematical progression, for each foot of ceiling, you add three inches.
There is another way to measure the pendant height – from the countertop to the light. In that case, the height needs to be from 30 to 36 inches.
Another criterion is that the pendants are set at a height that doesn't block views in the kitchen.
Adding switches and dimmers is a smart move as it allows the user to adjust the light to suit a particular mood or task.
#5 A Touch of Style
So far, we've touched only the practical aspects of kitchen island lighting. Now it's time to include the aesthetic aspects of choosing the proper lighting – the style. Pendant lights can be made in various styles, from ultra-modern to rustic vintage. There is a massive selection of styles to choose from.
Pendants featuring clear glass evoke elegance and class, same as retro-style globe pendants that are an excellent choice for a smaller kitchen. They are best suited for traditional kitchens as they won't overwhelm the space.
Then there are the industrial style pendants that bring a taste of muscle which strangely fits well in both traditional and modern kitchens. Copper lights also achieve the same effect, and it is fair to say fall in this style category.
Chandeliers are quite rare in kitchens, but when they are used, they tend to soften some of the hard lines within the kitchen. Some even think that a chandelier adds a feminine touch to space. For example, a black chandelier will suit nicely over a black granite worktop. Alternatively, a French-style chandelier can evoke an eclectic appearance.
#6 Consider the Rule of Three
The rule of 3 can also fall in the style category as it has to do a lot with appearance and design. Anyone with some background in design knows that to achieve a balance, you need to repeat elements three times. In the case of kitchen islands, that's three little hanging lights.
But if it is a smaller kitchen, you can consider hanging two larger pendants instead of three. Even though it is a deviation of the rule of three, it still works, and the balance is maintained.
#7 Keep Things in Proportion
As a general rule, the bigger, the better. Therefore, don't shy away from the prospect of selecting big pendants, regardless of the size of the island.
The thing with oversized light fixtures is that they tend to bring some drama to the kitchen, especially if the space is neutral. Very easy, the pendant can be turned into the focal point of the kitchen.
In the case of multi-level counters, it can be quite interesting if you add hanging pendant lights set at various heights. That alone can create quite a dramatic effect. As mentioned earlier, pendants are hung from 30 to 36 inches above the counter. The multi-level counter gives you the flexibility to combine with the height of the pendant.
#8 Consider Pendant Shades and Accessories
Most pendant shades come in metal, fabric, and glass. Some pendant lights are sold separately from the shade. That gives you the option to choose from what's available so you can mix and match.
Some of the most wanted pendant light shades on the market include:
Polished chrome
Linen
Tiffany-style glass diffuser
Frosted Glass
Burlap
Oil-Rubbed Bronze
Colored Glass
Smoked White Glass
One of the best ways to bring additional flair is to add a decorative ceiling medallion. This is a typical accessory for pendant lights that will breathe something new to the kitchen space. Matching wall plates are also commonly used to enhance the pendant lighting fixture.
#9 Assess Your Décor
Visualize your space and start thinking of pendant fixtures that will fit in it. This is something that all interior space designers do when designing a new space. Once you get some idea of what will fit most, start searching online.
Pendant lights in brighter colors bring elegance to any space but are somewhat more challenging to clean. On the other hand, pendant lights in darker colors tend to evoke a more dramatic look and are much easier to maintain clean.
#10 Line Voltage or Low Voltage Pendants?
Low voltage pendants, on average, come with smaller bulbs, which is excellent if space is an issue. Furthermore, they are a top choice if you are interested in keeping their operational costs low. The line voltage pendants are better if you are searching for stronger "task lighting".
To Conclude
One of the best things about kitchen island lighting is that there is no shortage of ideas. They are made in almost any known style, size, and material. What you choose depends on your personal preferences, kitchen decor, and kitchen island size.
---