How to Choose the Best Built-In Grills?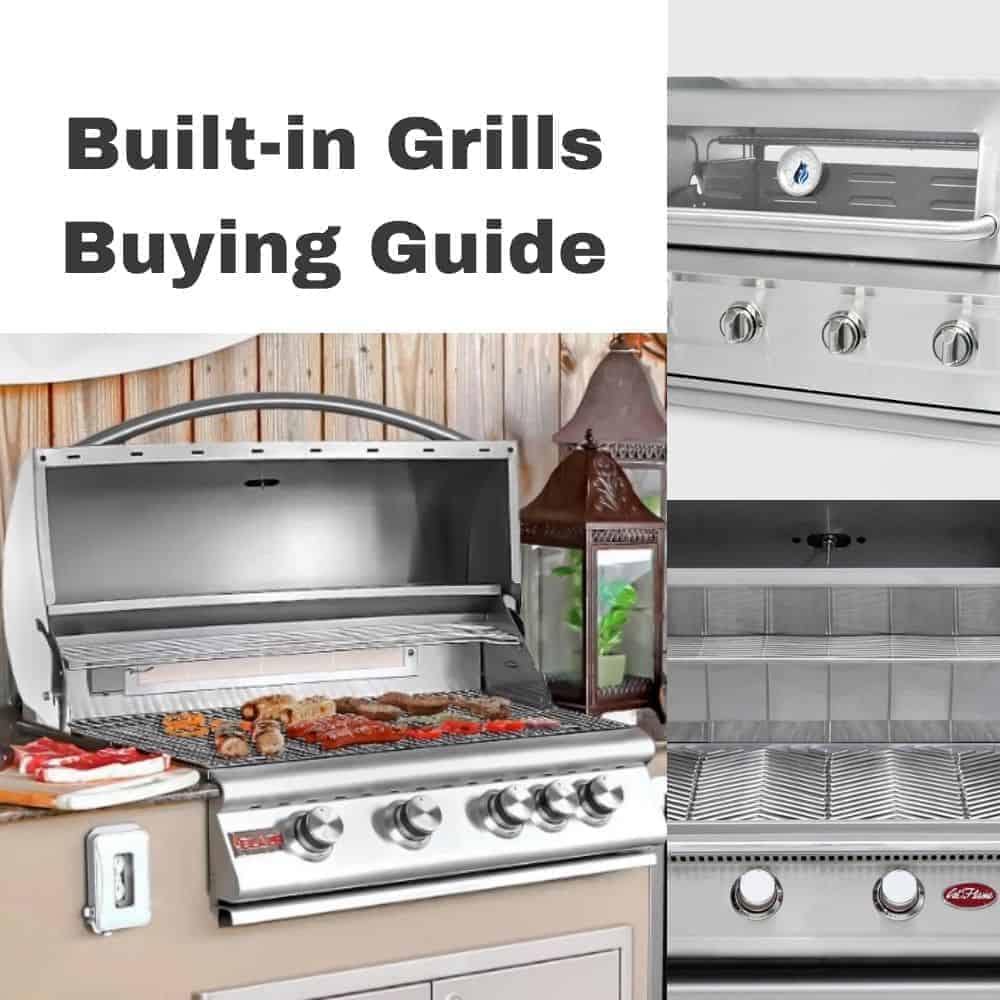 Top Best Built-in Grills Based on Reviews and Price
Last updated on July 31, 2021 1:18 am
How to Choose a Build-in Grill?
Grilling food is a form of art, and certain people can't be persuaded anyway else. However, most people don't care about the process of grilling and the importance of the grill. All they care about is the final product, how it tastes, and its quantity.
But, if grilling is your thing and you enjoy grilling as much as you like seeing people enjoying your food, you know how important the grill is.
Here is a guide in the fine art of choosing a built-in grill. The idea is to help you make the best possible choice while considering all the essential factors. Therefore, instead of relying on reviews and recommendations, the selection can be based on some key features.
So, here is what you should consider most when choosing the best possible built-in grill.
10 Things to Know Before Buying a Built-in Grill
1. Gas Grilling vs. Charcoal Grilling
Grill masters have had this debate since ever. Here are their main arguments.
Gas grilling requires a natural gas line or a propane tank to be connected as a fuel source. There are several advantages of gas grilling over charcoal grilling. Some of the most notable benefits include ease of use, easy to clean, the ease of maintaining temperature, and so on.
Plus, many of the gas grills come with handy features like electronic ignition to get the grill going right away, sear plates that can reach high temperatures very fast, infrared burners, side burners, and so on.
These types of grills are less mechanical than their gas counterparts. Food is cooked on a grate placed over burning charcoal. The heat is controlled by the amount of charcoal, the airflow mechanism, and its placement in the grill. The more open the airflow, the more air enters the grill, and the charcoal can burn at higher temperatures.
One of the biggest advantages of charcoal grilling over gas grilling is the unique flavor. The smoke that comes out as a result of the food drippings creates a distinctive and deep taste that cannot be matched by any gas grill.
Unlike gas grills, there is no chance for the ignition to fail, rust on the burner shields, or the burners to clog. The charcoal grills are quite simple, and there isn't much that can go wrong.
2. Consider the Size of the Grill
Typically, the cooking area is measured in square inches. For example, a three burner grill requires 450 to 500 square inches of cooking space. Generally speaking, that's more than enough for an average household. On the other hand, a larger family might need a grill with five or even six burners. A grill like that will need somewhere between 550 and 650 square meters of cooking space.
Furthermore, the footprint of the grill should also be taken into consideration. Many grills come with side shelves that can be collapsed or removed. One of the safety measures is that the grill is located two or three feet away from the house, or anything combustible.
If the grill is to be fitted on a patio or a deck, make sure that they can accommodate it. You don't want to get into redoing your patio or deck just to accommodate your grill.
3. Cooking Grates
There are three types of cooking grates, and each of them offers a unique grilling experience. The three types of cooking grates are stainless steel, cast iron, and coated aluminum.
The popularity of cast iron grates is on the rise in the last few years. They are somewhat less conductive than aluminum but can retain heat better than anything else. As a result, they can provide consistent temperatures. Other than that, sometimes they crack due to thermal shock, and its surface area can be damaged over time.
This is the most common type of cooking grate. Aluminum is an excellent conductor of heat but is less durable than stainless steel or cast iron. As a result, this type of grates can become brittle and can lose their enamel finish after some time.
This is by far the most durable material, easy to clean, and is resistant to corrosion. On the downside, its conductivity is not as high as in aluminum, nor can it retain constant temperature as well as cast iron.
4. The Impact of Grill Design
The grill design can have a profound effect on cooking performance. Inconsistent temperatures, uneven heat distribution, sudden flare-ups, all that can baffle even the best grill chefs. The way some grills are designed helps minimize those deficiencies and can potentially lead to much better-prepared food.
Flare-ups can be a good thing as they can lead to high temperatures, which are great for blackening and searing the meat. But if the flare-ups are uncontrolled, it can cause the food to burn, or even start a grill fire.
Features to Minimize the Risk of Flare-ups
Ceramic briquettes placed on the bottom of the grill can absorb juices. That way, there are no flare-ups. On the downside, they need to after a while because they can retain odor.
Burner shields can shield the burner from dripping food juices. of some metal and are very effective in shielding the burners.
Burner ports that on the sides, instead of on the top, can prevent flare-ups and reduce clogging.
Features to Retain Heat Distribution
If lower in the grill, it is much easier to maintain. The cooking temperature remains consistent and evenly distributed over the grid.
A series of ceramic rods located just below the cooking grid is also helpful with heat distribution, as well as to minimize flare-ups.
Metal shields are also great for even heat distribution as well as for reducing flare-ups.
Other Features to Improve Heat Distribution
High BTU burners that next to the cooking surface area is perfect for even temperature distribution. Thanks to them, the proper temperatures can be achieved for excellent searing.
Grills featuring three or more burners can for indirect cooking. For example, place a fish at the center of the grill and turn off the center burner. Then turn the right burner on low, while the left one on high. That will create a convection-like grilling. As a result, you will eat fish with a much-enhanced flavor.
5. BTU
One must always pay attention to BTU (British Thermal Units) output of the grill. It measures the entire heat output from the burners. The higher the number, the better.
6. Number of burners
Most built-in grills have three or four burners. Some grills even have five burners. That means you can have differently heated temperature areas for different dishes. For cooking fewer amounts of food, you just need to turn on the half number of burners.
7. Lighting
Nighttime grilling can be a fun experience or a nightmare if you can't see what's where and how cooked it is. Some barbeques come with bright halogen lights, while others with smaller LED lights.
8. Storage
Typically, two access doors cover the main and biggest storage areas. That's where the propane tank is kept and/or the drip tray. The size of the storage space and how it is accessed can largely vary from one to another model. The most premium grills feature pull-out drawers.
9. Searing Zone & Rotisseries
The searing zone features a powerful burner that can reach high temperatures very fast. As a result, the meat gets blackened and crusty.
A rotisseries motor can be easily mounted on the grill and can deliver evenly distributed heat for consistent cooking. Many of the models come with a counterweight for even turning and balance.
10. Smoker Box & Side Burner
Grilling purists will always stick with charcoal grilling. However, more and more grilling enthusiasts turn to smoker boxes to enhance foods with a unique smoky flavor. The burning chips generate smoke that can captivate the food while the food is grilled.
They are ideal for making sauces and side dishes. They can also maintain low heat and keep the food warm until it is served.
Wrapping It Up
Armed with the knowledge obtained here, you can bet on the fact that you can make the best possible choice. That is the only way not to depend on reading reviews, advice from other people, or spending hours and hours researching.
Once you identify a built-in grill you like and fit your needs, make sure that you get at least a one-year warranty. Most of them come with at least a one-year warranty, while some brands offer two or more years. But keep in mind that a warranty can cover some or certain parts only.
Last but not least, maintenance is an essential factor to consider. Every grill needs to be adequately maintained and cleaned after every cooking session. Therefore, one needs to open the issue with the seller before making the purchase.
The salespeople can explain what it takes to maintain it properly, how demanding the process is, and how to do it properly. The thing is, in terms of maintenance, there can be a huge difference between any two given grills.
---
Rate This Article