How to Choose the Best Cheese Board?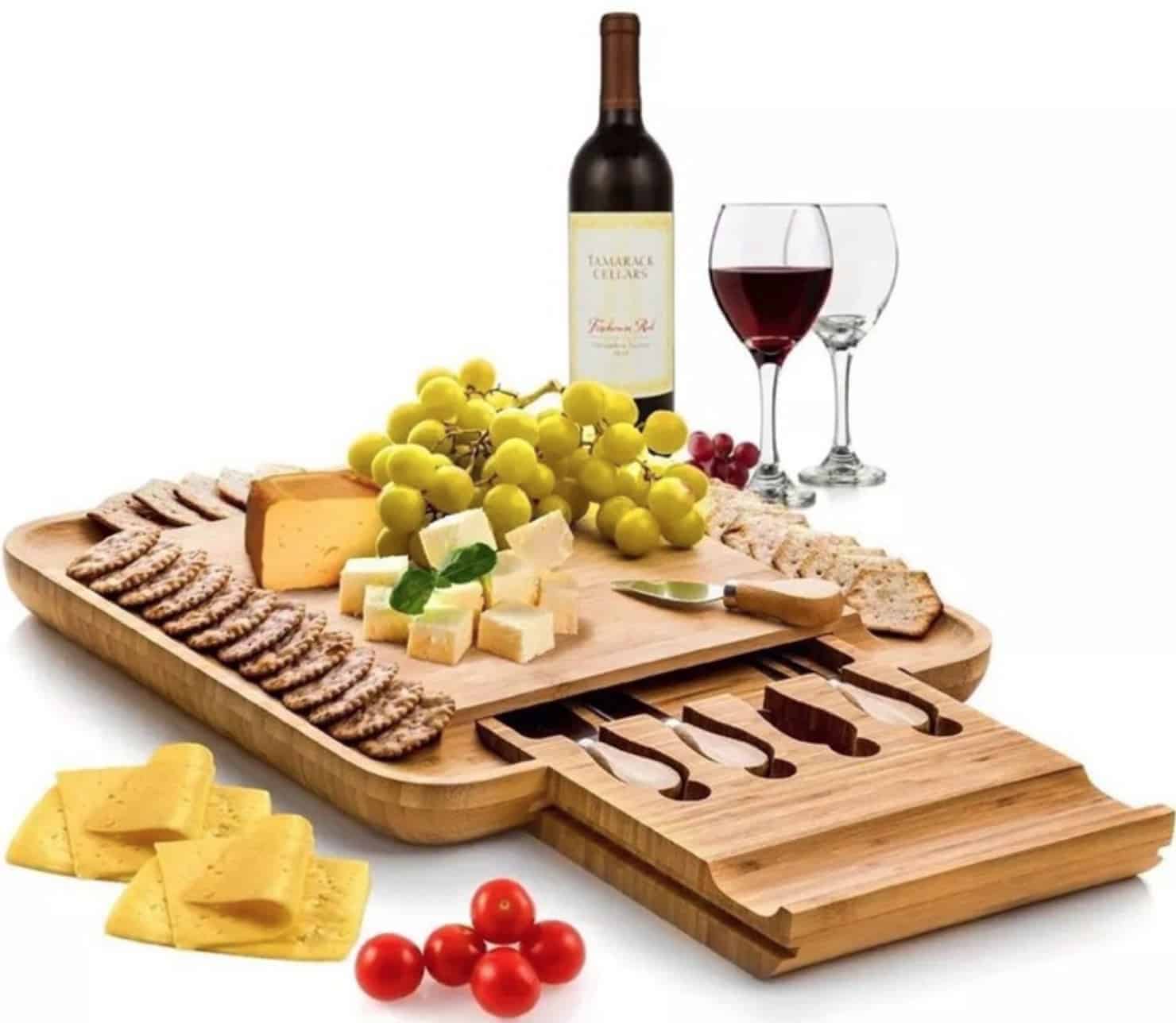 Top Best Cheese Board Sets Based on Reviews and Price
Last updated on January 23, 2021 9:29 pm
What is Cheese Board?
Cheeseboards, also called cheese platters, are the perfect way to give your guests a treat. There are quite a lot of flavors and textures you can choose from. Thus, there are lots of recommendations for building your cheeseboard.
What varieties of material to choose from? How do you arrange the cheese on the board? With what food should you accompany it? Which wines are more appropriate in each case? There are many questions that assail us when choosing and preparing a cheese board at home.
In fact, having a serving of cheese is an art. It is a skill that is cultivated and learned over time. However, for you, it will be as easy as reading this post. All you need do is follow this in-depth guide on choosing a cheese board and the art of choosing the servings.
9 Factors to Consider When Choosing a Cheese Board
1. A Beautiful Wooden Board
For your cheese platter, choose authentic materials. There's nothing like a beautiful wooden tray that warms to perfection. Slate trays and wicker baskets are also a great alternative. The idea is to feel the rustic side of the food.
Do you want to emphasize the practical side? Opt for a swivel tray. In this way, wherever they are at the table, your guests will easily reach the piece of cheese that catches their eye.
2. Cheese Knives
While choosing your cheese board, the common accessories are the cheese knives. These are a necessity in products of this type. However, it's not uncommon to see models with no cheese knives. There is quite a variety of knives. And, ordinarily, each type of cheese needs a different knife.
Here's a guide on what knife is good for each cheese:
Longer knives for soft cheese: For cheeses like Camembert and Brie, the long knife which has a forked tip is recommended. This can also double as an effective spreader. The small round knife can also be used on soft cheeses as a spreader.
Pointed forks for aged cheeses: These forks are perfect for cutting harder cheeses, aged cheeses such as Parmigiano and Cheddar and blue cheeses such as Stilton. They're also useful for transferring cheese to individual plates from the platter.
Shovel-shaped flat knives: These types of knives can be used to cut cheese into slices or cubes. They can also be used as spatulas for transferring cheese into a plate.
3. Cheeses to Choose
To make a good cheese board, it is important that there is a wide range of cheese varieties. Between 4 and 6 cheese varieties could be fine. In addition, it would be advisable that, at least, there was an easy cheese to recognize (Brie, Manchego, etc.). One option would be, for example, to choose cheese from each of the following categories.
Aged cheeses: Comté, Gruyere, Zamorano, Dziugas, Manchego, etc.
Soft cheeses: Brie, ricotta, feta, Camembert, cotija, Munster, Saint Felicien, Pont Leveque, Chevre, panela, Roquefort, gorgonzola, etc.
Hard cheeses: Parmesan, Appenzeller, Payoyo, Canestrato, Pecorino, etc.
Blue cheeses: Stilton, Gorgonzola, Roquefort, Cabrales, Montagnolo, etc.
Another option would be to assemble the board with cheeses made with different types of milk (goat, sheep, cow, etc.). Or, also a natural alternative; prepare it according to the area of ​​origin (for example, a board of American, Spanish, French or German cheeses.)
A goat cheese: Chabichou, Anari, Blue Rathgore, Banon, Ste-Maure-de-Touraine.
A sheep's cheese: Manchego, Feta, Roquefort, Ossau Iraty.
4. Number of Cheeses on the Board
Depending on your wishes and the number of guests, offer a range of cheeses that will delight the taste buds of your hosts. By selecting a cheese from each category, you will get a rich and varied cheese platter. Your cheese board should contain at least three varieties of cheese: hard cheese, creamy cheese, and strong cheese. A Comté, a Camembert and a Roquefort will do the trick.
Do you prepare a multi-course meal and have few guests at your table? You can then consider serving a unique cheese: Comté, of course! You can have about 50 to 60 grams of cheese per person.
5. Decorations for the Cheese Platter
The next step or tip to having a complete and more than the run-of-the-mill cheese board is to garnish it with decorations. It must be pleasing to the eye. Presentation is important and an integral part of pleasure. A few vine leaves or wheat stalks will be beautiful. You can also add figs, grapes, nuts or a few dried fruits to make your cheese platter completely delicious.
Add a nice little jar of jam, some cooked prunes, and a little compote. Then vary the texture of the accompaniments, and your cheese platter will be all the more enticing.
6. The Accompaniment
Bread, cookies, figs, raisins, fruits, and nuts are the perfect accompaniment for cheeses. Going a little more to the particular, we can say that the loaves of bread and cookies go well with soft cheeses.
You can have the seed with goat cheeses; hazelnuts, almonds or walnuts, with cooked pasta cheeses (Comte, Gruyere, Marianne, Appenzeller, etc.); and almonds and cashews, with aged cheeses.
Plums, blueberries and dried apricots can also pair with all kinds of cheeses. They enhance the flavors without masking them.
You can serve just bread with your cheese platter. For the choice of bread, there's a piece of advice: follow your desires! Pistolettes, chopsticks, wholemeal bread, etc., let your imagination run wild! It's your call! How about you toast a few slices of bread before serving. Your guests will love it! For a more substantial cheese meal, add a few cherry tomatoes, a salad dressing, olives, and dry sausage.
7. The Placement
A good option is to place the cheeses on the board, from the softest to the strongest, in a clockwise sense. Start from the softest, with the last one on the circle being the strongest. Do not forget that they have to be accompanied by cheese cutleries.
8. Cheese at Room Temperature
It is advisable to serve cheeses that are of room temperature. In summer you have to take them out two hours before consumption out of the fridge, and in winter four hours earlier. Preferably, the temperatures should range from 67 to 70°C. Thus, you will discover all the nuances that cheese offers us.
When cheeses are served while they're too cold, then there's the risk of muting the flavor and general taste. If they have not been able to come to room temperature, a trick (only in case of 'emergency') is to heat the plate or board where you are going to serve them.
To store them in the fridge, it is best to do it in a transparent film. And when is the best time to serve the cheese platter? Well, the cheese platter is best served at the end of the meal.
9. Wine Pairing
Wine always goes along with cheese. However, there are no fast rules here. Do you want to favor ease and consistency? Do not hesitate to keep the same wine as the one you usually serve during the meal. Otherwise, serve wine with more intensity. Although there will be pairing issues, personal taste should always prevail.
There are harmonies that usually work very well. The Chardonnay will go well with a new Comté, predominantly lactic. Fruity Comté will go well with a distinctive white wine. As for the Yellow Wine, it will go wonderfully well with an aged Comté.
Strong blue cheeses also match very well with dessert wines such as Porto, Tawny, Oloroso, Pedro Ximenez or Sauternes. The soft ones match with white wines fermented in wood or with natural cider. The traditional hard cheese goes with craft beers; and astringent or very spicy wine, with liquors, or spirits.
Wrapping It Up
The holiday season is still long but fast approaching. It will soon be time to take out balls and garlands of light to decorate the Christmas tree. Confetti and party favors will energize New Year's Eve, and in the kitchen, the blue strings will activate to prepare the traditional turkeys, zakuski and other gourmet dishes.
Asides the end-of-the-year festivities, birthday parties, and other events will come. In order to surprise your guests, you have decided to serve a nice cheese platter, just after the main meal. Great idea! The cheese platter ensures a very nice transition to dessert and will delight your guests. But beware: to get a flawless finish, making a cheese platter requires a little effort and a touch of imagination.
A nice cheese platter, between the main course and the dessert, is as rustic as it is appetizing. But which type of board and cheeses to choose? And what garnishes do you need for your board? We have served you a few tips on a silver platter! They will help you choose a cheese board and the cream of the crop cheese content.
---
Rate This Article