How to Choose the Best Charger Plate?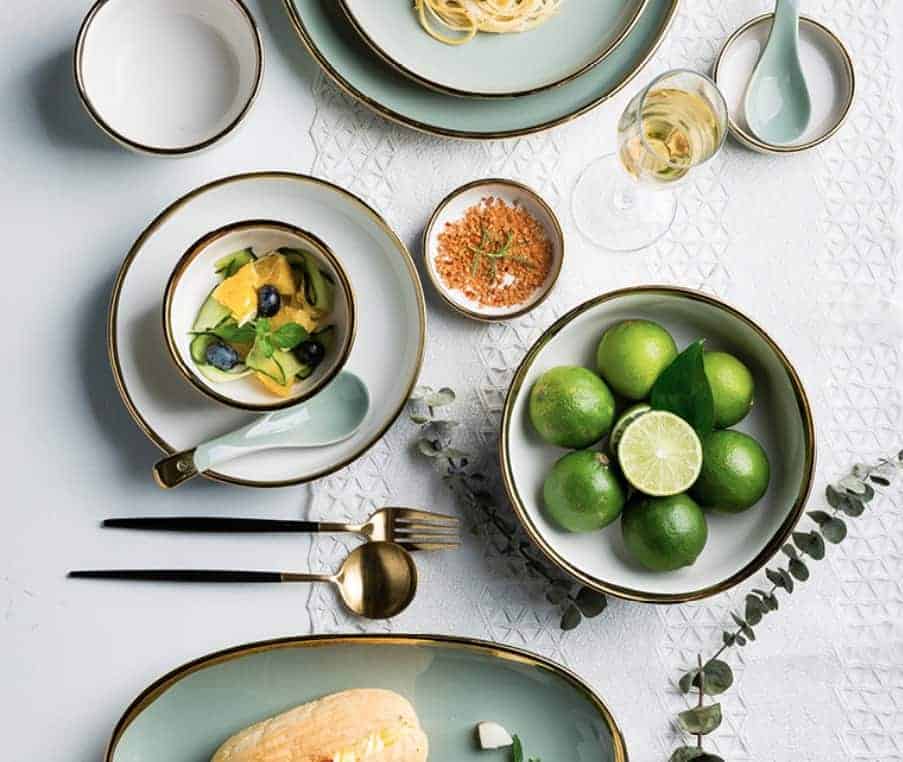 Top Best Charger Plates Based on Reviews and Price
What is a Charger Plate?
Charger plates, also called service plates, chop plates, or under plates, are decorative bases on which dishes are placed. They are often used during formal occasions like banquets, weddings, upscale parties, and other catered events. Charger plates are also used in restaurants, especially for dinner servings. They are not meant for direct food servings for safety reasons.
However, asides from the decorative effects they offer, they are used to prevent food crumbs from falling to the tables. Chargers are available in different materials, sizes, number of packs, and sold at different prices. Follow this guide to know which one fits your occasion.
Why Do You Need Charger Plates?
Do you have an upcoming social event (whether indoor or outdoor) like a party, get-together, banquet, etc. which will require food servings? Asides the table cloths on the dinner tables and the flower vases, charger plates are really decorative ware which you can take advantage of. Asides this, you can use stainless steel or rattan chargers to pass foods around. Hence, they serve both functional and decorative purposes.
7 Things to Consider Before Buying a Charger Plate
1. Different Types of Materials Used
Charger plates are available in different materials, both inaccessible and high-end materials. Among the most popular are:
Acrylic plate chargers are durable, attractive, and strong. They help keep foods fresh and hot in their plates. These chargers are available in different shapes, finishings, and designs, from gold, silver, red, black, to copper. The most used finishing used for these types is lacquer. Acrylic charger plates are excellent additions to restaurants and other hospitality businesses that are renowned for their many course meals.
Charger plates with chrome materials are the best if you want attractive, smooth, and sleek service plates. Although a bit pricey than other regular materials, chrome charger plates deliver unequaled freshness and modern look to restaurant dishware. The solidity, smooth color, and fine coating give each plate a mirror sheen. They are a great addition to high-class restaurants. They are ideal for appetizer dishes, and as large platters.
Wood is a pervading material which can be found in our homes and even among the kitchenware. As far as charging plates are concerned, there are many varieties made of both original, natural, and faux wood. Of the most popular wooden charger plates are those made from baroque wood, mango wood, bamboo wood, and Walnut materials. They can have scalloped, swirled, and various designs and colors.
These designs bring elegance as well as rustic, natural, and decorative appearance to each dining table. For DIY minimalists who want simple styles without many efforts, cleanly-sliced tree stumps in their natural form (with no treatments) are also an option. They are suitable both for indoor and outdoor uses.
As its name implies, faux wood is an imitation wood material. When you choose these charger plates, what you get is a pack of unique and rustic set. These types of chargers are actually made of plastics or melamine resins. The upside is that you get the advantages of two materials in one – the elegance of wood and the low cost, water resistance, and lightness of standard plastics and melamine.
The main advantage of glass charger plates is that they can feature various rim designs, shapes, styles, finishings, and colors. They offer sleekness and elegance. They are great for modern indoor styles. The edges can be scalloped, beaded, have foil or gold rim, or reef edge designs. They are high-end chargers but, thanks to their elegant look, they will imprint a lasting impression on customers and event-goers.
Standard plastic and melamine serving boards are great if you're planning to have a banquet dinner. Available in low, medium, and high-end prices, you can get wholesale plastic chargers with different colors and styles. Plastics can be used to imitate wood. Their advantages include elegance, durability, resistance to heat, chips, and scratches.
What are the reasons to choose porcelain chargers? First, they are made from natural materials. Then, it is very resistant to wears and moistures and is more durable than those made of ceramics. Also, they're very easy to maintain; they are beautiful; they are ideal for frequent uses, and are offered in a variety of styles. They retain food temperature and make food stay fresh. They are available in both round and square shapes and different colors. Hence, you can find the right case that fits into your indoor decor or outdoor setting.
Another natural and rustic material, rattan is also great as a charger plate. Due to its non-chemical composition and finishing, it is the most safe-to-use charger plate. The symmetric weavings are usually of great attraction. They come in earth-tone as well as white, orange, or milk colors. You can pick from these colors for matching indoor and outdoor decorations and style. They are perfect for scenic outdoor settings around natural elements.
If you want chargers with exceptional strength and durability, choose those made of stainless steel. Asides from this, stainless steel materials are easy to maintain and rust-resistant. Although they don't have a lot of aesthetic effects, they look sleek and have a polished finish. Therefore, they are befitting for contemporary or modern restaurant decor style. In addition, they are also great for use at home. Due to their polished finishes, they are safe for direct contact with food. Hence, they can be used to serve fruits.
2. How to Choose the Right Size?
Charger plates are needed for decorative purposes. So, they must stand out at the base of your dishes for them to serve their purposes. Also, they are used to keep food crumbs off the table clothes or dinner tables. Therefore, their sizes are important. The standard size for charger plates is 14 inches in diameter. While you may have more length, especially with squared plates, anything shorter than this standard is unacceptable.
3. The Relationship With the Color and Environment of Use
The criteria for choosing the best charger plates do not stop at the size and quality of the material with respect to the oven, microwave, and dishwasher use. Perhaps the most important criterion is related to the blend it has with the environment and its immediate setup. Choose charger plates that can complement or add to the room or outdoor style, without any contrast.
The charger plates must have colors, designs, and styles which will blend with the tablecloths, the dishes, and the natural environment.
Note that wooden and rattan materials are great for natural settings. Stainless steel, glass, chrome, and porcelain are however suitable for contemporary or modern styles.
4. Food Safety: What Type of Finishing or Material to Choose?
Charger plates are versatile serving tableware that can be used as platters or tray for the serving or passing around of desserts or small appetizers. However, we're often advised to place linen napkins or doilies on the top to prevent contact with foods. Specifically, many charger plates are not recommended for the direct serving of food. This is because of their unsafe chemical coatings which may be toxic to human health.
However, some natural and artificial materials are safe to use, even for the direct serving of food. If you want to enjoy versatility to the fullest, in order to use the plates for serving and for directly holding food, choose the food-safe materials or finishing.
So, what are food-safe materials? They are toxin-free materials. They are materials whose paints or coatings cannot chip off or seep into food, especially at hot temperatures. These are:
Glass chargers: Most glass chargers, especially those which are transparent, are free of toxins. It's preferable to choose those who don't have chemicals or paint finishes.
Rattan plates: These can be used to hold or pass around fruits. However, they are not dishwasher or oven-safe.
Stainless steel chargers: The sleek and clean polish of stainless steel chargers make them safe when they come into contact with food.
5. Is It Dishwasher Safe?
For uses in banquets, weddings, and other parties, you're going to need dozens or scores of charger plates, as well as other dinnerware. For easy and quick maintenance, you want to ensure you can put them in the dishwasher. But, unfortunately, not all materials of charger plates are dishwasher-safe. Ceramic chargers, or any plate with ceramic coating, are not safe for the dishwasher. Glazed ceramics are however dishwasher-safe. Crystals can crack in a dishwasher due to heat. Copper, rattan, and wooden materials aren't dishwasher-safe too. A list of dishwasher-safe materials are:
China/Stoneware
Aluminum
Glass
Plastics
Stainless Steel
6. Is It Microwaveable or Safe for the Oven?
Just as rattan chargers are not dishwasher safe, they are not also microwaveable. Asides rattan, plastic or melamine serving plates aren't safe for the microwave. Although most porcelain chargers are safe for the microwave, some aren't! These include porcelain plates that have additional decorative materials such as metal on the edges. Acrylic and polystyrene materials can also not go in the dishwasher. Stainless steel charger plates cannot go in the microwave. Don't choose this if you need a microwaveable type.
If you need charger plates which you can use in the microwave, choose models with the following materials:
Glazed ceramics
Glass
Melamine
7. Do You Want Eco-friendly Plates?
The word "eco-friendly" means many things. It's used to indicate that an item isn't harmful to us humans and our environment. Many serving plates are disposable. However, to save the planet, eco-friendly charger plates that are biodegradable (easily recycled) are great options to look at. These include disposable paper plates. Another biodegradable material is plastic. Bamboo and rattan charger plates are also eco-friendly, toxin-free, melamine-free, BPA-free, and biodegradable. However, materials such as glass are not eco-friendly. They will not biodegrade.
Conclusion
There are various criteria to consider if you want chargers plates that can fulfill your decorative and functional purposes. If you want elegant and highly decorative plates, choose those made of porcelain, glass, chrome, wood, and faux wood. If you want plates for a natural or rustic setting or style, the wood, faux wood plastics, and rattan chargers are abundant on the market. For a contemporary look, glass, crystal, and porcelain will give your restaurant and business a touch of class and modernity.
Finally, ask yourself if you want plates that are safe for direct food contact, the dishwasher, oven, and microwave. Then make the necessary choice as has been recommended.
---
Rate This Article