Top 10 Best Food Steamers Reviews and Buying Guide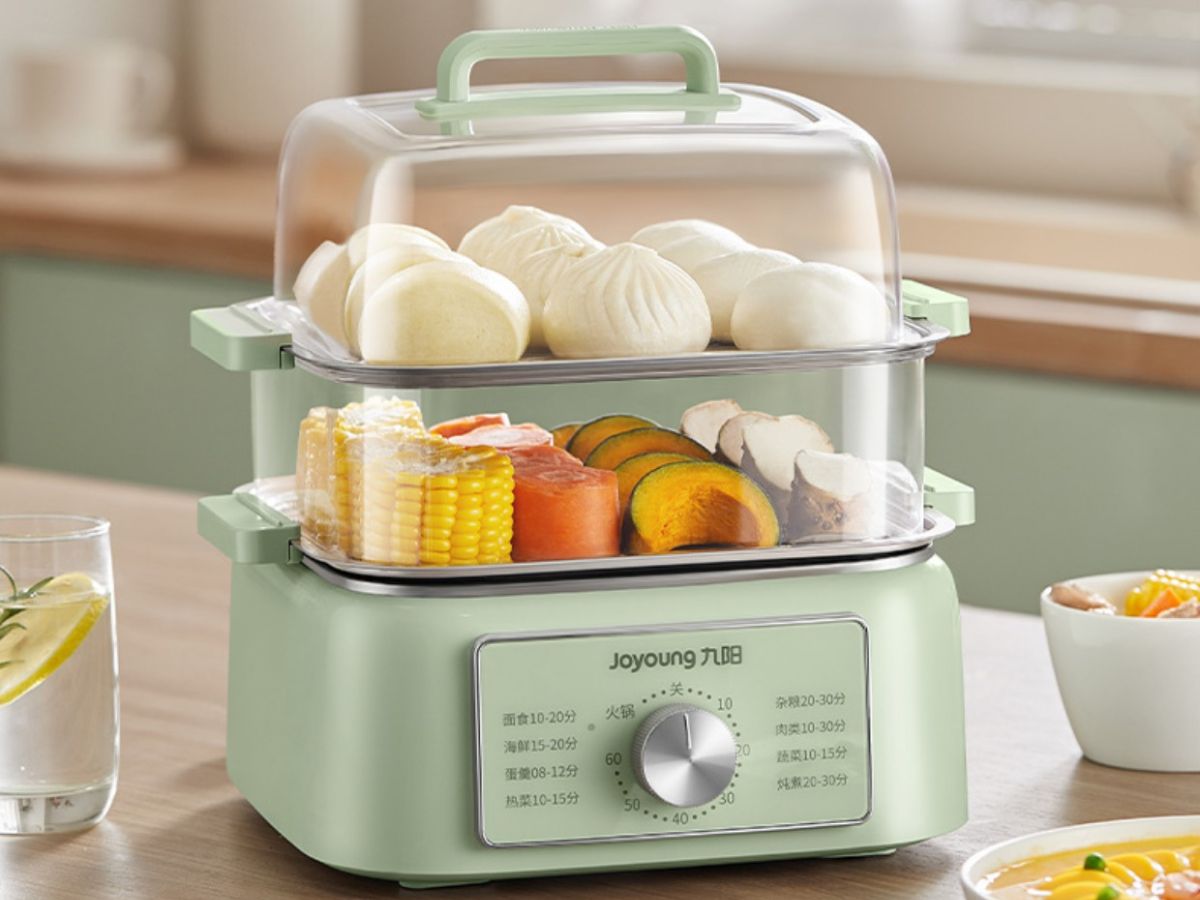 A food steamer is also referred to as a steam cooker. As the name of this product denotes, it is a small kitchen appliance that cooks food using steam heat. In this appliance, the food will stay in a closed vessel, thereby reducing the chances of steam escaping.
Steam cooking is always considered a healthy cooking option as compared to deep frying. So, you can think about buying a food steamer to improve the health of your family members. Further, steam cooking needs lesser supervision and saves much time as compared to other cooking techniques.
This incredibly durable food steamer has been made using food-grade stainless steel material. Further, it uses BPA-free material to make your dishes safe when cooked in it. The material is resistant to high temperature, impact and rust.
It is possible to engage in stackable two-tier steaming with this appliance. It has a non-slip upper lid knob, clear water line and anti-scalding handle.
Pros
Made using food-grade stainless steel material
Shuts-off automatically when no water is present
120 Volt and 60 Hertz electricity-operated
Comes with 800 Watt stainless steel steamer with an analog panel
For fast cooking, generates steam within 15 minutes
Cons
There is no indicator to know once the steaming is completed
This food steamer has been designed particularly for steaming baby foods. You can also use it as a sterilizer to sterilize your baby's supplies like a nipple, teether, etc.
It comes with a measuring cup to easily measure the serving sizes for your baby. The large capacity lid part of this unit ensures plenty of use of the steaming space.
Pros
It comes with a base with five easy settings
The built-in indicator will let you know once the food is cooked.
Comes with a cooking tray, a sterilizing tray, an egg cooking tray and defrosting trays
Ensures easy clean up
Large lid capacity makes sure that you can use this appliance
Cons
Comes with only a single rack and no double rack
This two-tier food steamer will help you with quick simultaneous cooking. You can cook vegetables, grains/rice and meat with a couple of stackable baskets. Along with an impressive 7.4 QT capacity, it offers boil dry protection and auto shut-off features as well.
Comes with a couple of steaming containers, a grain tray and a lid. All of these are dishwasher-safe for easy cleaning. It has a viewing window to ensure that there is enough water to complete the cooking job.
Pros
Impressive 7.4 Quarts cooking capacity
Comes with two separate steaming containers to cook two different food simultaneously
Comes with a water reservoir viewing window
Has a steaming guide chart embedded in the cooking unit
Dishwasher-safe trays for easy cleaning
Cons
Once set, the timer cannot be adjusted in the middle
The numbers in the rotary dial are hard to read
This food steamer comes with a 60-minute timer. Also, you can have a look at the food once every 15 minutes. The power indicator will let you know when the timer is up or when the water tank is empty.
With its 400-watt capacity, this unit can steam your favorite seafood, vegetable, eggs, meat and dumplings within minutes. It comes with two-stackable containers such that you can save two different food simultaneously, thereby saving a lot of time.
Pros
Comes with an adjustable time knob
Has power indicator lights
BPA-Free containers for safe steaming
Impressive 5-quart capacity
400-Watt for quick steaming of your food
Cons
The cooking bowls are made of thin plastic
The timer is hard to read and a bit stiffer
With this food steamer in addition to steaming vegetables and meat, you can cook rice as well. Along with an impressive capacity of 5.5 quarts, it offers a couple of steaming bowls with a rice basket to cook rice or other tiny foods.
You can expect versatile steaming with its two-tier stackable containers. With two tiers you can make a whole meal, while you can cook small quantities with a single tier. When you cook larger quantities of food, you can remove the center divider to accommodate the food with ease.
Pros
The digital touchpad makes setting times easy
Offers nested storage to fit into your kitchen cabinet with ease
5.5 Quart Capacity 2-Tier steaming
Auto shut-off function
Comes with a rice basket for cooking rice
Cons
The digital timer is hard to read
Plastic steaming baskets
This food steamer from Cuisinart uses a powerful steam system. This system takes the steam from the upper portion to the base to the five-liter glass pot. In turn, it helps cook foods evenly.
Comes with five pre-programmed food settings that include Mauna, vegetables, grains, poultry and seafood. Has an LCD control panel with reheat, pause, start/stop and display buttons. It provides an audible alert once the food is steamed.
Pros
Comes with stainless steel steaming tray for long-term use
Offers a 60-minute countdown timer.
Comes with a five-liter glass cooking pot
The steaming tray in this unit flips to hold different types of food
LCD Control panel
Cons
The beeper alarm makes a lot of noise
Occupies a lot of space in the kitchen countertop
Have you ever thought of a food steamer made using bamboo? Yes, this unit has been made with natural bamboo. It can be used for gently warming and cooking, desserts, seafood, fish, poultry, meat, eggs, dumplings and vegetables.
Made using 100% natural bamboo and two tiers offer plenty of room to make single or multiple servings. The lightweight and durable design make this unit one of the best choices.
Pros
Made using 100% natural bamboo
Durable, lightweight and sustainable for the environment
Ideal for cooking and steaming different food at the same time with multiple layers
Cooking and reheating can be done with this steamer
Tightly constructed to trap steam for efficient and quick cooking
Cons
When steaming, it smells like bamboo. So, it might not be suitable for those with an aversion to bamboo flavor.
The two-tier stackable design of this food steamer offers you a convenient and simple method of making delicisiously steamed meals quickly. Operating this unit is easy with the simple tuning of the dial provided.
With this appliance, you can steam anything you would like to. Above all, you can start steaming with this appliance in less than 60 seconds. All you have to do is simply fill in the water and turn the dial after placing foods like potatoes, vegetables, corn, tofu, chicken or fish.
Pros
The attractive stainless steel base provides a modern touch to your kitchen
The SS base makes the entire appliance durable
The base has a see-through window so that you can check the water level then and there
Automatically turns off after steaming
The trays are easy to disassemble and dishwasher safe.
Cons
It is a bit tricky to get the plastic trays in position above the stainless steel base
You can expect quick steam from this food steamer due to its 800-watt power capacity. It has been made with a turbo ring design that creates steam within 40 seconds. It features a 60-minute set timer for easy steaming.
Each lid in this three-tier steamer has built-in vents. The purpose of these vents is to route the flow of steam for the even distribution of heat so that moisture content in food is retained. Comes with egg basket with an egg holders that can hold 6 eggs for boiling.
Pros
Comes with water vents for extending the steaming process
with water vents, you can easily add water without removing the baskets
When the water is empty or on the completion of the steam cycle, it comes with a built-in auto shut-off facility.
Cool-to-touch handles for easy handling
Easy to clean and dishwasher safe
Cons
It is hard to get the steamers in the right order of placement.
This food steamer is a BPA-free triple-tier steamer with a holding capacity of 9.5 quarts. You can steam eggs, seafood, baby food and vegetables in this unit.
You can cook a total of 18 eggs at a time in this unit. The reason is that each tier in this unit can hold 6 eggs at a time,
Pros
You can get the flexibility of using single, double or all three tiers
It has a powerful 800-watt heating system to quickly steam your foods
Has a rice steamer bowl for steaming rice
Has auto shut-off timer
Stain-resistant and BPA-free material
Cons
Setting up the plastic baskets to the base is a bit harder
How To Choose The Best Food Steamer?
See-Through Water Tank
You know that in a food steamer, there should be sufficient water for properly cooking the food. So, to check then and there, it is better to go for a steamer with a see-through water tank. Also, you should be able to easily add water in the middle of cooking.
Easy Cleaning
You can know that you can get the complete benefits of steam cooking only when the food steamer used is clean. If cleaning is tough, you would feel like doing it. So, it is better to look for a steamer with dish-washer safe cooking trays,
Number of Tiers
If your family is large, you will be looking to steam a lot of vegetables in a single go. In this case, a three-tier food steamer can help you. Otherwise, you can also choose double-tier or even single-tier units based on your cooking needs.
Quality Materials
The material used also decides the quality of a food steamer. In most cases, you will find steamers with stainless steel baskets that ensure better durability. Otherwise, if you want them to be lightweight, you can go for units with plastic baskets. But, the plastic baskets should be BPA-free.
Indicator Lights and Timer
Once the food steamer completes its job, it should have some sort of signal to notify you. It can be in the form of an indicator light or a beep sound. Also, it should have an auto-shut-off feature when the water gets empty to safeguard the whole appliance,
Conclusion
Healthy cooking is one of the important reasons for many people opting for a food steamer. Among the many steamers we reviewed here, we feel that the Three-tier 9-liter 9,5 Quart Electric Steamer from Rosewill is the best. The reason is that it has three-tier baskets. But, you can get the flexibility of using one or two. Also, with its 800-watt capacity, it completes the steaming task quickly.
---
Rate This Article