10 Best Induction Cookers – Reviews and Buying Guide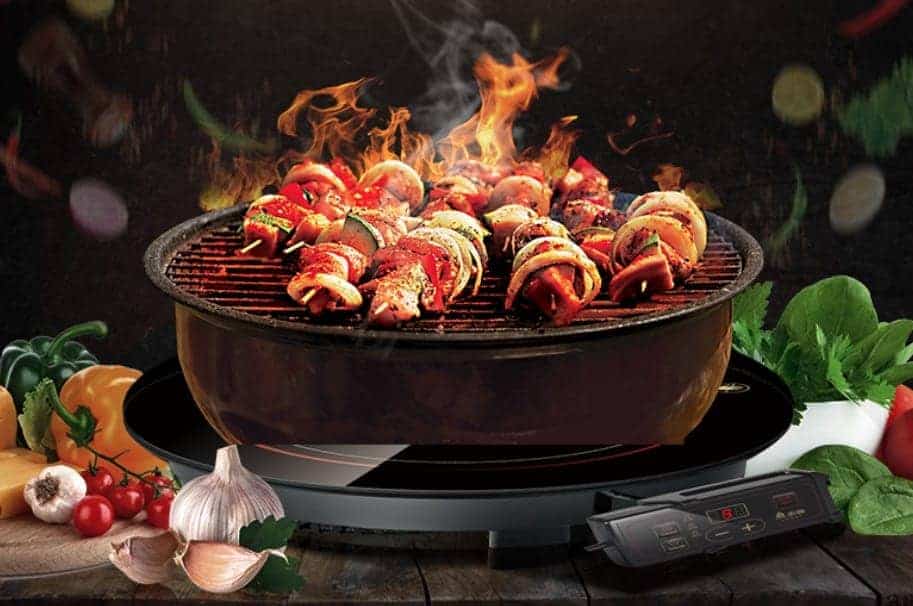 Why You Need an Induction Cooker?
The most obvious disadvantage of cooking on the direct flame in a regular gas-based stove is that your foods will be in direct flame. When this happens, the foods that are being cooked will lose all the vital vitamins and nutrients. But, with an induction cooker, you can ensure that the nutrition is sealed in the food. It means that you can expect healthy cooking with this type of cooktop.
Also, the induction cooktop creates heat almost immediately on switching it on. In the same manner, the heat immediately vanishes when you switch off the cooker. Even, some models come with sensors that can identify whether you have left the pan without switching off by mistake. It will immediately shut off the power, thereby saving both your food and energy. Thus, it can function as a wok for stir-frying as well.
Now, let us get into some tips that will provide you the answer to the question of how to choose the best induction cooker:
A quote reads "Cooking is like love. It should be entered into with abandon or not at all". If you plan to get into cooking, you can consider buying an induction cooker. It will make your cooking easy and hassle-free. But, you might be confused about how to choose the right appliance. Before getting into this, let us first understand why choosing induction cooker can be the best choice as compared to regular stove-based cooking:
Quick Summary
Top Pick Induction Cookers Based on Reviews and Price
1. Best Value for Money – Secura 8100MC Portable Induction Cooktop
The Secura 8100MC is generally offered at very reasonable prices online. This plate is perfect for those who want to make simple dishes and those who want models that are safe to use. It switches off automatically, after 60 seconds, if no utensil is placed on it. An error code is displayed to alert you if your pan is not induction compatible. Also, the product is ETL certified.
But safety isn't everything, and power is key too. Capable of pushing up to 1800 watts and 237 ° C (or 460 ° F), the Secura 8100MC will allow you to boil liquid or cook your food very quickly. It offers 10 power settings and 10 temperature settings to suit your recipes.
The use is very intuitive. The icons displayed on the buttons indicate their function. A timer with a maximum duration of 170 minutes, adjustable down to the minute, is integrated.
2. Premium Pick – Nutrichef PKSTIND48
A portable induction hob is handy, but for more elaborate recipes you may need two hobs. This is exactly what the NUTRICHEF PKSTIND48 offers you! Of course, the double plate is the main selling point of this model. But that's not all! If you are not sure of the temperature to indicate for your preparation, no problem!
The NUTRICHEF PKSTIND48 allows you to choose a function rather than a temperature. There are the boil, sauté, steam, as well as a final low-temperature function to keep the preparation warm. Changing from one function to another is done very simply by pressing the associated button.
It is also possible to adjust the temperature or the power simply with the plus and minus buttons. The settings are independent for each plate, and all the setting buttons are tactile, which is very nice. The speed of cooling is high: if you want to stop cooking, the heat will drop quickly, much like with a gas stove, rather than coming down gradually. This is very valuable for recipes that require great precision in cooking.
3. Best Portable Cooktop – Duxtop 8120MC/BT-180G3 1800W Portable Induction Cooktop
This portable induction hob takes up little space and is lighter than a number of its competitors. So you can take it with you wherever you want, then store it easily in a cupboard. The cooktop has a dimension of 33 x 29.2 x 6.4 centimeters and a weight of around 2.95 kg or 6.5 lb. The power cable is 1.5 meters, which is 5 feet.
It however has a small downside: it can make a little noise. However, the inconvenience caused seems to us to be very limited with regard to the qualities of the product. It has 10 power settings and 10 temperature settings. There is an easy to understand control panel and timer for up to 170 minutes.
The power of the device can be adjusted from 200 to 1800 watts. ETL certified, it has a safety shutdown function. It lets you know if your kitchen utensils are compatible. Manufactured by Secura, the Duxtop 8120MC can be a bit noisy to some consumers. But this is the only complaint we have to make: for the rest, the features give it an excellent value for money. We recommend it to anyone who wants to cook on the go since it is as versatile and portable as it is solid.
4. Budget Pick – Salton ID1350
Are you looking to equip your recreational vehicle with an induction hob? For you, what matters in a portable induction hob, is above all the transportability? The Salton ID1350 can meet your requirements. It was designed for travel. You can take it on board with you on your getaways. It is very light, space-saving, and works just as well indoors as it does outdoors.
If your goal is to be able to fry or sauté your food on family outings, this plate should please you. Note, however, that it offers a slightly reduced cooking surface compared to other models. The precision is also less extensive, although it remains quite acceptable.
According to customer options, it works great, heats up fast, and is as fast as the gas stove. The timer is great, once the time is up the hob stops on its own.
5. Best Energy Efficient Induction Cooker – Duxtop 9600LS Portable Induction Cooktop
Opting for the Duxtop 9600LS means choosing absolute comfort: excellent precision, impeccable manufacturing quality, and enhanced safety are all three present qualities on this portable induction hob. However, while remaining compact, it is a little bulkier and more expensive than other models.
On this product, no less than 20 power settings and 20 temperature settings are available to you. Naturally, this results in excellent precision, which enhances the versatility of the machine. Especially since the temperature range is wide: from 37 to 237 ° C or 100 to 460 ° F.
This is not the only advantage of the device, which is also illustrated by its ease of use. Your settings are displayed on an easy-to-read, illuminated LCD screen.
6. Best Cooker with Pot – Rosewill RHAI-13001 Induction Cooker
You don't have an induction-compatible kitchen utensil? Do you want decent performance, but want to avoid big expenses? Then the Rosewill RHAI-13001 pack, which includes a plate and a pot while being very affordable, might be right for you. The main advantage of the Rosewill RHAI-13001 is that it is sold directly with an induction-compatible saucepan.
The saucepan however is not exceptionally robust but is more than enough to boil water and prepare simple dishes. You can use your plate straight out of the packaging, without having to go through additional investment.
The hob heats up very quickly. It is easy to use and clean. We recommend this product to anyone looking to cook on an energy-saving hob.
7. Best Smart System – Secura 9100MC 9100MC/BT-M20B Portable Induction Cooktop
The Secura 9100MC takes precision a step further than other models but offers a few fewer features compared to high-end references to control costs. Solid and powerful, this is a great product to avoid frustration without blowing your budget. It features a smart diagnostic error message system.
The Secura 9100MC is similar to the Secura 8100MC but pushes the performance beyond. It has the same main drawback as her little sister: it sometimes makes a little more noise than you would like.
It is nevertheless an efficient and safe hob. It meets the electrical safety standards in force in North America, which is attested by ETL certification. It is also able to alert you when you try to use an incompatible kitchen utensil.
8. Best Easy to Maintain Cooktop – Amazon Basics Portable Induction Cooktop
The Amazon Basics induction hob is a portable and powerful hob with up to 1800 watts of power capacity. Affordable with good build quality, it is equipped with a large number of functions.
One of the first good features of it is security. Child safety is integrated: you can prevent your settings from being accidentally entered, thanks to the child lock. It can be used with cookware compatible with induction such as cast iron, enameled iron, cast aluminum, and magnetic bottom stainless.
It starts quickly and heats up quickly. It does come with an instruction manual that thoroughly explains the controls. Although the device has no energy-saving mode, it has a timer that works for up to 3 hours.
9. Safest for Kids – CUSIMAX 1800W Portable Induction Burner
Are you looking for a simple and efficient portable induction hob that will be safe for use around your kids? The model offered by Cusimax is a good option. This sturdy induction hob is made of stainless steel and crystallite glass and has a kid safety lock. It is equipped with a 7-blade fan: it is very efficient but a little noisy.
The touch controls are simple: just select the desired function (power, temperature, or timer) and adjust it with the plus and minus buttons.
10 temperature settings are available, from 140 ° F to 464 ° F (60 ° C to 240 ° C). But that's not all: to obtain more precision, you can also adjust the power of the plate. The power can thus be adjusted from 200 to 1800 Watts (a maximum consistent with the average generally observed). For this function, 9 settings are available. These two functions allow you to adjust the performance of the plate according to the type of cooking you want (sautéing vegetables cooking, boiling water, simmering, etc.).
10. Best 4-hob Cooktop – Frigidaire FFEC3025UB
The Frigidaire induction hob is a self-sufficient hob with four cooking zones. The back left is 9 inches in diameter with 2500 watts of power; the front left is 6 inches in diameter with 1,200 watts of power. The front right is 6/9 inches in diameter with 1600/3000 watts of power. Also, the back right is 6 inches in diameter, 1,200 watts of power
Its rated power capacity m is 7,350 watts. The hob has a frame made of glass and can be operated via a touchscreen. The surface is flat and scratch-resistant.
Advantages of Induction Cooktop
Some of the common and widely accepted advantages of induction cooking include:
Safety in usage
Easy Maintenance
Quick-cooking
Saves time
Energy efficiency
multifunction, like stewing and steaming food.
You can get the above-mentioned benefits from an induction cooker as against any other type of cooker.
12 Factors to Consider When Selecting an Induction Cooker
#1 Consider the wattage
Among the many factors, wattage or power is the essential factor to consider. Here, most people have a misconception. The misconception is that the bigger the power, the better. People believe that more power quicker will be cooking. But, in reality, the greater the power, the more energy it will consume. Also, higher power units will cost you more. So, when you consider the wattage, make your decision based on the number of members of your family, the size of the pot you will use and the main use. For instance, if your family comprises of less than three people, you can choose the unit with about 1700W power. If the members are 4-5, you can choose 1800W and the watts should increase with the number of members in your family.
#2 Understand the different types of induction cookers
As you plan to choose the best induction cooker, you should know about the types you will come across in the market. Here are the common types:
Built-in stoves: This type of induction cooker is mounted right on the kitchen platform itself. They will have many cooking zones. This type of cooktop will be helpful for large families. However, you cannot carry them from one place to another. The reason is that they are affixed to the kitchen countertop. And make sure your range hood is perfectly matched your induction cooker in terms of design and functions.
Compact and portable induction cookers: This type is a single cooking zone appliance. They are easy to clean and fully portable. For bachelors and small families, this type will help.
Freestanding induction: You can fix this type in between counters. You will find them in different colors. In addition to being easy to install, this type is easy to clean and use. For additional support, they come with an electric oven.
#3 Know the compatibility of your cooking utensils
The important thing to remember when you buy an induction cooktop is that not all cookware is compatible with this cooker. Of course, there is a great chance that the majority of your pans will work fine with this cooktop. The utensils should be made out of ferrous metal. In simple words, only when a magnet clings to your utensil, it will work on your induction cooktop.
#4 Conducting a magnet test
If you plan to shop for new cookware that will work in your induction cooktop, grab a magnet and carry it to the store. Even, a simple magnet test can be conducted on the utensils that you already use in your home. Just hold the magnet to the bottom of the cookware. If it clings, the cookware will work on your induction cooker. If there is an attraction, but it just grabs the magnet softly, the cookware may or may not perform well on the cooktop. If there is no magnetic attraction, the utensil will not work in your induction top.
#5 Consider the control panel
Nowadays, the induction cooktop comes with a digital control panel. From this control panel, you can access the intuitive and simple controls. Just make sure that the control panel controls are easy to understand. The interface should be user-friendly. Only then, cooking on the cooktop will be easier.
#6 Know about the timer
Almost all induction cookers come with timers pre-set for cooking some foods. For instance, you will find individual timers for preparing soup, boiling water, cooking rice, etc. When you have this feature, the unit will automatically switch off once the pre-set time reaches. When this feature is available, when the dish is being prepared, you can complete your other tasks without fear of overcooking. The reason is that the cooker will switch off automatically when the pre-set timer reaches. It is important when stewing or making soup dishes.
However, make sure that the timer is flexible. Sometimes, you might feel that lesser time is enough as compared to the pre-set timer suggested by the cooker. In this case, you can set the timer so that the unit will automatically switch-off once it reaches the set timer.
#7 Child-lock facility
If you have kids at home, this feature will help. You can just touch the lock button when the dish is being cooked. Even if your kid touches any button in the middle, nothing will happen as the keypads are locked already. Even, this feature will help you as well. If the unit has a touch-mechanism, your unintentional touch will not disturb the cooking with the child-lock feature.
#8 Shape
Indeed, most induction cookers come with a flat surface. The surface is generally made using glass or ceramic material. The flat shape will prevent the cooking utensil from slipping. Even though they have a flat surface, they come in different shapes like square, rectangle and circular. So, choose one based on your interest.
#9 Quality of the induction coil
When you go for a low-price variant, the manufacturer would have used a wattage range of 900~1350. Also, it would have a tempered or ceramic glass-top plat. Further, it would have a small PCB board for low wattage along with a plastic body and aluminum induction coil. When you go for this type of cooktop, any power fluctuation will create an immediate issue with the unit. So, it is better to make sure that the induction cooker that you plan to buy has a copper coil. The unit with this type of coil will ensure durability.
#10 Consider the sensors in the induction cooktop
The latest induction cookers come with sensors for different purposes. For instance, some of them include auto heat up sensors, auto-pan detection sensors; auto power cut sensor and safety sensors. When you go for a unit with these sensors, you can expect efficient functioning. Even, these features will help with bringing down power consumption. Also, these features will ensure your safety when using as well.
#11 Pan size for induction cooktop
When it comes to induction cooking, it can permit maximum and minimum pan size. In case, you use a smaller size pan that is less than the minimum size recommended by the induction cooker, the cooker will not detect the pan. In turn, it cannot cook the food in the pan.
Ideally, the size of the pan should match the internal coil size or diameter of the cooktop for better efficiency. If you go for a unit with a 14-inch coil, the circular hotspot in the unit will be around 7 inches in diameter. So, before you shop for an induction cooker, make sure that the size will match the pan that you regularly use in your home.
#12 Consider the warranty
Like any other appliance, go for an induction cooker that comes with warranty. Do not forget to ask the seller about the availability of spare parts like repairing or replacing the top plate after damage. Also, check whether they will service the unit. Make sure that service centers for the brand are available near you. In general, the induction cooker comes with a warranty for one or two years. The longer the warranty, the better will be your safety. Do compare the warranty period before you decide on any induction cooker.
Now, you know what should be considered in shopping for an induction cooker. Also, it is better to know about the advantages of using an induction cooktop.
Final Thought
In short, induction cooking is beneficial in many ways. In addition to considering the brand, do consider the points discussed above that will help with deciding on the right cooker that will stay with you for long.
Induction cookers which are easy to transport and take up little space, also have the advantage of being safer than other hotplates. Only the underside of the pan is heated, which ensures safety. This also comes with a lot of energy savings.
Many manufacturers have entered this market. Selecting the model that suits you can therefore take time. This is why we analyzed tens of induction hotplates and reviewed 10 of them.
Our favorite model is the Secura 8100 MC, for its excellent value for money. For those looking for an affordable model, the Salton ID1350 or the Amazon Basics Portable Induction Cooktop is there for the taking.
---
Rate This Article