12 Best Kebab Grills Reviews and Buying Guide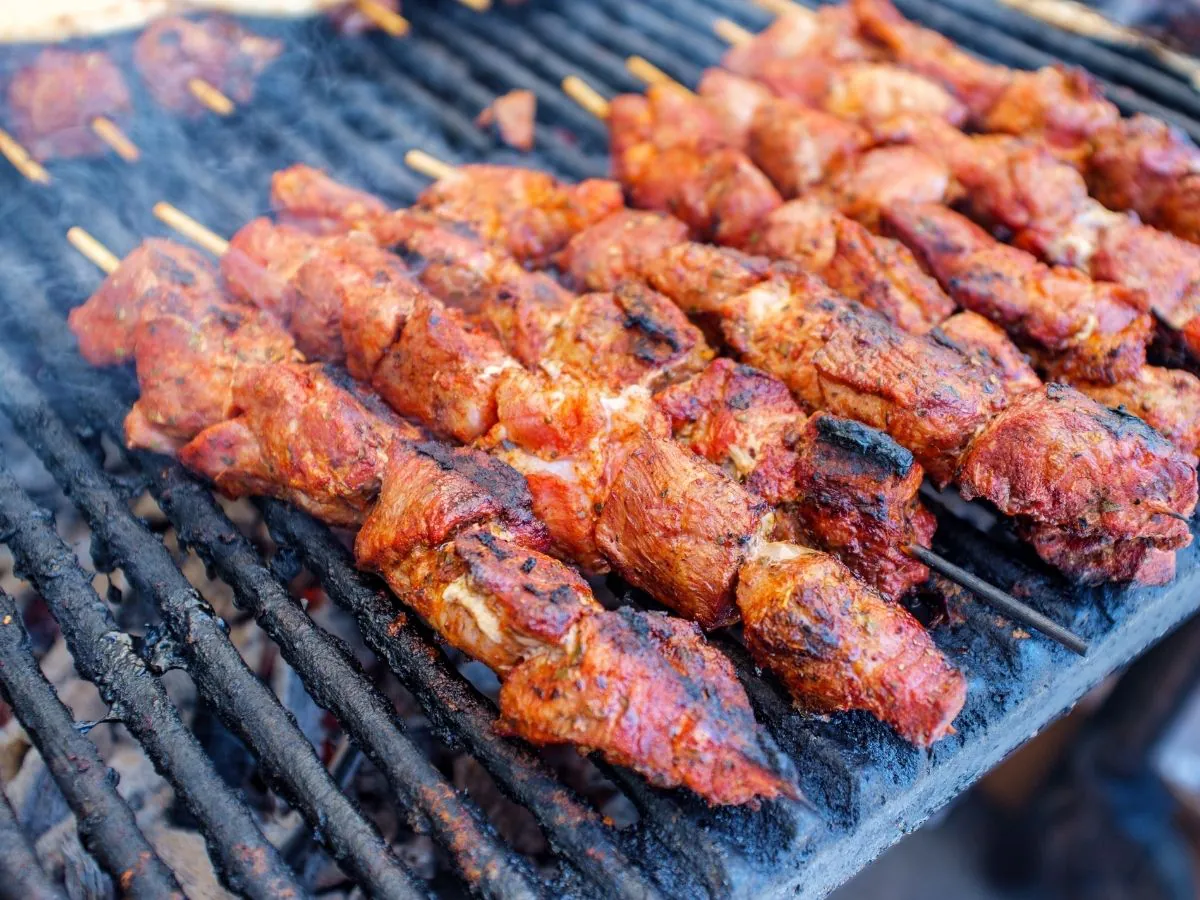 Why You Need a Good Kebab Grill?
A good evening calls for a great barbeque and kebabs and if you are looking for a kebab griller for your next barbeque, we can help you. After evaluating most of the portable kebab grills available online we have curated the top 12 kebab grills based on the actual customer reviews. These are picked after hours of in-depth research and using the best models currently available in the market.
When buying a kebab grill/ BBQ, you need to consider many things apart from the price. The time it takes to grill or cook, how easy is it to control, various options of cooking. Apart from that, you need to consider your requirements as well. If you want to have the grill inside the kitchen or outdoors, countertop, or the one that takes a little space. In this article, we will give you the top 12 kebab grills and BBQ that are portable and can be easily used for an outdoor party as well.
Let us now quickly see a brief summary of the top kebab grills that we have curated. It will give you a quick insight into the product before we delve deeper into each product review.
A Brief Summary
We have reviewed camping grills, electric griddles, combination grill-smokers, outdoor electric grills, etc. The Kebab grill are special with its kebad grilling feature, which make it convenient as a charcoal burner. It is easier for cooker to rotate the kebab during toasting and adding seasongings.
Editor Pick Detailed Reviews
1. Charcoal Grill Kabob Grill Portable BBQ Grill
This elegant-looking kabob grill is great for a picnic or a backyard barbecue. The charcoal grill is detachable and foldable making it easy to install and quick to use. The long legs along with side handles give it stability and are easy to carry around. Whether the party is in the backyard or on the patio, the grill is stable and convenient to move around.
The hibachi grill is made of stainless steel which makes it rust-free and can be cleaned easily after use. Long-term usage will not damage this grill. The legs come with an anti-slip rubber giving them great stability on uneven floors.
The grill is designed for perfect air ventilation. It has combustion vents at the right places to let oxygen enter the grill and allow even cooking by spreading the heat. For a barbecue night, you can easily make hamburgers, steaks, kabobs, and much more on this portable charcoal grill.
It is 26.8 inches in height and 28.7 x 12.8 inches in length and width respectively. The longer length gives you enough room to cook more simultaneously. It also comes with 2 baskets that prove to be a great place to store all the raw food and seasoning. It also has a storage rack just below the griller which gives enough space to store the grills and food.
A simple 8 step process can install this awesome griller in your choice of place without much hassle.
Pros:
Easy to use
Can be cleaned quickly
Value for money
Cons:
Few customers have reported sharp edges on the barbeque which can hurt bad
Can't be used to cook heavier items
2. Charcoal Grill Barbecue Portable BBQ – Stainless Steel Folding BBQ Kabab grill
This detachable grill barbeque is great for camping, backyard party, trailers, backpacking and is made for any small space. It comes with every part that is detachable and can be easily stored in a box that can fit in a backpack. It is super easy to use and clean and can cook for 4 to 6 people at one go.

This portable grill is made of good quality stainless steel that has high heat resistance, does not rust or twist, and is long-lasting. The four detachable legs have a plastic foot that does not imbalance the griller. Assembling this kabob takes less than 5 minutes and is as easy as a kid's DIY. Once the party is over, cleaning this entire grill will take you less than 15 minutes which also includes the time to disassemble it completely.

Customers have reviewed this product as an easy-to-cook grill. It can hold food for at least 4 people in one go. However, rough handling of this product is not recommended. While grilling you might need to provide a little support in the center of the bottom grill. This will avoid bending of the tray.

The size of this grill is small which makes it easier to carry along. It has a height of 8.8 inches or 22.5 cm. The cooking tray is 15.9 x 11 inches in length and width giving you enough space to cook for a small get-together. When folded the dimensions of the grill are 15 x 11 x 4 inches. This BBQ comes with additional accessories like BBQ housing, kabob grill, fuel grill, and coal.
Pros:
Compact size
Perfect for 2-5 people
Easy to carry along
Cons:
Some reviewers mentioned the bending of the coal tray
Does not have baskets for holding seasoning and raw food
3. Charcoal Grill Portable BBQ Grill Large Charcoal Grill Folding Barbecue Grill
This huge portable grill makes it a perfect choice for a large family or a huge friend's reunion. The charcoal grill comes with detachable legs that can be adjusted in height as per the requirement. It is easy to carry along for camping and backyard BBQ parties. It can easily cook for 5 to 15 people at a time making it a good choice for anyone expecting many people at home.

The body of the grill is made up of stainless steel in Red Brown color. The cooking rack is chrome plated and comes with a firebox that is enamel coated making it durable. It also has a dedicated space for collecting ash that makes it mess-free.

It has a 300 square-inch cooking area which is enough to place 10 hamburgers together. The quality of the construction is great which makes the cooking easier. It has 2 air vents at both ends always making enough oxygen available for the heat to spread and cook evenly.

The adjustable legs of this portable grill can elevate this griller between 22.8 to 26.8 inches. This is a decent height for cooking while standing. The cooking area is about 25.5 inches in length and 11.8 inches in width. There are 2 trays at both ends of the grill which increases the length to 46.5 inches while providing space to place food and other condiments. The entire set comes with 2 grills and a plate to cook and serve.
Pros:
Good for a large party
Easy to use and clean
Height is adjustable
Cons:
The paint comes off after a couple of use
Does not come with any other accessory for grilling
4. Party Griller Yakitori Grill 32″ x 8″ w/Double Mesh Grill Grate
This restaurant-quality yakitori grill is a perfect way to show off at a party. It can easily cook kebob, yakitori, and steaks. If you want to make those perfect yakitori style grills for a bunch of people in one go this is a perfect choice. The grill isn't detachable or foldable making it difficult to carry along.
Every part of this grill is made of heavy-duty stainless steel. It is not only rust-proof but also warp-proof. The cooking tray is also made of stainless-steel wires which are twisted to form the mesh.
This party griller is longer than most other grills making it perfect for Yakitori, Kebob, Skewers, Shashlik, Shish Kebob, and Satay like a pro. The size of this grill is enough to cook for 5-10 people in a single round. It comes with adjustable vents to effectively control the heat and air circulation in the cooking area.

The entire grill is 32 inches in length and 8 inches in width. It stands tall at 34 inches tall. Without the stand, the height of this grill is 7 inches. The entire grill is pre-assembled before delivery. The huge dimensions of this make sure you have enough space to cook a large meal for multiple people. The grill comes with 2 seasoning shakers made from stainless steel and 12-inch scissor tongs for BBQ.
Pros:
Sturdy design
Strong material prevents warping.
Best for cooking Yakitori, Satay, kebob and much more
Cons:
Not foldable and detachable
Stainless steel twisted wires in the mesh are prone to breaking
5. Barbecue Charcoal Grill Stainless Steel Folding Portable BBQ Tool Kits
This stylish grill is perfect for smoky grilled vegetables and meats. It is a lightweight BBQ grill that is great for indoor and outdoor parties. The assembly of this grill is easy as the grill comes with an instruction manual.

This portable folding BBQ is made of 430 rust-resistant stainless steel which is also heat resistant. The body and other parts of the grill do not deform during high temperatures. The grill has designer vents for air ventilation at both ends for even airflow and heat distribution. The legs have rubber feet making them less prone to slipping even on uneven surfaces.

The cooking area of this grill is large enough to cook for 5-8 people in one go. The air circulation and heating are perfect for even cooking. The charcoal smoky flavor is easily distinguishable in cooked food. It makes the perfect pick for camping and BBQ nights. The height of this grill is 27.9 inches which makes it easy for an adult to cook while standing. The legs are not adjustable, however. The length of the grill is 29.53 inches, and the width is 14.17 inches. The box comes with a BBQ grill, a tong, a large mesh grill, and a small mesh grill.
Pros:
Easy to setup
Cooks evenly
Can grill while standing
Cons:
Despite being stainless steel, some reviewers have claimed the material to be thin.
Does not have storage or side tray
6. ColourTree Stainless Steel Portable Travel Folding Tall Barbecue BBQ Charcoal Grill
This silver-colored portable grill from ColourTree is sleek and easy to carry around. It comes with foldable legs and a handle to carry it.

It is made of 410-grade stainless steel. The legs are foldable and unfolding the legs will set the grill up in any open space. It also comes with 2 foldable trays connected at the ends of the grill. 2 small mesh and 1 long mesh grill grids provide double grill mesh for cooking. The multiple vents on either side of the grill make cooking evenly a breeze.

This portable grill is ideal for kabob or barbeque. It can easily cook for 5-10 people at a time. The grill extends the smoky flavor of the charcoal in anything you grill. The size of the grill is 44 x 12 x 28 inches when open. When folded it will measure just 25 x 7.5 x 13 inches, thus it can easily fit in the back of your car. The legs have rubber feet making them sturdy on any kind of surface.
The entire setup comes pre-assembled. All you have to do is open the legs of the grill and start cooking.
Pros:
Good quality
Comes with a warranty and easy return
Cons:
The packaging is hard to get off
Some customers have reported sharp edges
7. IRONWALLS Portable Charcoal Grills
The BBQ grill from ISUMER is a lightweight multipurpose grill that is sturdy enough for harsh use as well. Looks like a BBQ straight out of a restaurant kitchen, this BBQ grill is all that you need for the outdoor party you want to throw. It also comes with a lid which makes it safe after grilling is done.

This portable grill with a lid is made of stainless steel in and out. It has a tray at the bottom for storage. The legs are broad and are shaped to avoid toppling the grill. The 2 handles are made of wooden ends making them easier to carry around.

The grill comes with 12 slits to easily accommodate 12 skewers in one go. But many customers have placed 14 to 18 skewers in one go as well. This makes it easier to cook complete food for 5-8 people together. Skewers are however not included in the kit. A grill grate can be purchased to cook burgers, vegetables, fruits, and other delicacies on this BBW grill.

The dimensions of this item are 15.9 x 34.5 x 25.8 inches, and it weighs 19.75 pounds. It is made keeping in mind the need for a BBQ while camping or traveling. It can be very easily assembled.
Pros:
Good quality material used
Comes with a lid
Depth of the box is good to avoid burning food
Cons:
Does not come with skewers and grate at the high price it is at
Shipping the item may damage the legs a little
8. Fire Sense Large Rectangle Yakatori Charcoal Grill
This beautiful-looking clay-made mini charcoal grill is best when spending time with your partner or a close friend. It claims to be a genuine Japanese product.

The cooking grill is made of chrome while the rest of the grill is handmade from ceramic. It has adjustable ventilation vents and comes with internal charcoal grates. It comes with a stand to hold the grill in place with attached handles.

The grill is big enough to cook for 2-4 people at a time. The traditional style of the grill makes cooking the Yakatori grill easy. The size is small enough for cooking on any tabletop. This mini grill comes in two sizes: small and large. The dimension of the grill is 10 x 18 x 7 inches and weighs 18 pounds. The grill has 2 different sections to place the coal. This grill also comes with a 1-year warranty.
Pros:
Portable
Can be used in small spaces
Traditional grill
Cons:
Some customers reported damage to the ceramic body after multiple uses.
9. Charcoal Grill, Portable Barbecue Grill Folding BBQ Grill
The look of this grill is different from the rest of the grills available in the market. This makes it a perfect gift to your new neighbors or family who has been wanting to try their hands on barbecue.

The entire grill is made of stainless steel. The legs are foldable making it easier to carry around and place anywhere you need. It also comes with a packaging box that can be used to store the BBQ when not in use. No screws are needed in assembling this grill. All you need to do is to unfold the legs and keep the BBQ in any corner of the patio or park. The storage area of coal is fixed like a drawer to add or remove the coal while grilling. This tabletop portable grill can cook anything you want. The grill grate that comes along with the grill is 24 inches in length and can easily cook for 4-6 people in one go. Since the size is small it can be used in small spaces to cook the perfect smoky flavored fish, meat, burgers, corn, hot dogs, and much more.

The folded grill measures 24 x 9.5 x 3 inches when opened the grill measures 24 x 9.5 x 12.6 inches. The size is perfect for carrying along while camping or traveling to a beach or park. The grill has passed quality certification and is safe for long-term use. Customer service is available for any issue faced with the grill.
Pros:
Good and compact design
Sturdy material
Simple set-up
Cons:
Sharp edges may damage the cloth or skin
10. Portable Charcoal Grill, Aiglam Barbecue Grill
Owning this piece of barbecue grill will mean sitting and enjoying the steak without moving around. It has a lot of storage that will store everything you need to cook your grilled food. This heavy-duty grill is bound to stay with you for generations.

The Aiglam BBQ grill is made of 430-grade stainless steel and has a nonstick finish. The foldable legs make it portable for carrying in the car truck for all the outdoor BBQ parties. The setup is straightforward as it only involves unfolding the legs of the grill and placing it in the place for use. Both sides of the grill have air vents that also provide control over the airflow and heat distribution. There is a separate tray below the charcoal holding grid to collect all the ash. It is made for extremely high temperatures. The mesh can be easily cleaned.

The nonstick finish of the grill makes cooking anything on this grill easy. A nonstick frying pan is included in the setup to cook meat with a little gravy. You can easily cook chicken breasts, hamburgers, fish, shrimp, steaks, and sandwiches. The storage baskets are an easy way of storing food, seasoning, tongs, and any other thing you need while grilling. The storage baskets are detachable. Once the grilling is done, the handles are convenient to move the grill around.

The size of this grill is big enough to cook for 5-10 people without any problems. The dimension of the item is 100 x 33.5 x 70 cm when opened and the storage rack is attached to the unit. A folded grill without attachments measures 73 x 33.5 x 15.5 cm. This is what makes the grill easy to carry when folded, but big enough to cook for 10 people when assembled. The grill weighs 6 kilograms making it a little heavy than the other portable grill, but it also adds to the durability of the set.
Pros:
Easy to fold and carry
Best for long-term use in large gatherings
Comes with all the accessories
Has a separate nonstick frying pan
Cons:
May be heavy for some to carry around.
11. Outsunny 28″ Stainless Steel Small Portable Folding Charcoal BBQ Grill
This stainless-steel BBQ grill from Outsunny is perfect for BBQ nights outside your trailer or on your patio. The design of this grill is made to save space while storing as well as while traveling.

The grill setup is made from stainless steel which makes it heat resistant and rust-free. The rest of the body is made from iron and aluminum. Outsunny has made a practical design for this grill for ease of use and storage. The handles are heat-insulated which prevents the burning of hands when the grill is moved around. The rubber feet give it the stability needed on uneven and hard surfaces.

The grill is large enough to cook for up to 8 people at a time. It comes with a small and a large mesh grill, 2 carbon grids, and a set of tongs. The dimensions of this grill are 28.75 x 13 x 28 inches when open. When folded the height of the grill reduces to 6.25 inches. These dimensions ensure that the grill can be used for cooking your next Thanksgiving dinner. The large mesh grill measures 17.75 x 11.75 inches while the small one measures 9.75 x 11.75 inches. The two different grills can be put together or used individually when needed.
Pros:
Comes with all the accessories
Durable
Cons:
The ash collecting tray can change color after burnt coal drops on it.
Does not come with skewers
12. Samdray Charcoal Grill Kabob Grill Portable Grill
This small grill is all you need if you have a small space but crave BBQ every weekend. The grill is made from high-quality thick stainless steel which makes it rest fee and easy to clean. The grill comes with handles on both sides that are heat insulated. It does not need any assembling. Folding and unfolding the small legs on both ends is all that is needed. The small holes at both ends make air ventilation easy.

The grill is enough to cook for 3-4 people with a 181 square inch cooking area. It also comes with 2 baskets for storing seasoning and tongs. The item dimensions are 16.5 x 11 x 7.9 inches when it is set up for grilling. When the item is folded it measures only 4.7 inches in height. This is another grill that can easily fit in the back of your car while camping or going to the beach.
Pros:
Compact design
2 different grills
Insulated handles for ease of moving
Cons:
Some customers reported missing parts when the item arrived
What is Kebab Grill?
Kebab Grills significantly exist in the food industry and are used worldwide to grill kebabs and roast different food items. This grill is made up of strong cast iron and stainless steel.
Its size and design differ and depend on the requirement. Kebab grills are extensively available online on different shopping portals. A kebab is best made when cooked authentically on these grills.
A kebab grill uses skewers for best grilling. A kebab grill has a different price range depending upon the type of material used and the sturdiness of the whole unit.
An electric kebab grill might be more expensive than a traditional charcoal-based griller due to its exclusive features and energy-saving techniques. Electric kebab grills are more advanced. They have better temperature control for efficient cooking and produce less smoke. Most kebab grills are easy to assemble and use. They provide a restaurant-type taste to your cuisine and maintain that juicy meat flavor if cooked with proper recommendations.
A Kebab grill can give a different experience to your taste buds. They encourage low oil and healthy cooking.
How Does the Kebab Grill Work?
Good food attracts the heavens and our taste buds keep us moving toward new cuisine all our life.
Kebab cooking is an art
It is an art to grill the kebabs and with time one expertises in such a creative form of food. Kebab grills have seen a lot of innovation changes in the past few decades.
Kebabs are known as one of the best delicacies globally, and specializing in Kebab grilling is not an easy task. These Kebab grillers have made it possible to get an authentic taste.
Meat/Veggies size
Well-cut meats chunks make delicious kebabs. The small chunks of meat cook nicely on the grills.
Wrapping around the skewers
Skewers are the most essential part of a Kebab griller made up of cast iron and are used to hold meat and vegetables over the flame grill. These are long iron rods with an insulated handle to hold them over the flame.
Traditional Kebab Grills used Charcoal
The traditional Kebab grill comes with a charcoal base and is made up of stainless steel and cast iron that provides extra grip to the whole structure.
The whole setup looks amazing and the charcoal taste on the food is charismatic. The grill is preheated with charcoal as the fuel at a constant temperature.
Once heated, skewers are placed over it holding the meat and vegetables marinated in spices and exotic ingredients.
Ideal grill temperature
A temperature of 350-450 degrees celsius is considered ideal for grilling kebabs. Ideal cooking time does not take more than 15 minutes, depending upon the size of the meat.
Flavour and tenderness are the two variants that a kebab grill explores and gives you a mouth-watering experience. On the other side, an electric kebab grill uses flame instead of charcoal to support the cooking.
What Are the Benefits of the Kebab Grill?
The benefits of kebab grills are immense. The temperature control, flames, and how smartly you engrave the skewers with marinade meat and vegetables are the magic formula to grill good kebabs.
Undoubtedly your friends and family would be impressed. In case you have a big gathering, you can buy a big gauze kebab griller to accommodate more skewers.
1. Maintains the taste
Cooking with a kebab grill with a charcoal base is an ancient method and properly cooks the meat from all sides.
2. Cooks at a High temperature
The grills that use charcoals have no maximum temperature settings. Dual zones can be easily attained while cooking on a charcoal kebab grill. Many people have taken charcoal grilling as a hobby and surely it acts as a sense of pride amongst many. They prefer charcoal grills as they are faster at cooking.
3. Efficient temperature control
When we talk about electric kebab grills, they have an advantage over the charcoal grill. Temperature control is quite easy and efficiently managed by a thermostat. The only thing missed in an electric grill would be the charcoal flavor that usually comes while cooking on charcoal with skewers.
4. Strong And sturdy with a Non-stick plate
Most kebab grillers come with a non-stick plate that encourages less oil and healthy cooking. These grills have a sturdy structure for safe cooking. While in the cities with space constraints and restrictions for charcoal grilling that might produce smoke; so, this advanced compact griller is available in the market. This kebab grill constitutes a non-stick-coated plate that makes sure that the meat doesn't get sticky or burn with the plate. A lid is also provided to make sure that kebabs and vegetables cook well and a temperature is maintained to keep it hot for a longer duration. A thermometer is attached to many lids just to give you the temperature indication.
5. Traditional Mouth-Watering Flavour with Restaurant type cooking
You can expect tender and juicy meats with crisp vegetables with these Kebab grills. These kebab grills have great control of overcooking and a complete value for money. Also, the electric kebab grills have an ignition starter for instant cooking and many kebab grills also have a spacious compartment to store miscellaneous things.
Yummy kebabs need a technique while cooking and expertise. A constant temperature should reach the meat and vegetables and the rotation of skewers should be done simultaneously to make an even roasting throughout the meat.
6. Low Maintenance Cost
These Kebab grills whether charcoal-based or electric-based, have low maintenance cost and runs for years without maintenance. They are easy to clean after use and can be detached as well. Assembling is quite comfortable and you can also refer to the user guide initially.
How to Choose a Kebab Grill?
For any kebab lover, it is important to understand what all one needs in the perfect griller for those yummiest kebabs.
1. Types of kebab grills
Kebab grills are either vertical or horizontal type. The vertical grill has a single skewer rotating in an upright position. The horizontal grills have multiple skewers. The skewers in this type of kebab grill rotate in multiple directions/angles. It allows even cooking of your kebab from all the sides at the same time.
Charcoal kebab grill
Charcoal-based kebab grills are traditional and simple to use. They have been used for decades and enhance the flavor with a charcoal woody taste. These kebab grills have a heavy cast-iron structure with a charcoal base and a griller to be placed on top. The skewers can be placed on top of the griller with marinated meat and vegetables and charcoal can be adjusted regularly to attain a high temperature. It is a joyful experience and a mouth-watering taste is achieved with elegance.
Gas kebab grill
The gas-based kebab grills come in different shapes and sizes. They use propane gas as fuel and the cylinder can be detached while transporting. They are easy to ignite with an ignition switch and also have a temperature control feature. These Kebab grills work exactly like a charcoal-based griller but use flame instead of charcoal. The whole unit is easy to clean and assemble as well. They can be a great decor for your garden and will impress your friends and family with their exclusive features. Grilling the kebabs was never this easy and convenient before.
Electric kebab grills
These Electric Kebab grills have a non-stick heating plate that is used to cook kebabs with ease. They Are normally used in kitchens for households with less space. No charcoal is needed as it is backed up by electricity. The thermostat is available to control the temperature but it cannot achieve higher temperatures like a charcoal-based griller. They are also available in vertical slots where skewers are placed across a rotating hot plate and easily grill the kebabs to the best taste. These electric kebab grills are available in many different shapes and sizes in the market and are one of the favorite kitchen appliances used these days for kebabs.
What to Consider While Buying That Perfect Kebab Grill?
1. The Built
The quality of the materials used for a grill is what matters the most. Anything durable, portable, high-quality, and rust-resistant makes for a long-lasting and a great buy.
2. Brand warranty/Return policy
If you plan to make your purchase online, make sure the brand you feel interested in investing in provides at least one year's warranty. The return policy also matters the most. In case any defect or damage is reported, the product should come under easy return policies. It shouldn't be any stress!
3. Budget-friendly
Buy a grill that fits your budget. You will find kebab grills for different prices and sizes. Make sure you invest in something that suits your needs and is perfect for your family size.
4. Maintenance cost
Your grill should come with low maintenance. Always consider the cost of fuel and other expenses that you may have to incur in buying some accessories for the same. If you get a cover and skewers with the grill within its cost, that's a nice deal!
5. Easy-to-clean
Another important factor to look upon while buying a kebab grill is if it is easy to clean and comfortable to use. The best part is these kebab grills are extremely sorted with their cleaning system. You can easily clean out the ashes and still enjoy the food with no hassle and a comfortable cooking style.
6. Portable
Make sure the grill doesn't take up too much space and is well to accommodate the smallest area. Buy a grill that fits even your balconies or a small patio.
7. Lightweight
The grill should be lightweight. It is always good to have something easy to move around for easy and comfortable access.
8. Side-Shelves/Countertop
Having a countertop is another important factor. Side shelves or the presence of any extra rack is so helpful to store your tools and eatables.
9. Temperature control
Temperature control counts for the next necessity in any grill. It should have a thermostat so that you can cook well and be left with nothing that's uncooked or burnt.
Advantages of Kebab Grills
Kebab grills showcase a great cooking style; especially for vegetables, meat, and fish.
1. Oil-free Cooking
It is a perfect solution to healthy and oil-free snacking. You don't put in extra fats and oils in you. If you are a calorie-conscious foodie, these grills solve the way for you and your family. Moreover, you can cook your perfect and yummy diet food on them as well.
2. Can be used indoor/Outdoor
These grills can effectively be used for both indoor and outdoor grilling fun. they do not produce suffocating smoke and don't cause any sort of choking as well. They are an amazing option for even those who are living in rented homes and fear smoke and any sort of damage to the paint through the same.
3. Shorten your cooking time
These grills can shorten your cooking time. Food cooks fast if placed well and evenly on the skewers. Also, you tend to follow the policy for portion control if food is placed on the skewers. You know how much you have had and what exactly is going inside you. It indeed is a good way to keep a check you're your calories.
4. Easy to use with all age groups
With kebab grills you don't have to hesitate at all if you are young or old, they allow easy cooking skills for every age group.
5. Not-versatile
Besides all the good things, kebab grills lack versatility. They are useful only for kebabs and no other sort of grilling and other functions. If you want to make burgers or sausages; this may not interest your more.
Is There Any Need for Additional Equipment While Using the Kebab Grill?
The kebab grill has three main parts. It is all about threading up your food once and then letting it grill.
1. Fuel for the grill
All that a kebab grill needs to make the yummiest kebabs is either a charcoal or gas burner. Once you have aligned them all, it's done!
2. Adjustable top
The advantage of an adjustable top is that you can easily raise or lower them for how you want to cook your food; it all depends on your cooking skill and style.
3. Skewers
You just have to place the set food in the skewer and thread them in the holes. Make sure the skewers don't touch the heat source directly and are suspended at the right height.
Kebab Grill Frequently Asked Questions
How long do you cook kebab on a grill?
Cooking kebabs fall under different procedures. Only a passionate BBQ lover can understand the zest and hard work that's put behind a delicious kebab. You must heat the grill over medium heat before placing them in for that yummy outer sear.
With a gas grill, you simply have to set the temperature and burner to a medium level. Cover the grill surface with a lid allowing it to heat to the right and desired temperature. It won't take you more than 5 to 7 minutes to reach that right temperature.
With charcoal grills, this simple job does get a bit tricky. Firstly, you will light up the right amount of charcoal that allows easy blazing for flames to die out comfortably. This may take 20-30 minutes easily. Usually, with a pound of meat or chicken, you need at least 30-35 charcoal briquettes. So, you should arrange the fuel accordingly.
After the surface is heated up, you can place the kebabs that immediately begin to give you that delicious sizzling sound. Make sure the kebabs are placed evenly for better, quick, and smooth cooking. Keep turning them while cooking. Make sure all the sides touch the grill for that crispiness. In general, it takes about 15 to 20 minutes approximately with most of the kebabs to get perfectly cooked.
If you get that crunchy and golden-brown from its outside, remove a piece and check if it's done. This will help you plan the timing for the rest and prevent overcooking and burning of food. Now you are ready to remove the kebabs from the grill. Serve them hot with some salad and dips.
How to grill kebabs?
Although kebab making is considered easy by many of us, it does take some time and technique to master this skill. We are sharing some insider tips for those perfect kebabs:
Kebab grilling is a talent and hobby for many. Firstly, make sure you have enough charcoal to last for the whole cooking session. Place the charcoal below the grills in the dedicated space and light them up. Let the charcoal reach a high temperature so that it heats the grill on top. You can create two temperature zones by placing less charcoal on the other side which can be used for warming up the kebabs.
Marinate your kebabs in oil and spices with vegetables and other addons that you desire. Use the skewers in case you need to place them indirectly over the grill. Proper oiling is required for the kebabs so that they don't get stuck to the grill. If you are using skewers then place them over the charcoal heat on top of the grill and rotate them at times.
Be careful with excessive heat as charcoal can instantly raise the temperature. A normal kebab grilling takes 8-10 minutes which can also variate with the grill temperature. In case you are using bamboo skewers to grill then soak them in water before placing them on the grill. Be mindful that the vegetables don't fall into the griller from the gaps. 
It is also recommended to keep checking if the kebab is overcooked as it can create a burning smell. Checking the inner temperature of the meat is also recommended by the use of a thermometer.
Keep children away from the griller as charcoal fire can cause severe burns. After use makes sure you clean the griller once it's cool and place it in a safe place.
How long to grill steak kebabs with a kebab grill?
Grilling steak kebabs perfectly can be challenging at times but once they are prepared, they can give a mouth-watering experience. 
Kebab grills are all you want to grill the perfect steak kebab. Sirloin the best steak piece can be grilled with marination or just as it is to delight your friends and family. It is important to thread the steaks properly on the skewers for that perfect aroma and airflow. Leave a gap so that all pieces are cooked evenly. A normal steak piece can be perfectly grilled at 400 degrees Celsius and should not take more than 8-10 minutes to cook properly. If you have a thermometer, you can also check the inner temperature of steak pieces.  If you are grilling for a party when placing a lot of skewers can save you time but make sure you don't forget to rotate them evenly at times. 
Most steak kebabs might get hard if cooked for long so make sure you maintain that juicy flavor and the tenderness of the whole meal.
How to grill lamb kebabs with a kebab grill?
Grilling Kebab is joyful yet you need a hand on experience to have the expertise and impress your friends and family. 
Firstly, put some coal below the grill in the dedicated space and make two zones. Two different heating zones can make your job easy. Put more charcoal on one side and less on the other. It is important to preheat the grill to a constant temperature where it is easier to put skewers on the grill. It is also recommended to brush the lamb kebabs with some edible oil like olive oil. When you thread the lamb kebab into the skewer then make sure that they have spaces in between to enable evenly grilling from all sides. Rotate the skewers at times to make sure no side is left uncooked. A lamb kebab will normally take 12-15 minutes to prepare and make sure that the kebabs are not cold from the inside.
How to grill chicken kebabs with a kebab grill?
Chicken Kebab is a beautiful addiction and what makes it stronger is the taste that is boundless and amazing. Chicken kebab is marinated with the best spices and yogurt and then threaded into skewers to grill on Charcoal.
In case you use bamboo skewers then you have to soak them in water for 30 minutes. However, metal skewers are more reliable and can hold the marinated chicken perfectly. Since you would be grilling the chicken kebab on high heat so make sure you use oil as well so that the chicken kebab doesn't burn. Burn charcoal under the grill and make two heating zones with different temperatures. You can place more charcoal on one side and the other side can be used for slow grilling. Place the skewers with a marinaded kebab on a fire grill and rotate it regularly. Make sure they are not undercooked or overcooked at all. In case you see the pink color in the chicken, then it indicates that it is undercooked.
Kebab Grill vs Electric Griddle?
Mentioned below are differences between the kebab grills and the electric griddles:
Taste 
Kebab grills promote better flavors and infuse the charcoal taste into the food. However, it is limited to just grilling. Due to high heat temperatures, it is not easy to warm up burgers or use them as a frying alternative. 
The electric griddle has a larger area to cook and can be used for multipurpose things. Warming, grilling, less oil frying, and heating burgers can be done efficiently. 
 
Value For Money
Kebab grills are less expensive and charcoal as a fuel is not that expensive. It is a complete value for money. Electric Griddle runs on electricity and can incur huge bills. Also, the whole product is expensive if compared to other forms of grills. 
 
Ease of Usage
You need a certain experience to handle a kebab grill. Rotating the skewers and handling high temperatures can be challenging at times. There is no temperature control feature when it comes to charcoal kebab grills. Electric Griddles are easy to use. Power on the plug and press the ignition switch. Wait for some time and the whole surface would be heated evenly. The temperature control knob helps to cook efficiently. 
 
Maintenance 
A kebab grill does not require much maintenance as the only thing after use is to remove the used charcoal and clean it with the brush. There are no electric sockets or anything technical to look upon. An electric griddle might require maintenance and you need to be careful about the wiring. Make sure there is no crack in the wire and a voltage fluctuation can get the electric griddle to malfunction at times.
Kebab Grill vs Hibachi Grill
Kebab grills come in all sizes depending upon your requirement. Hibachi grills are small and portable and are made of cast iron. They can be easily transported. Big pieces of steaks and other meat can easily be grilled on a kebab grill and not that possible on a hibachi grill. Hibachi grill is used for lean pieces of meat and other light items.
Kebab grills might be expensive due to their big structure and heavy build. They come in different variants. Hibachi grills are less expensive due to their small size and compactness. 
Maintaining a Kebab grill would be a bit expensive as there is a lot of cleaning that is required for a longer run. Hibachi grills don't require much maintenance. You can simply wipe it off with a dry cloth after use. Storing a big kebab grill can be challenging at times however Hibachi grills can be stored even in a small space with ease.
Conclusion
Every grill mentioned in this list has a unique advantage over the others. You can pick the one that suits your requirements. We are sure you will not be disappointed. Here are our top picks that are definitely worth a try.
Charcoal Grill Kabob Grill Portable BBQ Grill – This is an all-in-one grill that can be used for grilling almost anything and enjoying the Barbecue. It comes with all the required accessories and is perfectly within the budget.
---
Rate This Article