10 Best Kitchen Knife Sets Reviews and Buying Guide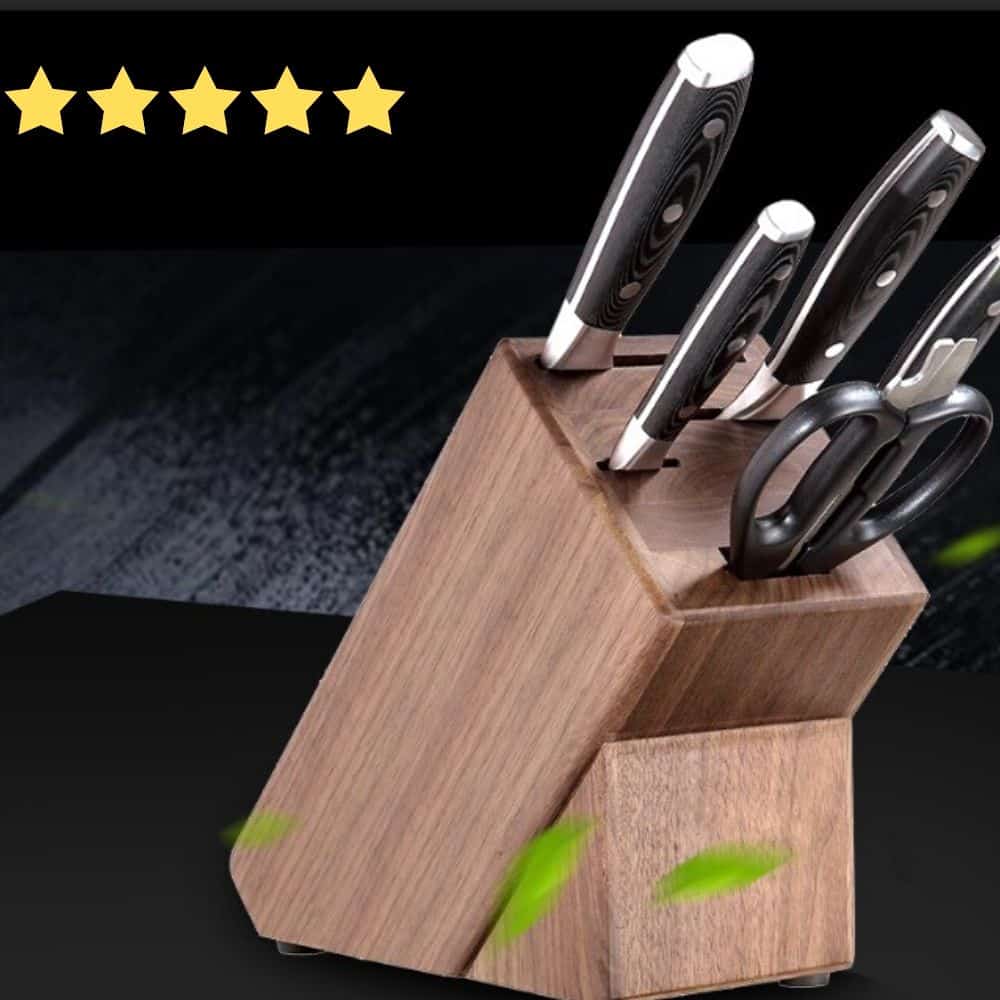 Why Kitchen Knife is Important?
Your kitchen knife is one tool that you probably use daily, so you have to ensure you go for quality every time you buy a knife. It is important because when you making chicken dishes and pork bone soup, it may take a lot of effort if the kitchen knife is not good. We all have particular things we look out for in a kitchen knife so that we can find that perfect knife.
Quick Summary
1. Best Selling Chef's Knife – Victorinox Swiss Classic Chef's Knife
2. Best Gyotou Knife – Imarku 8 Inches Professional Kitchen Knife
3. Best Classic Chef's Knife – Wüsthof Classic Stainless Steel Knife
4. Best Stamped Knife – ZWILLING Twin Pollux 18 cm Chinese Chef's Knife
5. Premium Pick – Wusthof Classic 8-inch Cook's Knife
6. Best full range knife – Tojiro DP 3 kitchen knife
7. Best knife set – Amazon Basics 18-Piece Kitchen Knife
8. Most Giftable – PAUDIN kitchen knives
9. Best Damascus Knife – Shun Classic Chef Knife
10. Best sharp knife – Zelite Infinity 8-inch chef's knife
Top Best Kitchen Knife Set
1. Best Selling Chef's Knife – Victorinox Swiss Classic Chef's Knife
Victorinox offers a kitchen knife model here at a very great price. This chef's knife has a 8 inches blade, which makes it suitable for a variety of uses.
Its stainless steel blade easily penetrates the toughest fruits or vegetables. This makes preparing certain dishes so much easier! We tested it with, in particular, sweet potatoes that we wanted to transform into fries, and the result was 10 times faster than expected.
Simple, practical, and available for a small price, we can only recommend this classic kitchen knife which will meet the expectations of both budding cooks and those who are more experienced. The only complaint is the handle seems slightly fragile. However, it has a low price, a sturdy stainless steel blade, and a sharp edge.
2. Best Gyotou Knife – Imarku 8 Inches Professional Kitchen Knife
Thanks to its precision blade which is made of stainless carbon steel and its ergonomic handle, this knife can be used both as a vegetable knife, a practical blade for slicing herbs, but also as a knife for peeling potatoes. It's also a knife for meat, cold cuts, and even for meat bones. This kitchen knife is truly multifunctional.
Its blade is thin, very sharp, and hard, guaranteeing its formidable efficiency, even over time. It also stays shiny because it is treated to resist corrosion and rust.
The handle of this knife is quite pretty and well designed. It is made to offer good support and limit fatigue when in use. Made from Pakka wood, an exotic wood that comes from Africa, it offers strength, stability, and comfort at the same time. It holds well in the hand, is not too heavy, and also offers a nice rendering. In addition, it comes in a nice box, which makes it even more practical.
3. Best Classic Chef's Knife – Wüsthof Classic Stainless Steel Knife
The Wüsthof brand is a German company which since 1814 deals with cutlery. It is, therefore, an understatement to say that its expertise is proven, and it is not this chef's kitchen knife that will contradict that.
Here we have a set of chef knives. One is a chef knife with 6 inches of length and the smaller one is a 3.5-inch paring knife. The cook knife is a rigid blade that can cut meat and cut fish, or mince any food in the simplest way. Its blade is made of stainless steel, which ensures a long lifespan (but do not put it in the dishwasher, or you may damage the edge) and foolproof strength. In addition, state-of-the-art Petec technology from Wüsthof guarantees a high-quality cutting edge.
Its handling is also impeccable! It is a real pleasure to hold this chef's knife in your hand and you will be able to cut up all the food that comes your way effortlessly. No need to apply force, the blade easily sinks into different foods.
4. Best Stamped Knife – ZWILLING Twin Pollux 18 cm Chinese Chef's Knife
The ZWILLING Twin Pollux kitchen knife is a chef's knife. It is equipped with an 18-centimeter long blade. It has a hardness of 55 to 58 HRCon. According to the manufacturer, the chef's knife from ZWILLING also has a comfortable handle. It has an ergonomic shape and has three rivets.
The ZWILLING kitchen knife has an ice-hardened FRIODUR blade. Thanks to the special ice-hardening of the knife specialist, the chef's knife should be very corrosion-resistant and have a high level of hardness.
The kitchen knife from the Solingen-based manufacturer can be used, for example, to cut fish, meat, and vegetables. According to the knife manufacturer, the knife is very well balanced and safe to use for the cook.
5. Premium Pick – Wusthof Classic 8-inch Cook's Knife
The WÜSTHOF Classic 1040100120 is one of the most expensive kitchen knives in this comparison. It is a chef's knife that, according to the manufacturer, lies comfortably in the hand. In addition, the knife should be very well balanced. According to the manufacturer, this makes it possible to cut the food without getting tired.
The equipment of the WÜSTHOF chef's knife includes a steel blade: The blade is forged from a piece of steel and not stamped. According to the manufacturer, it is very resilient. In addition, the knife should have an extremely thin blade edge towards the cutting edge.
The grips are seamlessly attached. They are made of plastic and are black.
The WÜSTHOF chef's knife has a goiter. According to the manufacturer, it enables the cutting work to be carried out safely with the knife. Thanks to the WÜSTHOF PEtec process, the blade of the kitchen knife offers a permanently high level of sharpness, according to the manufacturer.
6. Best full tang knife – Tojiro DP 3 kitchen knife
The Tojiro DP 3 layer knife is a chef's knife. Its 21-centimeter long blade is made of 3 layers of steel: According to the manufacturer, the core layer consists of hard VG-10 steel with a Rockwell hardness of around 60. The knife has two outer layers to protect the core layer.
They are made of softer, rust-free steel alloyed with 13 percent chromium. The composite steel should make the blade very resistant. According to the manufacturer, the handle is of high quality and is made of the composite material Micarta. The price of the Tojiro chef's knife is high compared to other models in this comparison.
An additional clamp between the handle and the blade should prevent germs from settling in the gap over time.
7. Best knife set – Amazon Basics 18-Piece Kitchen Knife
The AmazonBasics product is an 18-piece knife set. The knife kit includes a set each of knife sharpeners and different knives. The chef's knives included have an 8-inch blade. The Santoku knife has a 20.3 centimeter-long blade and hollow edge. There is also a set of carving knives with long blades. It also includes a bread knife and a boning knife.
There is also a knife block next to the knife sharpener and the various knives included. It stands on four rubber feet and should be non-slip.
The blades of the amazon basics kitchen knives are made of stainless steel. The handles are riveted three times. According to the manufacturer, they lie comfortably in the hand. In addition, a full tang, i.e. an extension of the blades through the handle, should contribute to a good balance. The price is comparatively low for the size of the knife series.
8. Most Giftable – PAUDIN kitchen knives
The PAUDIN kitchen knife is a chef's knife. It is suitable for cutting meat, fish, and vegetables or for chopping herbs. The chef's knife has a handle that should be ergonomic and comfortable. The blade of the PAUDIN chef's knife is said to be very sharp. It is made of 5Cr15Mov steel, is 20 centimeters long, and has a Rockwell hardness of 56 to 58.
The manufacturer PAUDIN is very convinced of its product. Therefore, it gives a lifelong guarantee against manufacturing and material defects. As soon as problems arise, buyers can contact the manufacturer.
9. Best Damascus Knife – Shun Classic Chef Knife
The Shun chef's knife series is one of the best damask knives in the world and is very popular with the culinary elite and ambitious amateur cooks.
Shun professional chef's knives are made of specially developed, rustproof Damascus steel with 32 layers. The inner layer is made of VG MAX steel. This steel is extremely corrosion-resistant, extremely hard (61 ± 1 HRC, 1.0% carbon, 1.5% cobalt) and, with appropriate care, you'll be able to keep the blade permanently sharp.
10. Best sharp knife – Zelite Infinity 8-inch chef's knife
This is a chef knife with a comfortable handle. It needs minimal effort regardless of whether you're dicing, slicing, or chopping. Comfortably grasp the ergonomically shaped handles with small or large hands while minimizing the tension on the wrist.
Sharpened and set for the kitchen, we noticed that a lot of people were surprised at the sharpness of their knives when it arrived. Other manufacturers just can't provide the same blade edge which feels like you're cutting butter when cutting meat, steak, chicken, and sushi/sashimi.
7 Steps of Choosing the Right Kitchen Knife
Step1: Hold the knife in each hand
This helps you measure the balance and weight of the knife before buying it. You should be able to grip the handle comfortably with both hands. If the knife is comfortable to hold for others, it doesn't mean it will work for you.
Step2: Look for welding joints
If you notice any indications of welding and joining in the knife handle, it means that those joints are weak points. Eventually, those parts may weaken, and the knife can get damaged from there. Always look for knives that were made with one piece of metal.
Step3: Measure the weight and balance
The weight and stability of a knife play a significant role in the handling and usability of the knife. The weight you go for should be dependent on your intended purpose. Balance also makes the knife more comfortable to handle.
Step4: Examine the hilt of the knife
The hilt of the knife takes most pressure when the knife is being used. Therefore, a solid handle should be at the top of your list. It provides support to the blade, and it can become a bacteria hoarder if it isn't well sealed.
Step5: Observe the materials of the blade and handle
Good-quality knives are made with good materials, which make them more durable than cheap material. Stainless steel is the most popular blade material, and the handle should be a high-density wood or plastic.
Step6: Check out the texture
Slide your finger over the blade to feel the material. A good knife should be smooth and well textured. Many people don't know this, but the width of the cutting edge also plays a role in the durability of the knife.
Step7: Test the knife
You can test the knife by cutting some vegetables, or just making cutting motions. Another way of testing the knife is by tapping it lightly on the blade. A crisp, clear sound means it's of good quality.
5 Things that Matter When Buying a Kitchen Knife
While picking out a kitchen knife shouldn't be an issue any longer with the outlined steps discussed above. However, there are still some important factors that you need to consider before you buy a kitchen knife. We've outlined and discussed these factors below to keep you well informed and prepared.
#1 Weight
The weight of a kitchen knife is not a one size fits all, because it plays a role in how the knife performs. A heavy knife is believed to cut ingredients better because it falls harder when cutting, while some believe that a lighter knife is easier to maneuver. You should lookout for a knife that fits your cooking style.
If you are an amateur in the kitchen, a knife with a medium weight should take care of most of your kitchen needs. A professional would prefer a lighter knife for better maneuverability and versatility. You should pick a knife that you can lift comfortably.
#2 Balance
You can check for the balance of a kitchen knife by lifting it and gripping it with both hands. Look out for a knife that doesn't weigh too much towards the handle or blade. That's because this can make the knife too unstable and much harder to use.
You should be able to use the knife without it moving towards its sides unsteadily. The blade has to feel like an extension of your arm when you're using it, or else, it becomes hard to use and less effective in making clean cuts.
#3 Design and material
The design of a kitchen knife helps to determine what you can use the knife to cut. For example, a cleaver with a large square blade is best used to cut heavy meats, while a long, thin knife is best used for slicing vegetables.
Also, a knife that has welding points along the handle is more prone to damage than a knife made wholly out of steel. In Chinese cuisine, chefs prefer to stick to the blades that don't have welding points, because they last longer.
For the handle, your best option is a wooden, plastic, or resin-based material, because they are more durable. Some knives have bone handles, but they tend to wear down after a long time. Even for the other materials, make sure you avoid cheap ones, so you don't get dissatisfied.
#4 Size and versatility
Generally, a medium to short knife is the favorite of homeowners because of its versatility. You can use it for foods that require skill, and also large foodstuff. If you want a knife as an all-purpose option or as a start for your knife collection, this is the best choice.
Long knives are suitable for cutting through large portions of meat or fruits, but they are not easy to maneuver. Short blades are ideal for peeling and other small jobs, but you can't cut a watermelon properly with it.
#5 Price
Price makes a big difference in the performance of a knife, especially in the quality of the material. Paying a little bit more for a better quality knife can turn out to be a good investment, rather than getting a cheaper knife you'll have to replace in a short while. The best option for you is a mid-range knife.
Final Thoughts
Choosing the best knife for your regular kitchen use is not as hard as you think. There are several options available for you to choose from, so it is up to you to determine which knife fits your style and needs. Your kitchen knife texture should be suitable for your kitchen island or kitchen sink style. Because a kitchen knife is a piece of vital equipment in these places.
Some people prefer electronic electric knives because it can save your time. But a traditional kitchen knife can always help you anytime and anywhere. If you follow the steps in this article, you won't find it difficult to make your choice.
The kitchen knife is the classic among all knives. Meat, fish, and vegetables are cut with it and it is used for weighing and chopping herbs. The sharp Japanese chef's knives can do this best!
Different types of steel are used for the blades. Knives made of Damascus steel (Damascus) are very sharp and very hard and ideal for everyday use. Unfortunately, they are also a bit more expensive. They should be sanded cleaned more often and, if possible, not allowed to fall on hard ground.
Although there are dishwasher-safe knives, we do not recommend putting a good kitchen knife in a dishwasher. Why? There they only quickly become blunt. If a knife is blunt, it will be harder to cut. A good knife in the household should never be blunt, so sharpen it in good time.
Conclusively, our most recommendable kitchen knife is the Victorinox Swiss Classic Chef's Knife. It's the bestselling kitchen knife on the market anyways. Then comes the Imarku 8 Inches Professional Kitchen Knife for those looking for a gyotou knife and then the Wüsthof Classic Stainless Steel Knife for lovers of classic knives.
---
---
Rate This Article