Ginkgo Seeds Taste Reviews and Chinese Cooking Guides
Why We Love Gingko Seeds
Gingko seed is a product of the Gingko tree a highly adaptive plant which has become a common sight in most streets in China. Despite having a golden fan-shaped leaf that falls to the ground, the tree is detested by the majority of people due to its offensive smell which may cause an allergic reaction.
It's only bright side remains the seeds which somehow manages to taste different. From a distance, you could practically smell the aroma of the Ginkgo seed and hope you will do more than just staring next time you pass by the tree. You can only know the true benefits of the Gingko tree by experiencing the aroma of the seeds when used in Asian cuisines.
Since it's a wandering plant, Ginkgo seed is easily accessible to all and doesn't cost much to incorporate this ingredient into your diet.
What Does Gingko Seeds Taste Like
Most people have centered a major part of their discussion about Ginkgo tree on the smell rather than the nutritional value and the unique taste it offers in dishes. Because, honestly, only a few people can differentiate the taste of the Gingko seed from other spices. Even when used in meals, it's well-hidden to give even the slightest hint of its presence.
However, away from the nasty smell of the Ginkgo tree lies a seed with an extremely pungent but chessy like smell. It will take a lot of convincing for people to believe that the Ginkgo seed is actually a part of the much-maligned Ginkgo plant.
The taste of Ginkgo seed is quite unique. In its fresh form, when the seeds have been separated from the flesh, you will find the taste of Ginkgo seed a little like plum which tends to upset the stomach. However, if you've tried this in dishes like Chawanmushi or Takikomi Gohan, you will discover that the taste tends to be bitter-sweet in a way that mirrors the taste of cheese.
While the taste of Ginkgo seed is complex, there's no need to hide the fact that it tastes good. Even better than the taste of raw garlic. But, no matter how you come to love it, ensure you never consume more than 5 seeds a day if you decide to enjoy raw.
How to Use Gingko Seeds for Asian Cuisines
Dobin Mushi
At first sight, this can easily be mistaken for a pot of herb, but without this soup, the exotic taste of Ginkgo seed would have remained the best-kept secret in the Universe. While the amount of seeds used here is higher than the recommended amount of 5 per day. It should be noted that the taste of this dish heavily lies on the numbers of Ginkgo seeds used.
Unlike other dishes where the seeds have to be soaked before it's cooked, the seeds used for Dobin Mushi must be boiled in salt water to minimize its pungent taste. After which they can be shelled.
Chawanmushi
On Appearance, the first thing you will notice about this trademark Japanese dish is the toppings. From shrimp and mushrooms to vegetables. The toppings may vary, but the presence of Ginkgo seeds can never be under-estimated. Often reserved for the last but an essential ingredient that gives this dish the final taste of class.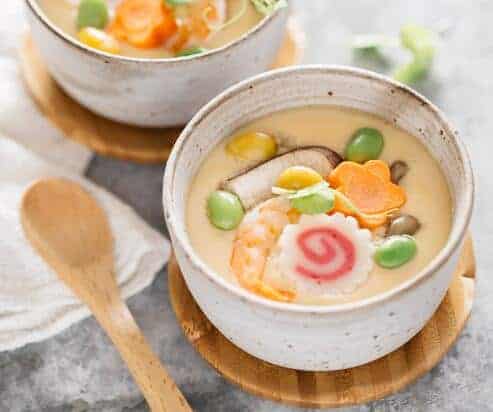 Takikomi Gohan
You may be forgiven for thinking this is another Asian dish with few ingredients thrown into a large volume of water. However, this is one popular Japanese dish served in most restaurants as well as in parties. It's said that a visit to this country is never complete without a taste of Takikomi Gohan.
Rather than throwing in Gingko seeds in a plate of white rice which isn't creative by the way. Takikomi Gohan is a creative way to blend the unique taste of Ginkgo into a highly-spiced dish. The ingredients are quite much, but you will never be disappointed by its result. While this dish will fondly be remembered for its pronunciation, the combination of Ginkgo seeds, mushroom and chicken breast in one dish will leave you asking for more.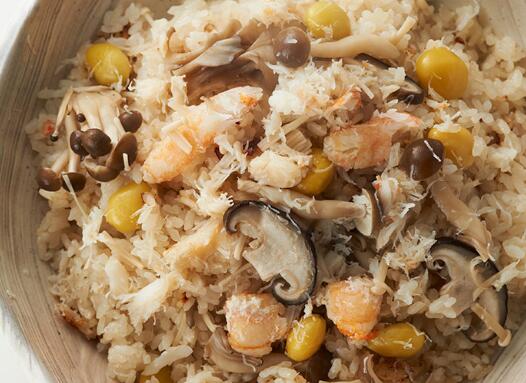 Ginkgo Nut Rice
If you have a lot of Gingko seeds in the kitchen, it won't hurt to put them into use. Especially when you want to add more nutrients to a plate of plain white rice. Throwing in few Gingko seeds skyrockets the nutrient contents and makes it a complete dish.
To ensure the Ginkgo seed doesn't ruin the taste of your rice, ensure you don't use too much. Secondly, the seeds should be soaked, and the outer coats should also be removed at the same time. In rice, the Ginkgo seed is bound to taste a whole lot better than when eaten raw.
Where to Get Gingko Seeds?
Major platforms offer many kinds of gingko seeds products. Here are the best based on their price and reviews.
in stock
2 new from $10.09
as of September 22, 2023 5:30 am
Is Gingko Seeds Healthy?
Even though this part is supposed to concentrate on the nutritional aspect of the seeds, we can't ignore its medicinal benefits. According to studies, Ginkgo seed can lower blood cholesterol level in several living organisms. When consumed raw, the fat-soluble side can also lower the risk of cardiovascular disease in humans.
In addition to that, it's also beneficial in preventing diseases such as cancer thanks to its antioxidant properties. Even the leaf of the Gingko plant has an equal share of antioxidant in the form of flavonoids and terpenoids which protects the body against toxins.
Alzheimer's disease and other chronic conditions have been linked to a decline in brain function due to the accumulation of toxins around the brain. Gingko extract can decrease the build-up of toxins on this vital organ and also improves blood flow around the brain. This activity improves cognition as well as memory retention.
One advantage the Gingko seed has over other ingredients is that it isn't easily destroyed by heat. And can retain more than 50% of its antioxidant content even after cooking.
Conclusion
Most times, Ginkgo seeds are ignored, but this isn't because they're not spicy. Instead, it's due to the smell as well as usage. In truth, they aren't the most versatile ingredients, which makes it easy to ignore. They can't stand alone as a dish, and even if they do, they aren't quite enjoyable.
---
---
Rate This Article