How to Choose the Best Air Fryer?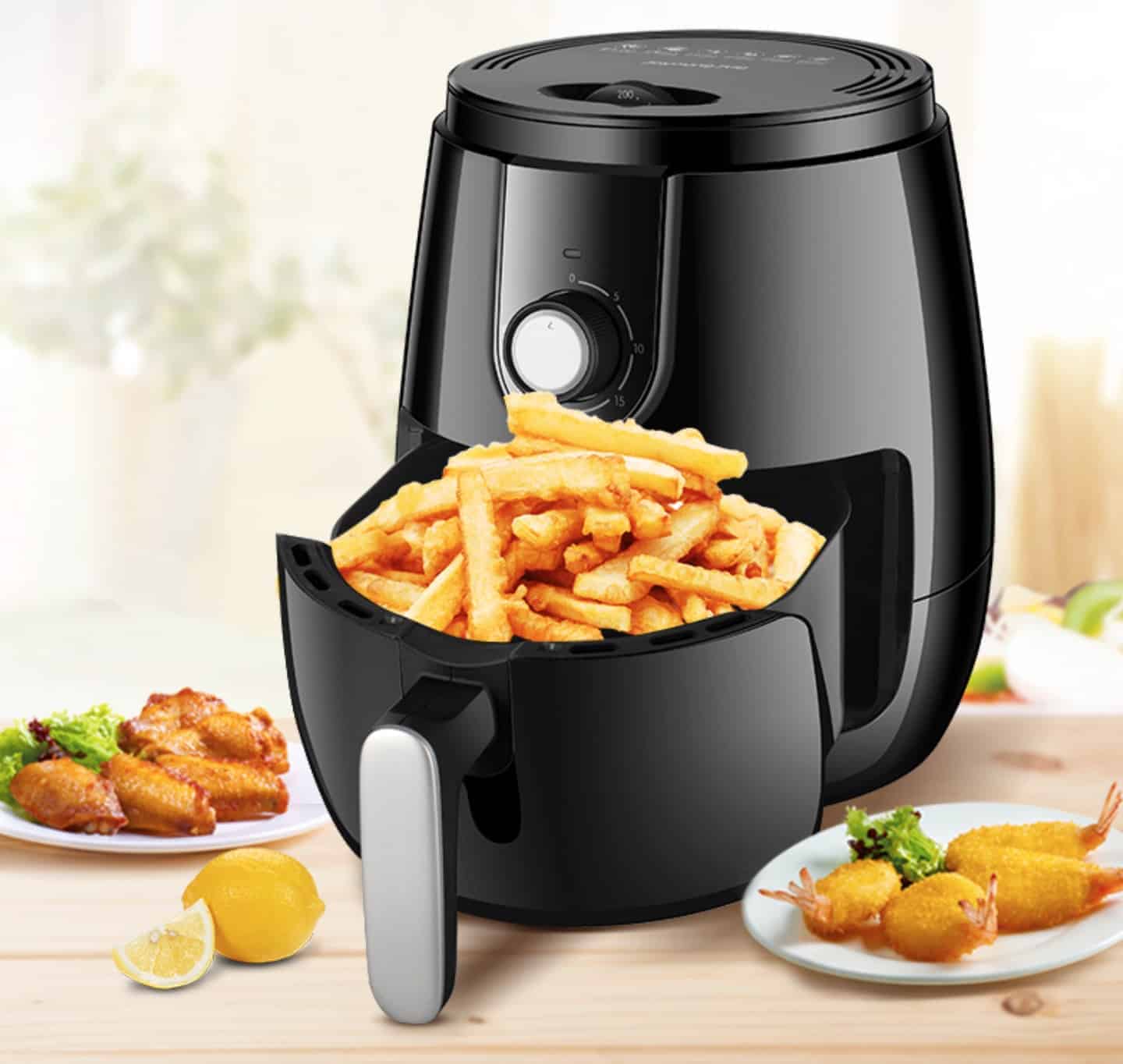 Top Best Air Fryers Based on Reviews and Price
Last updated on October 19, 2021 2:25 am
Why You Need an Air Fryer?
Crispy foods that are made without using much oil are undoubtedly tempting to consume. This is what air fryers help us with. In fact, oil-less or minimal oil cooking makes it one of the hottest countertop appliances that every homeowner wishes to buy.
These appliances do not actually fry food. But, a fan distributes hot air for quickly cooking and crisping the food placed in the basket. Even, these appliances are used for reheating and baking foods based on the model that you choose for your kitchen.
How Does an Air Fryer Work?
Any air fryer works by distributing hot air at high speed all through the interior of the appliance. The food to be fried should be placed on the grill in such a way that air can move from the base to the top again and again to fry the food.
The food placed in the air fryer can be heated quickly from different sides simultaneously. This makes sure that the cooking will happen quickly as against a conventional oven.
Most importantly, it provides a safe and quick and most importantly healthy alternative with less oil usage as compared to traditional cooking methods.
Experts feel that it works based on the Maillard Effect. It means crisping and browning of foods like amino acids and sugars happen in air fryers and they react to high temperatures and get cooked.
Key Benefits of Air Fryers
Here are the benefits you can get from this appliance:
It will be possible to fry foods at high temperatures with considerably less oil.
You can make crispy foods with ease and quickly with this appliance.
This appliance will help you with cutting back on unwanted sugars, fats, and calories from oils and other sources used for frying in a regular cooking appliance.
When you fry foods in an air fryer, there will not be any change in the texture and flavor of the food as well.
French Fries are the most favorite foods for many people and even they can be prepared without getting soggy with this appliance.
Now, with these things known, here are the top points to consider when you shop for this appliance:
10 Factors to Consider Before Buying an Air Fryer
1. The Capacity of the Fryer
For the first-time buyer like you, capacity is an essential factor to consider when buying this appliance. You should have an idea of the type of foods you will fry in this appliance and the capacity to decide on the right capacity suitable for your family.
As compared to conventional fryers, air fryers fry foods quickly. However, when you go for a small unit when your requirement is an actually larger quantity of foods, you will have to waste time cooking in batches.
Normal fryers have a capacity that ranges from 1.8 and 2.5 pounds. This is generally enough for frying chicken drumsticks and similar stuff. On the other hand, if you will be preparing a whole turkey or chicken, you should go for a unit with a better capacity.
2. Controls
When you compare air fryers, you will come across units with a couple of types of controls. The one is digital control and the other is dial control. The former will have a touch display with an accurate temperature and timer readings.
Even, some models will have pre-programmed settings. But, make sure that the icons are easy to understand and check whether you will get an alarm sound once the cooking is completed. The latter is generally a basic and less accurate model. It will only have temperature dial and a timer dial that will indicate to you once the timer ends.
When you go for this model, look for a unit with a timer that you can set for more than 30 minutes.
3. Removable Drawer
You might feel that all air fryers come with a removable drawer. But, this is not the case in all models. Some models have the bowls permanently attached. Cleaning such a device will be hard. So, it is better to choose a model with a removable drawer.
4. Power Consumption
Nowadays, each one of us looks for ways to cut down on our utility bills. If the appliance consumes more power, you might feel hesitant to use it at some point of time.
The utmost electricity consumption of air fryers with 1500 wattage power will not go beyond one unit a day. If you cook for 30 minutes in the appliance, the utmost consumption will be just half-a-unit per day. In general, for household cooking needs, this appliance can complete the work within 15 minutes at the maximum.
The wattage of the appliance will play a major role in deciding the power it will consume. When you buy a unit, check whether the manufacturer has specified how much power it will consume based on the time of operation per day.
5. Stirring Paddle
Some models of this appliance come with stirring paddle. It will automatically move the food around when the cooking process is carried out. This will save you time as you need not have to stir and turn in-between to make sure that the cooking happens evenly.
Also, models with a paddle for stirring can be used even devoid of the paddle. It means that you can even cook delicate foods in the fryer devoid of the paddle that can otherwise make the foods into tiny pieces.
6. Additional Cooking Rack
If you are a person busy in your day-to-day endeavors, you will be interested in cooking fast. If this is the case, you can go for an air fryer with a second compartment. It will allow you to prepare a couple of varied kinds of foods at the same time.
For instance, you can cook both chips and sticks at the same time without bringing them together. Even in some models, the additional rack comes like a smaller basket that sits inside the main bowl.
7. Cooking Basket
Some air fryers come with multiple cooking baskets. This type of cooking basket option will help you if you look to fry different types of foods in the fryer.
Also, multiple cooking baskets will reduce your waiting time as well. You need not have to wait for the same cooking basket to be cleaned before preparing your next dish. So, if you will be cooking more, choose an appliance with this option.
8. Essential Features
Feature-set is also essential to consider when you plan to shop for the best air fryer. Here are some features that will help you:
Dishwasher safe cooking basket: When the cooking basket in the appliance will be safe to clean in a dishwasher, you can save a lot of time in cleaning the cooking basket after every use.
Non-stick surface: When the surface of the cooking basket is non-stick, you can get rid of the hassle of foods getting stuck in the base of the pan. But, remember whether the non-stick coating done is safe and non-toxic before shopping.
Dehydrator: At times, you might have to prepare some fruits for storage to use during the seasons in which you cannot find the fruit in the market. If this is the case, an air fryer with a dehydrator will be the best feature to consider. It will dehydrate or dry the food using a built-in fan and low-heat.
Built-in Rotisserie: If this feature is offered by an air fryer, it will help with the preparation of whole roasts, racks of kababs, tenderloins and even a whole chicken. You can get expertly roasted vegetables, rightly blackened fish and tender crispy meats with an appliance with this feature. So, if you have the requirement of preparing these dishes, you can choose the appliance with this feature.
9. The Air Fryers With Grill Mode
In general, selecting the right air fryer truly relies on your personal needs and preferences. If you are a person, who will be cooking meat and fish at the home frequently, you can consider fryers with grilling options. As against air frying, a fryer with this mode will grill the meat and fish. Of course, it will not be an option suitable for all. But, if you frequently cook meat and fish, you might find this mode beneficial.
10. Material
One of the important considerations in selecting the best air fryer is the overall material of the unit. They come in different materials like plastic, aluminum, and stainless steel.
Among these, plastic air fryers will be easy to handle. But, make sure to read the specifications about the type of plastic used. It should be graded plastic and not poor-quality plastic that can be harmful to your health.
Aluminum air fryers will last longer and they will be safe to use as compared to plastic fryers. As far as stainless steel air fryers are concerned, they also ensure durability. However, do not forget to check the overall weight of the unit. Among these aluminum fryers, can weigh more comparatively.
Wrapping It Up
Air fryers, undoubtedly, are the best appliances for your march towards a healthy lifestyle. But, consider the factors mentioned above and end up with the right unit.
---
Rate This Article