7 Best Air Fryers Reviews and Buying Guide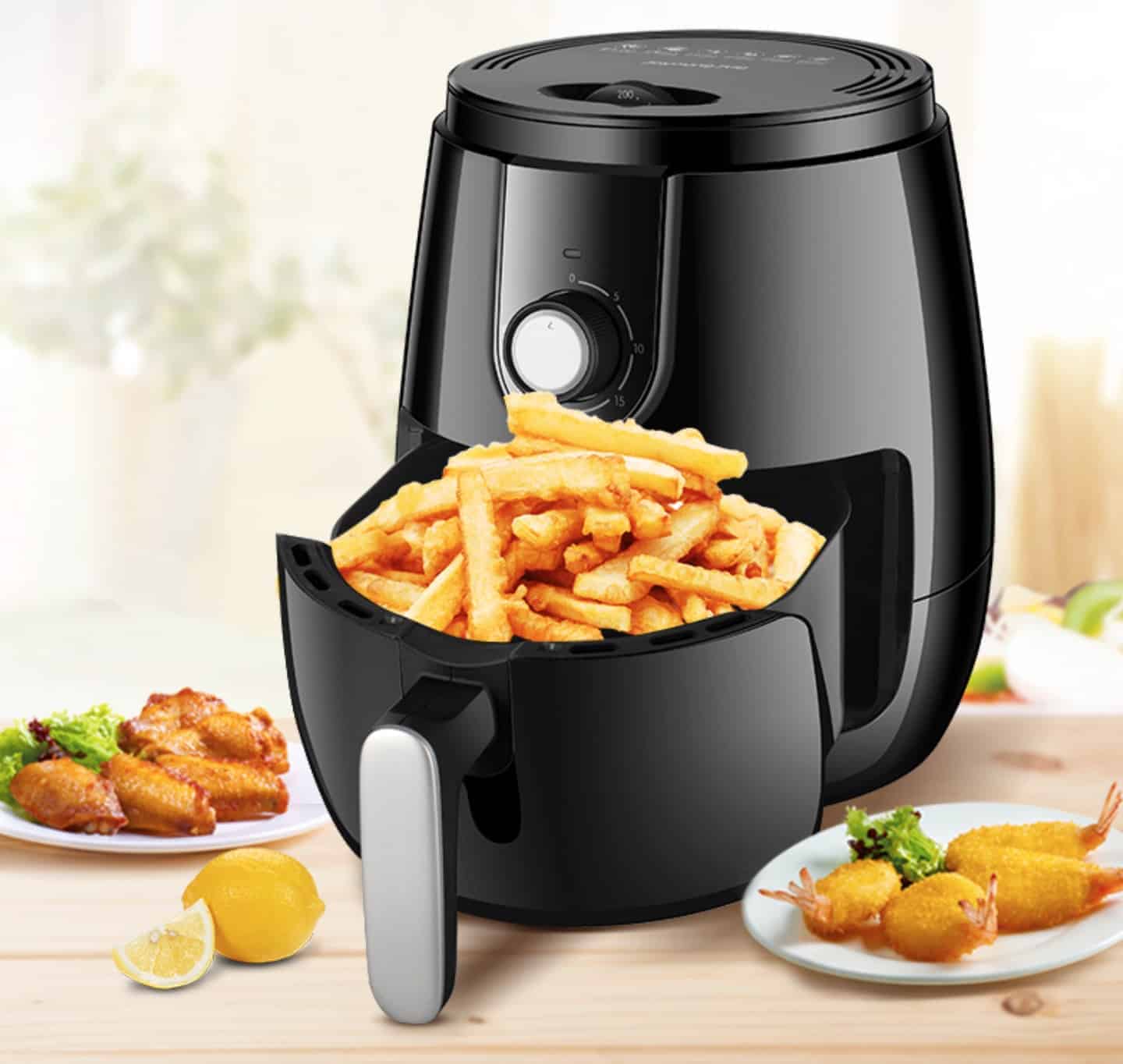 Why You Need an Air Fryer?
Crispy foods that are made without using much oil are undoubtedly tempting to consume. This is what air fryers help us with. In fact, oil-less or minimal oil cooking makes it one of the hottest countertop appliances that every homeowner wishes to buy.
Air fryers have multiple features, people may have different preferences from different areas, such as people in Australia tend to choose larger air fryers. But overall, these appliances do not actually fry food. But, a fan distributes hot air for quickly cooking and crisping the food placed in the basket. Even, these appliances are used for reheating and baking foods based on the model that you choose for your kitchen.
Quick Summary
1. Best Seller – COSORI CP358-AF Air Fryer
2. Best Commercial Air Fryer – Ultrean AF01 Deep Fryer
3. Best Large Capacity Air Fryer – Ultrean 6 Quart Fryer
4. Best Oilless Fryer – Ultrean AF0301 Oil-Free Fryer
5. Best With Viewing Window – ChefMan TurboFry Deep Fryer
6. Most Giftable – Ninja AF101C Oil-Free Fryer
7. Our Budget Pick – Secura Air Fryer
Top Rated Air Fryers Reviews
1. Best Seller – COSORI CP358-AF Air Fryer
Designed in California, this oil-free fryer makes cooking so easy. The appliance is equipped with a complete control interface, including 10 programs defined for all your dishes.
These settings are fully customizable, as is the vibration reminder which you can change to suit your needs. Everything has been thought out for the ergonomics of this fryer; its easy-to-use touch panel is oriented so you never have to bend down.
Its 5.5 liters (5.8 quarts) capacity allows you to cook meals for up to 5 people, with a wide range of recipes that you can consult in the provided booklet. The product includes removable non-stick baskets for easier cleaning.
2. Best Commercial Air Fryer – Ultrean AF01 Deep Fryer
Sold for less than $100, Ultrean's inexpensive hot air fryer guarantees you the efficiency of a classic fryer but with little to no oil for healthy meals. This multifunctional appliance allows the cooking of a wide variety of foods for grilling, roasting, or simple cooking.
The integrated non-stick pan is easily cleanable and cooks your preparations evenly. Thanks to a compact design of several color choices, it fits into your worktop without taking up too much space.
Its powerful motor heats your food in a container of almost 4 liters, ideal for family use. An automatic shut-off timer helps prevent the appliance from overheating while limiting its power consumption. We liked its control panel. It is clear, understandable, and very easy to use. Also, its basket is removable and includes a non-stick pan, which allows for easier cleaning. The little downside is that the LCD screen is fairly basic and lacks information.
3. Best Large Capacity Air Fryer – Ultrean 6 Quart Fryer
Both dedicated for the family but also large meals, this XL hot air fryer is much loved for its large capacity. With a capacity of 6 quarts, this appliance allows cooking healthy food, with 80% less fat.
Thanks to an ergonomic and easy-to-use design, your food preparations are carried out according to your expectations. It is an all-in-one fryer that can roast, bake or fry your favorite dishes.
This powerful fryer incorporates 360 ° air heating technology without the slightest splash. A cookbook is provided so you can discover new preparations. It's then accompanied by an oven mitt. We liked the presence of an automatic shutdown and overheating protection system. Also, 7 cooking presets are combined for better cooking results. Finally, its basket is removable and is dishwasher safe, which makes cleaning easier.
4. Best Oilless Fryer – Ultrean AF0301 Oil Free Fryer
Some air fryers work with some oil, albeit small (a tablespoon). However, frying your preparations has never been so practical with this model. The air cooking technology powered by 1700 watt electricity lets you enjoy crispy dishes prepared to perfection without the use of oil.
Its touch screen brings together a whole set of information, with a timer and an option of maintaining the heat. 10 preset programs are available for a wide variety of dishes: meat, fish, cake, and many others.
The capacity of the device is 5.5L which would be enough for serving the whole family. Its finishes limit the presence of scratches and traces.
5. Best With Viewing Window – ChefMan TurboFry Deep Fryer
Want to keep watch of your food as it fries? This model has an extra-large viewing window. The TurboFry fries thanks to the power of hot air, with 98% less fat. Like its competitors, there is great versatility in terms of cooking with several possible preparations (pizzas, chicken, fries, vegetables, etc.). With a capacity of 3.5 liters, this device is perfectly suitable for families.
Clean-up is quick with a non-stick basket that is even dishwasher safe. The digital display shows essential information, with a 60-minute timer and a hold heat program. The device is very decorative, with beautiful finishes. It ensures up to 98% less oil in your preparations, for healthier meals.
6. Most Giftable – Ninja AF101C Oil-Free Fryer
Highly rated for being very giftable by verified buyers, the Ninja AF101C air fryer includes many comprehensive features for the user. With nearly 75% less fat in your dishes, this appliance ensures evenly distributed cooking. With a large, non-stick 3.8L basket, it is possible to cook a wide choice of preparations. This model is very versatile and takes care of fried, roasted, or simply reheated dishes.
Another very interesting point is the food dehydration system, using a fan system. It allows creating homemade snacks in a breeze. Its control panel combines 4 very practical cooking functions. However, note that no presets are built into the device. And it lacks an automatic shutdown system for user safety.
7. Our Budget Pick – Secura Air Fryer
For all cooks, here is without a doubt the best oil-free fryer for its value for money. The capacity is a key feature of this appliance, with a lockable and removable 5.3 Quart French fries basket. Quick-cooking ensures that you are cooked to perfection, with almost 85% less fat. The design and robustness of the Secura Air Fryer guarantee the durability of this product, for the benefit of the whole family!
Featuring convection technology, flavor and moisture are sealed for a healthier meal. Its powerful motor allows cooking from 356 ° F to 752 ° F for all your dishes: fries, roasts, grills, and more. The 1700W motor evenly heats your dishes and saves energy. It cooks very fast (in 3 minutes) with 360 ° convection technology. However, note that it has just a single compartment that does not allow cooking several foods at the same time.
How Does an Air Fryer Work?
Any air fryer works by distributing hot air at high speed all through the interior of the appliance. The food to be fried should be placed on the grill in such a way that air can move from the base to the top again and again to fry the food.
The food placed in the air fryer can be heated quickly from different sides simultaneously. This makes sure that the cooking will happen quickly as against a conventional oven.
Most importantly, it provides a safe and quick, and most importantly healthy alternative with less oil usage as compared to traditional cooking methods.
Experts feel that it works based on the Maillard Effect. It means crisping and browning of foods like amino acids and sugars happen in air fryers and they react to high temperatures and get cooked.
Key Benefits of Air Fryers
Here are the benefits you can get from this appliance:
It will be possible to fry foods at high temperatures with considerably less oil.
You can make crispy foods with ease and quickly with this appliance.
This appliance will help you with cutting back on unwanted sugars, fats, and calories from oils and other sources used for frying in a regular cooking appliance.
When you fry foods in an air fryer, there will not be any change in the texture and flavor of the food as well.
French Fries are the most favorite foods for many people and even they can be prepared without getting soggy with this appliance.
Now, with these things known, here are the top points to consider when you shop for this appliance:
10 Factors to Consider Before Buying an Air Fryer
1. The Capacity of the Fryer
For a first-time buyer like you, capacity is an essential factor to consider when buying this appliance. You should have an idea of the type of foods you will fry in this appliance and the capacity to decide on the right capacity suitable for your family.
As compared to conventional fryers, air fryers fry foods quickly. However, when you go for a small unit when your requirement is an actually larger quantity of foods, you will have to waste time cooking in batches.
Normal fryers have a capacity that ranges from 1.8 and 2.5 pounds. This is generally enough for frying chicken drumsticks and similar stuff. On the other hand, if you will be preparing a whole turkey or chicken, you should go for a unit with a better capacity.
2. Controls
When you compare air fryers, you will come across units with a couple of types of controls. The one is digital control and the other is dial control. The former will have a touch display with accurate temperature and timer readings.
Even, some models will have pre-programmed settings. But, make sure that the icons are easy to understand and check whether you will get an alarm sound once the cooking is completed. The latter is generally a basic and less accurate model. It will only have a temperature dial and a timer dial that will indicate to you once the timer ends.
When you go for this model, look for a unit with a timer that you can set for more than 30 minutes.
3. Removable Drawer
You might feel that all air fryers come with a removable drawer. But, this is not the case in all models. Some models have the bowls permanently attached. Cleaning such a device will be hard. So, it is better to choose a model with a removable drawer.
4. Power Consumption
Nowadays, each one of us looks for ways to cut down on our utility bills. If the appliance consumes more power, you might feel hesitant to use it at some point in time.
The utmost electricity consumption of air fryers with 1500 wattage power will not go beyond one unit a day. If you cook for 30 minutes in the appliance, the utmost consumption will be just half a unit per day. In general, for household cooking needs, this appliance can complete the work within 15 minutes at the maximum.
The wattage of the appliance will play a major role in deciding the power it will consume. When you buy a unit, check whether the manufacturer has specified how much power it will consume based on the time of operation per day.
5. Stirring Paddle
Some models of this appliance come with a stirring paddle. It will automatically move the food around when the cooking process is carried out. This will save you time as you need not have to stir and turn in-between to make sure that the cooking happens evenly.
Also, models with a paddle for stirring can be used even devoid of the paddle. It means that you can even cook delicate foods in the fryer devoid of the paddle that can otherwise make the foods into tiny pieces.
6. Additional Cooking Rack
If you are a person busy in your day-to-day endeavors, you will be interested in cooking fast. If this is the case, you can go for an air fryer with a second compartment. It will allow you to prepare a couple of varied kinds of foods at the same time.
For instance, you can cook both chips and sticks at the same time without bringing them together. Even in some models, the additional rack comes like a smaller basket that sits inside the main bowl.
7. Cooking Basket
Some air fryers come with multiple cooking baskets. This type of cooking basket option will help you if you look to fry different types of foods in the fryer.
Also, multiple cooking baskets will reduce your waiting time as well. You need not have to wait for the same cooking basket to be cleaned before preparing your next dish. So, if you will be cooking more, choose an appliance with this option.
8. Essential Features
Feature-set is also essential to consider when you plan to shop for the best air fryer. Here are some features that will help you:
Dishwasher safe cooking basket: When the cooking basket in the appliance will be safe to clean in a dishwasher, you can save a lot of time in cleaning the cooking basket after every use.
Non-stick surface: When the surface of the cooking basket is non-stick, you can get rid of the hassle of foods getting stuck in the base of the pan. But, remember whether the non-stick coating done is safe and non-toxic before shopping.
Dehydrator: At times, you might have to prepare some fruits for storage to use during the seasons in which you cannot find the fruit in the market. If this is the case, an air fryer with a dehydrator will be the best feature to consider. It will dehydrate or dry the food using a built-in fan and low-heat.
Built-in Rotisserie: If this feature is offered by an air fryer, it will help with the preparation of whole roasts, racks of kababs, tenderloins and even a whole chicken. You can get expertly roasted vegetables, rightly blackened fish and tender crispy meats with an appliance with this feature. So, if you have the requirement of preparing these dishes, you can choose the appliance with this feature.
9. The Air Fryers With Grill Mode
In general, selecting the right air fryer truly relies on your personal needs and preferences. If you are a person, who will be cooking meat and fish at the home frequently, you can consider fryers with grilling options. As against air frying, a fryer with this mode will grill the meat and fish. Of course, it will not be an option suitable for all. But, if you frequently cook meat and fish, you might find this mode beneficial.
10. Material
One of the important considerations in selecting the best air fryer is the overall material of the unit. They come in different materials like plastic, aluminum, and stainless steel.
Among these, plastic air fryers will be easy to handle. But, make sure to read the specifications about the type of plastic used. It should be graded plastic and not poor-quality plastic that can be harmful to your health.
Aluminum air fryers will last longer and they will be safe to use as compared to plastic fryers. As far as stainless steel air fryers are concerned, they also ensure durability. However, do not forget to check the overall weight of the unit. Among these aluminum fryers, can weigh more comparatively.
Wrapping It Up
This type of appliance is very popular today because it provides a healthy way to fry food without oil and improves your cooking conditions. By circulating the hot air, this fryer makes delicious and healthy fries.
With that said, before purchasing your oil-free fryer, you must know what your requirements and needs are. Our Editor's Choice and the Best Seller on the market is without a doubt is the COSORI CP358-AF Air Fryer. However, the best oilless fryer for us is the Ultrean AF0301 Oil-Free Fryer. For those on a tight budget, the Secura Air Fryer would be ideal for you.
Air fryers, undoubtedly, are the best appliances for your march towards a healthy lifestyle. But, consider the factors mentioned above and end up with the right unit.
---
Rate This Article