How to Choose the Best Cookie Cutters?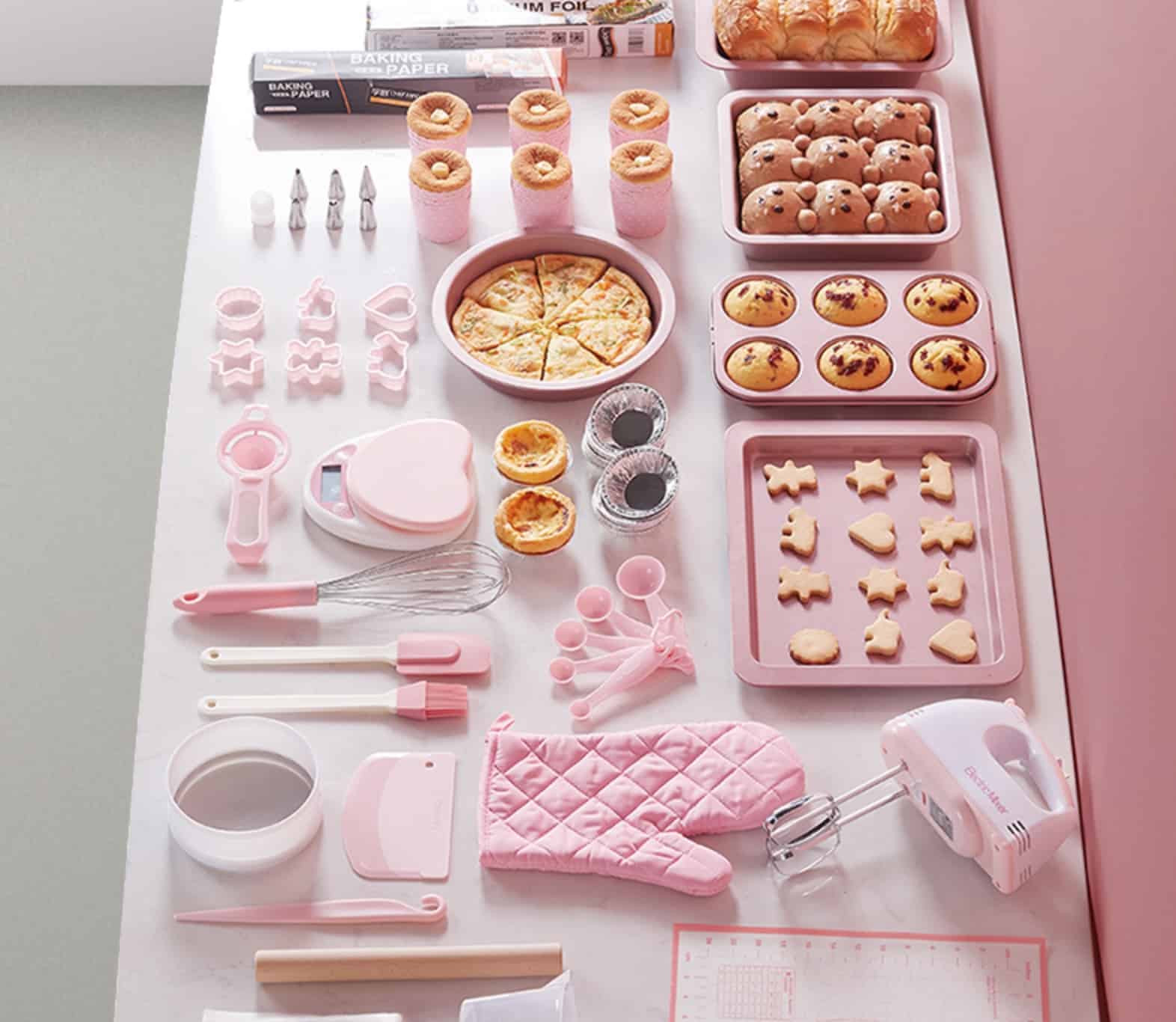 Top Best Cookie Cutters Based on Reviews and Price
Last updated on September 18, 2021 2:00 am
What are Cookie Cutters?
We are not the new generation tasting Christmas cookies. Our ancestors have been enjoying them for hundreds of years. There are many mentions of sweet cookies enjoyed during vacation dating back to the medieval period.
They were first identified to be used in Europe and they came to the United States early as the 17th century. The movement happened with English and Dutch Colonists traveling to the United States.
A cookie cutter is actually an American Term and British people call it a biscuit cutter. As the name implies, it is a tool used for cutting cookies from the cookie dough in the desired shape and size.
Benefits of Cookie Cutters
If you are thinking about whether or not to buy cookie cutters, you should understand that you might have been using the same round-shaped object for cutting cookies for long. Even, you might have been making shapes using knives. But, with cookie cutters in different shapes, you can excite your kids and family, who always expect innovation in cooking.
A cookie cutter will have sharp edges to make sure that users can easily cut off the cookie dough in the desired shape before the baking process.
10 Factors to Consider When Buying Cookie Cutters
Irrespective of whether you buy a single cookie cutter or even if you buy them in sets, you will have to consider different factors to ensure that you will end up with the right cutter for your cookie-making requirements:
1. For What Occasion You Need Cookie Cutters?
Cookie cutters designed for different occasions can be bought. For instance, if you plan to buy them for Christmas, you can find them in suitable shapes like Christmas tree, Santa and similar choices.
On the other hand, if you plan to buy them for making cookies for your child's birthday, you will find them in the appropriate design.
Of course, a cookie cutter that you purchase for this Christmas can be used next year as well. Even, you can make cookies in Christmas-related shapes all year round as well.
2. Material
The material used in making a cookie cutter is an essential factor to consider. As you are planning to use the cutter for preparing a dish, you should ensure that cutters made out of safe materials are chosen.
Some of the options you will come across are wood, fabric, silicone, stainless steel, plastic, and metal. Here are the benefits of each of these materials:
Wood cookie cutters will last longer. However, you should be careful about preserving them as they are prone to pest infestation.
Fabric cookie cutters are easy to wash after every use. But, you should consider whether the edges are sharp to ensure easy cutting.
Plastic cutters are affordable. But, check whether food-safe plastic has been used for its making.
Not just stainless steel, but also other metal-based cutters are the most preferred choices. The reason is that they have sharp edges for ensuring easy cookie cutting.
3. Features to Consider
You might be wondering whether there will be any special features in cookie cutters. But, some features will enhance the easiness of use of these cutters. Here are some features to consider when you shop for these cutters:
With this feature, you can ensure that you can get the cookies in the right and desired shape without the dough getting caught in the cutter. making your job easier, this feature will also make your end product look at its best.
So, consider a cookie cutter with this feature. When you go for a cutter with a non-stick surface, you need not have to dip the cutter in sugar or flour before use.
If you are a who will be frequently using the cookie cutter for making cookies in different shapes, you should consider whether the cutter is dishwasher safe.
This feature will ensure that you can get the cutters cleaned with ease after every use as against washing them using your hands.
If you buy a set of cutters in different shapes, the set should provide you the opportunity to easily keep the cutters organized after every use. As you can store every cutter in the box or pouch in which the set comes, you can ensure easy and safe organizing of the cutters without losing a single piece of cutter.
This is an essential feature as cookie cutters are smaller tools that can be easily misplaced.
4. Cutters with a Handle
You might be wondering whether it will be possible to find cutters with a handle. You are right. Mostly, we come across cutters available in different shapes along without any handle. But, to help commercial bakers, who will have to handle huge quantity of cookie cutting tasks every time, to make their work easier, these cutters are available with handles as well for easy handling.
With regular cutters, you will not have the option to work without touching the dough. But, with handles, the physical contact with the dough can be avoided. So, you can consider this as an option if you feel that a cookie cutter with a handle is essential for you.
5. Colorful Choices
If you wish that the cutters should be available in different colors in your home, you should not go for the regular metal cutters. The reason is that the set of metal cutters will have cutters in silver color as common.
But, when you opt for other materials like plastic and silicone, you will find them in multiple colors.
Of course, color is not going to make any difference in the shape and size of your cookies. But, they will look attractive in your countertop when you are engaged in the cookie cutting process.
6. Consider the Types
When you compare cookie cutters, you will find them in different types. Here are some details to know in this regard to help you with the right selection:
Cutouts are regular cutters that we come across. They will be available in different materials and they are the simplest of all types. When you use this cutter, you will have to just press the cutter into the cookie dough that you have already rolled flat for producing the shape of the outline of the cutter.
In some cookies that you shop from stores, you would have found some detailing within the cookies. This is possible with this cookie cutter. It is very much similar to the cutout type when it comes to usage. The only difference is that there will be detailed in the cookies prepared using this type of cutter. This type is commonly made using metal and plastic materials.
In this type, the mold will have ornamental designs into the surface. Once the dough is prepared, the mold is pressed into the dough for producing not just the expected cut, but also the cut will have embossed design. These molds will either be in the shape of a rolling pin or the shape of flat disks.
Otherwise called cookie gun, for making large batches of cookies at a faster pace. In this type, the cookie dough is extruded to the baking sheet in different shapes. Otherwise, these designs are hard to achieve by hand.
7. Durability
As you know, you will be interested in ensuring that the cutter will stay with you for long. Some cutters will have sharp edges initially. But, after some time of use, they will become blunt, thereby making the cutter unusable.
So, durability and the quality of material used in making the cutters are essential considerations. Only then, you can use the cutters for a longer period without replacement.
8. Consider the Size
Some people think about making small size cookies, while some wish that they should get medium-sized cookies. Even, some people wish to make cookies in the standard size that we come across in the market. Based on your requirement, you should decide whether you should choose small, medium or standard size cookie cutters.
9. Personal VS Commercial Use
You should first decide whether you are going to use the cutters to prepare cookies for your family and friends or you plan to sell the homemade cookies.
To help with this, cookie cutters are classified under two major categories and they are commercial purposes and for at-home hobbyists. So, decide on your choice accordingly.
10. Ease of Use
When it comes to the easiness of use, not just the size counts, but even you should consider the strength and flexibility aspects. It should not be heavyweight to handle and easiness to wash is also essential.
Wrapping It Up
With the best cookie cutters, you can excite your family with the best cookies for different occasions and even for regular day-to-day use. Consider the points mentioned above and make the best shopping.
---
Rate This Article