Top 9 Best Thai Kitchen Sauce – Taste Reviews and Buying Guide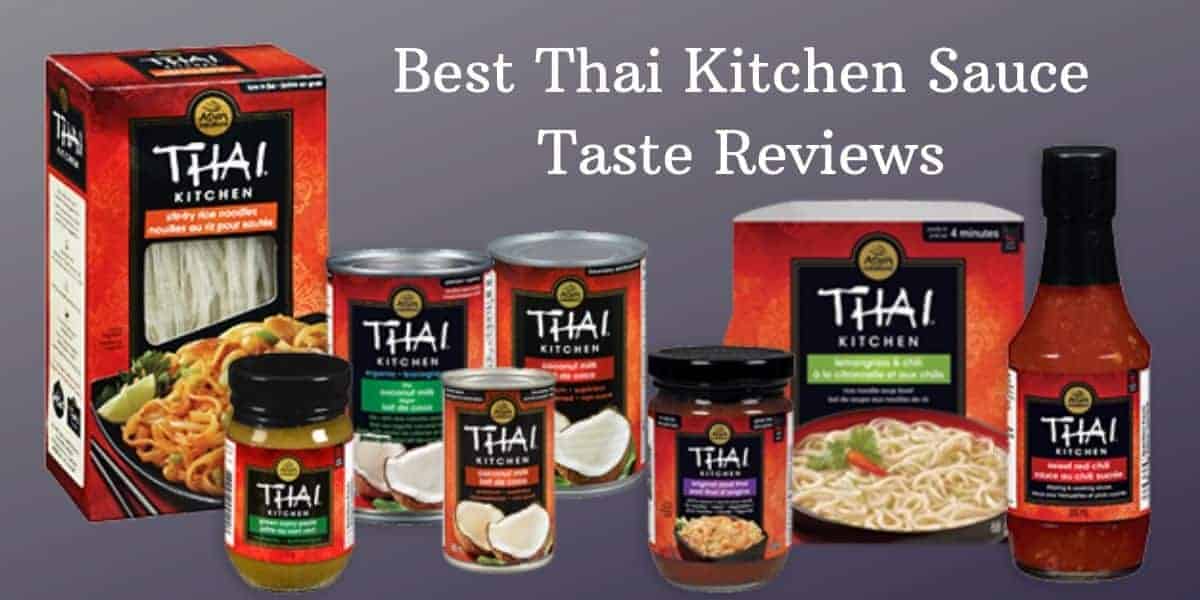 9 Best Thai Kitchen Sauce Reviews
Thai food is world-renown for being emphatically aromatic with a slightly tangy edge – not too spicy, and not too bland. While Thai food itself has taken the world by storm, this would hardly be possible without the intricate attention to detail that's taken when coming up with the recipes. Among other important components of the same, Thai kitchen sauce is part of the ingredients that cannot be overlooked.
Here are our favorite sauces from Thailand and how best they can be used and in which dishes – ranked from the best to the little favorite.
1. Thai Kitchen Gluten Free Thai Chili & Ginger Dipping Sauce
Taste test
This sauce is sweet and tangy. Its ingredients include rice vinegar, ginger and a few tastes enhancers that come together to greet your mouth with a mild spiciness. It's not too sweet or too overwhelming, making it an all-rounder.
What we like
Its taste isn't as nuanced as others on this list have been, making it the perfect choice for almost any recipe. Done cooking rice? Just slap on some dipping sauce and you're good.
What we dislike
The biggest downside is the prohibitive cost, as compared to other products in the same class. But to be fair, few come close to it in terms of sheer quality.
What it's best used for
This is also by far the most versatile sauce on the list. Want to use it as a dipping sauce? Be our guest. Need something to add flavor to your Asian cuisine or even American pork after roasting? It's got you covered.
2. Thai Kitchen Sweet Red Chili Sauce
Taste test
Sweet red chili is a made from a graciously simple recipe. Only containing chili peppers blended together with garlic, they provide that extra kick your food may need. The taste itself comprises an interesting blend of both hot and mild chilies.
The two flavors pour over each other perfectly – so that the hot chilies don't overwhelm the mild, while the garlic provides an even more interesting experience other spices cannot. Finally, the sugar comes in to save the day and leave you even more confused and intrigued.
What we like
Above all, the flavor this sweet chili sauce provides is basically unrivaled. Even for people who aren't used to taking chili or aren't the biggest fans of having their mouths feel like they are burning up, this should be the perfect reprieve.
What we dislike
Then again, if you're completely new to chili, this isn't totally an entry-level sauce. It's more concentrated than your average recipe and may leave you red and unsatisfied if you're not careful how much you use.
Where it's best used
Unlike fish sauce, we can consider chili sauce as to appeal to a narrower range of people – foremost because of the strong flavor. However, in small enough concentrations, it goes perfectly with any meal that involves meat, spring rolls, and even shrimp. The sweeter taste of this sauce blends together amazingly with vegetables and salads.
3. Thai Kitchen Gluten Free Green Curry Paste
Taste test
We have compared red and green chili paste, and it brings up some interesting points in terms of preference. This green chili paste is generally sharper and hotter than the red chili variety but has other ingredients mixed in to tame the runaway hotness.
What we like
The greatest thing about this chili is that it's virtually impossible to reach the same height of flavor with any other ingredient. It's hot enough to make your mouth water and cool enough to make you lust for more.
 What we dislike
Not everyone like this curry paste. Anyone looking for unsweetened chili might not find themselves at home with the product.
What it's best used for
This curry paste is perfect for making food that needs that extra oomph. For instance, it can completely transform a pad Thai or make your rice curry a different experience. Soups and anything with meat in them or pasta will also be favored.
4. Thai Kitchen Organic Unsweetened Coconut Milk
Taste test
This coconut milk comes with a gentle, rich texture that flows delicately in your mouth and adds a similarly rich flavor to your food.
The flavor is very soft – so soft some might consider it bland as compared to the cream or other more concentrated brands.
What we like
Everything to love about this product is because of its aroma and great texture. It's not so creamy as to be difficult to use, but light enough that it blends well with all your other ingredients while cooking.
What it's best used for
Since the flavor is so soft, this coconut milk works best for recipes that don't need any ingredient overwhelming all the others. It's versatile enough that you could use it for smoothies, coffee, tea and even baking a cake or biscuits. It has the added advantage of a creamy, coconut flavor.
5. Thai Kitchen Gluten Free Premium Fish Sauce
Taste test
It's been made from anchovies and has a very strong and pungent flavor. Not everyone likes the taste of anchovies, let alone the smell when fermented over twelve months and concentrated even further. That alone makes this product more nuanced than most others you will run across on this list.
What makes it a lot more interesting is the depth of flavor it adds to food. You'll find once you've used it to make a curry, you'll never go back. It has a savory taste that you'll feel at the back of your tongue when used in a dish and the acrid flavor goes away the more you use it.
What we like
This product has a very strong and distinct taste that you'll set apart from others almost immediately. It stands out because it does a lot more than merely bring out the saltiness and a fishy taste. In most cases, in fact, certain sauces somehow make food blander despite having all other recipes.
What we dislike
While the concentration it brings to the table might be a big plus for experienced cooks, newbies might find themselves at odds of how strong exactly it is. It's really easy to mess up a recipe because you used a little bit more than you thought would be necessary.
Where it's best used
One thing that makes this sauce so amazing is just how versatile it is. Just like soy sauce, it can season almost anything you cook in your kitchen – red curry shrimp, chicken satay and larb.
Unlike soy sauce, however, this should be used sparingly in your dipping sauce, when marinating vegetables or in whatever recipe that you wish. For all intents and purposes, we can use it in place of soy sauce in any dish. For people that don't like or allergic to gluten and still want to experience life with the savoriness of soy sauce, this might be just what you've been looking for.
6. Thai Kitchen Gluten Free Red Curry Paste
Taste test
This red curry paste has been made with ingredients which make everything things you taste spicy. The ingredient comprises red chilies and traditional Thai ingredients like Thai ginger and lemongrass. Together, the taste may be special. The chilies blend perfectly well with the tangy, lemony flavor of lemongrass to produce an amazing experience.
What we like
There's no great debate about the taste of curry. It's spicy, and as far as that goes this qualifies as an amazing product. However, this may not cater to all demographics.
What we dislike
For the people who prefer a concentrated concoction of curry paste. It sizzles on your tongue as you eat it. For such people, this paste may appear bland because it's not the strongest paste you're going to run into on the shelves. Thus, It is a beginner taste for curry lovers.
What it's best used for
We can use this red curry paste in a wide range of foods from preparing pasta to prepare different curry dishes, such as egg curry, and beef curry, for instance. Also, it will be pretty useful just for spicing your meals – ramen, cashews, and chickpeas are common meals that can be enhanced through the strong flavor it provides.
7. Thai Kitchen Coconut Cream
Taste test
We can use coconut cream as a dairy-free alternative to milk products. It's important that the taste align itself as closely as possible as to what we'd expect from, say, cow milk. Coconut cream brings a distinct nutty coconut-like taste to food. It has none sugar, and the taste is quite heavy – much like whipped cream.
What we like
Depending on where you're coming from, coconut milk might be the perfect additive to your food or an unsatisfying replacement to milk. It's significantly thicker in consistency than milk. If you find yourself in the habit of using too much and messing up your cake altogether, you're better off using coconut milk instead.
The extra flavor is a big advantage. It's not too strong nor too mild like you'd find in a lot of other creams, which means you don't have to overthink the recipe once you get in the habit of using it. Since it is well-balanced, measuring the right amount might become second nature for us.
Where it's best used
Coconut cream is the best alternative to dairy products when cooking, and as far as that goes. This Thai Kitchen coconut cream performs really well. We can use it in almost every place you use milk – baking cakes, tenderizing your meat and preparing certain Asian cuisines.
In particular, fans of Indian curry will find themselves ingratiate towards this food because of how well it paired with chili. This also allows it to supplement a variety of meals such as anything containing meat or thickening creamy soups.
8. Thai Kitchen Gluten Free Peanut Satay Sauce
Taste test
Peanut satay sauce has the taste of peanut butter somewhere in the distance. It's not exactly the same because of the addition of a few ingredients, such as coconut milk and soy sauce.
Normal peanut satay doesn't hold the amazing taste as much as we'd have expected from a respected brand like Thai kitchen. The taste of Thai Kitchen Peanut Satay is outstanding when it is compared to other peanut satay sauce. Although it tastes is not so good, it's not so bad as to ruin a good recipe.
What we like
This product is completely gluten-free. If you're allergic to peanuts, however, you'd best stay away.
What we dislike
As mentioned before, the biggest downside to this peanut satay is the taste. It's not as great as it could be – it feels like they used too little peanuts and instead decided to concentrate on other ingredients like coconut milk.
What it's best used for
This sauce will work really well with any chicken recipe, either as an ingredient or as a dipping sauce. Also, it also works really well for salad dressings and meat recipes. It adds a peanut-like flavor that especially seeps into meat perfectly.
9. Thai Kitchen Pad Thai Sauce
Taste test
As far as taste goes, this has perhaps the most complex taste of any product by Thai Kitchen. It's sweet and tangy – thanks to a mixture of rice vinegar and sugar. However, the taste of a dozen other ingredients isn't too far off, with a hint of anchovies, cheese and garlic often being felt both in aroma and recipe.
What we like
Thanks to the complexity of flavor, this sauce is hard to nail down to specific advantages. It brings a new breath of life to certain dishes, especially those calling for a sweeter taste like chicken.
What we dislike
It often feels like it completely changes the flavors of other ingredients. This sauce isn't the most versatile thing you'll find, but it works pretty well when for normal chicken dishes.
What it's best used for
This sauce is unsurprisingly good for preparing Thai dishes like pad Thai and stir-fry because of the distant, tangy and salty taste it adds to what would be an otherwise salty dish and nothing more.
Conclusion
Of all these, we rank the Thai Chili & Ginger Dipping Sauce NO. 1 because of the incredible versatility and value it offers. Thai kitchen sauces are an important part of any meal, and as it's often said, once you try it, there's no going back.
Disclosure: We may get an affiliate commission when you purchase products via links on our site. Although we may receive compensation, we only offer our 100% honest reviews, experience, and comments. Learn more.
---
Rate This Article