How to Choose the Best Portable Power Station for Blenders?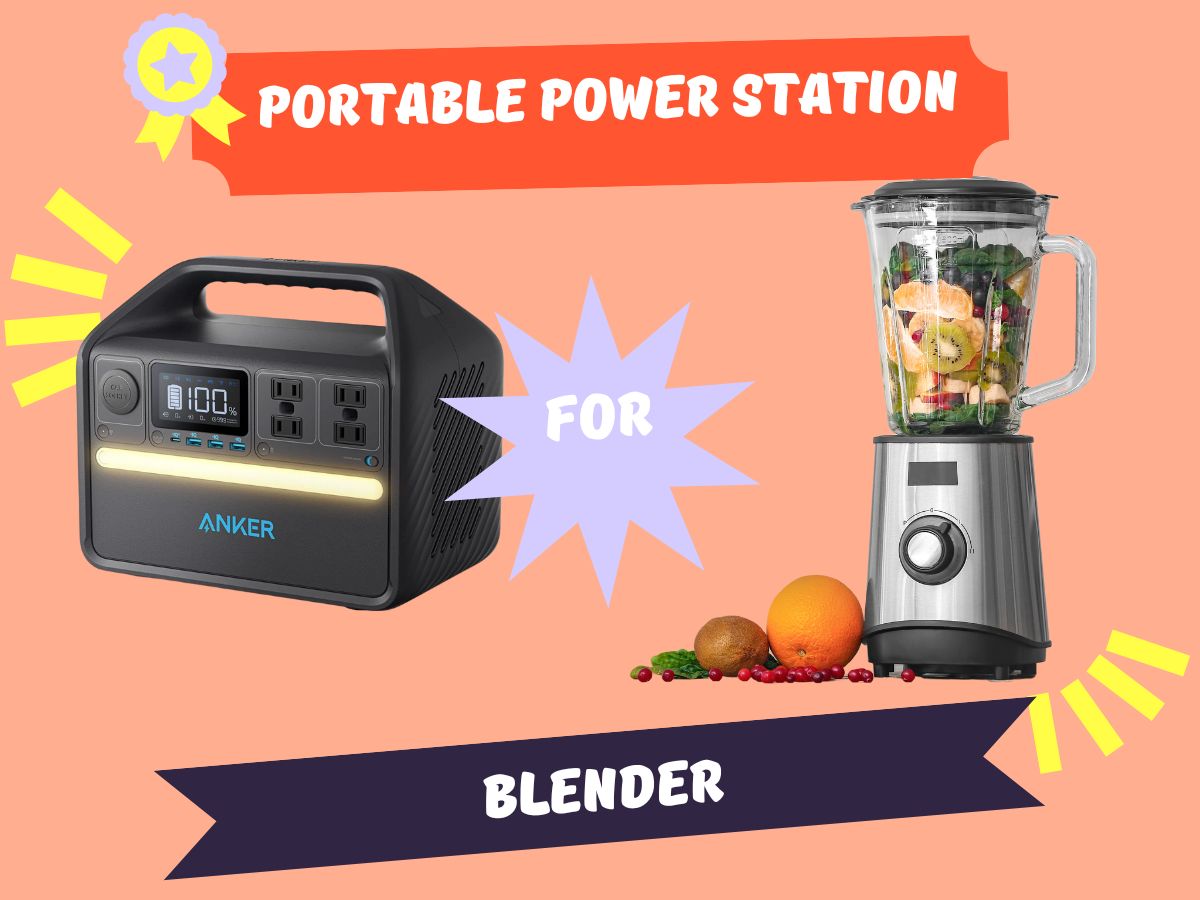 How much power does a blender need?
As many sizes and shapes are available, blenders are devices with varying power requirements depending on multiple aspects. Some of the most common types of blenders, along with their power requirements, are discussed below.
The most commonly used type of blender is a personal blender, which is suitable for individual use with the capacity to blend enough product for one serving. As it is much smaller than most of its counterparts, the power requirements are also minimum. It only needs around 100 W to 200 W power to function per hour.
The second kind is a hand blender or immersion blender, which is a hand-held blender that, despite its smaller size, needs around 150 W to 400 W of power to operate correctly.
The third type of blender is the traditional table-top blender which is commonly used in households or commercial spaces and needs around 500 W to 750 W. according to the size and capacity of these blenders; they are available in models that need even more than 1500 Watts per hour and as less as 300 Watts per hour.
Although blenders are not considered essential for outdoor camping and RV travel, portable RV blenders or camping blenders with an average power consumption of around 300 W to 600 W are gaining popularity in recent years.
Why do you need a portable power station for blenders?
Cost-effective method to eat healthily
During long hours of emergency power outages, most houses lose access to equipment like ovens, cooking units, etc., making it difficult to have a home-cooked healthy meal in such instances that having a portable power station that can provide enough power for a blender would come in handy. Blenders enable healthy eating by assisting in preparing healthy foods like smoothies. A portable power station can ensure the proper functioning of the blender until the power is reinstated.
Ideal for preparing baby food during emergencies
It is a known fact that preparing baby food demands extreme attention as no lumps or bigger pieces are supposed to be in it. During long hours of power outages, having a portable power station that can power a blender would be extremely helpful in preparing food for babies without chunks or lumps. Blenders can also enable pureeing fruits and vegetables to provide babies. Thus, having a portable power station for blenders is crucial for emergencies, especially for people living in power-loss-prone areas.
Great assistance for bed-ridden patients
Regarding bedridden patients, the food is either provided orally or via tubes in a liquid or pureed form. Thus, any household with bed-ridden patients must keep a portable power station for blenders handy, as emergency power outages may make it challenging to puree the patient's food otherwise.
It helps to have food on the go
While engaging in outdoor activities like camping or RV traveling, the issue of procuring familiar food often occurs, especially while traveling through unknown places. A portable power station for a blender provides the choice to prepare familiar drink recipes which are safe and affordable outdoors. It won't be a burden to carry around as compact and small portable power stations with enough power for a portable or personal blender.
How to choose a portable power station for blenders?
Capacity and output wattage
Depending on the kind and size of the blender, numerous portable power stations are available that are powerful enough to power even the high-performing blenders that require more than 1500 W. But while purchasing a portable power station for blenders, it is always better to buy one that can provide around 300 W to 500 W extra power than what is required by the blender. It is because almost all blenders available in the market tend to function with around 80% of the efficiency of their motor.
Thus, even though a blender claims to work with about 900 W power, with only 80% efficiency, it may require around 1200 W. The portable power station for the particular blender should be able to provide at least 1200 W to make it function properly. It is advisable to buy a portable power station for blenders only after estimating the running wattage of the blender and the estimated hours of daily usage accurately.
Output port
Blenders are capable of functioning in both AC and DC output ports using what is called a universal motor. Despite the nature of the outlet, blenders would work with both AC and DC input. This gives the customer immense freedom in choosing the number and nature of output ports for a portable power station for blenders.
As blenders generally need a minimum of 120 V to function correctly, it is advisable to buy a portable power station with two or more AC and DC output ports so that blenders and other emergency equipment can all be powered simultaneously, saving significant time for the user.
A USB output port on the portable power station would also be ideal as a novel section called USB blenders was recently introduced in the market. Most USB blenders use a USB-C port, so the portable power station should have one.
Quick charging output ports that support pass-through charging would be assets for a portable power station for blenders as they would enable uninterrupted power supply for the blenders whenever and wherever required.
Recharge time
When it comes to household blenders, the maximum daily usage would be a matter of minutes, and thus, the recharging time of the portable power station does not make much of a difference. So, portable power stations that take anywhere from 2 to 8 hours for household blenders would be ideal.
The same is the case with portable outdoor blenders. They are not used for hours at a single stretch, and thus, it is possible to use portable power stations that take much longer to finish recharging. For outdoor blenders, even solar-compatible portable power stations can be used. They take much longer than the regular power stations to recharge completely, but they won't cause much of a problem for less-used devices like blenders.
But regarding blenders in commercial spaces like restaurant businesses, portable power stations must provide continuous and uninterrupted power during power outages. So, it is ideal to purchase portable power stations with comparatively lesser recharge time which falls under two hours for such environments. Also, if the power station supports charging while recharging, it would be ideal for the proper functioning of the particular business.
Power source
Regular battery packs, solar power, hybrid power, etc., are the most common power sources used in blender portable power stations. Although hydrogen fuel cells and similar technologies are gaining popularity as a better power source for a portable power station, the power requirement of a blender does not demand such sophisticated power sources.
Using regular battery packs of lithium or lead batteries as the power source in portable power stations for blenders enables the system to provide a variety of wattages to the blenders. According to the size and requirement of the blenders, battery-powered power stations can be chosen from the market options. They ensure that the blenders are recharged or powered within a lesser time.
When it comes to solar-powered portable power stations, the system may take a while, especially during cloudy days, to recharge completely to provide power to the blender. Another downfall is that, if not wholly recharged, a solar-powered portable power station is not capable of powering a blender at night.
It is advisable to purchase a hybrid portable power station for a blender as, during day time, the solar cells will be capable of providing the blender with power. In contrast, at night, the power source can be shifted to the regular battery pack if found necessary.
Dimensions and net weight
It is always advisable to purchase a portable power station for a blender according to the size and dimensions of the particular blender. Portable power stations for regular blenders are available from 10 pounds onwards, and often the minimum-weighing ones can provide less output wattage. So, it is advisable to decide on the size and dimension of a portable power station based on whether it would be able to satisfy the power requirements of the blender that you are purchasing it for.
For smaller personal blenders that need less than 250 W per hour, portable power station options weighing less than 5 pounds on average are available.
Conclusion
Known by the name liquidizer in several parts of the world, a regular-sized blender requires around 300 W to 1000 W of power every hour. During long hours of power outages and emergencies, a portable power station for blenders would come in handy to make healthy meals, baby food, or pureed food for bedridden patients. For commercial blenders also, having a high-capacity portable power station is extremely necessary.
As most blenders do not function with the claimed efficiency, it is often necessary to have portable power stations with around 1200 W or more for different power types of blenders. While purchasing a portable power station for blenders, it is always advisable to consider the running wattage of the blender and the number of hours for which the blender would be used daily.
As blenders have a universal motor, the nature of the output port is not much of an issue when purchasing a portable power station. It is ideal to buy one with both AC and DC output ports. As USB blenders are the latest trend, it would also benefit from USB output ports on the power station.
Considering all the possible pros and cons along with expert advice, it is always advisable to purchase a portable power station for blenders to ensure that no kind of emergency strips off the user with the service of a blender.
---
Rate This Article