How to Choose Portable Power Station for a Pressure Cooker?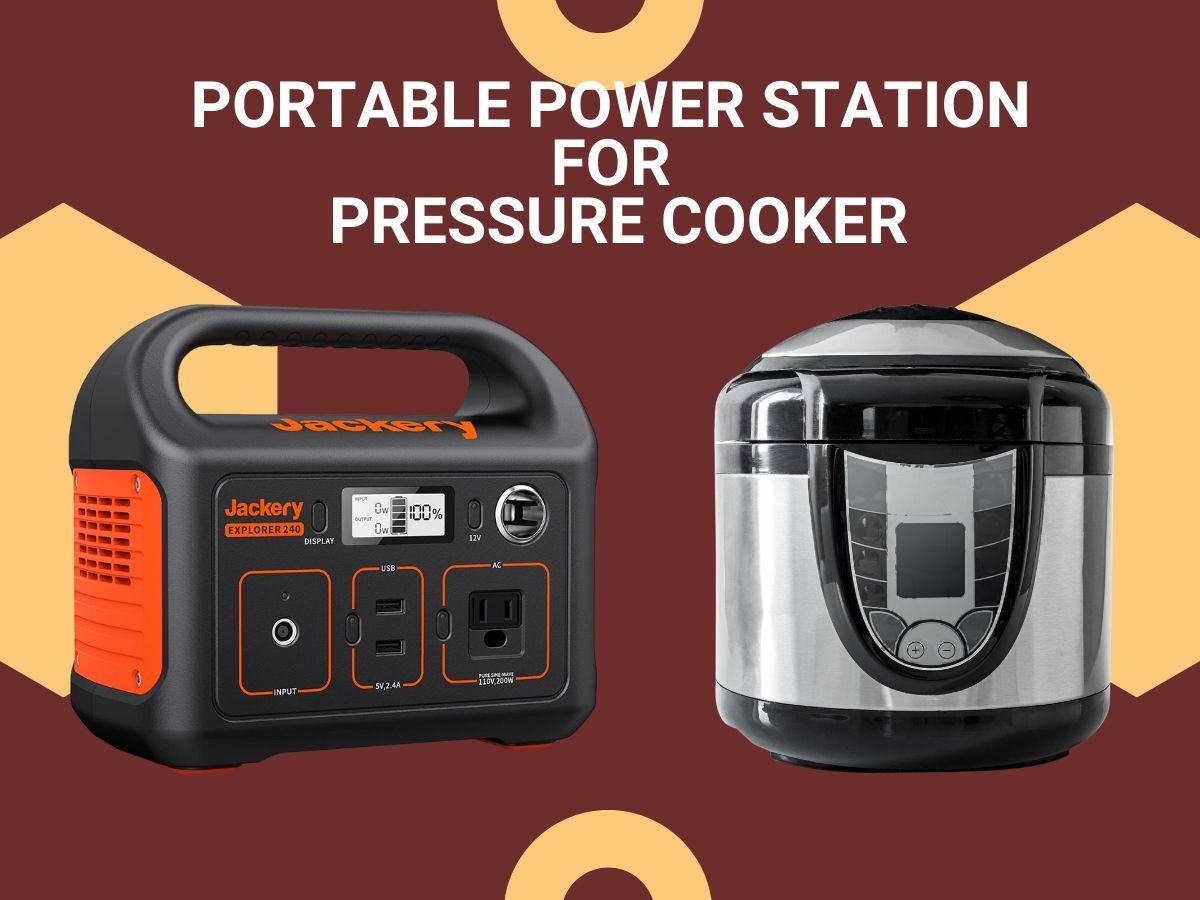 Top rated portable power station for a pressure cooker
How much power does a Pressure Cooker need?
Electric pressure cookers are gaining popularity over the last decade owing to the effortless and less time-consuming cooking style they promote. In terms of fuel or power consumption also, they are great alternatives to traditional cooktops. Standard-sized electric pressure cookers usually require around 1000 Watts. The power requirement varies according to the size of the pressure cookers.
It is estimated that 6 quarts instant pressure cookers are the most commonly used ones, and they require a minimum of 1000 Watts. The power requirement for 3 quarts pressure cookers is estimated at a much lesser 700 Watts, whereas for the 8 quarts, at least 1200 Watts of power is essential per hour.
It is to be remembered that even though the running wattage of the pressure cooker is not so low, once the cooking process is almost complete, the power requirement minimizes to merely 30 Watts to 45 Watts if the slow cooking mode is switched on.
Despite variations in operating temperatures, the power consumption of pressure cookers tends to stay within the claimed power limit except for 10 Watts to 15 Watts variations.
Benefits of a portable power station for a pressure cooker
The best cooking tool for camping
While engaging in outdoor activities, especially camping, cooking often poses problems as it demands many sources in terms of fuel. But with a portable power station and an electric pressure cooker, cooking requirements would be quickly sorted out. A standard-sized portable power station can charge the pressure cooker for a minimum of 50 minutes which is more than enough to cook most recipes. If the power station supports pass-through charging, the user can cook for as much time as the power station can be charged.
Ideal for off-grid cooking
Cooking could be easy and convenient for people traveling or residing off the power grid, with a suitable portable power station for a pressure cooker. Being environmentally committed, portable power stations do not cause any pollution and, thus, are the ideal partners for cooking food using a pressure cooker outdoors and indoors.
Safe cooking
One of the criticisms associated with pressure cookers is that as the device is completely closed, any power surge or variation in the surroundings could cause the pressure to build and cause accidents. But with an ideal portable power station equipped with safety features like a battery management system, the power supply to the pressure cooker will be maintained most stably without causing any unwanted power surge, overcurrent, short current, etc.
Ideal for emergencies
During most emergencies, people put off plans to cooking as they are concerned about the backup power source running out of charge. But with a portable power station, anyone in emergencies can use a pressure cooker for cooking because the lion's share of the portable power stations available in the market supports charging through multiple options, including a car cable. So, during unfortunate times or longer hours of emergencies, the user can cook with a pressure cooker by charging the portable power station through a car cable.
Cost-effective alternative for cooking gas
With an electric pressure cooker and a solar-compatible portable power station, anyone can cook without spending a dime on a power source, unlike the household cooking tops that require cooking gas or electric power, both of which are costly.
How to choose a portable power station for a pressure cooker?
Capacity and output wattage
Although electric pressure cookers are some of the most energy-efficient products, they require a minimum of 700 Watts to reach adequate pressure and continue cooking. Thus, the portable power stations bought to assist pressure cookers have to be powerful enough to provide around 700 Watts to 1500 Watts depending on the requirement of the pressure cooker.
Also, as pressure cookers consume much less power once the cooking process is almost complete, the power station needs to be able to reduce the power supply to a much lesser 30 Watts. The output wattage of the portable power station should solely be based on the pressure cooker's size and the power required. Generally, a 1.5-liter electric pressure cooker requires somewhere between 600 Watts to 700 Watts of power. Thus, an appropriate portable power station for such pressure cookers should at least be able to provide 1000 Watts per hour, considering the possible surge wattage.
Output port
Electric pressure cookers are available mostly in AC and USB formats. The AC input method is the most efficient and less time-consuming. So, it is always advisable for the portable power station for pressure cookers to maintain a dedicated AC output port to operate pressure cookers.
If the AC outlets are occupied, the customer can use a DC adapter to use the pressure cooker through the DC outlet. While purchasing a portable power station for pressure cookers, the users are expected to check whether the system has any built-in inverter feature, as it could also enable the pressure cooker to be used in a DC output port.
Some of the newest pressure cooker additions in the market include USB- compatible pressure cookers. So, under these changed circumstances, it would also be ideal for the portable power station for pressure cookers to have one or more USB output ports.
As bulk cooking during camping or festivals is possible, it is better to have a portable power station with maximum output ports to use multiple pressure cookers.
Recharge time
It is estimated that electric pressure cookers, once fully recharged, can run for 50 minutes to three hours, depending on the capacity and power requirement of the cooker. Thus, when buying a portable power station for pressure cookers, make sure to buy a quick recharging one as during emergencies when a pressure cooker is required to be operated, and the power station does not have enough charge, it has to be quick enough with the recharge that the pressure cooker can be connected to it immediately.
It is better to have dual charging portable power stations for pressure cookers as they can recharge through a regular wall outlet and another input method like solar power, making it extremely fast for the system to be completely recharged.
Power source
As pressure cookers do not need too much power to operate, there is no need to resort to potent fuel-powered generators. Battery-powered portable power stations are the best power sources for pressure cookers. Primarily for indoor pressure cooker usage, it is better to have a portable power station that does not cause the production of any harmful fumes or soot. Also, they can support pass-through charging, which lets the user cook with a pressure cooker continuously for long hours.
Solar-powered portable power stations would be an excellent option for outdoor cooking as they provide energy to cook free of cost. But as they take much longer to recharge than their battery-powered counterparts, they cannot be considered ideal for extremely long hours of cooking.
Portable power stations must have multiple input options, as charging the power source is crucial to maintain the uninterrupted usage of a pressure cooker. So, the portable power station should ideally support input methods like solar powering, charging through car cables, charging through regular wall outlets, etc.
Dimensions and net weight
Electric pressure cookers come in various weights and dimensions, depending on the material with which it is built and their capacity. As they are a cooking essential and are generally brought outdoors, the portable power station for pressure cookers should also be compact enough to be carried around.
Generally, a pressure cooker of one liter can weigh anywhere near 1.5 kg to 3 kg and usually falls between a height of 20 cm to 30 cm. For such basic models, a portable power station with a battery capacity of around 400 Watts and a weight of about 5 kg is required. Likewise, the size and dimension of the portable power station should be chosen according to the size and possible portability of the pressure cooker.
Conclusion
As an energy-efficient cooking essential, pressure cookers are one of the natural choices for cooking during emergencies or outdoor events. Despite the comparatively moderate power requirement, the inability to sustain the battery power for more extended hours makes them vulnerable to power outages and load shedding. An appropriate portable power station is the only answer to this scenario.
A portable power station for a pressure cooker is expected to provide at least 1000 Watts as most standard-sized pressure cookers use 1000 Watts or less power to operate an entire hour. The domain experts recommend a portable charger that runs on both battery-stored electric power and solar power, as it offers the option of quick recharge through dual charging.
Along with the quality of quick charging, a portable power station for a pressure cooker is also expected to have flexible battery capacity, multiple output ports, multiple input methods, and weigh enough to be handled and transferred to places with convenience. It is advisable to have a portable power station that fits inside a backpack so that trekking or riding off-road can also use an electric cooker without having to worry about the fuel to feed.
---
Rate This Article