Rat Chinese Zodiac Signs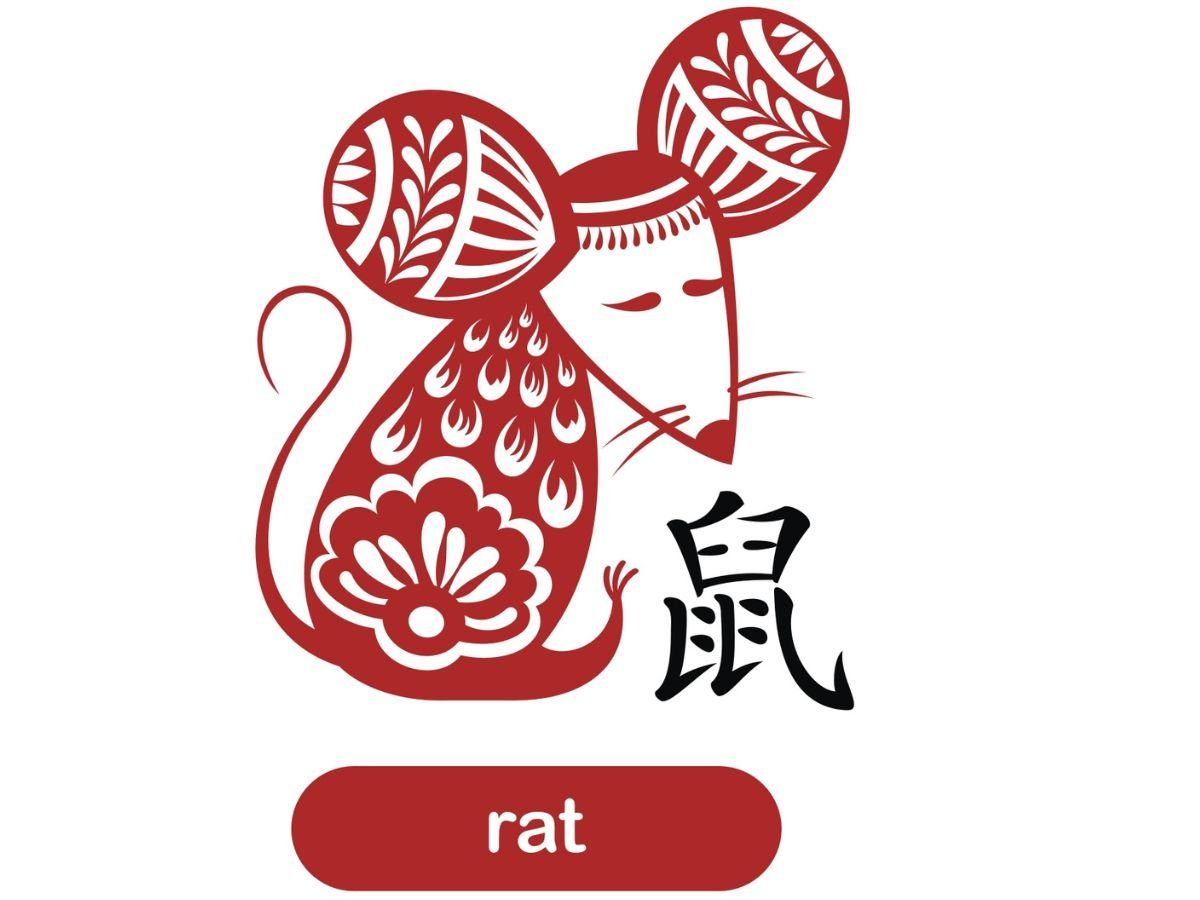 The Chinese zodiac rat is the first one among the twelve zodiac signs and animals in order. The first position enjoyed by the rate is detailed in Chinese legend. According to the legend, the Jade Emperor hosted a feast and announced that the first twelve animals that reach the feast will be chosen as the zodiac animals in the order of arrival. And rat manipulated the ox into giving it a ride and once the finishing point was nearby, the rat jumped over the finish line, leaving the ox to be in the second position and earning a first place among the Chinese zodiac signs.
There are numerous mentions of rats in the Chinese legends. They are often portrayed as the harbinger of wealth and prosperity. It is also believed that praying to a rat can help in the creation of progeny by people.
The rats are associated with the earthly branch. Every day, the midnight hours represent the rats. The previous occurrences of the rat years were 2020, 2008, 1996, 1984, 1972, and so on. The next possible occurrence of the rat year is believed to be in 2032.
The personality of the Chinese zodiac rat
Rats are generally described as intelligent and clever people who work with a proper motive in their minds. Just like the old legends about rats, the rat people are also quite wealthy and fortunate. They come across numerous opportunities that turn out to be highly profitable for them.
Rats are extremely adaptable individuals. They can adapt to any environment and survive anywhere and even make the best out of the place. Their senses are quite strong and they are generally considered fast responders who have the innate capability to solve any problems or scenarios in split seconds.
Rats are very thoughtful, smart, understanding, polite, and optimistic. They are sensitive to the society that they live in and thus amass great general knowledge of what is happening around them. This constant updating on their milieu makes them very likable to the people around them.
They are smart enough to grab any opportunities that come their way and they can successfully handle the opportunities most skilfully. Rats are also a group of multi-talented individuals.
Despite the numerous positives that the rats possess, there are some imminent flaws in their character which can turn fatal if not attended to properly. The biggest shortcoming of their personality is that they consider every instance as an opportunity and try everything that they could to seize the opportunity. They don't much bother about the feelings they hurt, the people they put down, etc. in pursuing the opportunities.
They cannot be considered ideal leadership figures too. Because ultimately, they consider their motives and goals only, and thus cannot be considered as a good leader. They are quite lacking in leadership skills like commanding power, courage, etc.
The lifestyle that they usually maintain involves late sleeping also, which makes them late for jobs and could create an image of being unprofessional at times. Their personality is sometimes described as arrogant, self-equipped, opportunistic, selfish, and impolite by the people around them.
The general fortunes described by the Chinese zodiac state that despite the struggles that the rats may face in their younger time will be complemented by the good fortunes in middle age and old age will witness the rats' success at its peak.
The effects of elements on a rat year
The elements named fire, water, earth, wood, and metal are essential factors that decide and define the character traits of an individual who follows the lunar calendar. They, together with the year and zodiac sign in which the person is born are more than enough to understand the basic human nature of any person. The elements changes from year to year and the assigning of the elements may sometimes be confusing with instances like the one with two persons born in the same year having different behavior, thoughts, and traits.
| | | |
| --- | --- | --- |
| RAT YEAR  | ELEMENT |  FORTUNE |
| 1960, 2020  | METAL | Dependable and reliable individuals. Fortunate. Strive through life despite the challenges. Optimistic. Occasionally unluck. Can hold powerful positions. |
| 1972, 2032  | WATER | The younger self is more prone to challenges and difficulties. Will turn fortunate by the middle ages. Bothered by the issues with close friends and family. |
| 1924, 1984  | WOOD | Multi-talented and skilled. Street smart individuals. Strength of mind is a characteristic feature. Determined. Intends to successfully finish everything that they start. |
| 1936, 1996  | FIRE | High intelligence. Emotionally mature and balanced. Survive through younger ages and turn fortunate later in life. Always get presented with opportunities in life. |
| 1948, 2008  | EARTH | Great speakers with good social skills. Heart of the group. Lovable. Can turn a bit possessive at times. Faced with difficulties at a young age, but survives through them all. |
Men born in a rat year
Rat men are extremely intelligent and smart, and get hold of every opportunity that comes their way. They are keen to be in new environments and adapt well to strange places and people. They emulate their creative self everywhere they go. Having high emotional balance, they can make it through any harsh situations and turn out to be positive about it.
But the lack of leadership and team-playing qualities could sometimes trouble them. Despite having many opportunities come their way, their indecisive attitude could spoil some of those opportunities.
Women born in a rat year
Rat women are quite conventional. They admire the old traditions and belief systems and tries to incorporate them into their life. Rat women are quite family persons and they enjoy spending more time with their families. They are very particular about keeping and handling things in the most ordered, organized, and convenient fashion.
Being responsible and able adults, they are capable of running a place on their own, whether it is in a professional or personal setting.
Lucky things for rat zodiac
Lucky colors: Blue, Green, and Gold
Lucky directions: North East and South East
Lucky flowers: Bell Orchids, Lilies, African Violets
Unlucky things for rat zodiac
Unlucky colors: Brown and Yellow
Love and compatibility with other zodiac signs
Rats can have passionate relationships or marriages, but it does take a bit of effort from both spouses. Chances are there for the feelings of the spouses to be hurt, and thus, great attention should be provided to keeping the relationship honest and dependable. Open conversations can help in a great way, and efforts should be there to dishonor each other.
The most compatible zodiac signs with rats are dragon, cow, and monkey. The union of these zodiac signs is believed to bring about happiness, luck, prosperity, wealth, and success to the household.
The zodiac signs with the worst compatibility with the rats are sheep, chicken, horse, and rabbit. Poverty, disasters, separation, etc., are bound to happen if these zodiac signs are united in wedlock.
Ideal careers and opportunities for rat zodiac
Rats suit many jobs due to their multi-faceted personality. Their optimistic outlook makes them extremely ideal to work with people and their administration. Politics, law enforcement, law, etc., could make great career options for the rats.
Being highly creative and talented, rats can go for artistic careers and opportunities too. They would make the best artists, authors, editors, etc. But they should work freelance as their team-playing skills are quite poor and underdeveloped.
As they are willing and interested in seizing the opportunities and working hard to finish the work entrusted to them, they can excel in the corporate field also.
According to the upcoming year's fortune, the careers and undertakings of the rat people will be met with numerous opportunities. But it is advisable to not lose sight of what they have while pursuing something far and distant.
Health for rat zodiac
The health of the rats is generally a bit compromising. They often find themselves tired and exhausted even after a small piece of work. Their health is not generally at its prime, and they happen to meet with big and small diseases at times.
But the upcoming year is expected to bring a positive turn concerning the health of the rats. Close attention should be given to the ailments of the liver, and a healthy diet and a healthy lifestyle should be maintained. Any long-term ailment suffered by the rats would be cured in the upcoming year.
Wealth for rat zodiac
As always, the upcoming year will bring the rats wealth and fortune. The fortune gods are smiling on the rats, and they will be presented with a great many opportunities to make money and profit. The rats are free to invest a good deal of money as it is sure to fetch maximum profit for them. It is also an ideal time for them to indulge in any kind of joint venture or collaboration.
Rat horoscope for 2022 and 2023
2022 will comparatively be a better year for the rats, except for the possibility of involving in any issue due to impulsive behavior. The year 2023 could bring the rats both positives and negatives. They will be presented with great opportunities but will often be tormented by personal and professional issues.
---
Rate This Article