The Best Rolling Pin Buying Guide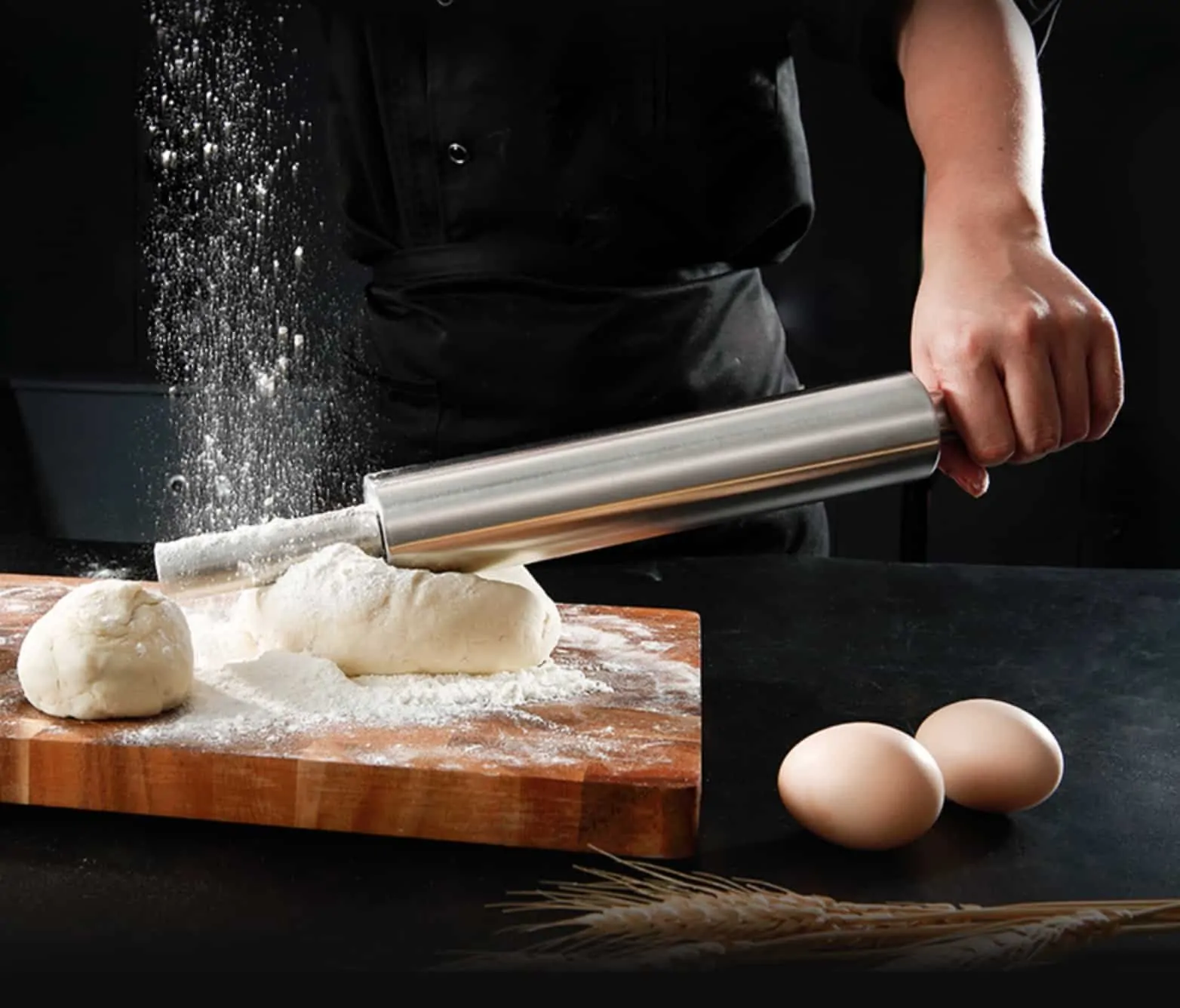 Top Best Rolling Pin Based on Reviews and Price
Last updated on January 24, 2021 2:59 am
How to Choose a Rolling Pin?
A rolling pin seems like a small novelty anyone can just walk into a store to buy without really considering all the features that come with it. To every homeowner, except for size, every rolling pin functions the same way – rollover your dough and it becomes smooth.
Despite that, the most important factor to put in mind before buying a rolling pin is comfort. Any rolling pin you go for should feel comfortable when in use and should fit into your hand to produce a desirable result. If a rolling pin constantly slips or mess the dough up, this could be a sign that you've gone for the wrong one.
Whether you dread rolling out cookies or pie, having a good rolling pin gets rid of any flaw, producing top-notch results that only a pro can boast of. Hence, the appearance of your dough lies in your choice of equipment rather than your skills or years of experience.
If you're one of those who think a rolling pin is a piece of random equipment that automatically fits into everyone's existing needs, that's about to change. This guide explores the nitty-gritty of a rolling pin as well as 10 factors that should be considered before choosing one.
10 Factors to Consider When Buying a Rolling Pins
1. Know the Different Types
There are different types of the rolling pin, and they all fall into three distinct groups, namely: Roller, Rod, and Textured.
The roller is the most common design out there. They're shaped like a cylinder and comes with handles on both sides. Its design allows you to rotate the handles on 360 degrees easily.
Rods are similar to rollers. They have the same design, but unlike the roller which has two handles, the rod comes with just one handle, but this doesn't in any way limit its movement. Although rotating on all axis isn't easy. Rod rolling pin is made from either metal or steel.
The textured type just as the name suggest comes with a textured surface that leaves an inscription on the dough. It gives the dough an impressive design making it suitable when baking bread, dessert, and pastries.
2. Material
The majority of rolling pins are made from wood, but it's possible to find one made from stainless steel or metal like in the case of rod and textured rolling pins.
With a wooden rolling pin, you can't go wrong. They're not affected by weather – hot or cold, and hold a dusting of flour to prevent the dough from sticking to the rolling pin.
Metal and stainless steel pins do not actually have to weigh more. The only key difference is that they're sensitive to the weather. They feel cold during the cold season and hot when exposed to excessive sun rays.
The material your rolling pin is made with will determine the effort required to finish smoothing your dough. Metal pins are heavier than wooden ones, and this will have an effect on how the pin is handled. Metal pins may not hold much flour but have a non-stick property which ensures you don't add too much flour to the dough.
3. Design
Before buying a rolling pin, you ought to know the different kinds of design available. The big difference is in the material the rolling pin is made of. However, the design and other components that come with it ought to be considered as well.
When you decide to go for any rolling pin, you should know that the best one should adopt to the size of your pastry as well as your baking. Secondly, the handle of your rolling pin ought to have a sufficient width that allows you to maintain contact with the product. There should be a possibility of making adjustments, so you don't fumble with the product in use.
4. Durability
Wooden rolling pins are easy to maintain and last for a long time if properly utilized. They don't dent easily, but you may see a few cracks as they age.
A metal rolling pin is prone to dents, especially if they collide with heavy objects. They're also hard to maintain and can't be submerged in water for a long time like wooden rollers.
Metal rollers are prone to rust, and their sensitivity to the weather means care must be taken when using them.
5. Customizable
No matter the style and type of rolling pin you go for, having one whose dimensions can be altered when in use should be on the cards. If you like to work on different kinds of dough, it will do a whole lot of good to have one that can adjust to your present need. Like being able to tweak their measurements to the length and width of your dough.
Presently, several rolling pin models are adjustable, making it easier to flatten dough of any size or weight. Such a rolling pin comes with removable rings that come in different sizes, including 1/16 inch and 3/8 inch. However, caution must be taken when handling these pins. First, you must ensure the pins are removed and hand-washed after every use. Keep out of reach of children as the pin might become useless if the plastic rings are not available.
6. Dishwasher Factor
Whether you go for wooden, marble or metallic rolling pin, all pins are made from durable materials that guarantee long-term use. The addition of a plastic scraper helps you get rid of leftover flour before washing.
Steel, aluminum, and silicone rolling pins are dishwasher safe while wooden, and marble pins should be hand-washed with soapy water and dried with damp clothes before storing. Even though wood pins are not prone to rust, submerging in water for a long time causes wear and cracks.
Before storing a wooden rolling pin, it's advised for mineral oil to be applied all over the wooden surface to increase longevity. Hence, you will want to consider this extra effort before going for any rolling pin.
7. Consider Your Needs
Not all rolling pin will align with your needs. Marble pins are useful in the kitchen and come with a gorgeous design. However, they're more useful when working on bread or cookie dough and they give you that extra elbow to work on greasy parts.
French rollers, on the other hand, are the choice of most bakers since it gives you the freedom to maneuver. Its shape allows users to adjust their pin to the movement of the dough – moving freely from top to bottom and seamlessly gliding through its edges. Since the French pin doesn't come with edges, it's favored for light dough.
Despite marble pins coming with an impressive design, stainless steel pins are also high on the list of most bakers. This is because they're easy to clean and won't leave any stains behind. Stainless steel is suited for those who love to work on highly tasty foods as this won't leave any after taste behind.
8. Storage
Storing a rolling pin isn't hard. However, it's essential to get rid of leftover flour before storing it. Carefully dry with damp clothes as well. In the long run, your rolling pins will get old, but wooden pins can last for a lifetime thanks to its durability.
However, ensure where you plan to store your wooden pin isn't hot as the wood can crack if exposed to heat. For stainless steel pins, store in areas where there are no heavy items as they tend to dent when they collide with heavy objects. Marble pins should be conditioned with olive or cooking oil before storing.
9. Accessories
In addition to your rolling pin, it's possible for your pack to come with some accessories out of the box. Some manufacturers may decide to add plastic scrapers, adjustable rings or rolling mats. You can also find a pastry brush that allows you to apply oil to the surface before storing it in the case of the wooden pin.
Not all manufacturers will offer you these features out of the pack, but if you find one that does at a reasonable price, it will be a huge bargain.
10. Non-stick Silicone Surface
If you want a rolling pin that's easy to clean, going for one that comes with a non-stick Silicone Surface will be ideal. This outer covering protects the build material and ensures your dough doesn't stick when rolling, thereby giving you more control to maneuver and produce a desirable result.
Conclusion
Choosing rolling pins shouldn't be done in a rush. You should consider your baking habits. For instance, if you make small chops, French rollers will appeal to you, but if you make products that require thick dough, you will want a pin that gives you more flexibility like in the case of marble pins.
Rolling pins that come with two handles are said to have a better grip and more suited for highly intensive preparations. However, the addition of adjustable rings comes as an added advantage if you want an all-purpose rolling pin.
Wooden pins are more durable, but they're hard to maintain. Hence, weighing the pros and cons of each product will help you make an informed selection.
---
Rate This Article