Top 6 Best Stockpots For Chinese Cuisine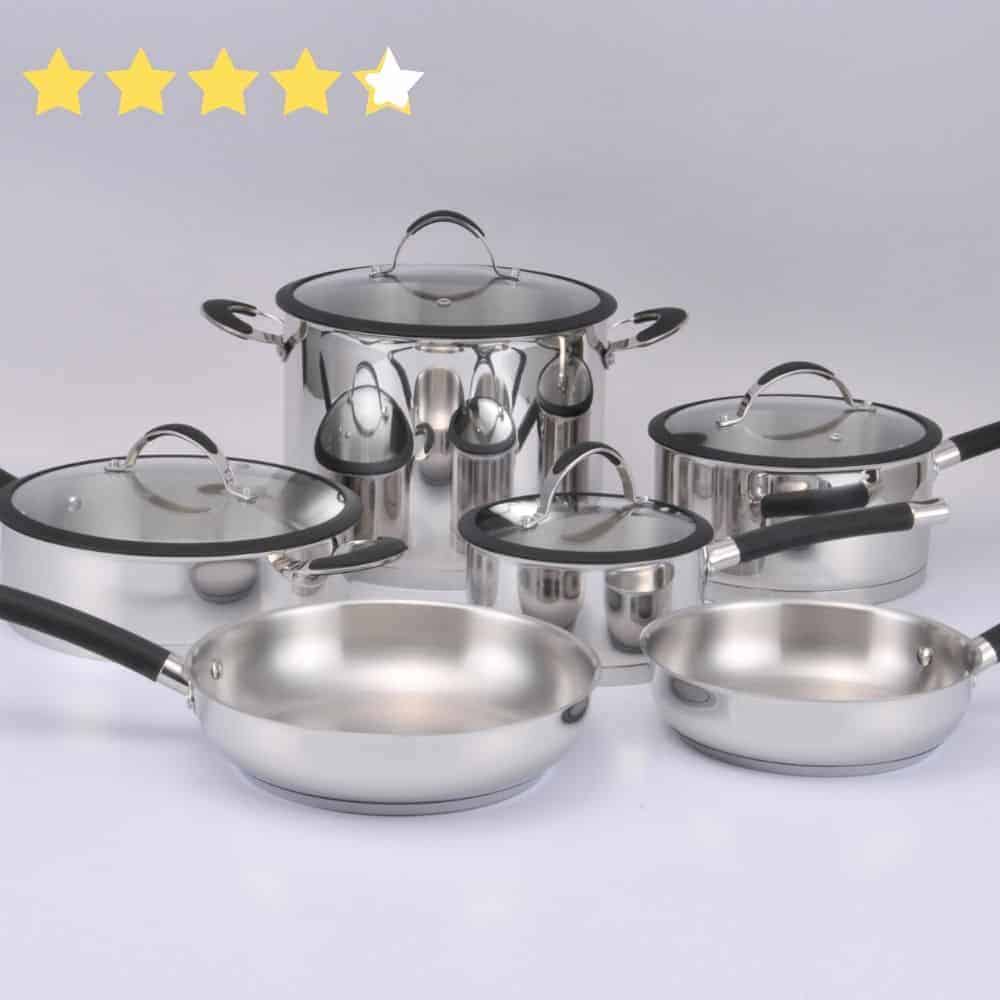 Stockpots for Chinese Cuisine
Stockpots are a staple in Chinese cuisine and are one of the most versatile cooking equipment out there. You cannot make the famous Chinese hot pot, broths, soup, and soup bases without using one.
The love for stockpots in Chinese cuisine started decades ago when the original stockpots made from clay were common. Nowadays, stockpots with different prices come in different sizes and materials to suit personal preferences and styles. This article will help you find the stockpot that suits you best, so you do not have to go through the worries of finding one yourself.
How To Select Stockpots For Chinese Cuisine?
Before making a tasty Chinese soup, you have to consider the following; style of cooking, the arrangement of the ingredients, and the cooking utensils. Stockpots are already famous for making stews, soups, and for steaming large seafood. These factors will help you find the best choice for your kitchen.
Sizes
If you want a stockpot for a large family, then you should look at sizes from 12 quarts and above. The best size for families and people that cook in large mounts is the 24-quart stockpot. You can also use this stockpot for canning preserves and other foods.
If you are new to stockpot life, you should probably start small and light. Anything from 12 quarts and below should be okay at first, and then you can move up as your expertise increases.
Height
Another thing you should consider is the height of the pot. If you want to fry food, you should get a shorter stockpot because the taller ones are not good choices. Also, when buying a tall stockpot, get one with a transparent lid so you can monitor your food better.
Material
Heat distribution can make or break your meal, especially when you are preparing a large amount of food. Stainless steel is a functional and durable material for a stockpot. It is rust and scratch-resistant. It is easily recyclable and does not react to food. However, it has poor heat distribution and can cause food to heat unevenly. Look out for stainless steel stockpots with an aluminum layer on the bottom of the pot, as this can improve the heat distribution.
Aluminum is better at distributing heat, and it is easier to clean because of its non-stick surface, which is perfect for making braising food. However, it reacts to acidic foods and can cause discoloration in your meals. If you want aluminum, go for the pricier hard-anodized ones. They do not react at all with food, and the heat is always evenly distributed.
6 Best Stockpots for Chinese Cuisine
#1 T-fal Specialty Total Nonstick Stockpot
This T-fal non-stick stockpot is the definition of a multi-use cooking utensil that you will not regret having in your kitchen. Its large 12-quart capacity makes it an excellent stockpot for preparing large meals for family and friends. It is also a good choice for preparing large quantities of broth to use as a soup base.
This stockpot has a non-stick coating on the inside and outside, over an aluminum frame. This coating makes cleanup much easier and quicker for you, and it is responsible for the even distribution of heat. You will find the riveted handles convenient and balanced, and the steam vent at the top of the transparent glass cover keeps your meal open for constant monitoring.
The T-fal stockpot is quite high, which makes it a little challenging to fry in it. Still, it makes an excellent utensil for stewing, steaming, boiling, and most other cooking methods.
#2 Cook N Home Stainless Steel Stockpot
The Cook N Home is a polished, stainless steel stockpot with riveted and insulated handles, which make it much easier and comfortable to use. It holds 12 quarts, so you can use it to make huge meals that everyone can enjoy.
The pot has an aluminum disc layer at the base, which facilitates heat distribution and ensures your meals cook correctly. You even get pot handles that have a silicone coating to keep them from getting hot when the pot is on fire. Other features include a transparent lid and a magnetic bottom that makes it compatible with induction. It is ideal for making traditional Chinese hot pots.
Despite the wide frame of this stockpot, you will not have a hard time frying with this pot because it is compatible with almost every form of cooking. You can also use it to can food for long-term storage, and it is oven and dishwasher-safe.
#3 Farberware Classic Series 11 Quart Stockpot
Farberware is a well-known brand in the world of Chinese cuisine because of its reputation for producing the best kitchen assistants, and this stylish classic series is no exception. This high-quality stockpot has a stainless steel frame with an aluminum core that improves heat distribution and retention.
Stockpots are usually basic in their designs, but this particular model has a sleek design that is certain to spruce up your kitchen. Functionality is also a goal of this stockpot because of its lid that seals firmly to the pot. This feature makes it easier for you to make hot pot dishes, stews, and one-pot vegetable dishes, as it seals in all the moisture in the pot. Even, you can add a hot pot base to cook every ingredient you love.
This stockpot is oven and dishwasher-safe, so you will not have to worry too much about cleaning. It is also durable, with a lifetime warranty that assures you of durability and longevity.
#4 Cuisinart Chef's Classic Hard-Anodized Stockpot
Cuisinart Chef's Classic stockpot is constructed with hard-anodized aluminum with a Quantanium non-stick coating. This coating improves heat distribution, making it a ready choice for most cooks. For most soup, you need to stir-frying ingredients before adding water to make it as soup, thus, this stockpot is perfect for that.
Every feature that this stockpot has adds to its versatility and ease of use, from its tempered glass lid that seals all the moisture inside, to its ergonomic handles on both sides of the pot that stay cool during cooking. The anodized coating on this stockpot allows you to cook food with a much lower amount of fat, keeping your meals healthy, and making cleanup easier.
This pot is perfect for cooking vegetables, stir-fry, and braising meat. You can also use it for frying as long as you are careful with the oil. People make hot pot meals in 6-quart stockpots such as this one. Because this pot does not hold onto past flavors, unlike some more traditional stockpots, you get the genuine and original flavor of your current meal.
#5 Avacraft Stainless Steel Stockpot
The Avacraft 6-quart stainless steel stockpot is a product of quality and convenience, as shown by its matte stainless steel finish, and versatility. This pot is suitable for cooking large seafood, soups, noodles, and chicken hotpot. You can even use it for steaming as a steamer.
A unique feature this pot has is its spouts and glass lid that has two straining holes that are perfect for cooking noodles without needing a colander. There are also measuring marks on the side of the pot that eliminates the need for measuring cups.
This pot has an aluminum-clad base along with its stainless steel material to ensure proper distribution of heat, without any heat spots. The pot is also compatible with virtually any cooking surface such as gas, ceramic, electric, and induction.
This pot is durable, long-lasting, and resistant to corrosion and rust. You can use it in your oven, dishwasher, and refrigerator. It has a lifetime warranty that ensures that you have the pot for quite a long time.
#6 Cuisinart 12-Quart Stockpot
Cuisinart is famous for its high-quality kitchenware, especially their stockpots. The 12-quart stockpot is made from a non-reactive stainless steel material with an aluminum disc layer at the bottom. This layer improves its heat distribution, saving energy and giving you an evenly cooked meal, especially when preparing a large amount of food.
The pot is oven and freezer-safe, and you can use it on a broiler, making it a versatile stockpot for several meals. It has an open glass lid that makes monitoring your food easily, and two insulated and contoured handles that stay cool throughout the cooking period.
This pot is an added advantage to any lover of Chinese cuisine because of its versatility, elegantly contoured style, and efficiency in cooking most meals. It is suitable for any cooking orders that you required.
The 12-quart is large enough to cook large meals while being wide enough to use for frying and braising, which is not possible with some much taller stockpot. You also get a lifetime guaranty, which is a stamp of quality.
Final Thoughts
All stockpots on this list are good enough for your cooking needs, depending on your preferences and style. We have reviewed meticulously to see what their strengths are, and where they fit in best.
Our pick for the overall best stockpot is the Cuisinart 12-Quart Stockpot. This stockpot has all the features that you need in a stockpot. You can use it for any meal, and it is durable. It is a little pricy, but it is entirely worth its price.
The top budget pick is the Cook N Home Stainless Steel Stockpot. Despite its lower price, this stockpot delivers an excellent performance in the kitchen. It is also long-lasting and very versatile.
For the people that are new to Chinese cuisine and want to start small, you should check out the AVACRAFT Stainless Steel Stockpot. This pot is foolproof, and it has helpful features that make your cooking easier, such as spouts, measuring marks, and lid strainers.
Our pick for best restaurant-quality stockpot is the T-fal Specialty Total Nonstick Stockpot-restaurant. Our Chef's choice is the Cuisinart Chef's Classic Hard-Anodized Stockpot. The best lightweight stockpot is the Farberware Classic Series 11 Quart Stockpot.
---
---
Rate This Article