Top 10 Health Benefits of Gua Sha Therapy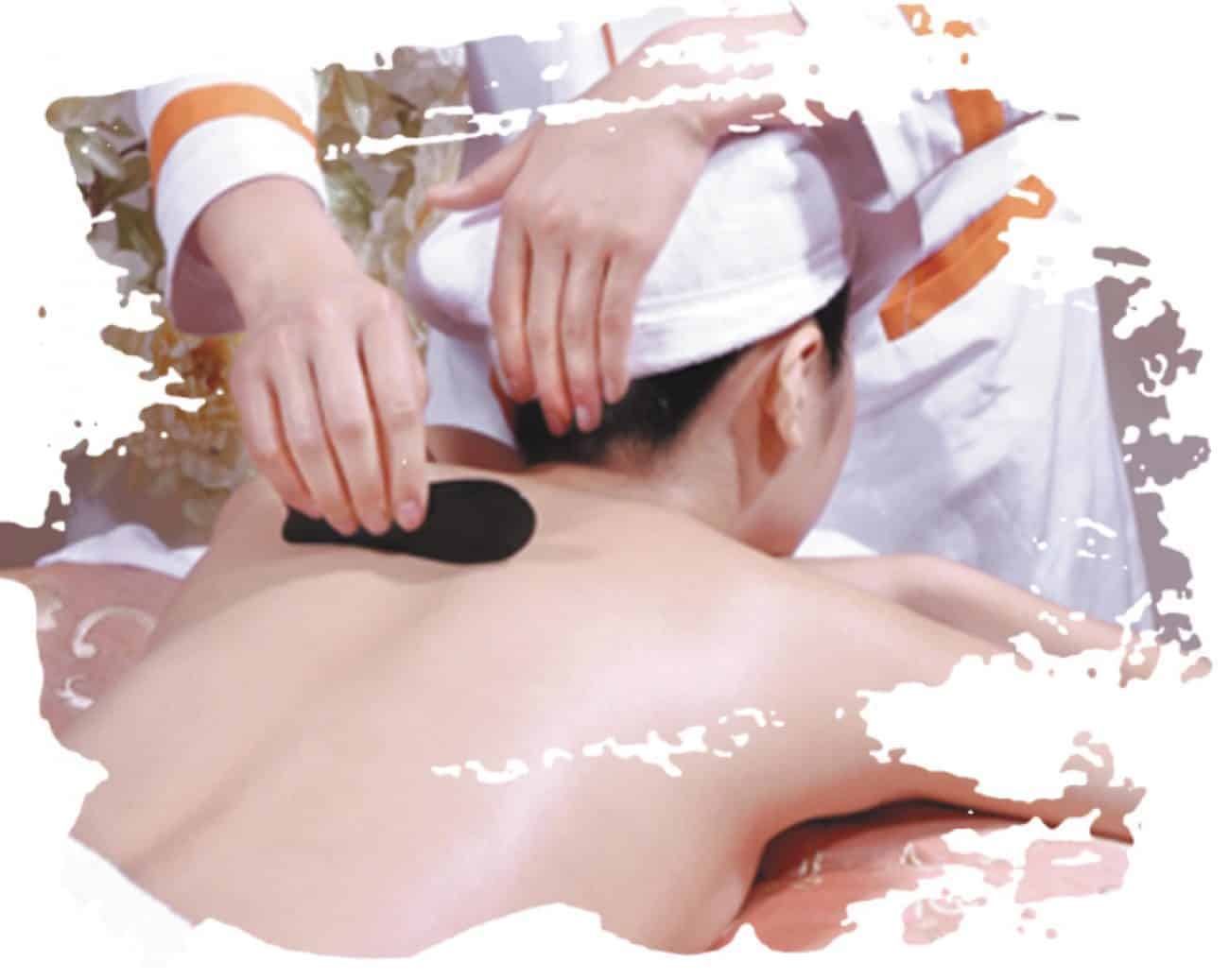 Top Best Gua Sha Tools Based on Reviews and Price
Last updated on October 18, 2023 12:45 pm
What is Gua Sha Therapy?
Gua Sha is a 100% natural, Chinese healing technique that offers a unique way to address various health issues. The technique originates from Vietnam from where it was spread and widely accepted in ancient China.
For thousands of years, and until the present day, Chinese people have been harvesting the benefits of Gua Sha.
However, the same as most Chinese medicine treatments, Gua Sha is relatively unknown to the people from the western world. Here is a brief explanation of how Gua Sha works, along with its benefits.
How to Gua Sha?
In Gua Sha, a practitioner uses a smooth-edged instrument to scrape the patient's skin. That way, the soft tissue is stimulated, which increases the blood flow. But before the scrapping starts, the practitioner applies oil on the skin.
According to Gua Sha practitioners, this technique also addresses the person's stagnant energy, also known as chi. They claim that stagnant energy is often the root cause of many conditions like inflammation.
Here is a list of the top 10 benefits of Gua Sha, each known to Chinese medicine for thousands of years.
10 Health Benefits of Gua Sha Therapy
#10 Improved Blood Circulation
Gua Sha is based on knowledge acquired throughout centuries of practice and uses acupuncture points as a sort of a map. This map helps the practitioner to direct his moves and stimulate the soft tissue.
As a direct result, blood circulation gets a sudden boost. If you have problems with blood circulation, you will suddenly feel the change from this therapy.
A healthy blood circulation means that oxygen can flow easily throughout the body, which allows the heart, the lungs, the brain, the muscles, and other organs to function correctly.
#9 Muscle Relaxation
Another significant benefit of Gua Sha treatment is muscle relaxation. When your muscles relax, your blood pressure will get into a normal range, reduced muscle spasms, alleviate chronic pain, keep blood sugar levels in the normal range, and so on.
However, keep in mind that you won't get all this from just one session even though you will feel some relief after the first one. Continuous treatments have the potential to improve the condition of your muscles, as not many other things can.
#8 Relief from Symptoms of Cold, Fever, and Flu
Western medicine treats those conditions with pills like antibiotics and recommends staying at home. Typically, a family doctor will give you pills, tell you to stay hydrated, and stay warm at home.
On the other hand, Chinese medicine recommends getting a Gua Sha treatment that can address the symptoms that come out of all those conditions.
The symptoms won't go away in full by the first treatment, but the before and after difference will be more than obvious.
#7 Remedying Neck Pain
Gua Sha is also known to alleviate chronic neck pain. The effectiveness of this therapy has been part of a study that included 48 participants. The participants were divided into two equal groups. The first group was given a therapy that included a thermal heating pad, while the second one was given a Gua Sha therapy.
A week later, participants that were part of the Gua Sha therapy reported significantly less pain than the other group that used a therapy featuring a thermal heating pad.
#6 Hepatitis B
Hepatitis B is a type of infection that can cause liver scarring, liver damage, and liver inflammation. Certain studies point to the fact that Gua Sha treatment can significantly decrease live inflammation.
In one case, a person that had high liver enzymes was given a Gua Sha treatment. Almost by default, high liver enzymes mean that the person suffers from liver inflammation. Forty-eight hours after the Gua Sha treatment, his liver enzymes decreased by a significant number.
Even though it was just one case, the indications were clear – Gua Sha is to be trusted and needs to be further explored by western medicine.
According to several sources, there are quite a few new studies about Gua Sha and its relation to liver inflammation.
#5 Tourette Symptom
This is a condition that includes involuntary moments like vocal outbursts, throat clearing, and facial tics. There are several cases in which it was suggested that Gua Shu could reduce symptoms when combined with other therapies.
There was a study that included thirty-three-year-old male suffering from Tourette syndrome. He suffered from Tourette syndrome since he was nine years old. The treatment that he received was a combination of Gua Sha, herbs, and acupuncture.
In the following two years, he did at least one treatment per week. As a result, his symptoms decreased by almost 70 percent. Even though the results were quite vivid and evident, further studies are needed.
#4 Migraines
There are millions of people suffering from chronic migraines. Many of whom claim that neither over-the-counter nor prescribed medications have helped them. In China, Gua Sha is regularly used as a treatment for people suffering from migraines.
In one particular case, a 72-year-old granny who suffered from migraines for over two decades received a Gua Sha treatment. For two weeks, a period he was given continuously a Gua Sha therapy daily, she reported that her migraines improved. She had fewer migraines and that their intensity was as not as high as before the treatment.
Again, this is one case that proves the value of Gua Sha for treating migraines. The simple fact is that more research is needed.
#3 Perimenopausal Syndrome
This syndrome happens when some women get closer to menopause. Its symptoms are irregular periods, insomnia, hot flashes, anxiety, and fatigue. Reportedly, Gua Sha is one of the most popular treatments for perimenopausal syndrome in China.
According to one study that included 80 women suffering from the perimenopausal syndrome, the Gua Sha treatment was very beneficial.
The women were divided into two equal groups. One group received a Gua Sha treatment over eight weeks, for 15 minutes, once a week. The other group was submitted to conventional therapy. The group that received the Gua Sha treatment reported way better results and reduced symptoms of headaches, hot flashes, fatigue, anxiety, and insomnia.
That made the researchers believe that Gua Sha is the safest, and the most natural remedy for this syndrome.
#2 Instant Facelift & Healthier Skin
How about rejuvenating your face and your skin in general without any chemicals or any surgical operations. Well, Gua Sha can give you a clean, vibrant, and healthier skin. Over a thousand years ago, Chinese female royalties used Gua Sha as a primary treatment to keep their face and skin in perfect condition.
Gua Sha tends to the skin in a way that makes it more efficient in removing blockages from the face, neck, and shoulders. Furthermore, it helps the skin to relieve itself from toxins gathered in its stagnant lymph.
The thing is, by doing so, we are creating space and creating more flow. This flow enables the skin to function optimally as it needs to. If there isn't enough space, there can't be enough flow, and if there isn't any flow of blood and Qi, the skin can't function properly.
#1 Gua Sha as an Anti-Aging Agent
We've all seen these viral pictures of Chinese women that are in their late forties and early fifties, yet they don't look a day older than their daughters. Some speculate it is related to genes; others claim something else, and so on. It is a round table of everyone giving their theories, and yet everyone fails to ask the single most crucial question – what's common for all those women that look younger?
Well, believe it or not, it's not a magical secret potion or anything like that. Truth is way simpler, they are all fans of Gua Sha, and they have been practicing it for their entire life. The result is what we see in the pictures. If you haven't seen that, imagine yourself ten years younger.
It is the skin that hides or, in some cases, reveals true age. Continous Gua Sha treatments can be one of the most effective anti-aging solutions ever. Chinese women have practiced Gua Sha to make the most out of it.
The Takeaway
Very often, western medicine can't do much about specific symptoms or help with your skin problems. This is where alternative treatments come into play and provide relief and assistance.
Gua Sha at first might look like a bit simplistic, and sound like too good to be true. And yes, it could use a bit more research.
However, in many areas, it has proven itself as an effective and reliable treatment. Plus, it is a 100% natural treatment that has been used in China for more than a thousand years ago.
The only thing you need to concern yourself with is whether you are in the hands of a trained and experienced Gua Sha practitioner. If he or she is a certified practitioner, all that is left for you is to relax and reap the benefits of your Gua Sha treatment.
---
Rate This Article