Asian-style Garlic Tofu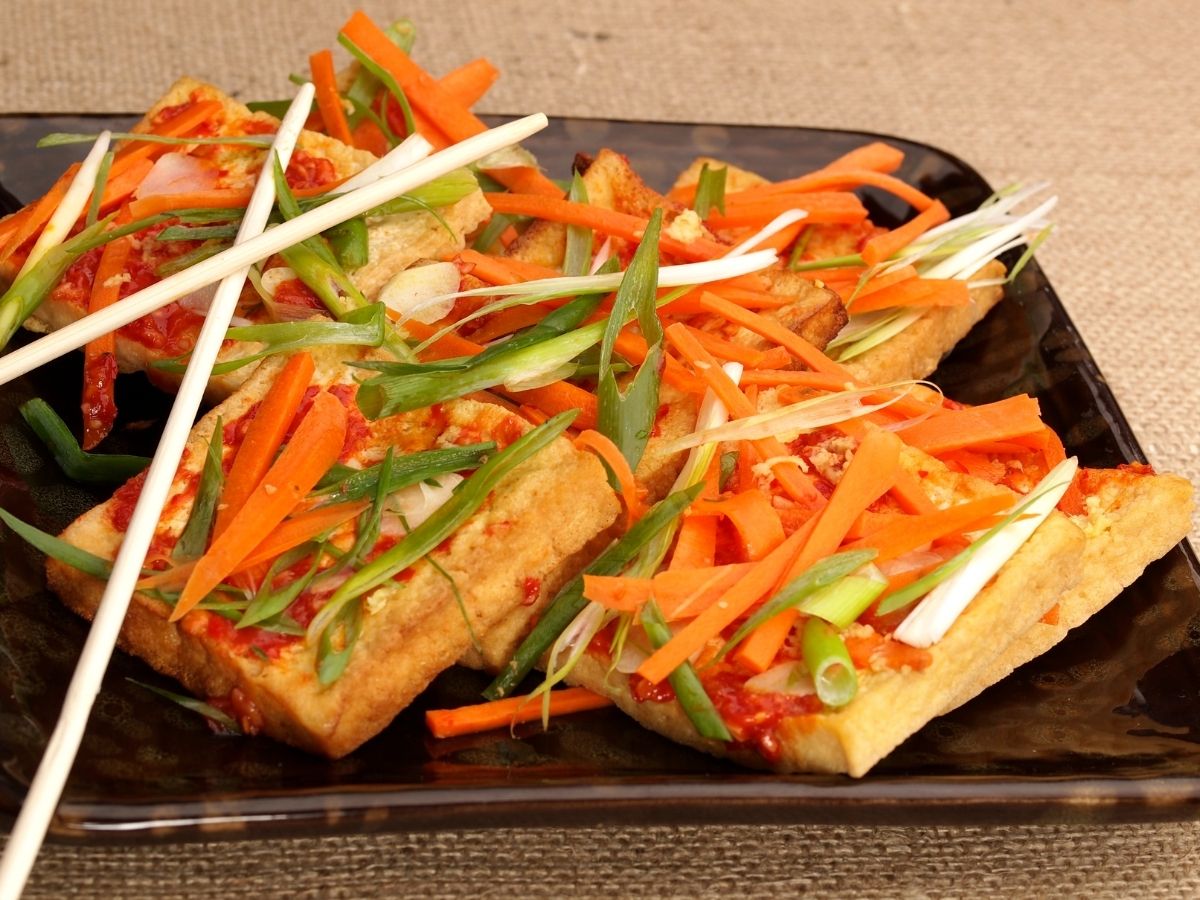 If you've ever traveled to East or South East Asia and have tried some of their delicious vegetarian and vegan food, you've probably sampled a variety of this garlic tofu dish. If not, you're in for a treat!
This Asian-style garlic tofu is a fantastic source of vegan protein, and the way it is cooked ensures that the tofu absorbs all of the exterior flavors perfectly.
Here's the recipe!
Asian-style Garlic Tofu Recipe
Ingredients
1 x 14 oz block of firm or extra-firm tofu
2 onions
2 green onions
1 tbsp oil
2 tbsp soy sauce
1/4 cup hoisin sauce
3 cloves garlic
1 tbsp grated ginger
Method
If the tofu has been stored in water, press it before cooking. You can do this by gently squeezing it in between two towels and pressing a heavyweight on top, or by using a designated tofu press like this one from Tofu Bud. For best results, press the tofu for around half an hour.
Crush the garlic, and add it to a pan with the ginger, hoisin sauce, and soy sauce. Leave the sauce to simmer for a few minutes until the garlic and ginger flavors come through.
Then, add the tofu to the sauce. Toss them around and make sure that they are completely coated in the mixture.
For a deeper flavor, transfer this mixture to another bowl, and leave the tofu to marinate. You'll notice a difference with just 30 minutes' marinating, but you can leave the tofu pieces for a few hours. However, if you don't have time, the tofu will still absorb some of the flavors!
Chop the onion finely and place it, with the oil, into another pan. Cook the onion for a few minutes.
Then, place the marinated tofu pieces into the pan. They should have absorbed most of the sauce, but if there is any leftover, leave it to the side for now.
Let the tofu cook for around 10 minutes, flipping them and pouring in any leftover sauce after 5 minutes. The tofu should have absorbed most of the sauce by the time cooking is complete.
Slice the green onions and add them to the pan just before cooking is complete.
Serve with warm rice.
Other Cooking and Serving Options
If you want a vitamin boost, you could cook this tofu dish with some vegetables. You may need to change the amount of sauce accordingly, but you could add some broccoli or mange tout to the tofu stir fry. Alternatively, you could cook any vegetables on the side.
Traditionally, this garlic tofu dish is served with rice. However, you can eat it with whatever you like! It also works great with noodles, or if you are eating a low-carb diet, you could cook up beansprouts instead. In Vietnam, this kind of dish is often served in a Bahn Mi, which is a sandwich made with crusty bread – so you could try that as well. Or how about a garlic tofu wrap?
How to Store Garlic Tofu?
This recipe is sufficient for two people or more if you are enjoying other dishes too. If you do have some leftover, you can store garlic tofu in the refrigerator for 3-4 days. Make sure that it is in a sealed container and fully reheat it before eating.
We would not recommend freezing garlic tofu. This is because the texture of tofu changes when it freezes – it becomes spongy and nowhere near as pleasant! Don't worry – this recipe is so delicious that we are sure you will want to eat it all right away.
Can I Make This Recipe Gluten-free?
If you need to avoid gluten, you can still enjoy this delicious garlic tofu recipe. Simply purchase gluten-free hoisin sauce and substitute the soy sauce for tamari – many tamari sauces are naturally gluten-free but double-check yours before cooking.
You should be able to find both of these ingredients at large superstores or specialist health stores.
Rice is gluten-free, but if you want noodles, make sure that you purchase rice noodles rather than the thicker wheat noodles. You'll find rice noodles on sale at most superstores.
This Asian-style garlic tofu recipe is one to remember – it's easy enough to cook on a weeknight, but it tastes so deliciously authentic that we bet you'll be craving it regularly! Whether you enjoy your garlic tofu on its own or combine it with some other Asian dishes, we're confident that you'll be making this dish time and time again.
---
Rate This Article