10 Best Vinegar for Asian Cuisine: Taste Reviews and Buying Guide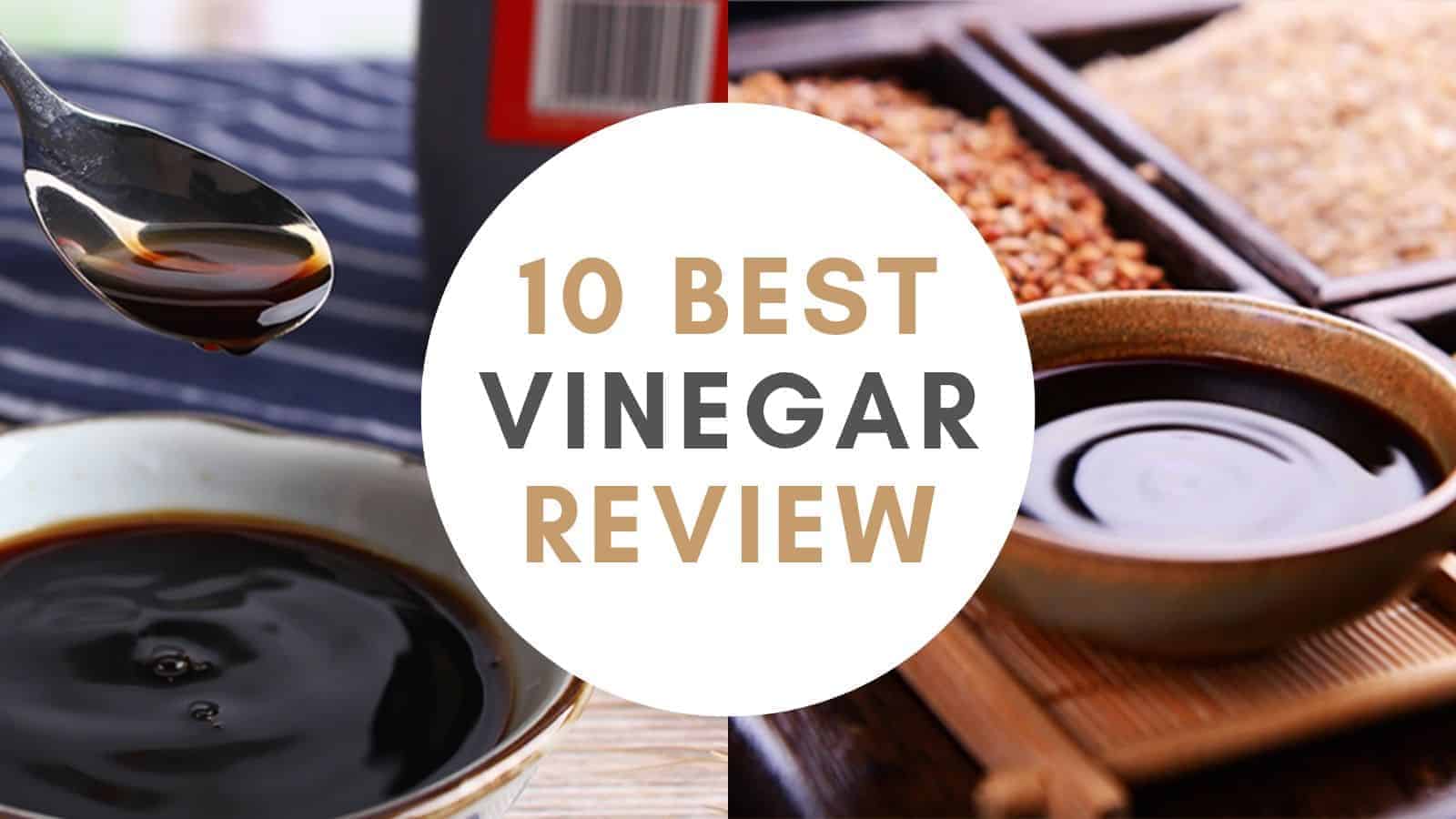 What vinegar is used for Asian cuisine
Asian cuisines are mouth-watering and fun to cook. However, they involve a lot of oils, sauces, pastes, and even vinegar. It may confuse you especially if it is your first time to cook. Nevertheless, among all the ingredients, vinegar is mostly used in a traditional meal and even for cooking Chinese food.
Nowadays, there are varying kinds of vinegar produced and manufactured all over the world. With that said choosing the best vinegar for Asian cuisine has never been an easy task. Because if you use the wrong type of vinegar the taste of the food that you're cooking may be affected.
To choose the right vinegar, we have tested and reviewed some of the best vinegar that you can use when cooking Asian cuisines. We will also include a buying guide to ensure that everyone getting the best vinegar that suits the needs. But first, let's take a look at the different vinegar so that you'll have an idea what to buy.
Which types of vinegar are the best for cooking
Balsamic Vinegar
The price of this vinegar depends on how it has been aged. In fact, the longer it is aged the thicker and sweeter it gets.
We can use balsamic vinegar for finishing or garnishing a lot of recipes. What's more, you can make use for light-colored dressing.
Distilled White Vinegar
This vinegar has an unpleasant and sharp taste that is why if you are adding it to your recipes, make sure to add a small amount only. Also, it is a versatile natural cleanser that you can use for cleaning floors, microwaves, and even coffee makers.
Wine Vinegar
This type of vinegar is ideal for marinades and salad dressings. Red wine vinegar, on the other hand, is perfect for veggies, beef, and pork. Whereas white wine is great for fish and chicken dishes.
Rice Vinegar
Compared to other types, this one is less acidic. Often, it is utilized in Asian cooking and made using fermented rice wine. Its gentle nature and sweet taste make it a multi-purpose vinegar.
10 Best Vinegar for Asian Cuisine
1. Gold Plum Chinkiang Vinegar
The Gold Plum Chinkiang Vinegar is made using salt, sugar, wheat bran, glutinous rice, and water fora richer flavor.
This Chinkiang vinegar tastes smoky and delightful making it ideal for braises, marinating beef, pork, as well as chicken.
Besides, it is one best vinegar for cooking as it is effective in infusing rich flavor and most importantly it offers an authentic taste and perfect color.
We can also use the Golden Plum as a great alternative to regular balsamic vinegar. And unlike others, it only contains a small amount of sodium.
Pros:
It has a rich flavor
Alternative to regular balsamic vinegar
Less sodium
A smoky and delightful taste
Cons:
No cons
2. Marukan Seasoned Rice Vinegar
This all-natural rice vinegar has an aromatic and versatile taste. With this in mind, the Marukan Seasoned Rice Vinegar can be used in cooking any recipe that needs vinegar, salad dressings and marinades for instance.
This one of the best vinegar for Asian cuisine works to increase the depth and of course, the flavor of meals.
This vinegar that has a sweet taste is made using short grain rice which develops in California. Also, it is highly recommended by many great and skilled Asian chefs.
Pros:
Versatile
Recommended by Asian Chefs
Aromatic taste
Cons:
The smell of vinegar comes out from the bottle strongly
3. Soeos Chinkiang Vinegar
Another Chinkiang vinegar that is made using different grain. What's more, it is aged 'til its color turns inky black or dark brown.
The Soeos Chinkiang vinegar, on the other hand, has a rich, spicy, tart, and aromatic flavor, and in fact, with an insinuation of sweetness from time to time. Besides, this product has a woody character and fermented malty taste which differentiate it from fruity and light-colored rice vinegar.
Also, this is a high-grade vinegar and preserved the authenticity of meals and dishes. It has versatile uses and is made of salt, sugar, Wheat bran, water, and glutinous rice.
Pros:
Three years shelf life
It has a delicious, rich, sour, fresh, and tart taste
Healthy
Versatile
Cons:
4. Koon Chun Black Vinegar
Originally from Chinkiang China, Koon Chun is one of the most renowned dark vinegar. For the ingredients, it includes rice, sorghum, as well as wheat barley. For most Chinese kitchens, they make use of Koon Chun Black Vinegar as their primary ingredient.
Regarding taste, this black vinegar has a tart as well as a sweet taste which will offer your food a full and sharp flavor.
You can use the Koon Chun Black Vinegar for stir-fries and sauces as well.
Pros:
Used as a primary ingredient in most Chinese restaurants.
Renowned black vinegar
Tart and sweet taste
Great for stir-fries and sauces
Cons:
5. Mizkan Vinegar Sushi Seasoning for Sushi and Salad
The MIzkan Vinegar sushi seasoning, as the name implies, is an important condiment used in preparing sushi rice as well as marinades. But aside from that, it can be also used in salad dressings which are known as the Sunomono.
The Mizkan Vinegar Sushi Seasoning has a salty, sour, and sweet taste. As a matter of fact, this product is a combination of salt, vinegar, and sweetener.
Pros:
Salty, sour, and sweet taste
Great for making salads and sushi
Cons:
6. Mantova Organic Flavored Balsamic Vinegar Condiment
This aged balsamic vinegar is a true classic and authentic classic piece. It has also a tart, sweet, and fruity taste.
The Mantova is made with organic Trebbiano grape that is pressed and cooked down for making luxurious and rich grape. It has a dark and rich color, the pungent aroma that reflects the skill and tradition.
With a consistent sweet and clean taste, the Mantova Organic flavored balsamic vinegar condiment can be utilized for dressing fresh greens in sauces.
The aged balsamic vinegar and fresh pomegranate blend well in this product for making the compelling and fruity taste. The pomegranates are virtually synonymous with the Mediterranean. It has a refreshing flavor that blends well with a wide variety of dishes or meals. What's more, we can use them on leafy salads, fresh cheese, and ripe fruits.
The Mantova Organic flavored balsamic vinegar is also a delightful companion for roasted pork, poultry, meat, and fish.
Pros:
Made with organic and concentrated ingredients
Sharp and smooth flavor
Tart, sweet, and fruity taste
Cons:
7. Kikkoman Rice Vinegar
Enhance the taste and flavor of your dishes and meals with this rice vinegar from Kikkoman, a highly familiar brand that offers products to café, noodle restaurants, and restaurants that are inspired by Asian.
The Kikkoman rice vinegar is a versatile condiment that has a well-balanced acidity and is made of fermented rice. This vinegar has a mild and sweet taste that comes from the rice. It is milder compared to other American and European-style vinegar.
With this rice vinegar, you will improve your flavorful sauces and meals in a healthy way, because it doesn't contain fat and calories. In fact, it has no artificial ingredients. In addition to that, you can use it as an alternative of lemon juice or wine vinegar.
Even though the Kikkoman rice vinegar is famous in Chinese and Japanese cooking, in fact, we can also use it in many cuisines, in the Asian cuisine for instance. Usually, it is found in meals that are sweet and tangy. Also, it is a famous salad dressing ingredient. You can also use it when marinating meat.
Pros:
No fat
No calories
It doesn't contain artificial ingredients
Mild and sweet taste
Certified Kosher
Great for salad dressing, marinating, and stir fry
Cons:
8. Heinz White Vinegar
Heinz is one of the most popular names in the food industry that offers reliable and high-quality products.
This white vinegar has a clean and crisp taste making it ideal for preparing salads and marinating. Because of its mild acidity which is only five percent, the Heinz white vinegar isn't just cooking, it is also an all-natural helper for cleaning.
This product is made from a fermented mixture of corn (American-grown) and clear water.
Pros:
Mild acidity
It can be used for cleaning
Clean and crisp taste
Versatile
Cons:
9. Organic Distilled White Vinegar by 365 Everyday Value
Compared to inorganic white vinegar, this one from 365 Everyday value tastes nicer. Besides that, it is known as a pantry superstar. Because apart from cooking, the 365 Everyday Value Organic Distilled White Vinegar can be also used in cleaning.
Another impressive feature of this product is that it doesn't contain sodium as well as fat. Having that said, with this white vinegar for Asian cuisine you will enhance the taste of dishes that you are preparing.
For another thing, Everyday Value Organic Distilled White Vinegar is certified vegan as well as kosher.
Pros:
Fat-free
Sodium-free
Certified vegan
Great for cleaning
Clear taste
Cons:
10. Pompeian Balsamic Vinegar
The Pompeian balsamic vinegar has an aroma as well as distinctive and luscious that comes from the aging grapes in woody containers. This one of the best vinegar for cooking because of its dark and rich character.
As the products in this list, the Pompeian balsamic vinegar is non-allergenic and does not contain gluten. With delightful and classic flavors, the Pompeian balsamic vinegar can be a great garnish to the olive oil of Pompeian in sauces, salads, and marinades.
It's ideal for sauces, seafood, meat, and salad and if you want to make a delicious balsamic vinaigrette dressing, this vinegar can be a great option.
Pros:
Non-allergenic
Gluten-free
Delightful and classic flavor
Dark and rich character
Cons:
It is hard to find in physical stores
Asian Vinegar Buying Guide
Below are some important things that you need to consider when buying.
Type
There are different types of vinegar to choose from. So if you are having a hard time choosing, refer to the above information.
Cost
Vinegar products are available in different price tags, some of them are more expensive while others are more affordable. To avoid overspending it is best that you set a budget and stick to it.
Quality
Before you make a purchase, check the product's quality. Is it made from high-quality ingredients? Is it safe? If yes, then it can be a great option.
Acidity
Vinegar with five percent of acidity are the best options especially when you are buying a vinegar for cooking.
Conclusion
All the products we reviewed in this article are great options. However, if you are looking forward to making delicious balsamic vinaigrette dressing, then the Pompeian balsamic vinegar is for you.
What's more, if you're looking for vinegar that you can use for cooking and cleaning, then the Heinz white vinegar is a good choice. For those who are looking for vinegar that is perfect for marinating and salad dressing, the Marukan Seasoned Rice Vinegar is worth considering.
Disclosure: We may get an affiliate commission when you purchase products via links on our site. Although we may receive compensation, we only offer our 100% honest reviews, experience, and comments. Learn more.
---
Rate This Article