Dutch Oven Whole Roast Chicken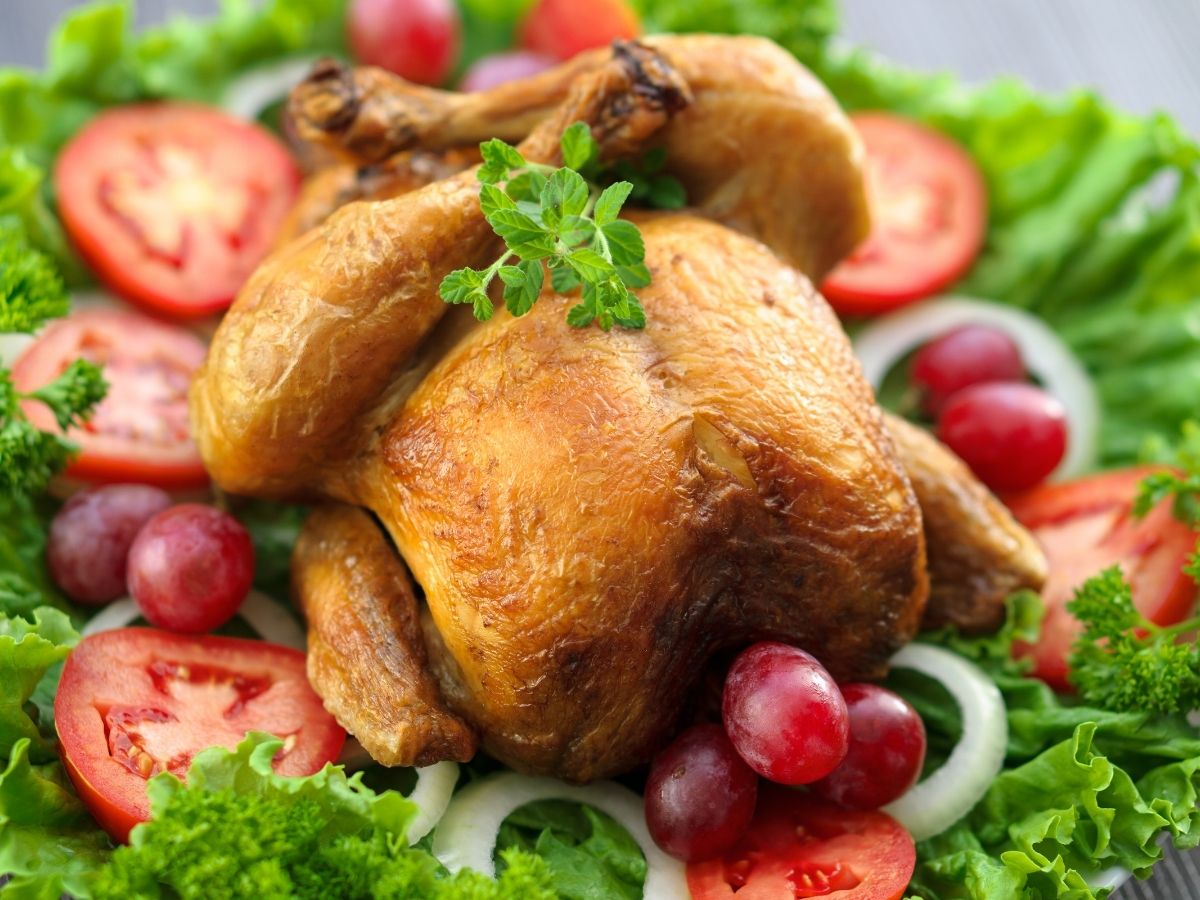 If you think your Dutch oven is just for stews, curries, and campfire cookouts, you've been missing out on a massive selection of delicious and remarkably straightforward meals!
One of my absolute favorite things to cook in my Dutch oven (I got mine on Unocasa) is roast chicken.
This Dutch oven whole roast chicken recipe is my all-time favorite, and there are rarely leftovers when I cook it up as everyone always returns for seconds or even thirds of this tasty dish!
What's even better is that the dinner can be prepped in just 15 minutes and includes a generous helping of roast potatoes, carrots, and other veggies to provide a simple yet flawless one-pot meal that's virtually effortless.
Not only is this dinner incredibly quick and easy to prepare, but it also guarantees tasty, perfectly cooked chicken and veggies that are sure to impress at any gathering. The apple, lemon, and garlic flavors slowly infuse with the food in the pot to create the most indulgent and flavorsome roast chicken you've ever tasted.
Top tips
The best cooking advice I was ever given when it comes to roasting whole chicken is to pat the entire bird down with paper towels before seasoning. This helps ensure the chicken doesn't get soggy in the pan and allows you to get the skin really nice and extra crispy.
It's also a good idea to mix together your seasoning first, and don't forget to smear the seasoning mixture inside the cavity of the chicken and all over the outside!
Finally, it's worth learning how to truss a chicken properly. This basically involves using kitchen string to tie the wings and legs close to the chicken's body. Trussing allows the chicken to cook more evenly, so you don't end up with burned or undercooked poultry when you're done. 
Think about investing in a meat thermometer for roast chicken if you don't already have one. I found that checking whether a chicken is done by its internal heat is far more reliable than cooking times and helps you achieve the perfect level of delicious, moist meat with crispy skin.
Dutch oven whole roast chicken recipe
Yield: 1 whole chicken
Prep Time: 15 minutes
Cook Time: 1 hour
Rest Time: 10 minutes
Total Time: 1 hour, 25 minutes.
Ingredients
1 whole chicken (approximately 3lbs)
2 tbsp olive oil
½ tbsp Italian seasoning 
1 tbsp salt
½ tbsp freshly ground black pepper
1 apple, sliced
1 whole garlic head, cut in half (don't bother peeling or mincing)
1 large onion, sliced
Juice from ½ a lemon
2 tbsp melted butter, divided
2 carrots, chopped into 2" pieces
1 medium potato, peeled and cut into 1" cubes
1 tsp parsley, finely chopped
Method
Preheat your oven to 400'F and pat the chicken dry using paper towels.
Combine the olive oil, Italian seasoning, salt, and pepper in a small bowl and stir well to ensure all the seasoning is well combined.
Rub the seasoning generously over the entire chicken, inside and out – not forgetting the cavity or under the wings. (If you don't want sticky fingers, you could use disposable gloves for this).
Next, stuff the chicken's cavity with half the sliced apples, half the sliced onion, and half the head of garlic.
Truss the chicken snugly, trying the wings and legs close to the body, and set aside for a moment.
Take a large mixing bowl, add the lemon juice, 1 tbsp melted butter, and the remaining veggies (carrots, apples, onions, garlic, and potatoes). Toss everything together to evenly coat all the veggies in butter and lemon.
Take your Dutch oven and throw in the veggies, spreading them evenly along the bottom of the pan.
Lay the chicken on the veggies, breasts facing upward.
Brush the outside of the chicken with the remaining melted butter, then put the lid on and place your Dutch oven whole chicken in the oven.
Roast for 30 minutes, covered.
After 30 minutes of roasting, remove the Dutch oven's lid and cook for a further 20-25 minutes.
When the chicken is done, stick a meat thermometer in the breast's thickest part. This should read 165'F.
If you want to make your chicken skin extra crispy, turn your broiler onto high and broil for an extra 5 minutes, brushing a little extra melted butter over the skin.
Carefully lift the chicken out of the Dutch oven and leave to sit at room temperature for at least 10 minutes. The chicken will continue cooking slightly in the residual heat.
Serve with the veggies, a sprinkle of parsley, and any extra side dishes you like. Drizzle any leftover juices over the entire dish before serving.
Notes
My family is unanimous on this being the most delicious whole roast chicken they've ever tasted, and I'm now not allowed to experiment with other variations because they love it so much!
If you have any leftovers, this chicken tastes delicious as a salad topper, on pizza, or mixed into a tasty pasta dish. It's also outstanding in soups or stews.
---
Rate This Article