How To Choose The Best Kitchen Knife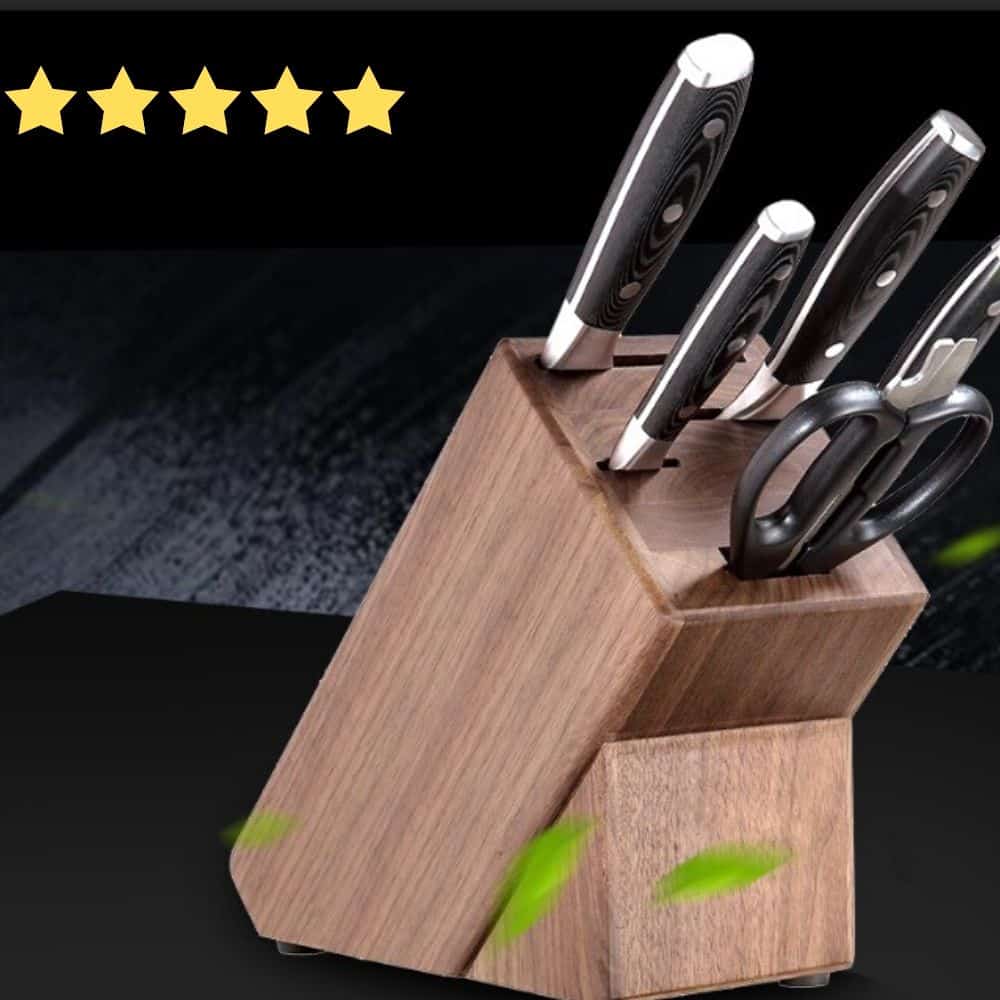 Top Best Kitchen Knife Set on Amazon
Last updated on May 8, 2020 1:00 pm
Why Kitchen Knife is Important?
Your kitchen knife is one tool that you probably use daily, so you have to ensure you go for quality every time you buy a knife. We all have particular things we look out for in a kitchen knife so that we can find that perfect knife.
7 Steps of Choosing the Right Kitchen Knife
Step1: Hold the knife in each hand
This helps you measure the balance and weight of the knife before buying it. You should be able to grip the handle comfortably with both hands. If the knife is comfortable to hold for others, it doesn't mean it will work for you.
Step2: Look for welding joints
If you notice any indications of welding and joining in the knife handle, it means that those joints are weak points. Eventually, those parts may weaken, and the knife can get damaged from there. Always look for knives that were made with one piece of metal.
Step3: Measure the weight and balance
The weight and stability of a knife play a significant role in the handling and usability of the knife. The weight you go for should be dependent on your intended purpose. Balance also makes the knife more comfortable to handle.
Step4: Examine the hilt of the knife
The hilt of the knife takes most pressure when the knife is being used. Therefore, a solid handle should be at the top of your list. It provides support to the blade, and it can become a bacteria hoarder if it isn't well sealed.
Step5: Observe the materials of the blade and handle
Good-quality knives are made with good materials, which make them more durable than cheap material. Stainless steel is the most popular blade material, and the handle should be a high-density wood or plastic.
Step6: Check out the texture
Slide your finger over the blade to feel the material. A good knife should be smooth and well textured. Many people don't know this, but the width of the cutting edge also plays a role in the durability of the knife.
Step7: Test the knife
You can test the knife by cutting some vegetables, or just making cutting motions. Another way of testing the knife is by tapping it lightly on the blade. A crisp, clear sound means it's of good quality.
5 Things that Matter When Buying a Kitchen Knife
While picking out a kitchen knife shouldn't be an issue any longer with the outlined steps discussed above. However, there are still some important factors that you need to consider before you buy a kitchen knife. We've outlined and discussed these factors below to keep you well informed and prepared.
#1 Weight
The weight of a kitchen knife is not a one size fits all, because it plays a role in how the knife performs. A heavy knife is believed to cut ingredients better because it falls harder when cutting, while some believe that a lighter knife is easier to maneuver. You should lookout for a knife that fits your cooking style.
If you are an amateur in the kitchen, a knife with a medium weight should take care of most of your kitchen needs. A professional would prefer a lighter knife for better maneuverability and versatility. You should pick a knife that you can lift comfortably.
#2 Balance
You can check for the balance of a kitchen knife by lifting it and gripping it with both hands. Look out for a knife that doesn't weigh too much towards the handle or blade. That's because this can make the knife too unstable and much harder to use.
You should be able to use the knife without it moving towards its sides unsteadily. The blade has to feel like an extension of your arm when you're using it, or else, it becomes hard to use and less effective in making clean cuts.
#3 Design and material
The design of a kitchen knife helps to determine what you can use the knife to cut. For example, a cleaver with a large square blade is best used to cut heavy meats, while a long, thin knife is best used for slicing vegetables.
Also, a knife that has welding points along the handle is more prone to damage than a knife made wholly out of steel. In Chinese cuisine, chefs prefer to stick to the blades that don't have welding points, because they last longer.
For the handle, your best option is a wooden, plastic, or resin-based material, because they are more durable. Some knives have bone handles, but they tend to wear down after a long time. Even for the other materials, make sure you avoid cheap ones, so you don't get dissatisfied.
#4 Size and versatility
Generally, a medium to short knife is the favorite of homeowners because of its versatility. You can use it for foods that require skill, and also large foodstuff. If you want a knife as an all-purpose option or as a start for your knife collection, this is the best choice.
Long knives are suitable for cutting through large portions of meat or fruits, but they are not easy to maneuver. Short blades are ideal for peeling and other small jobs, but you can't cut a watermelon properly with it.
#5 Price
Price makes a big difference in the performance of a knife, especially in the quality of the material. Paying a little bit more for a better quality knife can turn out to be a good investment, rather than getting a cheaper one you'll have to replace in a short while. The best option for you is a mid-range knife.
Final Thoughts
Choosing the best knife for your regular kitchen use is not as hard as you think. There are several options available for you to choose from, so it is up to you to determine which knife fits your style and needs. If you follow the steps in this article, you won't find it difficult making your choice.
---
---
Rate This Article