How to Choose the Best Kitchen Towels?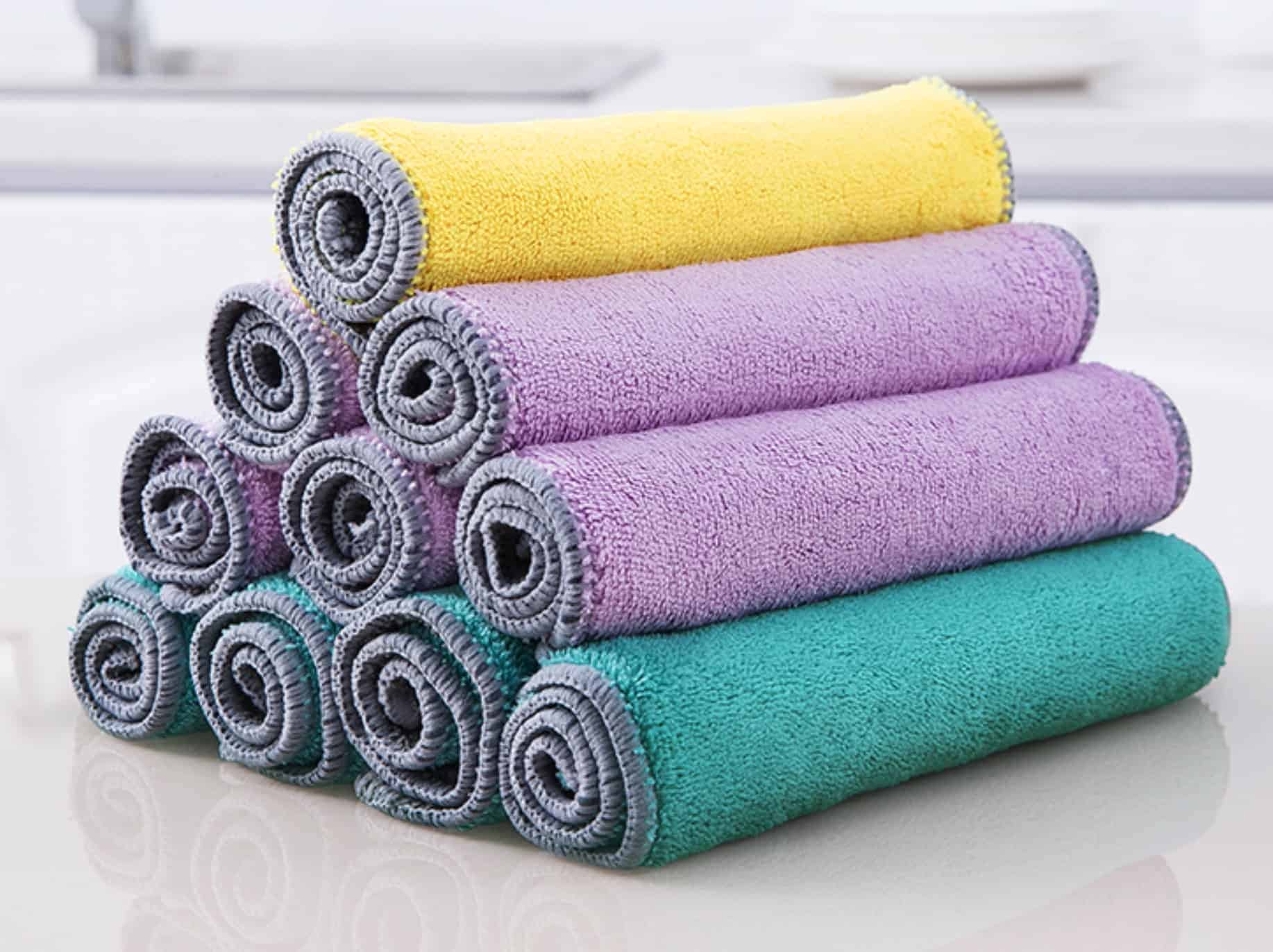 Top Best Kitchen Towels Based on Reviews and Price
Last updated on January 24, 2021 2:59 am
How to Choose Kitchen Towels?
Kitchen towels are essential for the cleaning and drying of dishes, countertops, and surfaces. They are handy fabric designs and we can also use to keep our hands clean while in the kitchen. These towels also have their decorative dimension. They can be coordinated to match the overall tone of the kitchen. But, above all other considerations, their function is mostly practical.
However, we have several types coming from a legion of fashion companies. Kitchen towels aren't costly materials, and it wouldn't pull any hair off you if you had to ditch a poorly made towel and go back to the market.
But think about the stress and time consumed while looking for tea or dish towels. Here are a few tips to help you choose the right kitchen towel based on the use you want to make of it.
8 Factors to Consider When Choosing Kitchen Towels
8. Purpose of Use
There have to be certain peculiarities to look for in your kitchen towel. And the use you wish to give to them will determine this:
Tea towels: For these, choose a linen material. They are useful in cleaning glass and decorating the kitchen area. With one of them, you will have a lint-free cloth guarantee.
Hand towels: If what you need is simply a hand towel, choose pure cotton. They dry hands with ease and have antibacterial qualities.
Dish towels: For these types of kitchen towels, you must choose one with high absorptive quality.
Table towels: They are the ones we have at our disposal to solve any unforeseen spill or splash. Preferably they should be extra strong to wash frequently.
7. Materials
The tea towel is essential in the kitchen. Even if today we wipe the dishes less than before, the fabric must be of high quality and also serve decorative purposes. However, the kitchen towels differ depending on the material and style. We'd see the best fabric materials to opt for.
Cotton is certainly the most used material in the making of the best kitchen towels. It is naturally very absorbent and very easy to maintain. With a good quality/price ratio, the 100% cotton towels can be plain, printed or Jacquard woven.
They offer a choice of colors and patterns and adapt to all cuisine styles. It is a practical and natural fabric that can be used for different purposes.
Linen is quality and flexible natural material. It is also among the most popular materials used for kitchen or tea towels. Just like cotton, it is also absorbent but very soft, contrary to the belief that it is a very rustic fabric. In fact, over time, it becomes even softer to the touch. Linen kitchen towels do not fluff. It absorbs moisture perfectly, wipes well and leaves glasses and dishes sparkling. They are solid and easy to maintain.
You should know that a new cloth, linen or cotton, will not wipe properly; it takes at least 3 or 4 washes for it to have its optimal absorption power. Among the main advantages of flax, we find that it is antibacterial. This means that it prevents the growth of germs and bacteria on the surface, hence, making it ideal for cooking.
However, the downside is that its price is high. It is even more expensive than cotton-made kitchen towels. You can find 100% linen towels or in combination with other materials such as cotton.
If you are looking for absorbent towels, but, for one reason or another, you don't like cotton or linen, microfiber is one of the alternatives you will find in the market. Unlike cotton, it does not absorb water in its fibers but retains them in channels distributed on the surface.
The advantage of this is that it removes excess liquid and can continue to be used. However, because it's a synthetic material, there are those who do not recommend it for the handling of food. But they are useful for drying utensils and cleaning wet surfaces.
In addition to the three materials mentioned above, there are also others, such as bamboo, which is also antibacterial. It also has a great absorption capacity. Hemp is another alternative that buyers are leaning towards. The main difference between these with the previous ones is that they are eco-friendly.
6. Decorative Features
Asides the primary cleaning purposes of kitchen towels, look for one that can blend or enhance the aesthetics of your kitchen. And there are a couple of fabric materials or designs for this.
First, towels of cotton material are great if you are looking to choose decorative kitchen towels. This material has many customization options, and they have a wide variety of models. So it will be easy to choose pieces that go well with the rest of the kitchen's setup.
Another material that produces decorative towels is Jacquard. Jacquard is a weaving technique in which manufacturers make original patterns on both sides of the cloth. This helps them obtain a uniquely refined and decorative cloth that can adapt well to your kitchen.
You also have the option of printed towels. Printing allows you to make all types of patterns on one side of the cloth and bring a touch of fantasy and color to your kitchen.
5. High Absorbency
The absorbency of a towel is the quality that helps us save time and effort. On the market, you'll find a couple of fabrics that have a high absorption rate. When a fabric is absorbent, we say it is hydrophilic. That is, they have a high capacity to attract and retain water.
Ordinarily, fabrics consist of a network of thin threads twisted and intertwined together to form a complete clothing material. The fiber's shape and natural qualities often determine its absorbency. In essence, kitchen towels made from natural fibers are the most absorbent fabrics. And to be more specific, most absorbent fabrics are those consisting of 100% cotton. Others also include 100% rayon, wool or nylon fabrics.
4. Fabric Composition
Sometimes, different fiber materials are brought together to make high-quality materials. That is, when this is done, the towel would no longer be advertised as 100% cotton, 100% linen, etc., as the case may be. This usually consists of linen and cotton, in proportions which may vary.
It combines the qualities of the two materials. Resistant, absorbent; it is a versatile fabric that can be used for anything in the kitchen. It is lint-free. Hence, you can use it to dry glass pieces.
This is a type of towel derived from nylon and polyester. It can help you dry because the fabric is strong and short. So they will not leave residues on the plates. At the same time, they are delicate, so you are not at risk of being scratched.
3. Size
It's not a body towel, but that doesn't mean its size has to be the same as handkerchiefs. While a towel with a generous size is of around 15 × 25 inches, no rule says you cannot choose something a little more than that. The best option is to look for the biggest ones to simplify your tasks. In this case, the towel measuring 18 × 25 inches will serve you well.
2. Lint-free
Lints, the fluffy balls on fabrics, are common on sweaters and knitted clothes. However, they are sometimes found on kitchen towels too. Synthetic fabrics are more likely to create these balls. This is because, over time, the fibers that are detached remain attached to the tissue forming these fluffs.
Meanwhile, if it appears in the natural tissues, it tends to detach easily. Therefore, to choose a lint-free kitchen towel, it is advisable to verify that the towel is made of a single natural fabric (100%). Although a ratio of 90-10 is still acceptable. As long as the garment has more tightly woven fibers, the possibility of lint will be reduced. Meanwhile, the biggest guarantee of getting rid of lint is to buy a 100% cotton product.
1. Essential Characteristics
High density: With a strong fabric, there will be no breakouts of lint during washing.
Appearance: The appearance and color are details to consider. Choose those whose designs are close to your style.
Designs: You can choose beautiful designs that you can find in unique, customized or handmade towels. Embroideries are great ideas on kitchen towels too. When strategically placed while not in use, they can also help you add up to the interior designs of your kitchen.
Wrapping Up
There are as many models and designs on the market. But unfortunately, there aren't many features to watch out for in a fabric. Except for the material type, the composition, the size, their tendency to absorb fluid and dirt, the compatibility with the purpose of use and the decorative patterns or designs, other things are just basic consideration criteria.
Linen and cotton are the best for kitchen towels. This is because they are natural fiber materials. We hope we have helped you discover some of the few characteristics you have to watch out for on in a kitchen towel.
---
Rate This Article