58 Best Authentic Chinese Chicken Recipes
Chinese chicken dishes are popular. It is famous as special taste, tender and juicy. Here we collect our best 58 authentic Chinese recipes. No matter you are looking for light or strong taste, spicy or non-spicy taste, you can always find the best recipe for cooking.
This is a royal dish in the ancient empires period. In A Dream in Red Mansions, Chicken Skins And Shrimp Meatball Soup is a favorite dish of the prince. The dish is rich in nutrition and especially good for the skins. Chicken skins is a source of sulfur chondroitin which prevents the loss of collagen.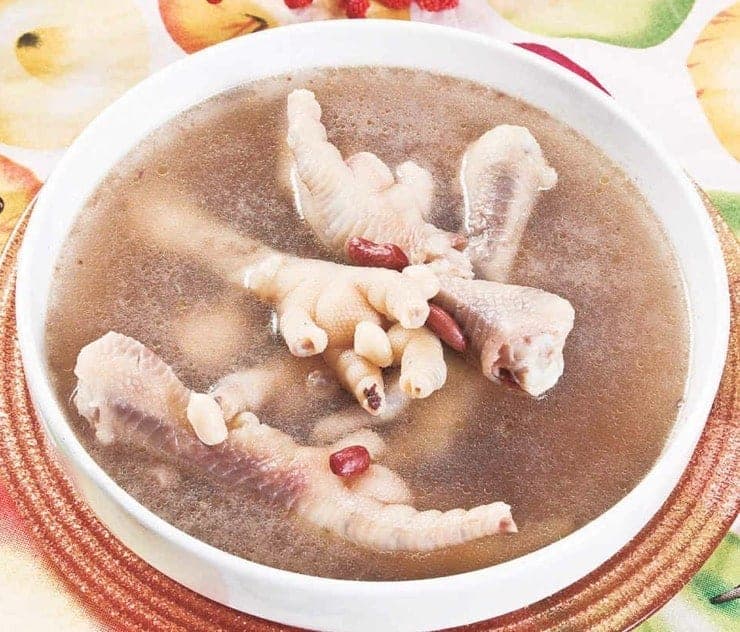 Stewed Chicken Feet with Cowpea and Peanut is Cantonese cuisine. After stewing, you can smile authentic soup aromatic even without removing the lids. Besides the taste, it is a beauty formula for skins. Chicken feet are rich in collagen which will be dissolved during stewing cooking. More importantly, the soup contains less fat and help to control calories intake. It is a top healthy soup among Chinese cuisine.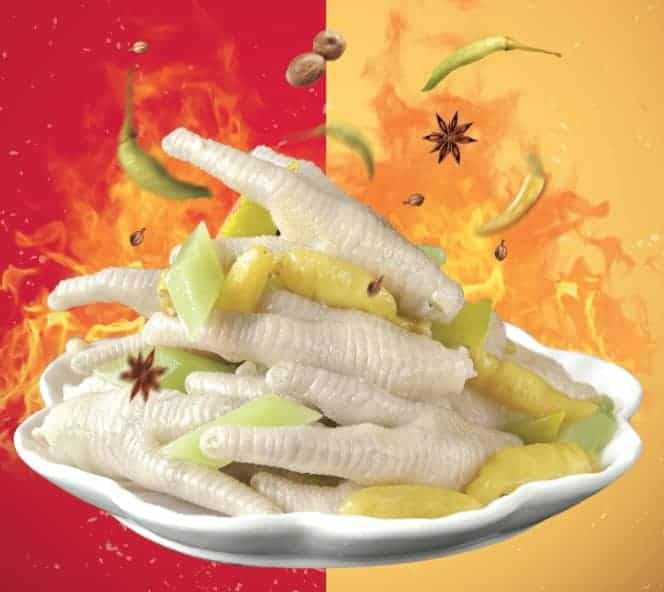 Chicken Feet Cold Dish is a snack or a dessert before meals. It is time-consuming for eating chicken feet, but it is also enjoyable delicious with family and friends. The boiled chicken feet are fresh and have original meat taste. The brine soup is the key to make this dis appetizing.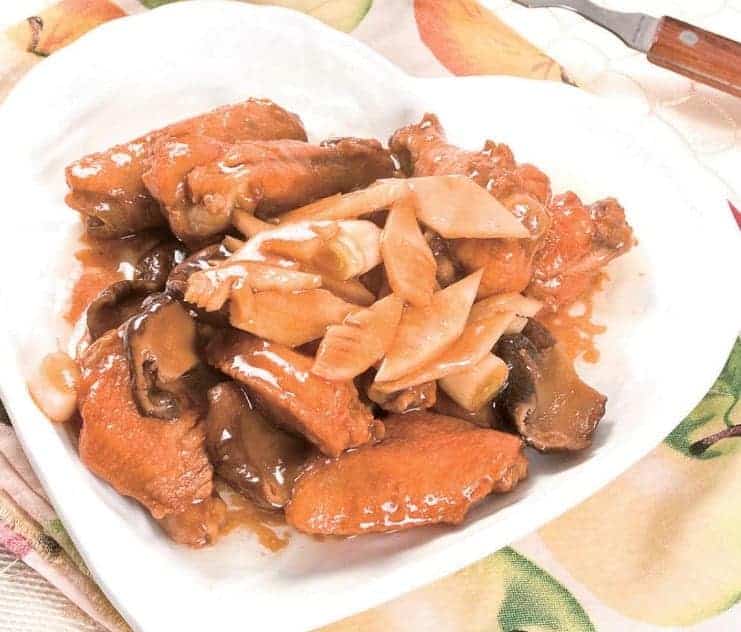 Braised Chicken Wings With Bamboo Shoots is a Shandong cuisine. It is famous for its juicy and soft meat. Every part of the chicken wings is tasty. Then the meat is soft fulling of meat juice. Even the bones are soft and yummy.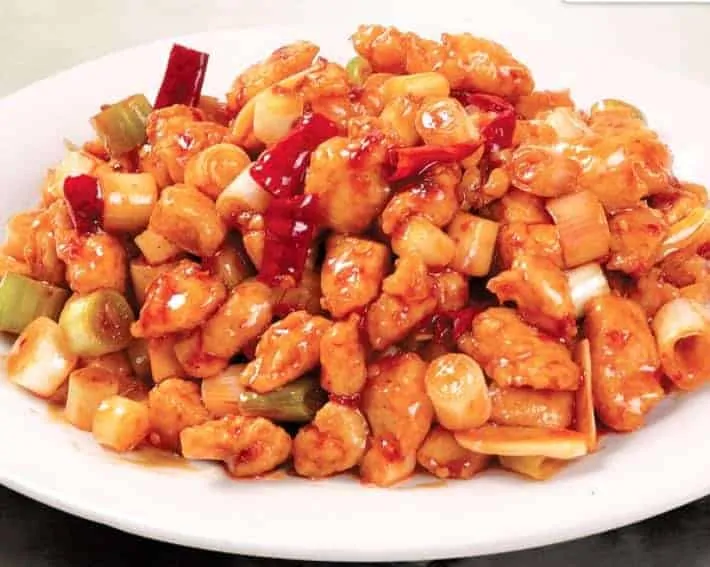 Kung Pao Chicken is popular around the world. This innovative recipe adds winter bamboo shoots and mushroom as an enhancer to boost flavor. These two ingredients bring more juice when cooking. Cornstarch is normally used for stewing and braising. Its function is to prevent juice run out in this recipe.
Healthy Chicken Slices is an everyday dish in many families. The process is simple and the ingredients are cheap but tasty. It contains meat and vegetables, which is nutritionally balanced and suitable for fast daily meal.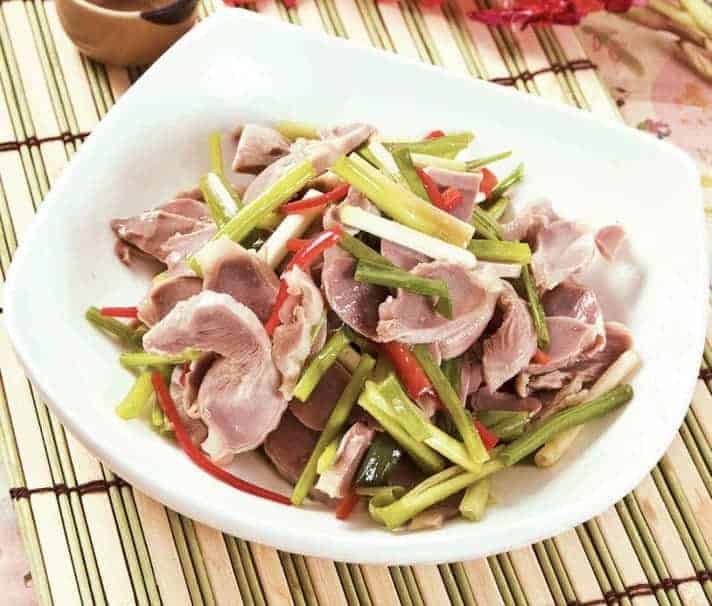 Chicken Gizzards is special that almost everyone loves it. It is not only fast and easy but also tender and crispy. It's a snack or an appetizer in many places.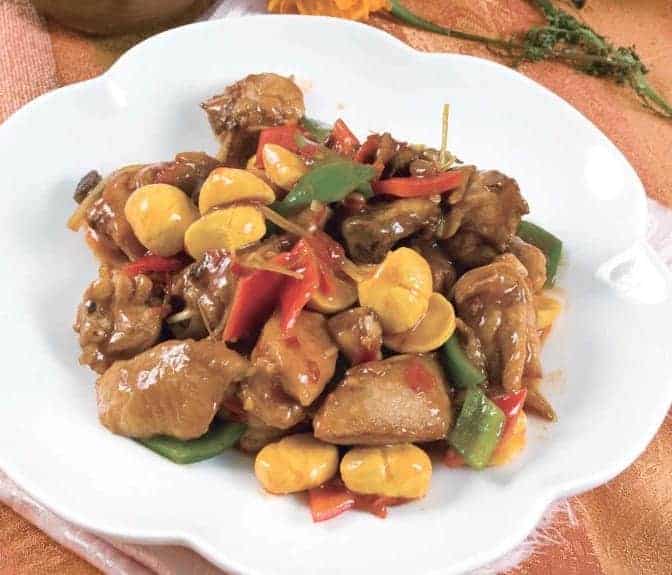 Roast chicken with chestnut belongs to Yu (Henan) cuisine, a traditional Chestnut dish. Chestnut is rich in nutrition, fragrant and sweet. It is the best partner of meat, including chicken and pork. This dish has a fresh chestnut, sweet taste all over the dish.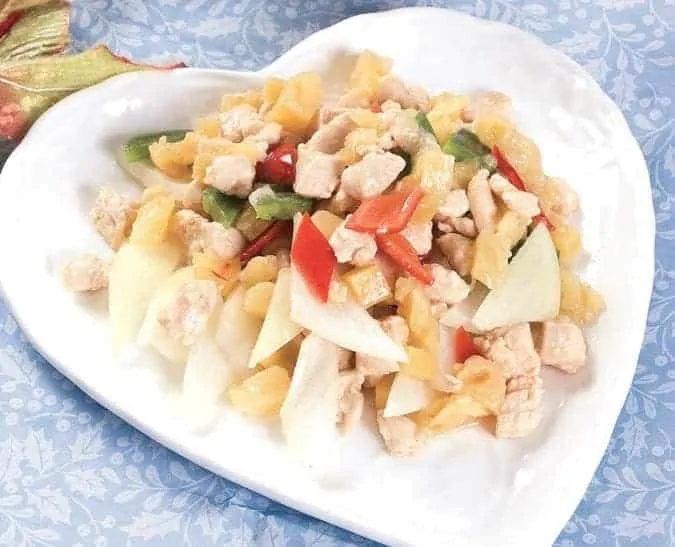 This is the most simple version of Pineapple Flavour Chicken Breast. The key is to balance the sweet and sour flavor of pineapple. It is a special dish in many minority areas of China, such as Yunnan and Guangxi Province.
Lemon Flavor Chicken Meatball is Cantonese cuisine. The sour lemon juice improves the appetizing taste and makes the chicken meat tender. Its flavor is unique among all the Chinese chicken dish.
Braised Chicken With Taro is a daily dish in China. All ingredients are cheap but tasty. The taro can absorb chicken juice and become soft, aromatic and juicy.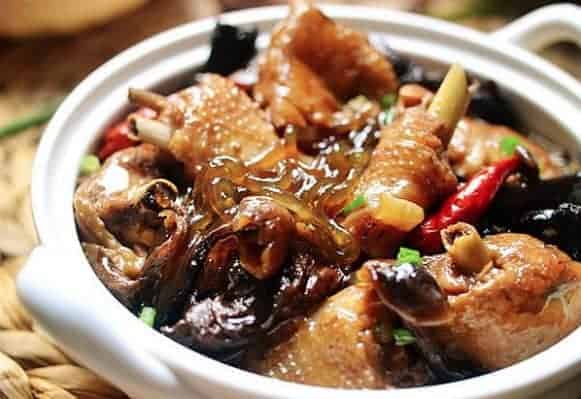 Stewed Chicken With Mushroom is one of top 10 classic dishes in northeastern Chinese cuisine. It is usually stewed with dried mushrooms, chicken. Mushroom can enhance the chicken aromatic taste. And the mushroom is smooth, tender and nutritious.
Cordyceps Flower Chicken Soup is one of dietary therapy recipe in China. Chinese medicine believes cordyceps flowers are mild, neither cold nor dry. It is rich in protein, which can enhance our immune function and improve disease resistance. This soup is good for our liver and kidney and has a cough-relieving function. Its taste is rich and is suitable for every young and old people.
Fried Eggs with Chicken Strips contains meat and vegetable strips, which is nutritional balanced. You can enjoy a mixture of three unique fresh taste.
Oyster Sauce Chicken Feet Recipe (opens in a new tab)">15. Oyster Sauce Chicken Feet Recipe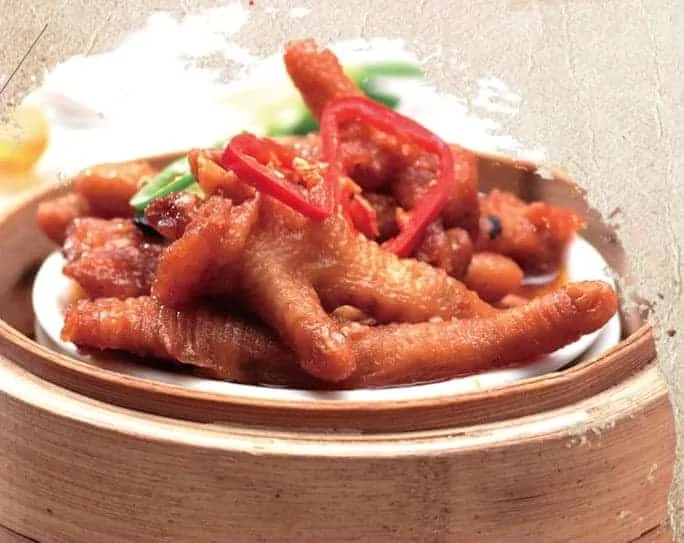 Chicken Feet is one of the hottest dishes in Chinese. It is a must-order dish of Yum Cha. Although people from other countries may dislike this dish, almost every Chinese love it. This recipe shows you a popular way to make authentic Chinese Chicken feet. You will be proud of making it since it is not so easy.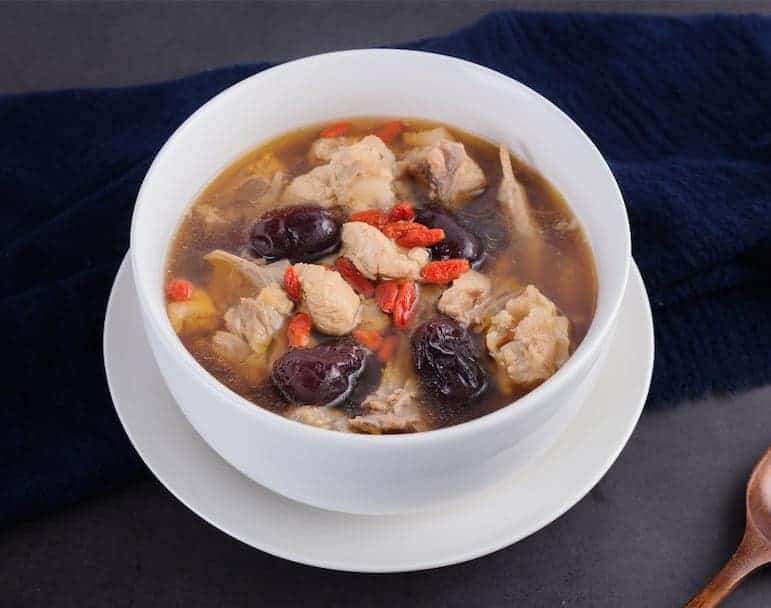 Black Chicken Soup with Goji Soup is a cheap soup but high nutritional value. It is popular among Cantonese area. Its main function is to improve our immune system and good for our skin.
Steamed Eggs is tender. This dish adds shrimp and vegetable to enhance the aromatic and flavor. Chinese calls these three ingredients as "three treasures" because all of them are healthy ingredients and benefit for our health.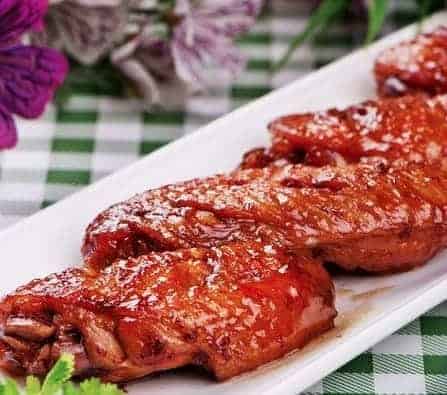 The color of Red Wine Chicken wings is amazing. It is special not only the color but also the fresh and elegant aromatic of red wine. It combines western and eastern taste, which makes it irresistible.
Chinese medicine believes Black Chicken Soup can improve our immunity system. Also, a lot of Chinese medicine ingredients act as seasonings, which improve the healthy functions of the chicken soup. This dish is the top 1 soup for dietary therapy. Moreover, it is a daily dish for everyone who needs to Improve immunity.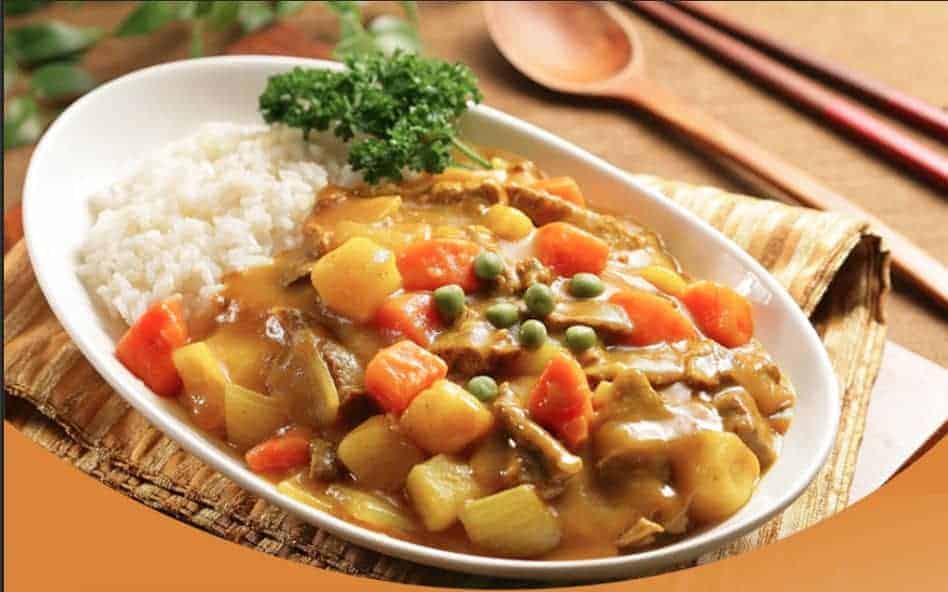 The origin of curry chicken is from India. But Chinese love curry as well. Thus, curry chicken is becoming popular in China. The main difference between Chinese and Indian curry chicken is the ginger and garlic taste. Chinese cuisine always stirs fry ginger and garlic slices before cooking. Its purpose is to make cooking oil aromatic and appetizing.
Special Diced Chicken combines all tastes of seasonings – sweet, sour, fresh and spicy. It is super healthy because all of its special taste is from vegetables and fruits. The tastes combination is unique and special among all Chinese cuisine. You will be proud after you make this dish.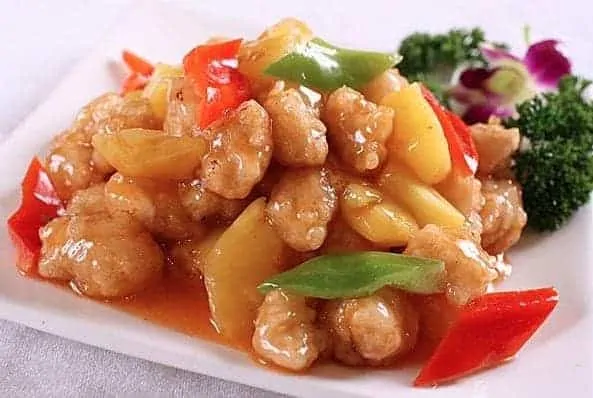 Fried Pineapple and Diced Chicken balance the sweet, sour and salty taste. With the pineapple juice, the chicken is savory and appetizing. It is Cantonese cuisine, but you can find it everywhere in China.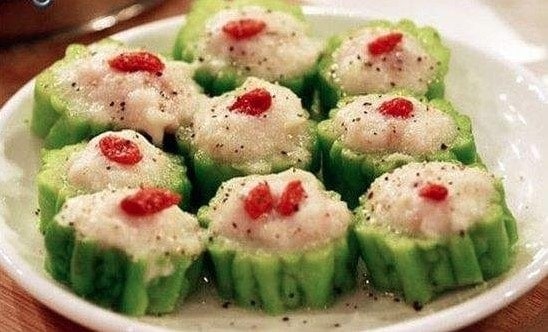 Steamed Minced Chicken with Bitter Melon balance the bitter taste and meat taste. Chinese medicine believes bitter melon can prevent cancer. The steaming methods keep the key nutrition within the bitter melon. It is a healthy daily Chinese food.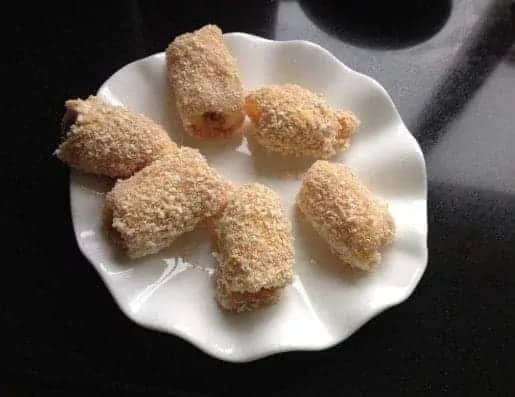 Chinese Fried Banana Chicken is really special. It's soft and sweet inside and delicious outside.
At first glance, it may seem like a weird dish, but actually, it combines the fruity aroma of banana and the tender chicken. Its taste is irresistible.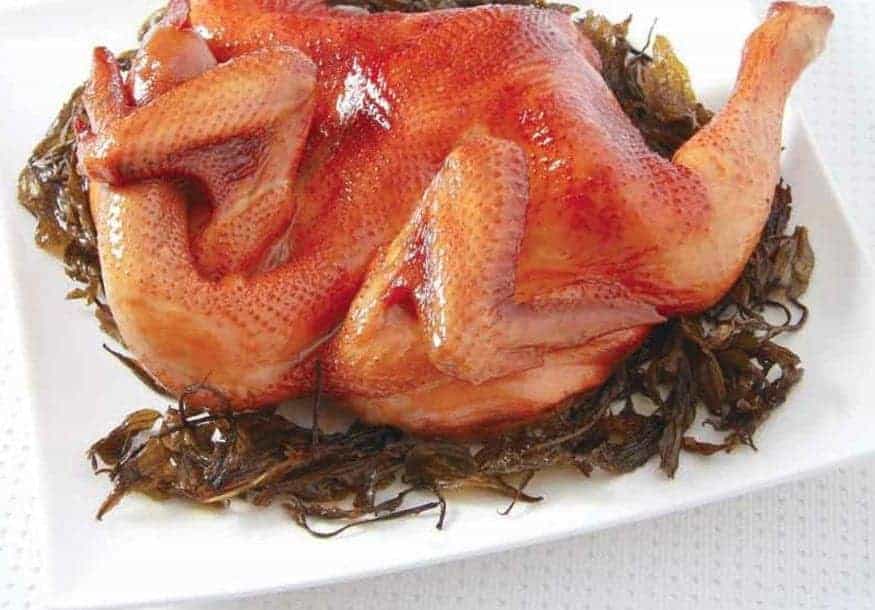 Tea Leaves Smoked Chicken is Aihui Cuisine. The chicken contains tea flavor but no bitter taste at all. It is the best childhood memory for many Chinese. When they are children, they hang out with friends and make it on the farmland. Buried the chicken and tea leaves in the ground and make a fire on the top. After the fire is off, dig out the tasty chicken and enjoy with friends.
Soy Sauce Flavor Egg is a simple and fast dish. You can eat it as a snack or breakfast. In China, many booths sell it with a local flavor.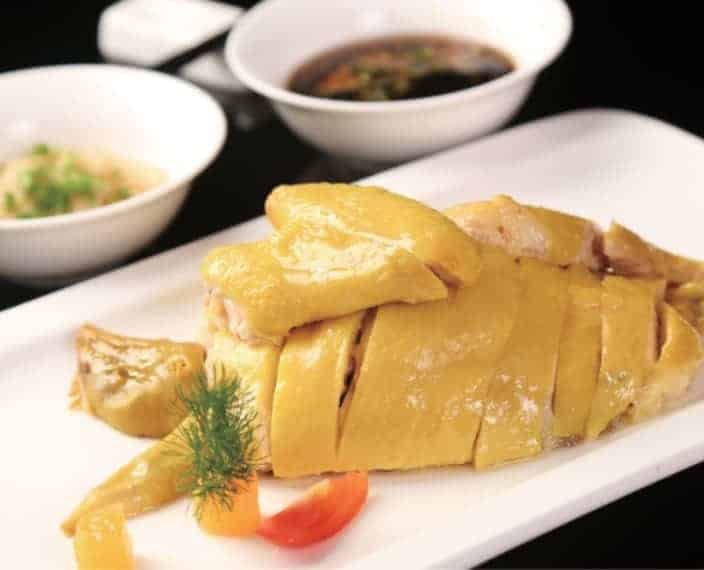 Chinese Blanched Chicken, also known as boiled chicken, is one of the Cantonese chicken dishes. It is the most difficult and easy Chinese chicken. It is simple because Its ingredients are simple ingredients-chicken- seasoning with salt and ginger. On the other hand, it is the most difficult because of its cooking time. Heat, cooking time and the size of chicken all result in overcooked or under-cooked. The blanched chicken should tender with tight skin.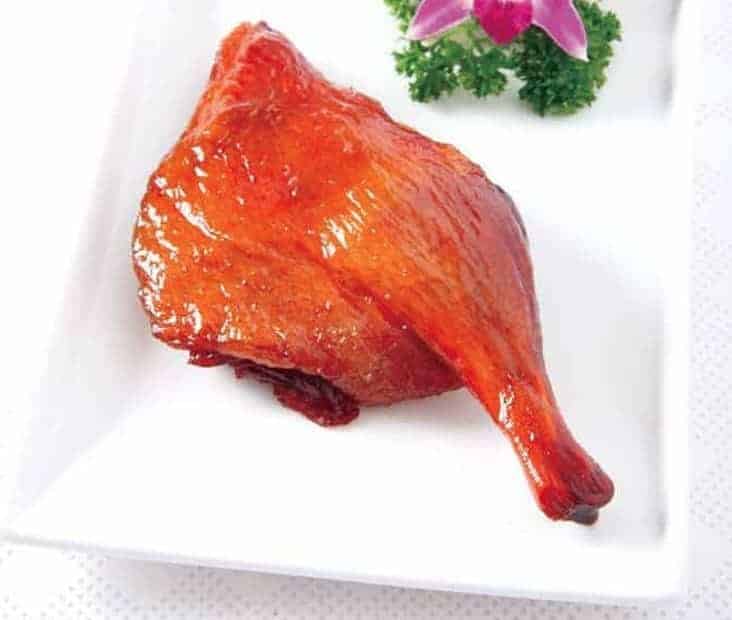 Chinese Dried Chicken Leg is a raw ingredient for many Chinese dishes. You can cook it with green pepper, potatoes, beans, black fungus and so on. It is the original way to preserve food. A long time ago, people have no fridge, it is a good method to keep meat and maintain freshness. Even though every family has fridges, but the dried meat is still popular because of its special salty flavor.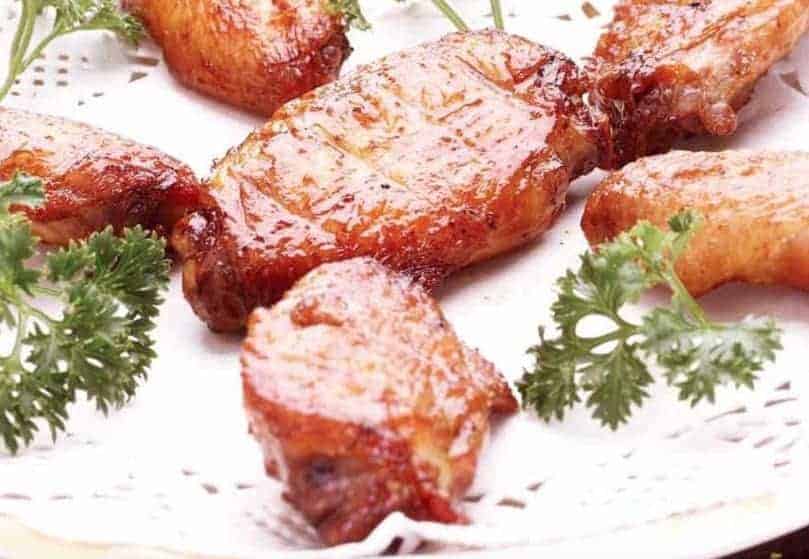 In Chinese cuisine, there are many chicken wings recipes. It is fast, cheap and tasty. And it is easy to control the taste. With barbeque sauce and black pepper sauce, chicken wings can achieve the best flavor. This easy Chinese chicken recipe is for everyone.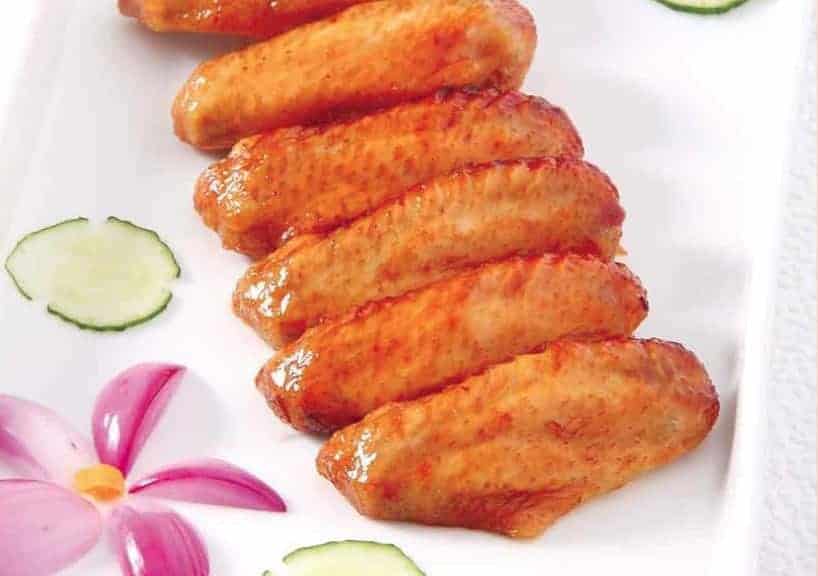 Garlic and ginger are the most important ingredients of Chinese cuisine. The garlic flavor is aromatic after roasting or frying. It is widely used in cooking oil to enhance the fragrance. Roasted Garlic Flavor Chicken wings combine both garlic tastes and traditional Chinese ingredients, such as soy sauce. Don't miss this dish, you will love it.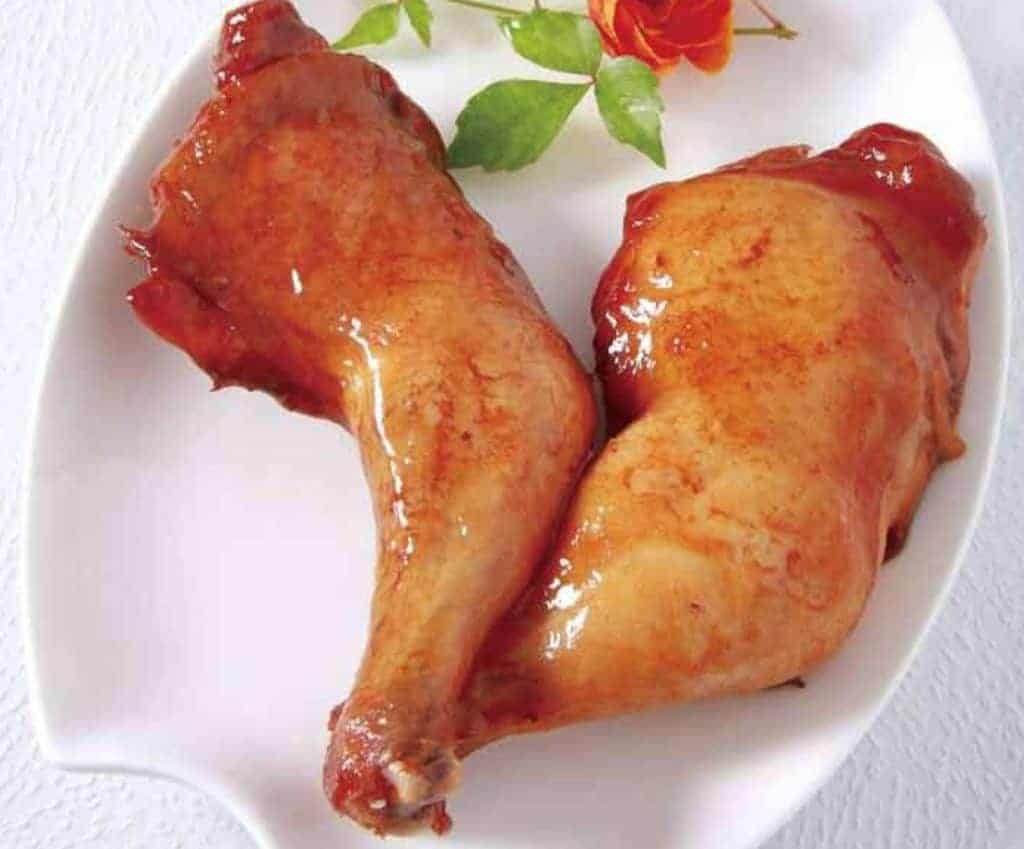 Just like chicken drumstick lollipops, Roast Chicken Leg with Honey is also a common dish in most Chinese restaurants. The taste feels unique in different restaurants because of the marinating process. Usually, the seasoning for marinating is the secret of the chef or restaurant. Follow this recipe and I can bet you will love the taste of chicken.
Roasted Chicken Skin Slice is a new dish in Hongkong and Guangdong area. It is from the cooking method of Beijing Roast Duck. The same sauce and eating method. Compared to roasted duck, roasted chicken skin is more juicy and aromatic. It is the innovation of Chinese cuisine.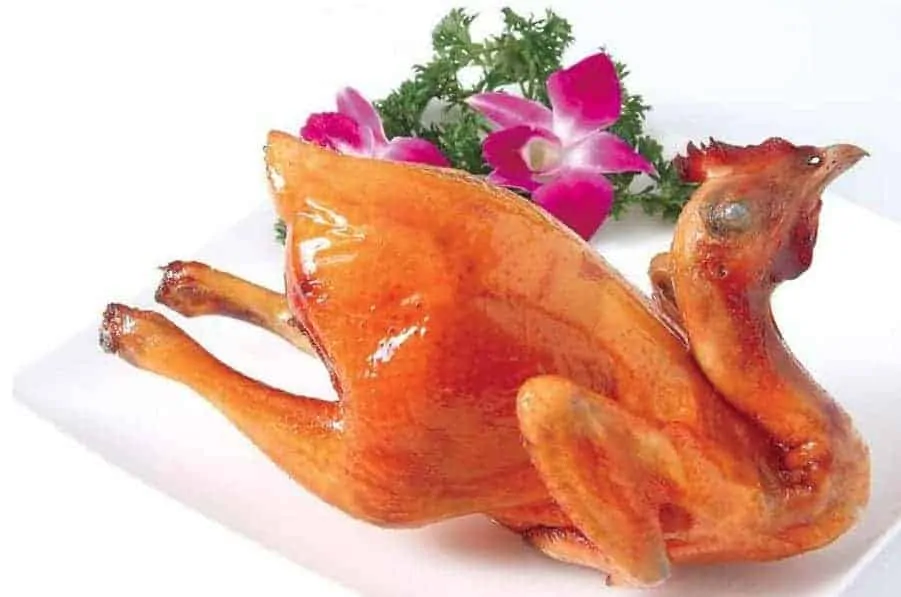 Roast Red Fermented Bean Curd Flavour Chicken is a Cantonese dish. It is special because of red fermented bean curd. The taste of red fermented bean curd is a lightly sweet, salty and combined with the aroma of alcohol. It combines all the feature of Canton cuisine, such as the fresh, tender and original taste of food ingredients. You will never regret to try this dish.
Roasted Soy Sauce Chicken is a traditional Guangzhou chicken dishes. In Guangzhou, people have the highest level of meat, tender, juicy, crispy and light taste but strong aromatic. You will understand how much high level they are tracking after making this dish 3 times.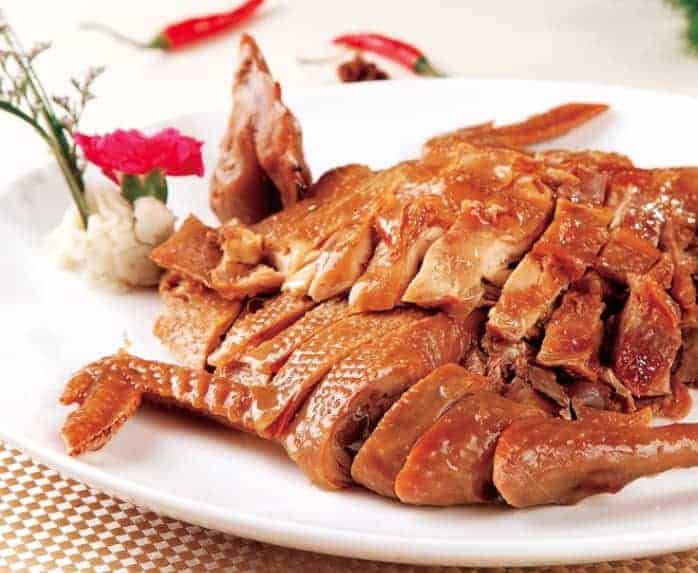 Honey is the best partner of Chinese grilled chicken. It balances the strong salty flavor and sweet taste, which make the taste never boring. Roasted chicken skin covers tender chicken meat, which is so appetizing that you cannot miss it.
Roast Chicken Wings With Honey Sauce is a common dish in China. No matter in a restaurant or home, you can find this dish. The cooking methods might be different, but that that makes the dish special since you make roast chicken wings with your secret sauce.
Roasted soy sauce chicken is a famous traditional dish in Canton. The chicken has crispy skin and smooth meat. It balances the strong soy sauce to taste of the skin and light taste of the meat. The flavor and fragrance of soy sauce permeate all over the chicken. You will never forget this mouthwatering taste.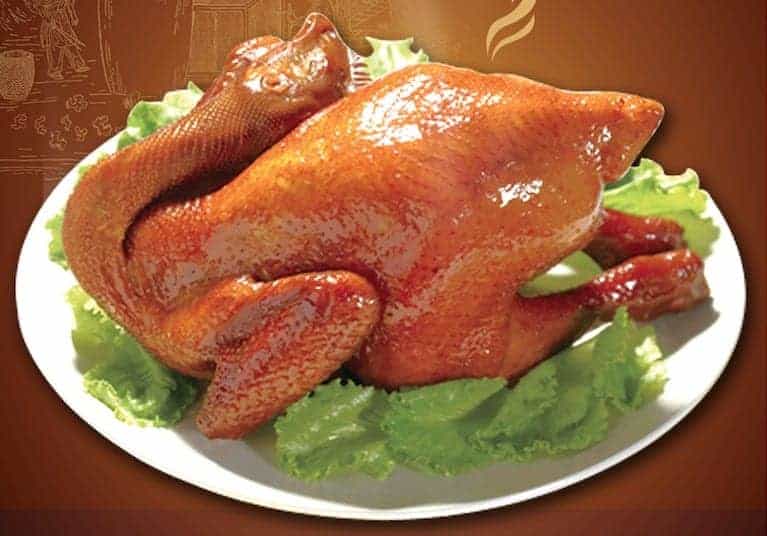 Cantonese Roast Chicken is a Cantonese dish. You can find it in every Chinatown all around the world. Usually, restaurants hang roast chicken In the shop window. Indeed, it is everything your taste buds desire. This Chinese chicken recipe offers your basic steps and cooking method. The key to this dish is the seasoned soy sauce. Of course, you can use other sauce instead.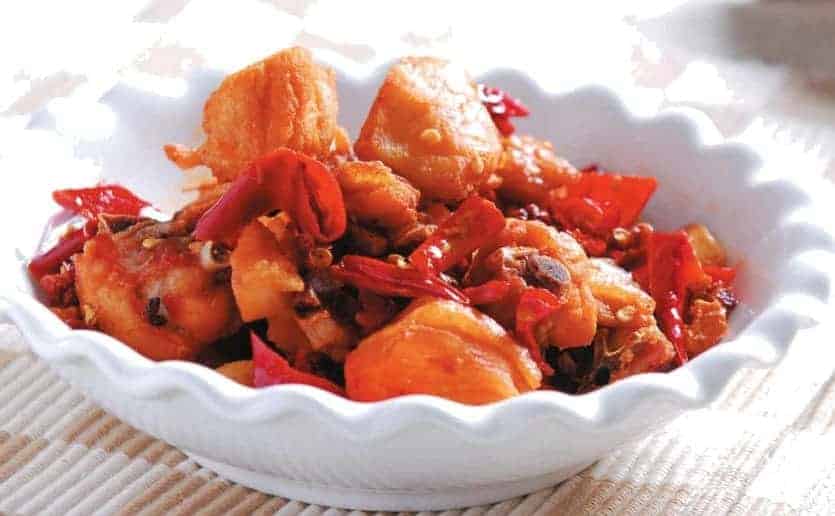 Chinese Fried Chicken with Pickled Pepper is one of the classic Sichuan dishes. Pickled ginger and pepper is the key to making it special. Chicken can fully absorb sour and hot flavor, The taste is second to none, you will never forget its taste.
Chicken is the most common in Chinese food. It is cheap and easy to cook in different Chinese cuisine. Hot and spicy chicken is suitable for spicy lovers. It is very appetizing and fragrant. With high-level cooking skills, you can make it crispy outside and tender inside.
Chinese Steamed Chicken is a special dish of Han nationality. It belongs to the Sichuan cold dish, one of the eight major Han cuisines in China. It is special in its fresh chicken taste and hot spicy flavor.
Chinese chicken dish is the most common dish everywhere. When you visit Sichuan province, one of the best food you can't miss is Sichuan Chicken. It is super spicy and aromatic. If you cannot eat spicy food, always bring ice water and enjoy this dish.
Steam Shiitake Mushroom and chicken Roll Recipe (opens in a new tab)">43. Steam Shiitake Mushroom and chicken Roll Recipe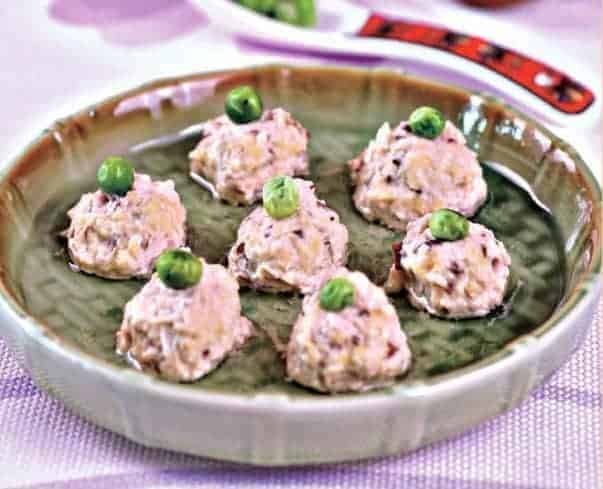 Shiitake mushroom can reduce blood sugar, blood lipid and improve immunity. This dish is tender and tasty, easy to digest, suitable for everyone who likes meat.
Radish is rich in vitamins and dietary fiber. It solves many issues, like constipation and indigestion problem. This dish contains meat and vegetable, which is a more healthy and easy way of cooking.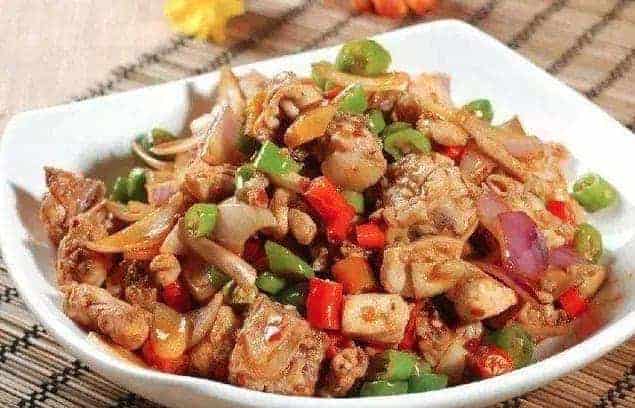 Chicken gilets include chicken gizzards, liver, blood. Some people may not like these food ingredients, but Chicken gilets are rich in protein, vitamin A, B vitamins, iron, zinc, calcium, etc. It can improve our daily health.
A traditional Chinese chicken recipe. It can enhance physical strength, improve human immunity. Besides, chicken meat is tender, Our body can easily absorb protein in chicken meat.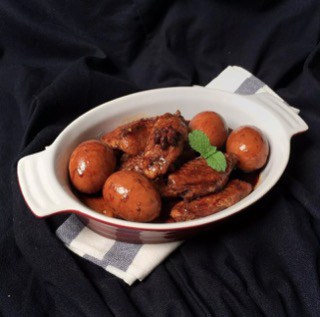 This recipe is actually made of chicken legs, chicken wings, and eggs. These are the most popular chicken meat ingredients in Chinese dishes!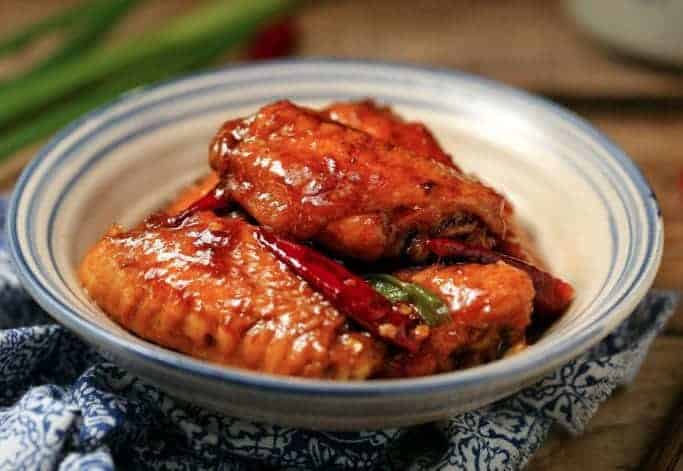 Every Chinese family love braise chicken. And almost every family is making this dish during the Spring Festival. Even though the recipe is the same, the tastes are always different.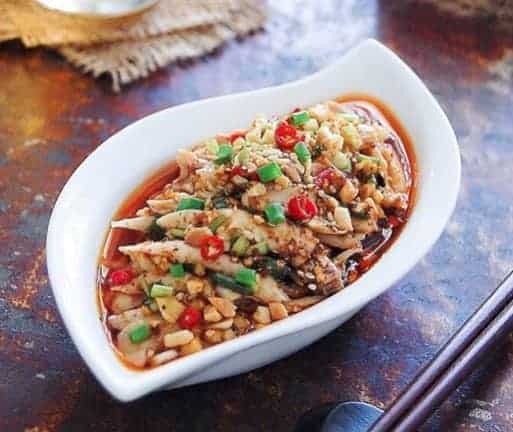 The famous Steamed Chicken, also know as 'KouShui Chicken', is a Sichuan flavor cold dish. Fresh tender chicken meat combine with spicy red oil and tailored seasoning. It tastes hot, spicy, fresh, fragrant, tender, and cool.
Even though it is called Xinjiang Chicken, you can find this dish everywhere in China. People often adjust flavor based on their favorite taste. They may add sliced red pepper or tea-seed oil in this recipe.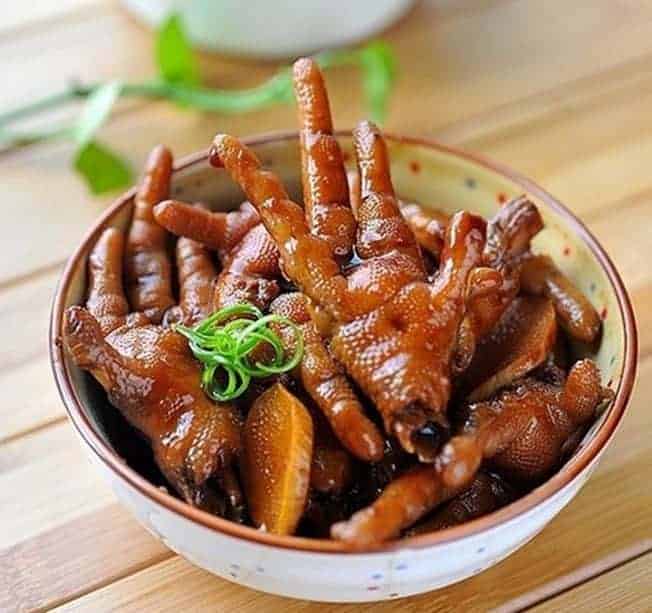 In fact, it is very simple to make this dish. It is the normal marinade process but it has different taste. Adding 1/2 teaspoon of the thirteen-spice powder is the key to make the taste instantly improved.
This is the universal dish that can be found in most Asian, it can be an appetizer, thin soup or main dish, eaten with or without rice menus.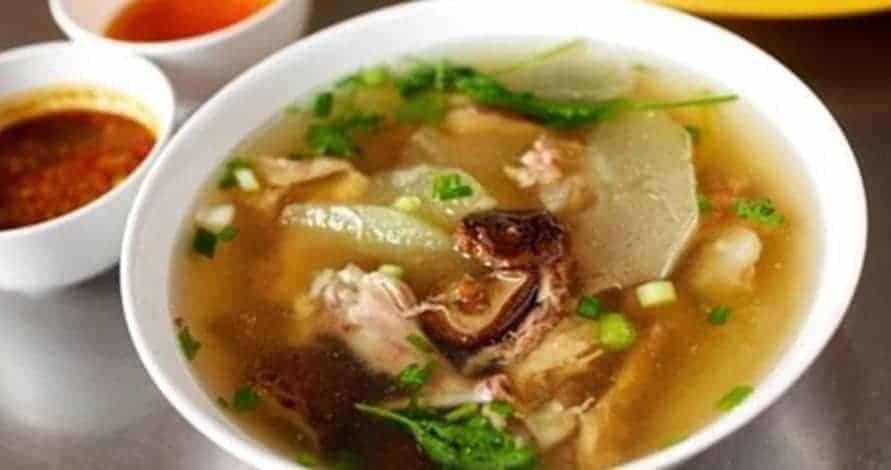 Cantonese soup is a healthy mix of vegetables and chicken chopped into small pieces in piping hot chicken stock.
The recipe for this savory dish commonly calls for diced chicken.
BBQ chicken has got to be one of the most enjoyed meats in the history of food and BBQ, in particular, chicken is usually cheap, quite filling, a great source of protein and easy cook whether on a BBQ grill, smoker or even a regular oven.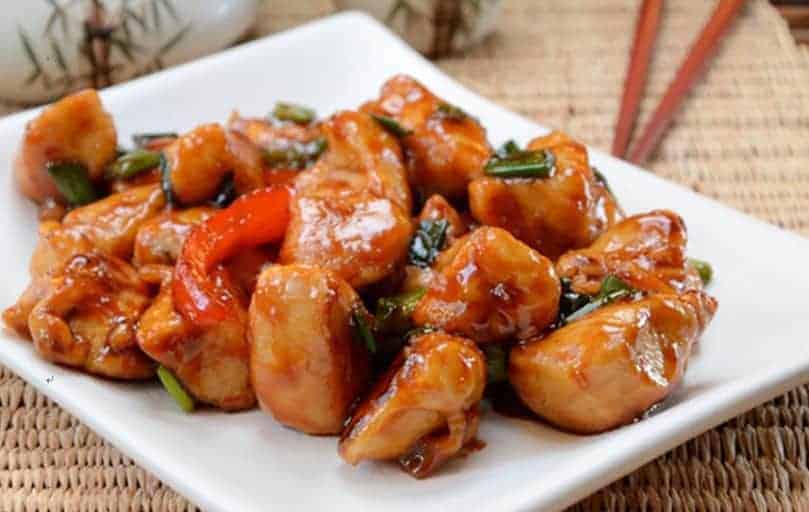 Who has not eaten this at least once in their lifetime? If you said, "I have not" then you are missing out on some good easts my friend!
There is a foreign dish called Coca-Cola -chicken, which is made with coke and tomato sauce. The main ingredient is chicken (chicken wings, chicken breast meat, leg meat, etc.). Caramel colored roast chicken is commonly used in mainland China. A restaurant in Jinan, Shandong province accidentally knocked over the cola and found it more convenient to use in the red-hot chicken wok.
Simple and easy Chinese Kung Pao Chicken Recipes at home. This dish made with diced chicken, peanuts and chili peppers, which was named as Kung Pao chicken. It is also called spicy Szechuan Chicken. The tangy aroma of peanuts and the earthy flavor of chicken rounded up together with sweet, sour and spicy notes. This is the dis to satisfy our spurts of cravings and we gobbled it up. Here is a simple and easy recipe for this tasty dish.
---
Rate This Article