Purple Perilla Taste Reviews and Cooking Tips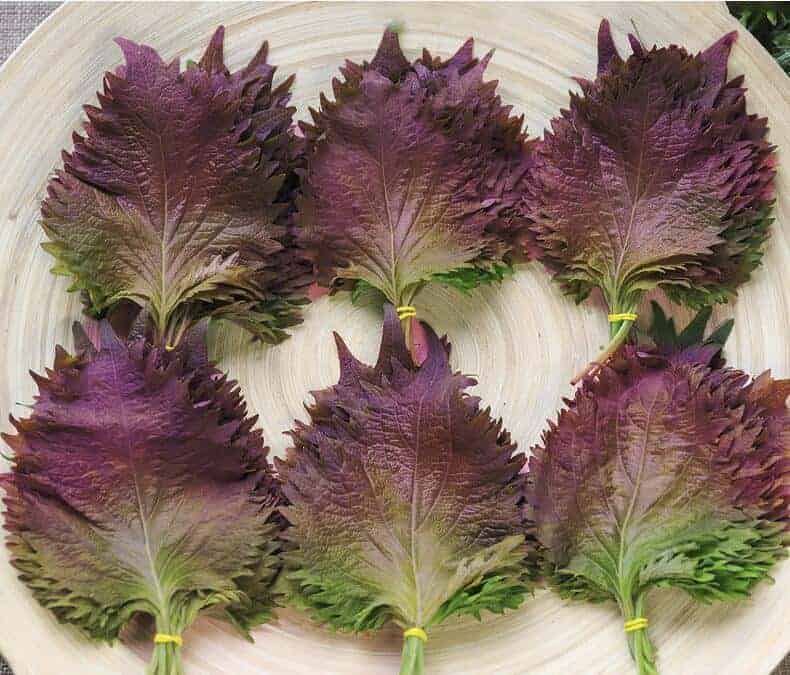 What is purple perilla?
Purple Perilla is the purple-leafed variant of the most popular Green Perilla plant. In most places of the world, it is referred to as Shiso, which is a Japanese term. The green variant of this herb is widely used and specifically in Japanese cooking. However, in the western part of the world, it is considered a weed. Even, some of them consider it as a poisonous plant. Even, some use this plant for decorative purpose only.
Even though purple perilla is widely used to get its purple color for dying, it is also used in cooking in different Asian countries like Korea, India, and China and even in other Southeast Asian countries.
Why we love Purple Perilla?
One of the important reasons why we love Purple Perilla is the purple hue it adds to any Chinese dish. When you garnish any of your favorite Chinese dishes with the baby leaves of Purple Perilla, you are sure to love the very look of the dish.
If you want your Chinese dish to be preserved for a few days, Purple Perilla can turn out to be the best way to preserve food. For these reasons and the mint-like flavor it adds to your food, we are sure that you will love purple perilla like us. In addition to mint flavor, it can add many other flavors.
What does purple perilla taste like?
You might feel whether you can garnish with the leaves of Purple Perilla to add a striking flavor and color to any of your dishes. Here, the taste it adds to the dish will be different. The main taste of this herb you will come across is sweet taste. So, it can become a great accompaniment to soups, vegetables, rice, and fish.
With its botanical name P. Frutescens Var. Crispa, the taste of these leaves is hard to pin down. As this plant belongs to the mint family, you will surely get the minty flavor in any of your dishes, where you use it for garnishing. In addition to the taste and flavor of mint, you will get the flavor and taste of many other herbal plants and spices like a hint of citrus, anise, cinnamon, basil, and coriander.
In China, in Hunan cuisine, perilla leaves are used for preparing fish. It is the purple perilla that contributes to the fresh aroma of Hunan Cuisine. When you add these leaves after simmering, it will not add too much of purple color to your dish. The reason is that the leaves are already boiled and most of its colors would have gone with the water used for boiling. When you add these leaves, it will add only its aroma to the dish.
How to use purple perilla for Chinese cooking?
There are different ways in which you can add purple perilla to your Chinese cuisine. It will add a good flavor to your dish irrespective of the method you use. Let us get into the different methods in which you can cook Purple Perilla.
Tampering
Particularly when you use it as tampering, it will turn your dish into a purple color, thereby making it colorful not just for your eyes, but also for your taste buds. You can use this method of cooking Purple Perilla and can add to Chinese dishes like sweet and sour pork as these leaves will bring a sweet taste to this dish.
Boiling in water
You can just add some purple perilla in a bowl of hot water and can keep it aside for some time. Once the water turns purple, you can get rid of the leaves and can add this water when cooking any of your Chinese dishes. It can be anything like spring rolls, Peking roasted duck and chow mien.
Use along with vegetables
When you cook other vegetables for a vegetable salad or even for other purposes, you can add some purple perilla leaves to the vegetables that are cooking. It will add not just attractive color, but also add a great flavor to your dish.
Seasoning for soup
If you wish soups get a nutty taste, you can try adding purple perilla leaves just afresh. Just wash the leaves thoroughly and cut them into smaller pieces and add as a seasoning in your soups and tang. It will get you a refreshing soup for your evening snack.
Tips for using purple perilla
Irrespective of the way in which you use it, this super-fragrant herb will give a new type of aroma to your dish.
You can just cook these leaves along with some cabbage in oil and can add plenty of oil and spice powder and can keep it in a jar. Your spicy and healthy pickle with its purple hue will be an excellent idea to add Purple Perilla to your dishes.
You can brighten flavors in your Chinese meat dishes with the help of this herb.
You can steam cook it and can add as a seasoning in your Chinese dishes.
If you wish that you should get a minty flavor in any of your dishes, you can sauté some of these leaves in a spoon of oil in a pan and can add the leaves as a topping.
Where to buy purple perilla?
The cost of purple perilla range from 0.99 USD to 5 USD. Fresh purple perilla usually cost less than 2 USD in fresh market. It is not expensive, but freshness is important than the price.
Here are some of the best purple perilla product based on their price and reviews.
out of stock
as of January 22, 2021 8:33 pm
out of stock
as of January 22, 2021 8:33 pm
Is purple perilla healthy?
Without any doubt, the Purple Perilla as it has the following nutrition:
Vitamin C
Niacin
Vitamin B2
Vitamin B1
Vitamin A
Carotene
The green variant of the Perilla even has better nutrition as compared to this purple variant. These vitamins and minerals as you know are healthy choices for humans. So, you can get all of them in better quantities from purple perilla. In traditional Chinese Medicine, Purple Perilla is used for promoting the flow of Qi in the spleen and stomach. Further, it is helpful in reducing coughs and in easing the symptoms associated with common cold besides being effective in preventing nausea.
Summary
With the ability to use different cooking methods and with an aromatic taste, Purple Perilla need not be any more away from your Chinese dishes. In fact, Purple Perilla can work as a natural taste enhancer in any of your Chinese dishes and the sweet taste it adds to any dish will make the dish friendly for your kids as well. Irrespective of the cooking method you follow to cook these leaves, a sweet taste will make the dish even more interesting.
---
---
Rate This Article