Dendrobium Taste Reviews and Cooking Guides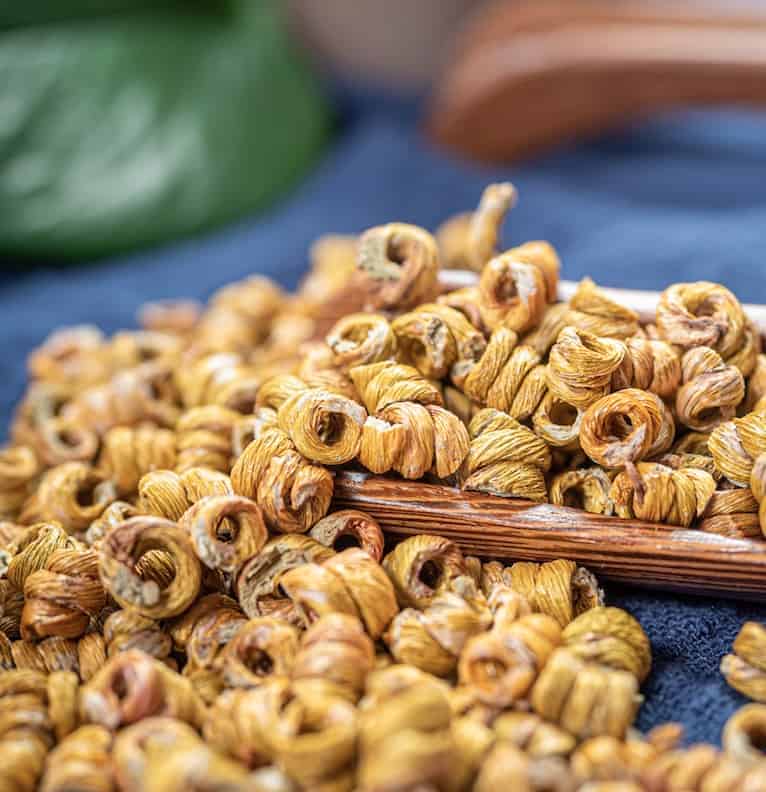 What is Dendrobium?
Dendrobium is a traditional therapeutic food ingredient popular around Asia. This medicinal herb is also called Shi Hu in China, and its scientific name is Dendrobium Nobile Lindi. It has been used as an ingredient in cooking and a medicinal health supplement for hundreds of years in China.
Why Chinese love Dendrobium?
Dendrobium is used as an ingredient in Chinese soups, and it is also used for its medicinal purpose. Although it has specific aesthetic values, as its flower is beautiful, its stem is the essential part, as this is where you find the medicinal properties.
You can use it in its fresh or dry state in supplements to enhance healthy living as well as different Chinese dishes. Additionally, Dendrobium is coveted for its role in the treatment of eye disease, cancer, diabetes, and a host of other health conditions.
What does Dendrobium taste like?
Dendrobium is the fresh or dry stem of the orchid plant, and it is usually eaten in soups and sometimes eaten raw. Sometimes, it is mixed with other herbs to create a healthy potion or tonic.
The taste of this herb is generally sweet; hence, when taken raw, it is still easy to ingest. Shi Hu is also sometimes ground and made into a paste or tea. However, its sweet taste allows it to be taken by the young and old alike. Also, because of its sweet taste, it acts as a detoxifier as it slows acute reactions down.
Additionally, Dendrobium has a cold feel when ingested; hence, it can help individuals that may experience excess internal heat. Shi Hu is also succulent and has a strong aroma that gives your meal an added tang. Due to these properties, you can get experimental with this herb and infuse it in various recipes and use it as a complementary ingredient.
How to use Dendrobium for Chinese cooking?
Dendrobium is a staple ingredient in Chinese cooking because of its strong aroma and sweet taste that are perfect add-ons in any meal. Although it is more famous for its medicinal properties, it still gives your meals an exotic flavor.
As a result of Shi Hu's sweet taste, it is sometimes taken in its raw form for health purposes. However, you can still decide to enhance the flavor of your meals using the Dendrobium herb.
Dendrobium is a versatile ingredient and, thus, can be incorporated into any meal of your choice, such as the Dendrobium Nobile Soup. Here, it is boiled in its dry form with other ingredients such as yam, Chinese wolfberries, and lean pork.
Also, it can be a complementary ingredient in Stewed Pigeon Soup. Here, it is mixed with Ginseng, Fish maw, and other elements to give a picturesque and delicious soup. Therefore, Dendrobium is best used to make soups along with other healthy ingredients as the Chinese take pride in healthy meals.
Additionally, you can grind the Dendrobium herb and mix in hot water to serve as tea or as a spice in soups. The tea has various health benefits, including lowering blood pressure, nourishing Yin, and reducing internal heat.
Infusing Dendrobium into your meals is not much of a task as it comes ready to use, especially if you buy the already dried herb. However, if you buy the fresh herb, drying is not much of a problem. Thus, it only requires washing, soaking it in water and drying, preferably sun drying. When you do this, your Shi Hu is ready to be used.
Notes for using Dendrobium
Do not overuse Dendrobium
Although Dendrobium is said to be healthy and has some healing components, it is vital to note that overdose of this herb can lead to convulsion. This is due to the presence of some chemicals in the herb that can trigger seizures and convulsion.
Do not combine with hypotensive herbs
Dendrobium has some level of interactions with other herbs that have hypotensive effects. This is because when Dendrobium reacts with such herbs, they can further increase the individual's risk of having hypotension.
Ensure that you wash before use
Shi Hu is processed by drying, mainly sun-drying; hence, there is a likelihood that impurities will be present on it when you buy it. Thus, there is a need to wash it properly before using it as this will help reduce or remove the impurities found.
Do not over-boil
This herb is tasty and crunchy when eaten in its raw form. Admittedly, including it in your soup or food will require boiling. However, when boiling, remember to take note of the texture and avoid over-boiling it because it tends to get soggy after a while in hot water, except you are making a potion.
Is Dendrobium Healthy?
Dendrobium is primarily used because of its medicinal properties in the Asian community and even the Western World. It is also being used in traditional Chinese culture and the western world as a cure for illnesses. Here are some of the health benefits of Dendrobium.
Shi Hu is believed to have a hand in the total wellbeing of the body as it nourishes the Yin of the stomach and strengthens the human body. Additionally, it has a high level of polysaccharides that increase immunity.
Protects Gallbladder and Liver
Many herbalists have praised this herb for its choleretic feature. Hence, it can treat diseases such as hepatitis and gallstones, amongst others.
Dendrobium has been used over the centuries to treat diabetic patients as a result of its function of nourishing the Yin, reducing dryness, and cooling the body temperature. Additionally, it boosts insulin activity and regulates blood sugar levels.
Final Thoughts
Dendrobium, also known as Shi Hu, is a traditional therapeutic ingredient popular in Chinese cooking and has been used for centuries for its health gains. It has gradually become incorporated in the western world via food and drug manufacturing. It has so many health benefits that are believed to include anti-aging properties.
Shi Hu is the dried stem of a Dendrobium Nobile Lindi orchid plant and is usually taken in soups, as tea and included in other significant recipes. It has a relatively sweet taste and also possesses a cold feel that could be used to reduce the internal body temperature.
---