Salted Duck Eggs Taste Reviews and Cooking Tips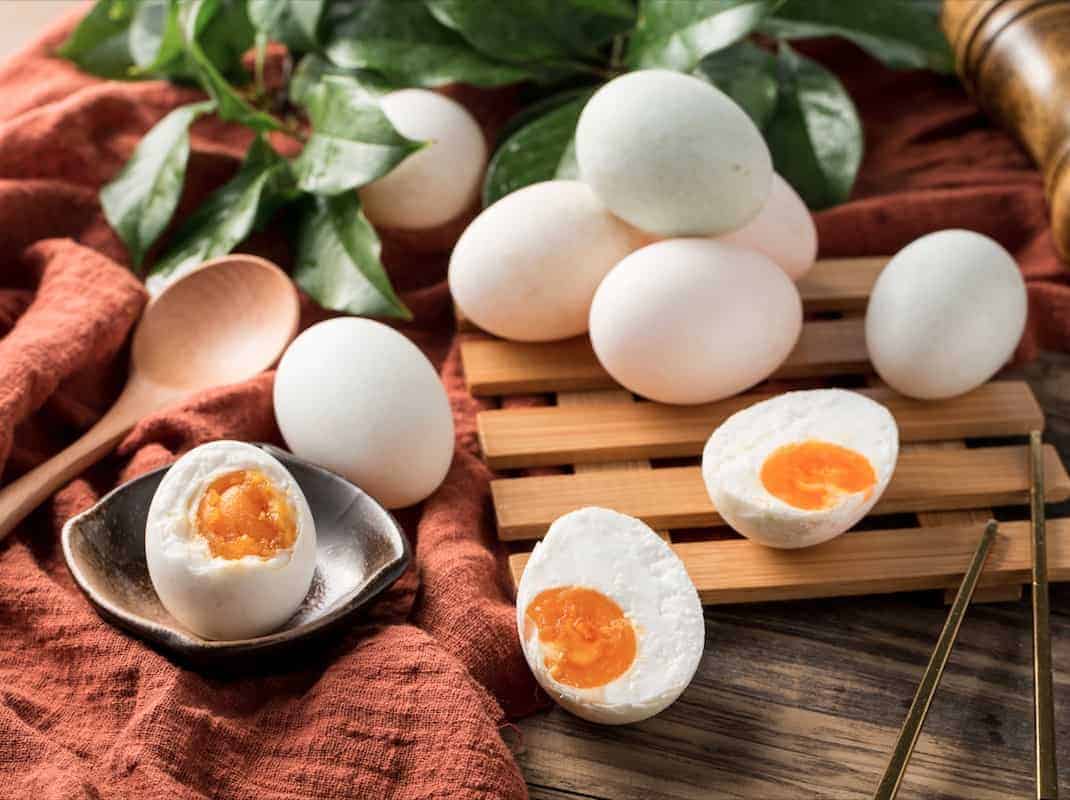 Top Best Salted Duck Egg Products Based on Reviews and Price
Last updated on November 25, 2023 4:49 am
Why We Love Salted Duck Egg?
Food blogs make it seems like preparing salted duck eggs at home is very simple, and they're not wrong for thinking that way. To most people, making salted duck eggs seems like burying egg yolks in a tray of salt for weeks and coming back to find that delicious umami that has brought most Chinese cuisines under the radar.
The ingredients and process for making salted eggs are simple, you can simply follow Salted Duck Eggs Recipe and make it at home.
The tenderness of the salted duck egg makes it easy to integrate into most dishes. Little wonder why it's used as a topping in most dishes and as coating for crabs and shrimps. Overall, it adds extra saltiness and richness to any meal making it a huge favorite in most restaurants.
They're also very easy to preserve and tend to maintain it's salty taste for a very long time. Rather than spending weeks watching over duck eggs in saltwater, salty duck eggs can be purchased from stores.
What Does Salted Duck Egg Taste Like?
Well, if you've never had a taste of salted duck eggs before, you're bound to have one or two questions regarding its taste. Starting with the exterior, the egg white taste the same way as that of boiled chicken eggs, but it's much more tender and saltier. Think of it as chicken egg white spiked with salt.
However, most of the attention tends to be more on the yolk since it occupies a large portion of the egg. From the appearance, you will notice that the yolk is much larger than that of a chicken egg, and the taste is also quite different. In general, you can liken the taste of the yolk to that of roasted Chestnut except that it's saltier.
The saltiness isn't the only criteria used to determine whether a salted duck egg is good or bad. Before preparing a meal with salted duck egg, ensure they're in good condition or risk messing up the dish altogether. The best way to know if the eggs are good or bad is to break them open and observe if the yolk is beginning to fall apart or looks cloudy, don't use them.
The probability of getting a bad salted duck egg straight from the pack is quite low since they're well preserved. They tend to retain their taste for a long time.
Salted Duck Egg for Cooking Guide
Tofu with Salted Duck Egg Yolk as Topping
Salted duck eggs form a perfect combination with other mild ingredients. A dish of tofu with salted duck eggs shows how a full-flavored meal can combine with a bland ingredient to form a delicious dish.
In the case of tofu, most people detest it for having a strong smell. In spite of its smell, it serves as an excellent choice for vegetarians which is not surprising since tofu has a bland taste. Its jelly-like texture does little to enhance its reputation. However, it's precisely those characteristics that allow it to form a perfect combination with salted duck eggs.
Before serving the dish, experiment by trying both ingredients separately. You will be amazed at how well they complement each other.
Salted Duck Eggs Pickles
If you're using free-range duck eggs for this dish, ensure the brine duration is at least 12 days as this gives the salt more time to penetrate. For home-made salted duck eggs, do not use fresh saltwater when brining. Ensure the saltwater is warmed to increase the rate of absorption.
In China, A liquor known as Baijiu is used in the fermentation process to extract the natural oils in the eggs. If you stay outside China, you might have a hard time getting this liquor. Hence, you can use Whiskey as a substitute.
Most times, the brine for pickle salted egg is made of spices, herbs, and vinegar. All the ingredients will be added to a jar and refrigerate for 10 days or more. For Pickled eggs, you can experiment with your own combination. Basically, any ingredient used to make pickle can be used for salted duck egg pickles.
Salted Duck Eggs with Tomato Salad
This is quick and easy to prepare. Rather than eating ordinary salted duck eggs, you can garnish this dish with tomato salad. This is more of a side dish in China and is enjoyed with fried fish or meat, but your options are not limited to these two.
Chicken eggs are used as a substitute, but salted duck eggs are more preferred due to the size of their yolk, which is high in fat. Due to the saltiness of the eggs, you won't need to add salt to this dish, but if you think it still lacks salt, you can add some. It's also advised to use fresh chilled tomatoes and not over riped.
Where to Get Salted Duck Eggs?
Since marinating duck egg needs a lot of ingredients, the best way to purchase ready-made duck eggs in Asian retails or supermarkets is the easiest way. Salted eggs are also offered through a lot of online platforms.
Is Salted Duck Egg Healthy
The nutritional content of duck eggs is partly due to the size of the yolk. Salted duck eggs are higher in fat and cholesterol than chicken eggs. While most people consider this as a disadvantage, they're also high in protein as well as Omega-3 fatty acids not to mention the additional minerals that come from the brine.
For those who seek a high-fat diet, duck eggs represent a good option. Besides the nutritional content, there are few reservations over the safety of duck eggs. While there have been salmonella scares in the past, there's little evidence that suggests duck eggs are more dangerous than chicken eggs.
Duck eggs are prepared the same way as chicken eggs. They can be boiled, fried, or even poached. Due to its high-fat content, you can't use salted duck eggs as a substitute for meals designed with chicken eggs.
Conclusion
When it comes to preparing salted duck eggs, the ingredients that make up the brine tend to be different. While the major aim is to arrive at that saltiness, you can tweak the ingredients to your preference. When preparing this dish, it's important to get creative. The addition of vegetables improves its taste and appearance.
---
---
Rate This Article