The Best Kitchen Island Buying Guide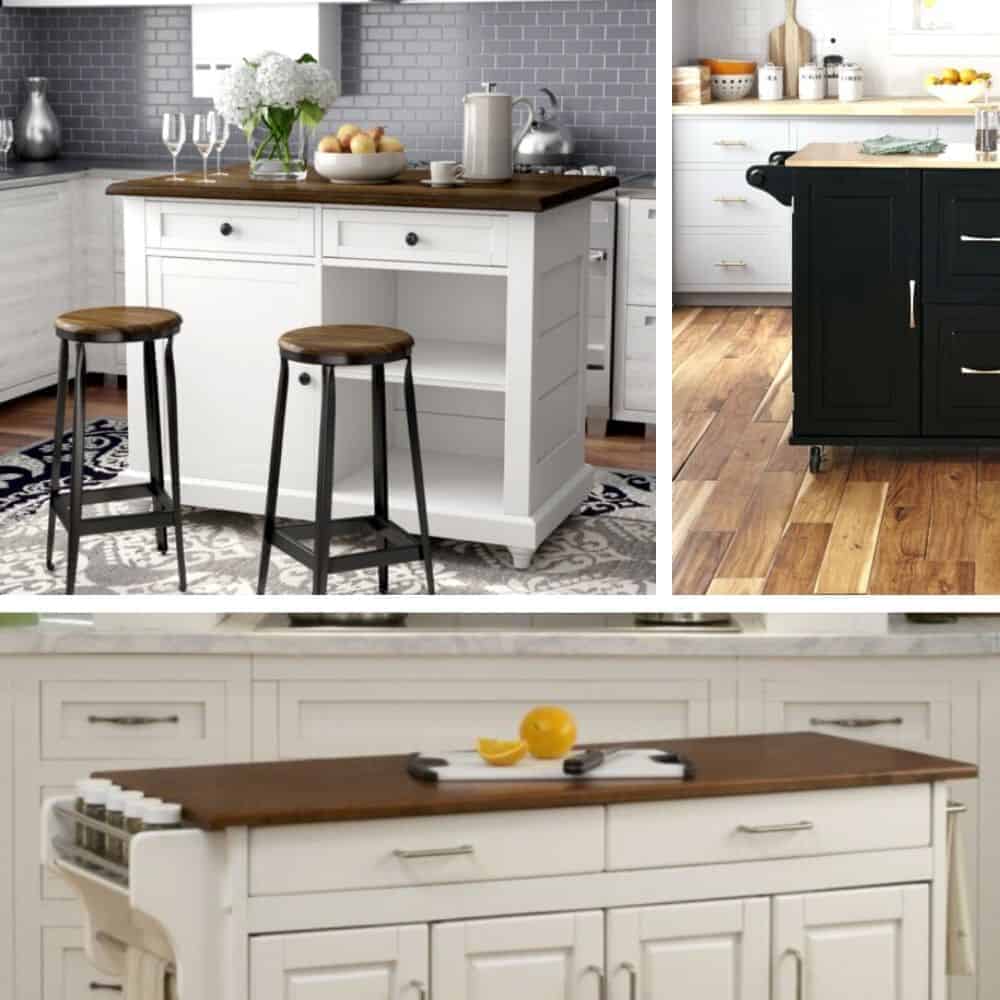 Top Best Kitchen Island Based on Reviews and Price
Last updated on September 18, 2021 2:02 am
How to Choose Kitchen Island?
A kitchen island might be the most functional element of kitchen architecture. The kitchen island can take the role of an office, counter room, seating, or cabinetry. But it just doesn't mean it should take these roles because it can serve various functions. Getting all the "extra features" may not be the best for you in designing your kitchen island.
In reality, choosing the wrong kitchen island is one of the most considerable risks you take when designing your kitchen. Unlike outdoor kitchen islands, a kitchen island is typically a kitchen's central hub, the whole kitchen may have a poor outlook when not done correctly. It's like injuring yourself on a real island with no freshwater or food when you choose a wrong island option.
It may appear like you just don't have enough space for all your storage and cooking needs in your kitchen. If you had just an extra countertop for your bakeware or a room to cut vegetables, your kitchen would appear aesthetic. Thankfully, you can solve these kitchen problems.
Making the right choice of a kitchen island can go a long way in making the difference. It's even better if you get cabinets on the kitchen island as they will provide you with a place where you can store your cookware to give you extra space. Avoid making room for "Kitchen Castaway Disaster" by reading these tips to get the best kitchen island as per your needs.
10 Things to Consider When Buying Kitchen Island
1. Size is Important
Indeed, a large kitchen island is convenient and gorgeous – if you've got the space to make room for one. Optimally, the gap between an island or opposing counter areas and some other counter in your kitchen should not be less than 36-48 inches. If you have ever engaged yourself in the "awkward kitchen dance" with a cook friend or colleague when both of you attempt to work simultaneously, you certainly understand the importance of space among counters.
And even though you may feel you want a very spacious kitchen island, that does not necessarily mean you have to. Choose your kitchen island to suit the space in your kitchen and leave plenty of room to help you work more efficiently.
Related reading:
How to Choose the Best Kitchen Display Cabinet?
The Best Sideboard Buying Guide
The Best Bar Stools Buying Guide
2. Open or Shut Down?
The island's base configuration includes everything from shelving, narrow pedestal to solid cabinetry as that serves as a counter space foundation. In that case, it gets tough to determine what's best for you. Generally, lighter and bigger kitchens can accommodate the solid form of an island's entire cabinetry. When you have lots of floor area around it, you may also have a cabinet-based kitchen island in a dim cabinet kitchen.
Tinier kitchens, with some free space underneath the counter, are preferably served by islands. Shelving on a kitchen island brightens the island's visual weight so that it does not overshadow a tinier kitchen area. For contemporary spaces, more spacious islands are better to fit. The counter-only island or the extended pedestal base is another spare and modern island type.
Related reading:
The Best Kitchen Refrigerator Buying Guide
The Best Side by Side Refrigerator Buying Guide
The Best Beverage Refrigerator Buying Guide
3. What's Your Style?
A kitchen island should be something that suits the architectural style. It does this not only with the above-listed shape and size components, but it also with the materials utilized in the cabinetry and counters. The decoration of the island is also an essential part of this combination. For example, in an industrial-method loft space, a typical granite-topped island might appear completely awkward. But in a kitchen that blends modern and ancient elements, it may seem right at home.
You would need something more innovative for a loft space. It is also crucial that you keep in mind your preferred design style. For example, your island will suit when you have a minimalist style. You should make up your island like that of a grand old dame when you have a foot in the past.
Related reading:
How to Choose the Best Kitchen Chandelier?
How to Choose the Best Kitchen Pendant Lighting?
4. Speaking of Seating
Seating is another essential factor that is the sort of "perches" that your island can accommodate. Do you like your guests to communicate while you are cooking? There should be enough room for stools. When you like cooking alone, but still want to drag out a seat to rest, it's excellent for you to have an island that enables you to tuck out stools. The longer you wish to sit in chairs, the more room you want for these sits to be comfortably cushioned. Occasional, casual butt-parking need not be considered soft.
Eventually, settling in for a dinner or an extended chat over long food preparation gives you the space advantage for upholstered seats that are as similar to comfortable chairs that can be fitted into your kitchen.
The Best Kitchen Chairs Buying Guide
The Best Kitchen Table Buying Guide
5. Not All Islands are Equal
If you put your desires into consideration, your island will be most useful to you. Are you a fan of baking? Need additional storage? Separate countertop designs, features, and materials are suggested based on how you use the kitchen.
A multi-level island is a fantastic choice if the kids love doing their homework inside the kitchen. You can cook dinner and help them with assignments at the same time. You can also assist them with their tasks while preparing dinner simultaneously. If your kitchen is smaller, you'll need some extra countertop space to cook meals. At that time, a neat work surface that is free of clutter should also be handy in your kitchen.
Related reading:
How to Choose the Best Double Basin Kitchen Sinks?
How To Choose The Best Kitchen Knife
6. Materials Used for Construction
The material used for the construction of your kitchen island is very important. One should choose the right material for your kitchen's countertop so that it has a good appearance. While stainless steel is sturdy and conveniently tolerate hot pans, butcher top is your best pick for chopping food.
7. Mobile Cart
When you go all out in choosing the kitchen island, you must consider if it has mobile carts. Carts are not very expensive, plus they are handy for your kitchen. Whether it is meant as a storage option for some small-sized items, additional prep space, or a baking station, moveable carts are always at your beck and call. It is also essential to consider a model that includes a blend of close and open storage choices for an outlook that is cooperative of supplies and complete.
Related reading:
The Best Kitchen Cart Buying Guide
The Best Kitchen Bar Cart Buying Guide
8. Is it a Built-in Island?
This is another option to consider when you want to choose a kitchen island. If your kitchen is the center of your home, then it makes sense to go for an island that can capture the attention of your guests. Often customized to enjoy the perfect amenities, design, and size, a built-in kitchen island is ideal furniture that you'll like to install in your kitchen.
It also serves to complement the interior decoration of your room. It can also make your room appear like a bold centerpiece. They are recommended for crafting out-of-sight storage pan and pots, for items that are of smaller sizes, or for additional dinnerware.
9. Is the Kitchen Island Upgradable?
What is your best resort when the island in your home becomes outdated and falls short of character? This is the reason behind going for an island that is upgradable. You can remake old-looking islands with new custom panels, hardware, or countertop when you apply topical treatments to it. This way, it becomes transformed into the once-desired kitchen spot that it was initially. You can maintain surviving storage by configuring drawer fronts and new doors.
Related reading:
How to Choose the Best Range Hood
10. Worktop Surface
The materials used to construct the surface also counts. This is dependent on several things. Whether you desire more room for your dining surface or your food preparation, you need to choose the right worktop surface. Aesthetic considerations as per the style of decoration of the surface and how it generally appears is also essential.
Related reading:
The Best Gas Grills Buying Guide
How to Choose the Best Hot Plate and Burner?
How to Choose the Best Electric Toaster Oven?
Final Thoughts
A kitchen island is indeed a marvelous addition, and one of the best things that can ever happen to your kitchen. Including an island in your kitchen will usher in extra space, storage, seating, and style to your kitchen. Some of the excellent kitchen islands also provide you additional functionalities like breadboards and towel racks.
When you set out to include an island to your kitchen, be diligent enough to take precise measurements of your kitchen and oversight of how you want your kitchen to appear. Apart from that, you must ensure that you love to include an island in your kitchen.
The tips are just one of the many ways of beautifying your kitchen and imparting some styles and functions you've always wanted in your kitchen. But then, you have your taste and desire. There is something you want in your kitchen that is different from what other people want.
To get the most of the kitchen island, instill it with the right materials, styles, and shapes that you want. You will genuinely be happy that you did.
---
Rate This Article