What are the Best-Rated Stainless Steel Cookware Brands?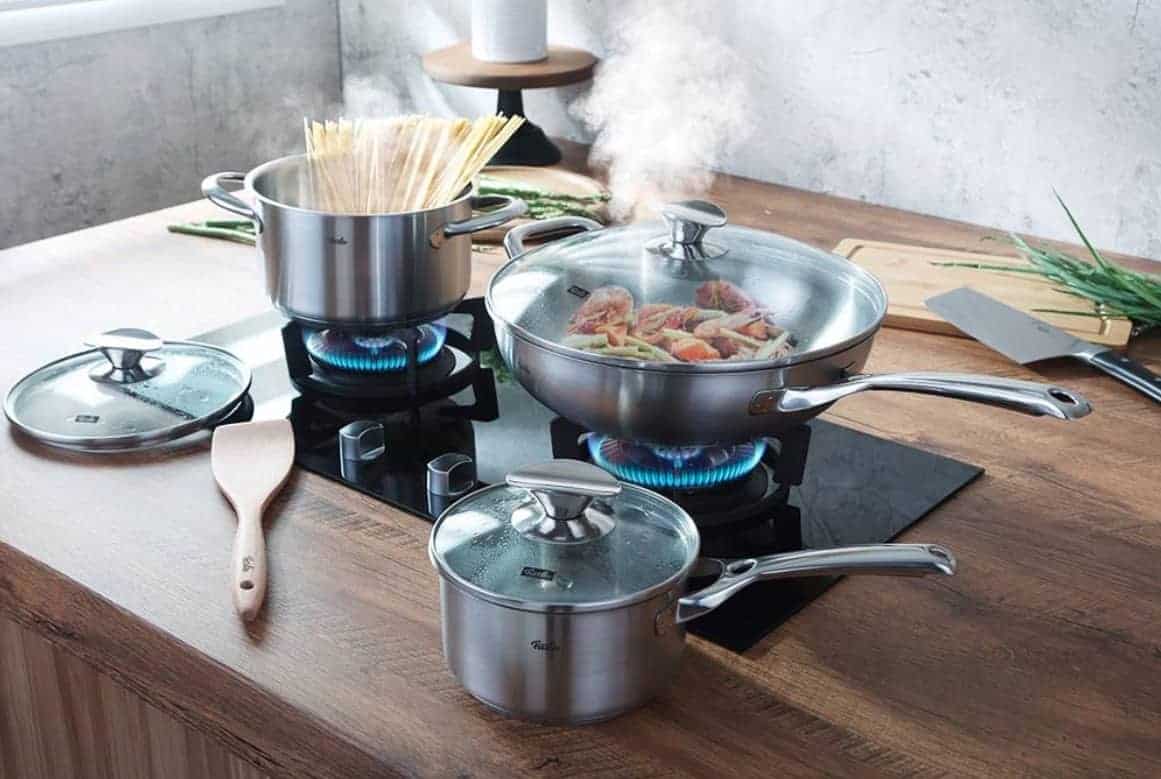 Every cooking enthusiast has had to deal with low-quality cookware at some point. You know how cheap pans make you eat flakes in your food. That can put your health at risk.
The good news is that you can avoid this by choosing the best stainless-steel cookware that is both durable and nonreactive. This way, you will get your food yummy without worrying about eating peels.
Looking for suggestions of the highest quality cookware brands? Check this out.
1. Made-In the Sous Chef Stainless Steel Cookware
This is an 11-piece cookware set that brings out the magic in your kitchen. Talk of boiling, frying, sautéing, stewing, etc. with this, you have access to frying pans, saucepans, and stockpots.
The quality is high enough to make sure that your pans surfaces don't keep peeling off. That's one kitchen problem solved.
According to The Daring Kitchen, Made-In the Sous Chef Stainless Steel Cookware is the best stainless steel cookware set.
This cookware set is the true definition of price going hand in hand with quality. The pots are made of 5 layers of metal that make it possible to control heating without a knob.
The set is also dishwasher safe and generally easy to clean. The bad news is that it's a bit costly and you may need to rob a bank.
If you prefer some touch of shiny silver in your kitchen, you won't go wrong with this set. The 12-piece cookware set makes your kitchen experience worth your while.
Armed with your favorite recipes, make some tasty stew in the top-tier saucepan. And wait, are you hosting dinner tonight? Grab the 8-qt stockpot instead.
Here is another 10-piece set that gives you the freedom to cook your favourite delicacies on all types of cooktops. You can also wash it in your dishwasher.
It also withstands oven heat up to 500 degrees Fahrenheit, and this makes it a perfect set for boiling.
Cooking without getting burnt is what every cook wants. This set supports that by making sure, the handles don't get hot.
The fill lines also render your measuring cups jobless and make your cooking surface cleaner. With ten pieces, you can do a lot in the kitchen.
Sometimes, you can't avoid cooking at high temperatures. This 13-piece cookware set lets you enjoy your oven and grill services up to 500 degrees Fahrenheit.
Its tempered glass lids retain all the flavor, making sure your food tastes the yummiest. With riveted handles, you don't have to worry about getting burnt.
In case your bank account is running dry, this 10-piece cookware set may be the best option for you. The glass lids allow you to occasionally peep through to see what's going on inside the pot.
Although the handles may get a bit warm, the set isn't such a bad option for beginners or shoppers on a budget.
This is a 10-piece cookware kit that includes a steamer insert. It is durable and robust enough to handle your cooking needs for years on end.
It is dishwasher safe, and the riveted handles make it possible for you to hold it and cook up to 500 degrees Fahrenheit. Too bad you won't see what's going on inside unless you remove the lid.
Here comes another 11-piece set made up of pans, pots with lids, and a steamer. You can comfortably wash it in the dishwasher and prepare your foods of choice at any temperature that doesn't exceed 500 degrees Fahrenheit.
If you're looking to add some beauty in your kitchen décor, this set is best suited for that. It has a mirror-polished exterior that shines all the way.
Any cooktop can accommodate it, and this makes the cooking experience a walk in the park.
Over to You
What if the only thing standing between you and healthy food is your low-quality cookware? If so, then act now. Brace yourself with award-winning recipes, grab your favourite stainless-steel cookware set, and watch the magic unfold in your kitchen.
---
Rate This Article