Amomum Tsaoko Taste Reviews and Uses in Asian Cooking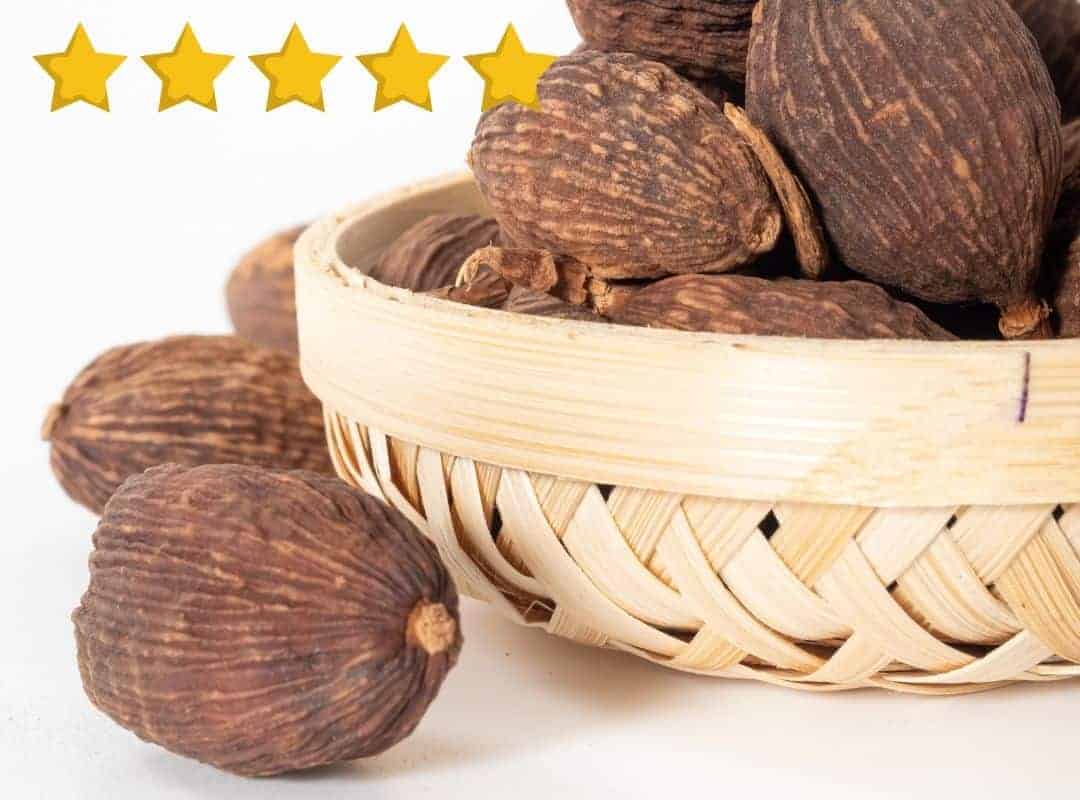 Top Best Amomum Tsaoko Based on Reviews and Price
Last updated on May 17, 2023 3:34 pm
Why We Love Amomum Tsaoko?
Chinese cuisines will ever be enough until you add up Amomum tsaoko on the recipes. This blog post is mainly for the cooks over the Asian countries, specifically those cooking Chinese dishes.
Amomum Tsaoko came from tsaoko fruit which is a perennial herb seemingly part of the ginger family. It is gathered in China, mainly in Yunna, Guangxi, and Guizhou provinces. This grows well in a tropical climate and is used as herbs in cooking Chinese cuisines.
It has a unique aroma that adds excitement on every prepared cuisine. Amomum Tsaoko isn't just good for seasoning Asian cuisine but also use in making herbal medicines. It can be powdered or in a capsule form or a form of essential oil.
Further, Amomum tsaoko removes fishy smell on every seafood dishes you'll make. It also enhances appetite, which is good for our health.
Amomum Tsaoko became widely available in herbal shops and online markets to reach more cooking enthusiasts all over the world.
What Does Amomum Tsaoko Taste Like?
Since Amomum tsaoko is part of the ginger family, their sense of taste is nearly the same too. Can you imagine the taste of those dishes cooked by someone who adds up ginger in it? Chinese cuisines do add Amomum tsaoko instead of ginger in cooking. This never disappoints Asian cuisines to taste good.
Amomum tsaoko has a great taste that gives a warm feeling afterward. In other words, these spices have a bitter-sour tang. This makes every meal more flavorful that brings you to different taste dimensions.
It is also defined as pungent taste, which is typically found on herbs and spices, including Amomum tsaoko. Its aroma is also excellent which improves dishes taste. The chemicals found on the tsaoko fruit such as camphor, geraniol, and cineole are the ones rendering that powerful aroma.
Eating cuisines with Amomum tsaoko in it will bring you to level six of hotness in which every Asian could tolerate. Most Chinese cuisines only put small amounts of Amomum tsaoko on every recipe. This is to control the strong taste and to make all things in balance.
How To Use Amomum Tsaoko For Chinese Cooking?
Knowing Amomum tsaoko as a herb for cooking may not be enough without knowing how it can be added on your recipes. Subsequently, a proper amount of these seasonings will result in better-tasting cuisines.
Tips In Cooking With Amomum Tsaoko
Chinese cuisines use up Amomum tsaoko in producing their best soup dishes, a herbal beef dish, hotpot, and so much more. These spices are only a bit amount in an overall seasonings list. It is because of its overpowering taste, as discussed earlier that needs to be controlled. Putting too much of Amomum tsaoko on a dish will end up a bitter taste. The spices, including Amomum tsaoko, will be more effective in cooking when putting in a teabag.
Best Asian Cuisines With Amomum Tsaoko
You can try to cook one of the top Chinese cuisines listed below. All do surely have Amomum tsaoko taste and aroma.
This is a combination of chicken wings, eggs, and chicken legs with added seasonings. It requires one Amomum tsaoko in every serving. Marinade the chicken parts into the seasonings mixture and then wait for 30-minutes until it is cooked.
Other meats are tested to cook galangal flavour hot pot, but only the duck meat suits best. Overcooking isn't recommended upon this recipe for it may cause a bitter taste. In every two servings, only one Amomum tsaoko is needed. You'll need a spice bag to make the spices more effective.
It is a traditional dish in Xinjiang, China. It combines a spicy taste and a fragrance of Sichuan that people enjoy. Two pieces of Amomum tsaoko are needed in one serving that is mixed with the other seasonings. This comes with a bowl of savory noodle soup.
This could be the top list of all crayfish dishes. It is under the snack category with thirteen total spices, including Amomum tsaoko. Just click on the link to check out the full list of recipes and procedures to prepare one. The spices must be thoroughly cleansed and then put in a tea bag.
Pork ribs will result in a delicious soup plus the added seasonings and spices. All of the spices are placed in a tightly sealed tea bag for better cooking. Only one Amomum tsaoko is added in two servings of sauerkraut.
This seasoning can also be found in many Amomum tsaoko Recipes.
Is Amomum Tsaoko Healthy?
The tsaoko fruit itself has many health benefits. It got class 1 rating under the American Herbal Products Association, which is a visible sign for safe consumption. Amomum Tsaoko can cure many diseases such as diarrhea, malaria, stomach ache, nausea, vomiting, and many more. This contains essential oils containing antibacterial and antifungal properties.
It would be more effective with a proper dosage ranging 3-6 grams of the herb per intake. If not, it may trigger vomiting. This herb is too risky to someone with blood deficiency, so you better consult a health expert before ingesting dishes with Amomum tsaoko.
Other Health Benefits:
Promote urination
Treats digestive disorders
Has antioxidant and anti-inflammatory properties
Anti-hepatitis B effect
Contains many nutrients
Where To Buy Amomum Tsaoko?
Amomum tsaoko is offered as dried Amomum tsaoko in many drysaltery stores. It can also be found in supermarkets packaged with a small plastic bag. Major online shopping platforms also offer a variety of dried Amomum Tsaoko products, because Amomum tsaoko can be stored for a long time after dring.
Conclusion
We have discovered where the pungent taste came from in every Chinese cuisine. It is through the added Amomum tsaoko. The mentioned dishes only require a small amount of the herb spices to achieve the desired flavor. It is usually included in the seasonings and other spices of a recipe which is better mixed in a teabag. Its contribution to a dish isn't only the goodness of its taste but also its aroma.
We're looking forward to your Chinese cuisine recipe with a twist of Amomum tsaoko. Thank you for reading!
---
Disclosure: We may get an affiliate commission when you purchase products via links on our site. Although we may receive compensation, we only offer our 100% honest reviews, experience, and comments. Learn more.
---
Rate This Article