10 Best Electric Rice Cookers Reviews and Buying Guide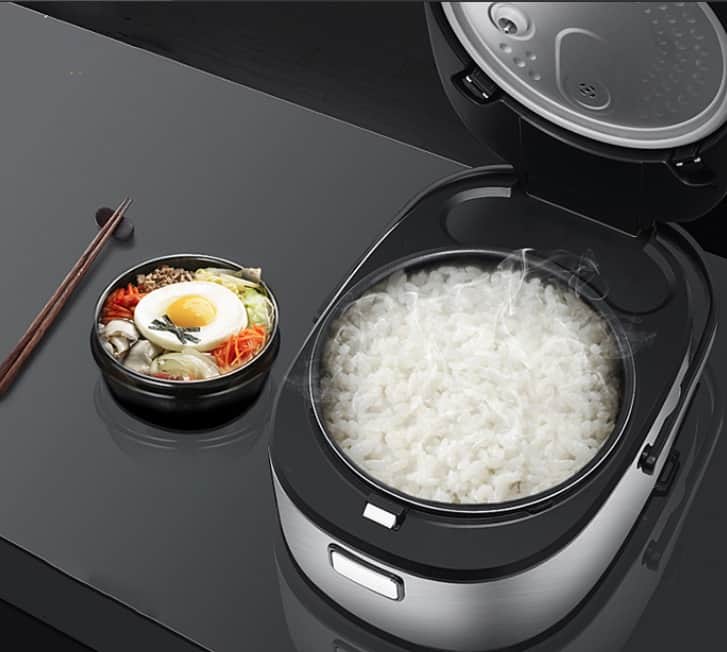 Why You Need an Electric Rice Cooker at Home?
If you have ever used a traditional way to cook your rice, you will agree that it can be somewhat stressful. You have to wait around the kitchen, always keeping an eye on the rice until it is ready. For folks that opt to use a pressure cooker, you will still undergo the process of ensuring that the water added is enough for the best results. If you heard that there was a product that made cooking rice more convenient, would you be interested? We bet you would. Well, there is one such product: electric rice cookers! In this post, we will highlight the essential factors to consider before buying one.
Quick Summary
1. Editor's Choice – Instant Pot Duo 7-in-1 Electric Pressure Cooker
2. Best Rugged and Multifunctional – Cuisinart CRC400E
3. Best Easy to Maintain Rice Cooker – Proctor Silex 37534NR
4. Most Affordable – Black + Decker RC506C
5. The Best Rice Cooker to Prepare a Complete Meal – Zojirushi NS-TSC10
6. The Best Choice for Couples and Singles – Salton RC1653
7. Easiest to Clean – Cuckoo CR-0655F
8. Most Easy to Use – Zojirushi NHS-06 3-Cup Rice Cooker
9. Best for a Large Family – Amazon Basics MB-FS5017S Rice Cooker
10. The Most Aesthetic Rice Cooker – Tiger JAZ-A10U
Top Best Electric Rice Cookers
1. Editor's Choice – Instant Pot Duo 7-in-1 Electric Pressure Cooker
Instant Pot IP-DUO60 differentiates itself from other rice cooker models on the market thanks to its 7 in 1 multifunction function. You can use this pressure cooker to cook, steam, or heat different foods. It's also ideal for preparing yogurt recipes or even as a slow cooker.
Using Instant Pot IP-DUO60 does not require any special skills on your part. And then, moreover, if you encounter a problem, all you have to do is refer to the instructions that come with the product.
However, note that some users complain that the device takes quite a long time to cool down. But this too will keep your food warm for long. After each use, you must therefore wait a few moments before you can clean it or put it away.
2. Best Rugged and Multifunctional – Cuisinart CRC400E
The Cuisinart CRC400E rice cooker has a power capacity of 450 W. It features a non-stick pot of 0.8L volume and a steel body for more resistance. It is equipped with the "keep warm" function. The Cuisinart cooker is made up of three overlapping elements: the bowl, the steaming basket, and the lid.
It is a 3 in 1 device. Its primary function is to be a rice cooker. The device cooks the rice perfectly and can also steam other foods using the integrated basket or even simmer dishes using the bowl.
Because it can cook two foods at the same time. You can consider cooking rice and meat by inserting the rice in the bowl and the meat in the steaming basket. Then, superimpose the steamer basket on the tank, close, and start cooking.
3. Best Easy to Maintain Rice Cooker – Proctor Silex 37534NR
Cleaning a rice cooker can be a real challenge, especially when choosing a cheap model. Fortunately, some models are both affordable and easy to maintain. Among them, the device that we found the most convincing is the Proctor Silex 37534NR.
The only downside that we note is that sometimes the food located near the base is overcooked. However, its 4-cup capacity (of uncooked rice) ensures you have a sufficient quantity to feed a household of three or even four people.
The Proctor Silex 37534NR comes with all the useful accessories: a spatula, a measuring cup, and even a steamer basket if you want to cook some vegetables and enjoy a healthier meal.
4. Most Affordable – Black + Decker RC506C
With a starting price well under $20, the Black + Decker RC506C is one of the most affordable rice cookers made by a reputable brand. The biggest problem you are likely to have with this cooker is how difficult it is to contain water or steam. These escape easily, therefore it is advisable to check the cooking frequently.
The advertised capacity starts from 3 cups, which corresponds in theory to a little over 500 milligrams of cooked white rice. In use, you will find that this proves difficult to achieve. The product is therefore not suitable if you need to make meals for a family: we would rather recommend it for a couple. It comes with a basket that you can position over your rice, which allows you to make an integral dish: you can cook vegetables or fish in particular. A small measuring cup is also included, as well as a plastic spatula.
5. The Best Rice Cooker to Prepare a Complete Meal – Zojirushi NS-TSC10
Are you looking for a versatile appliance that will save you time by preparing a real meal without too much effort? The Zojirushi NS-TSC10 seems to be the go-to rice cooker. It is a high-end model which stands out for its ease of use and the excellent taste of prepared rice.
With its capacity of 5.5 cups (i.e. 1 liter), this rice cooker is suitable for the majority of families. Many buyers are impressed with the flavor of the food. Before we go any further, just note one thing: this device isn't the fastest on our list, usually, you need between 45-60 minutes to cook your white rice.
6. The Best Choice for Couples and Singles – Salton RC1653
Are you alone or two in your home, and you are thinking of equipping yourself with a rice cooker. The Salton RC1653 is a simple and inexpensive product for couples and singles.
The capacity of the product is very modest: 3 cups, or about 500 g, of uncooked white rice, according to the manufacturer. You can prepare rice, plain or mixed, as well as certain grains, such as quinoa, but don't expect to go any further.
The main advantage of this device is its ease of use. Indeed, you don't have to do anything other than turn it on. It adjusts itself to keep warm mode once it senses the rice is ready. The bowl for the rice is removable and can be put in the dishwasher. Be careful when using the device: We found that the Teflon coating tends to peel off easily.
7. Easiest to Clean – Cuckoo CR-0655F
Are you tired of spending your life washing utensils and appliances, and you want technology to be at your service and not the other way around? The Cuckoo CR-0655F may well meet your expectations. This high-end rice cooker is as efficient as it is easy to maintain.
This rice cooker has two main points of interest. The first is its ease of cleaning. The lid is removable to make its use easier, but above all, you can start a steam wash at the touch of a button.
The second is the My Mode option. You have the possibility of having a personalized cooking mode, for which you will choose between different levels of softness and viscosity. So if the basic options don't exactly suit your tastes, you won't be stuck in any way.
8. Most Easy to Use – Zojirushi NHS-06 3-Cup Rice Cooker
Are you busy with work, you don't have the luxury of spending hours in the kitchen but you would like to be able to take a real gourmet break from time to time? In this case, Zojirushi NHS-06 is an ideal product, which stands out for its unfailing efficiency.
The Zojirushi NHS-06 offers a capacity of 3 cups, which makes it suitable for a household of two to three people. If you need larger quantities, be aware that the NHS-10 and NHS-18 models available on the same Amazon page have similar specifications.
9. Best for a Large Family – Amazon Basics MB-FS5017S Rice Cooker
Do you often have more than four people at the table, and your rice cooker must be able to make a good dinner for a large number of diners? Among the high-capacity options, the Amazon Basics MB-FS5017 stands out with its good value for money and many features.
This rice cooker is capable of preparing a meal for 3 to 10 people. It is therefore logically a little bulkier than other models since it is equipped with a large tank. However, the tank is non-stick, so it's still quick to empty and clean.
A steamer basket, two spatulas, and a measuring cup are delivered with the unit. What is remarkable about this product is its versatility: there are many options available to you. You have the possibility, besides white rice, to prepare bread, soup, meat, fish, oatmeal, etc.
10. The Most Aesthetic Rice Cooker – Tiger JAZ-A10U
With its LEDs and floral white design, the Tiger JAZ-A10U brings a light and authentic touch to your kitchen, while being extremely efficient. First, let's tackle the small flaws of this product. Firstly, it's kept very simple: no frills here, you don't have options for the different varieties of rice. It's a bit of a shame for this price range. Then the Teflon coating on the tank may wear off a bit over time.
This is not a deal-breaker though in our eyes, as Tiger's craftsmanship is visible here, even without complex features. In the opinion of many buyers, the rice made is consistently perfect. You flip the switch, and you don't worry about anything except the tasting.
The appliance also has a keep-warm function. Indicator lights are provided so that you know if it is in this mode or the cooking mode. Its 5.5 cups (or 1 liter) capacity makes it suitable for most families.
How to Choos an Electric Rice Cooker?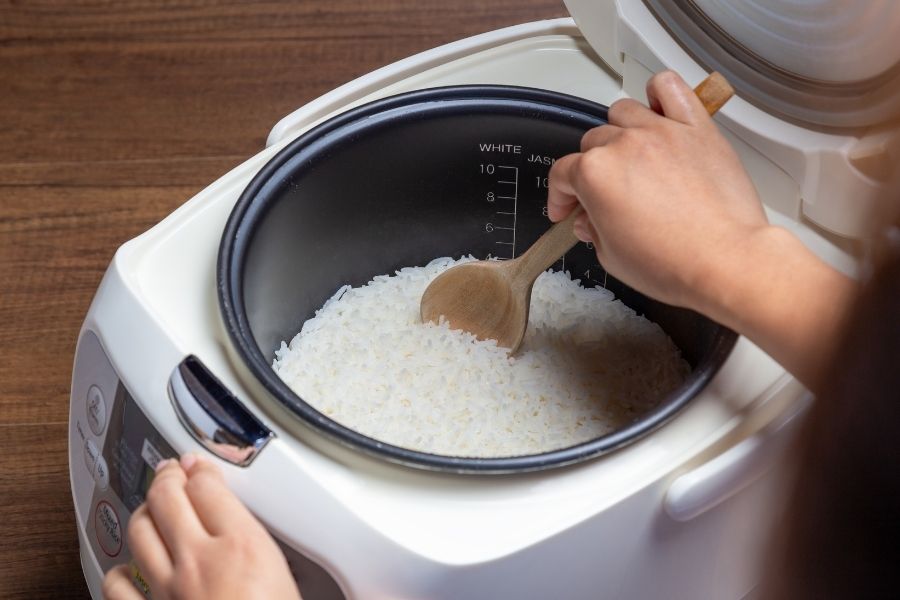 An electric rice cooker is a handy and essential kitchen appliance. Asides from cooking rice more conveniently and quickly, this appliance can be used to prepare several other types of foods. As this appliance is so handy, many folks decide to buy it.
Types of Rice Cookers
There is a rather wide variety of rice cookers on the market. In this section, we will discuss some of the popular types briefly.
This type is the simplest type you can find. They keep steam locked in to cook the rice using the microwave.
This type is the most popular on the market. It comes with parts like an external pot, a steam tray, a cooking pot, and a heating plate. They come with several extra features like auto shut-off, keep warm, and more. Some conventional rice cooker can be a stovetop pressure cooker, which can cook rice fast and easily.
This is the best type on the market, and thus, it is the most expensive. It comes with even more advanced features to ensure that your rice is cooked perfectly.
9 Features to Consider When Buying an Electric Rice Cooker
Now, let us consider the essential factors that should affect your buying choice.
1. Size and Capacity
As with various appliances, electric rice cookers come in a variety of sizes and capacities. Depending on the number of people you plan to feed, you can select from the hundreds of these appliances on the market.
The nice thing about these appliances is that they do not take up plenty of space. The capacity of the electric cooker is measured by the number of cups that can be efficiently cooked by the appliance at a time. Some electric rice cookers have a rather small capacity of 1 liter. Others, on the other hand, can have a capacity of 6 liters or even higher.
Therefore, while making a buying choice, consider the number of people to be fed. A family of 6 should think of an electric rice cooker of up to 5 liters capacity.
2. Ease of Use
One of the advantages the electric rice cooker has over traditional cooking methods is the ease of use. Therefore, to make the most of this appliance, ensure that the choice you make is of a cooker that is easy to use. It should be easier to use than even the pressure cooker. With this appliance, all you should do is add rice and water, press 'cook,' and sit back.
If you can afford it, you can even choose an electric cooker that comes with more features that will make your cooking easier.
3. Easy to Maintain and Clean
To ensure that your choice can be cleaned easily, you should consider electric rice cookers with dishwasher-safe parts. For example, the lid and the cooking bowl should be dishwasher-safe.
Furthermore, the parts should be easy to remove for quick and efficient removal.
Maintenance should likewise be easy to do. The most durable materials for the parts of the rice cooker are stainless steel, aluminum, and non-stick coating. With these materials, your rice cooker will last for a relatively long time.
4. Versatility
Although primarily a rice cooker, it is economical, and frankly great to have an electric rice cooker that allows you to cook other foods. For advanced rice cooker, it should be used as an electronic pressure cooker. Thus, it would be great to choose a multi-purpose electric rice cooker.
5. External Heat Control
The interior of the rice cooker is hot. However, when making a choice, it would be prudent to observe the outer parts of the cooker and how they react to the heat. The outside of the cooker should be cool to the touch. Since you might serve the rice or food straight from the cooker, it is essential that the handle of the rice cooker is heat-resistant and be cool enough to grip.
6. The Material of the Inner Pan
When looking for the right electric rice cooker, you should consider the type of inner cooking pan that you would prefer. There are several models on the market, but the best materials include aluminum, stainless steel, and pans with a non-stick coating. These materials are not just durable but are also easy to clean.
7. Accessories
The best and most advanced electric rice cookers on the market come with several accessories. These accessories range from the useful to the fanciful. Some of the best accessories to look out for in your next purchase should include a steaming tray, measuring cups, spoons, and serving spatula.
8. Warranty and Customer Support
As you make a buying choice, it would be great to check for the warranty period provided by the manufacturer. Thus, ensure that you check for the warranty period offered. Most good brands will provide warranties for up to 2 years, while some offer even more extended periods.
You should also consider customer support, especially after purchase. As the rice cooker is an electric device, it is susceptible to electrical faults. Support must be readily available and must help with whatever issues that you have.
9. Other Features
There are some pretty useful features that it would be great to have in the cooker. Some of these features include an auto Keep Warm function, auto shut-off, and more.
Summary
Even if we love to eat and appreciate cooking, we don't always have the time to devote ourselves fully to it. It also happens that we have difficult days, during which we want to be able to go quickly and think as little as possible.
In these situations, a rice cooker is a very valuable tool: it allows you to get a tasty dish without having to do much. It automatically detects the best possible settings and alerts you when the meal is ready.
Today, rice cookers are very sophisticated and very versatile: you can make many preparations, cook different types of cereals, and they are often equipped with accessories for steam cooking.
However, there are many models on the market, whether you need an individual size, a family size cooker, or you're focused on ease of use.
That's why we picked and analyzed 10 rice cookers and took into account the opinions of consumers. Our favorite model is the Instant Pot IP-DUO60. It is a programmable 7-in-1 model that simultaneously cooks, simmers, sauté or makes yogurt.
The best choice for the family is the Amazon Basics MB-FS5017S Rice Cooker. It has a large capacity, can cook other foods simultaneously and allows you to cook any type of rice.
The electric rice cooker can change the way you cook, making it faster, more convenient, and enjoyable. You can use it for making some pressure cooker food and almost every delicious soup recipes.
Before you make a purchase, do not only consider the price of electronic rice cookers but also keep in mind all the tips and features above. We believe that they will help you to select the best electric rice cooker available.
---
---
Rate This Article