9 Best Food Dehydrators Reviews and Buying Guide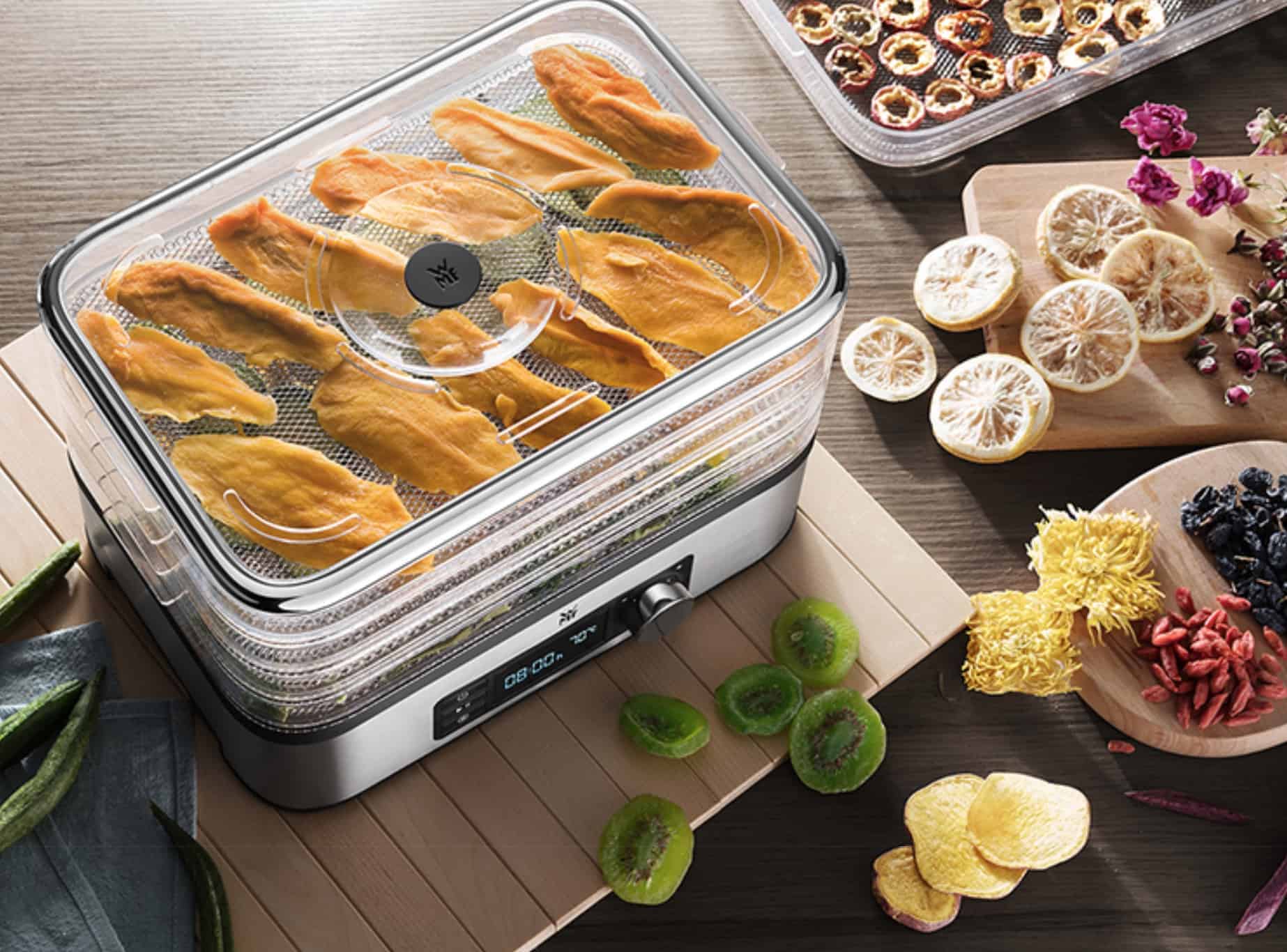 Why You Need Food Dehydrators?
The Food and Agriculture Organization (FAO), says that one-third of all food produced is wasted or spoiled before being consumed.
This happens both in the industrialized world and in developing countries, in most households. However, a food dehydrator can help prevent this.
With this kitchen appliance, food can be preserved for much longer, maintaining all its properties, and eliminating only water. It is suitable for use with fruits and vegetables, as well as meat and fish.
Quick Summary
Top-Rated Food Dehydrators Reviews
1. Editor's Choice – Nesco Snackmaster Pro Food Dehydrator
To meet the growing needs of users, the NESCO brand presents the SNACKMASTER PRO model. Basic but functional, this equipment is suitable for daily and domestic use, whether you're an expert in the kitchen or not.
The Nesco dehydrator has found its place in modern kitchens for some time. Apart from the fact that this appliance dries food in just a few hours instead of days, the advantages of having this in your kitchen are countless.
It includes so many technical features such as the 600 watts power of the device, the 5 removable food trays as well as the variable and adjustable thermostat between 95 to 160 °. In short, it's a high-end device that perfectly matches the needs of users. Furthermore, to help you get to the realization of your preparations, the brand has seen fit to include 2 fruit roll sheets, a recipe book, 2 Clean-A-Screens, and sample packets of jerky spices.
2. Our Budget Pick – Salton DH1454 VitaPro Foldable Dehydrator
Apart from the fact that this is a device for drying certain foods, this gadget promotes the preservation of essential nutrients contained in the food. Also, the dehydrator facilitates the preservation process. Just as robust as it is efficient, the SALTON DH1454 dehydrator is distinguished by its rapid drying time and easy temperature management.
In short, we are dealing with a complete set of equipment at a reasonable price. Note that although this dehydrator is made from plastic, it is BPA-free. The drying time varies from 4 to 8 hours. Depending on the food you want to dehydrate, this model is equipped with 5 removable trays. For the various settings, just turn a knob to find the right temperature. Meanwhile, to start it, all you need to do is use the switch.
3. Best Compact Dehydrator – Excalibur 2400 4-tray Economy dehydrator
This model from the EXCALIBUR brand comes with a modest and sober design. Excalibur 2400 4-Tray is distinguished by its economic side, its efficiency, and its compactness.
While this model offers 4 trays for a wide variety of foods, it is small in size. As a result, you will be able to place it anywhere. Thanks to its black color, it will easily fit into any kitchen decor. In terms of operation, you should know that this appliance puts simplicity first.
However, it is limited to the essential features; these include an adjustable thermostat according to the preparation and an on / off switch. As for maintenance, it does not require any particular effort. The power of this device is just 220 watts but it's fast, easy to use, and accessible to everyone. However, users believe that the fan should be quieter.
4. Best New Upgrade – Nesco FD-1040 Gardenmaster
Being a leading brand in this field, we once again offer you a dehydrator from the NESCO brand. While the model we saw earlier is already a favorite right now, this one is an upgraded version.
With this, the power has been increased, the food containers are more numerous and the options are always more advanced. It comes with four trays but it's expandable up to 20. In addition, the NESCO FD-1040 comes with the patented Converga-Flow Air Flow technology.
In short, this device is equipped with the essential elements to guarantee optimal comfort of use and rapid drying. You should however note that the power of this gadget is 1000 watts, almost five times more powerful than the previous model we reviewed. The thermostat is adjustable and variable between 90 to 160 °. The timer is digital for good visibility, especially since it is adjustable with the programming of up to 48 hours.
5. Dehydrator With the Largest Drying Space – Excalibur 2900ECB 9-Tray Dehydrator
The Excalibur 2900ECB 9-Tray dehydrator is an upgrade of the first Excalibur that was earlier reviewed. You can see that this one has 9 trays with a total drying surface area of 15 square feet.
As aesthetic as it is compact, this equipment stands out for its high power, high level of sophistication, large capacity, and short drying time. It's a complete product that meets the needs of the vast majority of users.
The power of this device is 600 watts. To dry different foods, this machine is adorned with 9 superimposed trays. Note that to adapt to each preparation and their need, this model is armed with an adjustable thermostat.
6. Best Professional Dehydrator – NutriChef Electric Dehydrator
One of the most popular dehydrators of the moment is the NutriChef PKFD12 Electric Dehydrator. With a modern design, small size, and great maneuverability, this model is distinguished by the speed of food drying, handling within everyone's reach as well as easy maintenance.
While the price of this device is reasonable, the quality and durability are not disappointing. Note however that this dehydrator features 5 removable and stackable trays for the arrangement of foods.
Also, the maximum operating temperature is 180 degrees Fahrenheit. Finally, it comes in 2 different colors, black and white.
7. Best Temperature Adjustable Dehydrator – Chefman Dehydrator
Featuring a contemporary design and solid construction, the Chefman Dehydrator is designed from high-quality material. It is also certified BPA-free. Also, note that for good visibility of the drying process, this dehydrator is adorned with a transparent door on the front.
On the adjustment side, we emphasize that this dehydrator is adorned with a touch control panel. The display is digital and the data is perfectly detailed. In addition, in terms of storage, this device offers 6 very spacious trays.
To come back to the various settings, we would like to point out that the temperature is adjustable according to the preparation and the needs. This is variable from 95 to 158 ° while the countdown can go up to 19.5 hours.
8. Best Value for Money – Ivation 6 Tray Digital Countertop Drying Machine
Thanks to its advanced technology, motor, and fan, this appliance dries food faster. The Ivation electric dehydrator is equipped with essential elements to guarantee optimal comfort of use. The operating power of the device is 480 watts.
The dehydrator comes with 6 plastic trays and each measures 13 x 12 inches. To adapt to the nature of the food, the thermostat is adjustable. Note that the temperature is variable from 95 ° to 158 ° Fahrenheit. In addition, to allow simple adjustment, the top features a control panel with a digital display.
9. Best Easy to Use Dehydrator – Chefman 5 Round Tray Dehydrator
Being a recognized brand in the field, Chefman has designed a wide variety of electric dehydrators. Chefman offers this round dehydrator to dry food faster, for longer shelf life, to obtain dry food rich in essential nutrients, and to easily have access to it.
If you have been used to seeing quite complex dehydrators with a very elaborate design, you should know that this model is based on simplicity. Although in terms of efficiency, this dehydrator has nothing to envy other models, the design remains classic. The brand was inspired by high-end plastic for a reliable and durable rendering. Note that this material is free of BPA. To distribute foods according to their type and classification, this dehydrator is fitted with 5 plastic trays.
The power of this machine is however low; just 350 watts. The control of this equipment is done via a single button. It doesn't encumber itself with many unnecessary features.
9 Factors to Know Before Buying a Food Dehydrator
In this guide, we will reveal to you everything you need to know about food dehydrators. These would come in the form of suggestions on criteria to focus on before paying for one.
1. The Drying Methods & Types of Dehydrator
There are mainly three types of dehydrators. Each has its advantages and disadvantages.
Solar dehydrators are a semi-transparent box which is perforated in several places. These perforations allow heat to circulate from the sun's rays as well as dry air. This type of dehydrator is very simple to use.
Also, it is very ecologically friendly since it does not require any additional source of energy. However, it's the slowest method for drying food. Also, you cannot regulate the heat of the appliance.
Electric dehydrator is the most popular type of dehydrator. Electric dehydrators are available in different sizes and are the most expensive. It's ideal for individuals as well as catering professionals.
The operating system is quite simple. The resistors generate heat while the fans transmit them on all floors for uniform dehydration.
Explain further: the box is made up of perforated trays superimposed one above the other. First, the device is turned on. Then the air that has been stored in the base of the device is then heated to the desired temperature by a resistance. The heated air is then diffused throughout the device by a ventilation system.
For infrared dehydrator, infrared rays are emitted from the sides of the device. Then the rays go directly into contact with the superimposed trays and their contents. Infrared rays reproduce the rays of the sun.
They are therefore able to dry food, both outside and inside easily. This type of device is, therefore, more effective than the others because it is quite fast and dries food thoroughly.
2. Power
Power is an important criterion to take into account before adding the product to the cart. But still, the choice of power depends on your needs. Therefore, if you have a fairly intense need for dehydrated food, opting for a powerful machine is the criterion to start with.
Indeed, a more powerful device will allow food to dry more quickly and more effectively. Food dehydration time depends on the power of the dehydrator and the type of food.
In this regard, we find on the market:
Low-power dehydrators (around 100 to 200 W): dehydration of food is slow.
Medium power dehydrators (200 W to 300 W): dehydration is neither too slow nor fast.
High power dehydrators (400 to 600, even 700 W approximately): more expensive than the previous ones, these devices offer faster dehydration of food.
Generally, the power of a food dehydrator is between 300 and 3000 Watts. We recommend choosing a device with at least 500 Watts. This ensures you can dry any type of food, including fruit, vegetables, meat, and fish.
3. Timer and Adjustable Thermostat
With the presence of a timer and an adjustable thermostat, your food will not be calcined. However, you will have to opt for a model that offers 24-hour programmability if you have specific needs. The same is also applicable to the thermostat.
Like in an oven, the timer allows you to turn off the device when the timeframe elapses. It also beeps to indicate the end of the process. This saves you from having to monitor your food constantly.
The thermostat, on the other hand, allows uniform drying while maintaining the same temperature throughout the drying process.
4. Vertical or Horizontal Model
There are two broad types of food dehydrators: horizontal and vertical models.
Opt for a vertical model if you don't have enough space in your kitchen and don't like noisy appliances. However, for efficient and uniform dehydration, it is necessary to alternate the trays from time to time on this type of dehydrator.
With horizontal models, you get an optimal result without having to check the progress of the drying process. A horizontal dehydrator makes it possible to manage the temperature well while having a better capacity and uniform drying.
However, it is bulkier, noisier, and more expensive than a vertical drying dehydrator. The latter is smaller and diffuses less of the hot air. However, it has the advantage of being less expensive.
5. Drying Issues
It is important to check the drying surface by looking at the number of trays as well as their size. Indeed, this will prevent you from rotating the device several times if you bought one with a small capacity.
On the other hand, the drying time is also a component to take into account. Even if it depends on the food you want to dehydrate; the drying time is often more than 10 hours. Also, it is good to avoid models that require double the average time to dry.
Drying also depends on the device used, which can be horizontal or vertical.
6. User Comfort
Ease of Use
Another important criterion is the ease of use of the machine as a whole. If you have never used such a dehydrating machine before, your first one must be easy to use. Ergonomic machines ensure that you do not get lost during the operating process.
Maintenance
Not only on ease-of-use, comfort on the maintenance and ease of cleaning of the food dehydrator is also important. If you want to keep your dehydrator for a long time, it must be easily maintained!
Cleaning Process
Often, dirty trays contain particles of dehydrated food. Choosing an easy-care food dehydrator will make their maintenance easier.
For cleaning, you'll immerse the trays in hot water for a few minutes and then remove them. After this, you'll scrub the grids of the trays with a brush to remove the particles that have lodged there. If these steps seem difficult or impossible to do, for one reason or another, opt for the second solution. Wrap your food to be dehydrated in non-stick sheets or parchment paper, before placing them on the trays.
Weight
We can also take into account the weight of the device. See if it is light and can be moved with ease. Your food dehydrator must be able to carry out the least of your desires when it comes to drying fruit.
Dehydrating Time
But at the same time, you should also be careful about the waiting time for total dehydration of the food. For fruit, it will take from 5 to 10 minutes unless the device's power is weak or you have adjusted it for this purpose.
Resistance
We can also talk about the resistance of the machine. Make sure that it can withstand the variation of the electric voltage. Or else, a breakdown can occur if it does not support this.
7. Design and Construction Material
If a food dehydrator must be powerful and easy to handle, do not forget its aesthetic side either. In general, on the design side, some have a circular shape.
Meanwhile, others have a cubic shape, and others, a rectangular shape. It usually depends on the designer and manufacturer company. Depending on your preference, choose the one that suits you, and that enhances your interior the most.
The trays or grids are generally either plastic or stainless steel. These materials have the advantage of not showing traces of bisphenol A (BPA). They cannot rust or oxidize, hence, giving your device a longer lifetime.
8. Heat Distribution
Look for dehydrator models whose motor and ventilation systems are located at the bottom. It must have different air vents that go through the trays, and preferably one at the top.
This is important to extract moisture and achieve good dehydration. Horizontal models usually have designs that enhance airflow and heat distribution.
9. The Number of Trays
The most expensive dehydrators are generally those with a high drying capacity. For example, some have up to 9 drying trays!
You can dry as much food as you want on these. But there are also 4-tray dehydrators. The advantage of this is that they cost less and take up less space. The downside is their low storage capacity.
Final Thoughts
The food dehydrator is an increasingly popular food processor because of its efficiency in drying foods quickly. Thanks to this device, you can keep your food longer by removing the water contained in the food. Dehydrating food also prevents food waste and is great for our hygiene and health.
If you are looking for a high-performance dehydrator, choose the Nesco FD-1040 Gardenmaster as it has a 1000 watt drying element and has a patented airflow technology. Meanwhile, our Editor's Choice, the Nesco Snackmaster Pro Food Dehydrator remains the best and most popular on the market.
We all understand what the benefits of dehydrated food are, so much so that the market currently offers a very large variety of food dehydrators. If connoisseurs can find their way around easily, this is not the case for everyone.
And that is why we came up with this guide. By now, you have some reliable leads to follow to get the best deal. We hope you find the information herein useful enough to lead you to your perfect machine.
---
Rate This Article