Top 10 Best Oyster Sauce – Taste Reviews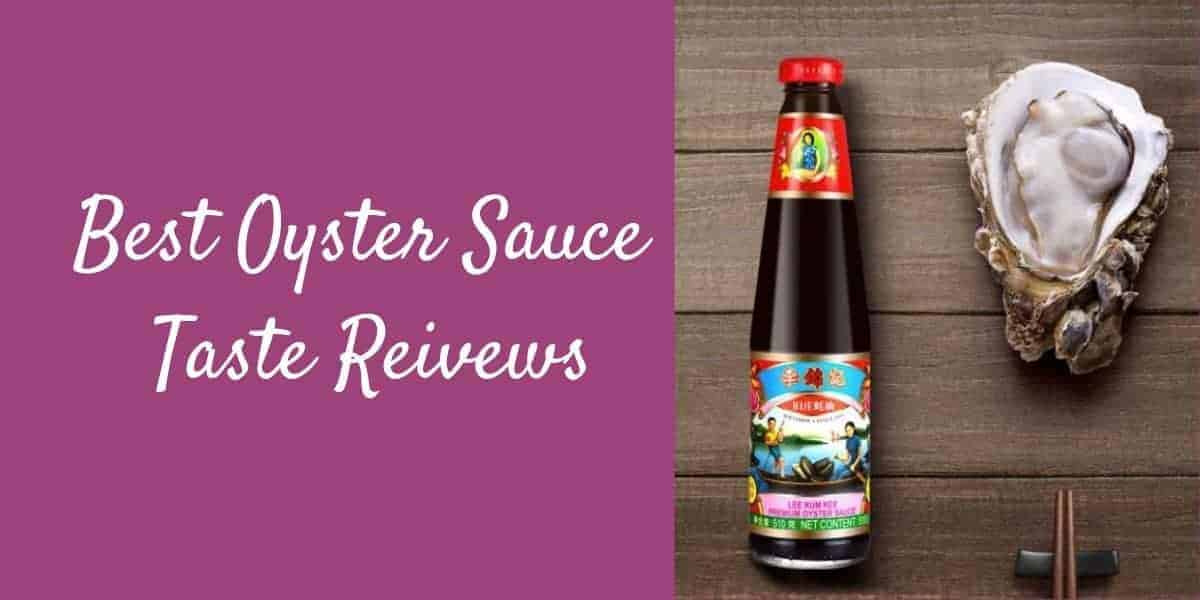 Oyster sauce is made by processing oysters. The most common oyster sauce is found in the market would be a dark brown thick sauce made after cooking oyster extracts, salt, water, and sugar. The sauce would appear thicker because of the addition of cornstarch. This sauce would have an earthy, salty, and sweet flavor. High-quality oyster sauces are naturally dark but there are other versions of sauces that are through the addition of caramel.
This seasoning is generally used in Thai, Cantonese, Vietnamese, Khmer, and Malay cuisine. It is the best choice for making stir-fries, as the sauce has lots of umami flavors.
View all Oyster Sauce Recipes here.
How To Make Oyster Sauce
Oyster sauce was developed around the year of 1888 by Lee Kum Sheung. There are two ways of making the sauce. First one is the traditional method and the second one is the artificial method. Under the traditional method, the sauce would be made by simmering oysters slowly in the water. The process would continue until the juice from the caramelizes into the thick brown sauce. This process is very long but the end result would be the intensely flavored sauce.
But people now have developed several technologies that would make the processing time of oyster sauce shorter. These processes would not only save money but would also save lots of time. The process would start from making a base of salt and sugar with the addition of corn-starch solution as a thickening agent. After this step, oyster extracts are added for enhancing the flavor. For enriching the sauce, many brands would also add either soy sauce or MSG.
Another type of oyster sauce is made by using the mushroom as the base. Mushrooms also have the same earthy flavor as the oysters.
What is the Taste of Oyster Sauce
The taste of oyster is not fishy at all even though the sauce is made from oysters. This sauce would give you both salty and sweet taste but it would also have an earthly feeling on your tongue. This earthly feeling would decide the quality of any oyster sauce.
The main purpose of oyster sauce would be to add savory flavors to various kinds of dishes. This sauce is generally used for enriching flavors in either vegetables or meat dishes. Every Chinese household would have this seasoning for cooking their dishes. It is also used in salad dressing, noodles, stews, and soups.
The storage of the sauce would also determine the freshness of the sauce. Once you would open the sauce container, it would have to store in an airtight can. There are different sauces, which are present in the market. Each brand would have different characteristics from other brands.
Mentioned below are some of the best brands you would find commonly in any Asian market.
#1 Thai Oyster Sauce Maekrua Brand
Maekrua is from Thailand. This brand is almost 30 years old. Similar to the Chinese oyster sauce, Maekrua is also famous for its dark brown and richly flavored sauces. The brand would claim that their sauces are made of pure oyster extracts. It extracts using traditional methods. Considering the taste, it differs from the normal Chinese one.
Thai sauces are less salty in nature and would have pronounced oyster flavor. This sauce has several amino acids which are necessary for the proper functioning of the human body. This sauce is would instantly enrich the flavor of fish, shrimp, chicken, soups and other Thai vegetable dishes. This sauce is considered as one of the best sauces from the country of Thailand.
#2 Vegetarian Mushroom Oyster Sauce
Vegetarian mushroom oyster sauce is recommended for those who are allergic to seafood or oysters. This sauce is also best for those who like to eat vegetarian food but would also like the taste of oysters. All dishes made of this vegetarian soup would have a flavor similar to the real oyster sauce. These types of sauces are made after processing mushrooms especially oyster mushrooms. As these mushrooms could be grown on the land, manufacturers would readily find the ingredients to make this sauce. This lowers the price of the sauce to a great extent.
The ingredients of this sauce would be soybeans, sugar, yeast extract, water, modified maize starch, wheat salt, and mushroom extract. The sauce would also contain mushroom extracts, steviol glycosides, licorice extract, and malic acid. For the preservative, vegetarian mushroom oyster sauce uses potassium sorbate.
#3 Wan Ja Shan Vegetarian Mushroom Oyster Sauce
This is another brand of mushroomed flavored oyster sauce, which could be applicable as the substitute for the real oyster sauce. This vegetarian product is made from mushroom extracts. Shitake mushrooms would replace the oyster in these vegetarian sauces. These sauces are popular among the people who have a severe allergic reaction towards any seafood. The main reason for using mushrooms for making vegetarian oyster sauce would be to maintain the umami flavors similar to the original taste.
This sauce is the main ingredient in several Chinese dishes such as seitan and broccoli. Wheat, starch, sucrose, water, NON-GMO soybeans, yeast extract, and shitake mushroom powder are the ingredient for this sauce. For preservation, this sauce uses sodium benzoate. This sauce would add savory and rich flavors to any dishes you want to cook.
#4 Wok Mei Gluten Free Oyster Sauce
This sauce is mainly for those who want to enjoy a gluten-free diet. In Chinese cuisine, it is very difficult to find any ingredient that is gluten-free. Wok Mei is a gluten-free oyster sauce which is processed from 100% natural ingredient. The meaning behind the name of Wok Mei would be Perfect Wok Flavour or Balanced Wok. The brand claims that this sauce contains no artificial preservatives, MSG or any type of processed corn starch.
The sauce contains uses concentrated cane syrup instead of using sugar for providing a sweet taste of the sauce. Another important feature of this gluten-free oyster sauce is that the content of salt is lower than most of the oyster sauces. This has used the traditional method to make this oyster sauce. Instead of making in large quantity, the brand would make this sauce in smaller batches for ensuring its taste and texture of the sauce.
#5 Kikkoman Sauce Oyster Green
Kikkoman Sauce Oyster Green is another great seafood flavor seasoning that used for cooking in almost every cuisine. It is used for enriching flavor in Thai, Vietnamese and Chinese cuisine dishes. Kikkoman has a rich flavor and has a thick texture. This sauce is processed from natural liquor which has been extracted from the freshly collected oysters. This sauce has a savory flavor along with a tinge of sweetness. The sauce is thickened for adding a body and a soft attractive luster.
The sauce doesn't contain any MSG for increasing their flavor. Kikkoman oyster sauce has zero fat content, and it is also low in calories. This property of the sauce makes it ideal for healthy and lighter salad dressing purposes. Its ingredients include sugar, water, salt, concentrated oyster juice, cornstarch, yeast extract, and oyster extract.
#6 Lee Kum Kee Panda Brand Oyster Flavoured Sauce
This another gluten-free oyster sauce from the famous house of Lee Kum Lee. Even though this brand of sauce is very famous for the Chinese people for cooking their dishes, the sauce was is made using a European technique. By applying the unique European technique for blending the ingredients, the brand could develop an oyster sauce. It is rich in aroma and robust oyster flavor. It was made from the freshly collected extracts from the best quality oysters.
This sauce could also be used as the all-purpose seasoning if you like to have the flavor of umami in your diet. This sauce made from several ingredients like sugar, water, salt, oyster extracts, processed corn starch, monosodium glutamate, wheat flour, and caramel color. This sauce is generally used for cooking Chinese dishes such as stir-fried noodles, broccoli beef and several other dishes that are made in a Chinese restaurant.
#7 Lee Kum Kee Premium Oyster Flavoured Sauce
This is the traditional one. Its taste was originated in the year of 1888. The sauce is made from the finest oysters using the traditional method. Because of the rich flavor of the sauce, it is very famous among both general masses and Michelin Chinese star chefs. This sauce is used for enhancing the flavor and appearances of any vegetable and meat dishes. People use this sauce either for marinating or seasoning condiments.
The ingredients of these sauces would be water, sugar, flavor enhancer (E621), cornstarch, salt, oyster extract (40%), color (E150c). This oyster sauce has an intense and deep savory flavor along with a salty flavor that can't compete with other oyster sauces.
#8 Dragonfly Premium Oyster Sauce
Dragonfly is another good seasoning. It is popular among East Asia families. There are several chefs from five-star hotels like to use Dragonfly Premium Oyster Sauce for preparing stir-fry chow mein, black pepper and other dishes like lo mein. This sauce contains no MSG or any other additives that are generally used for enriching the taste in other brands. This makes it the perfect seasoning for topping or dressing any food either for general food or for foods from in restaurants.
The sauce has no fishy aftertaste, which makes it different from other sauce found in the market.
#9 Dynasty Sauce
This sauce is famous among those people who like to have a mild fishy aftertaste in their food. This sauce is made after using the traditional method along with high quality imported ingredients such as salt, sugar, water and oyster extracts. For increasing the nutritional value, this sauce also uses protein extracts. Other ingredients for this sauce would be tree nuts, crustacean shellfish, peanuts, mustard, sesame seeds, and celery. The whole process of manufacturing this sauce is done in a certified facility with special care given to maintain the quality of the sauce.
Another good thing about this brand is the affordability of this sauce. According to users who are regularly using this sauce, dynasty sauce has the perfect balance between sweet flavors and salt flavors. This balance enhances the fish flavor present in the sauce.
#10 Mama Sita's Oyster Sauce
Another top quality oyster sauce is famous among the people of the Philippines. This sauce is very famous in the country of the Philippines which is used for enriching all most all Filipino dishes. Mama Sita's Oyster Sauce is famous for its savory and piquant flavor. In the Philippines, every household uses this brand as the main flavoring agent while cooking stir-fries. You would find several verities of this brand in the market which would include regular, mushroom, low- sodium, vegetarian and garlic flavored oyster sauces. It would depend upon the buyer which sauce he or she wants to buy.
The taste of the sauce doesn't have fishy after taste and would be less salty. This makes it, as one of the best toppings for salads and other similar dishes.
Summary
From this article, you would have an idea about some of the best oyster sauce available in the market. If not, start with Lee Kum Kee or Kikkoman and you won't be wrong, because Lee Kum Kee is the developer of the sauce and Kikkoman's taste is suitable for most dishes.
It might be possible, you wouldn't be able to find every single of the mentioned sauce at a single place. Therefore, it is important to choose one of the best oyster sauce for the list. While buying any oyster sauce give special attention to its seafood ingredient. Thus, use one of the sauce for enriching you Chinese dish and enjoy the dish.
Disclosure: We may get an affiliate commission when you purchase products via links on our site. Although we may receive compensation, we only offer our 100% honest reviews, experience, and comments. Learn more.
---
Rate This Article