Best Guilin Rice Noodle Taste Reviews
Guilin Rice Noodle in China
Aside from being one of the most scenic cities in China, the local cuisine of Guilin is rather special. Paying a visit to Guilin just is not complete without you sampling some of the local food. Out of all the famous cuisine in Guilin, their rice noodles are undoubtedly the most famous one!
The Guilin rice noodles are well known all over China and might be found in areas like Hong Kong and Shanghai. Needless to say, for the most genuine Guilin rice noodles, visitors should eat them in their hometown –Guilin. In this article, we will discuss some more essential and interesting facts about Guilin rice noodles. Not just that, we will also be reviewing the taste of each type of Guilin rice.
What is Guilin Rice Noodle?
Guilin rice noodles are one of the numerous Chinese dishes, which withstood the test of time ever since its development over 2000 years ago in the Qin Dynasty. Even up to this day, it stays a powerhouse of the local cuisine.
The simple rice noodles are white in color and taste smooth and soft. They're made of starch from rice flour and may come in two major shapes –round (mifen/'rice noodles') and flat (Qiefen/'sliced noodles').
In Guangxi Province, around Guilin, China, the rice noodles are as famous as they have ever been in ancient times. During all meals of the day, bowls of flavor-rich noodles fly out of the hole in wall restaurants. From little Chinese infants to construction workers, the Guilin rice noodles are very much loved and offer the utmost satisfaction.
As its name implies, this dish is consists of soft white rice noodles –the Chinese type, which had an influence on the noodles like Mohinga in Burma and Pho in Vietnam. They're also served plain in mild beef or pork, broth together with several steamed green vegetables and perhaps a few pieces of some sort of meat.
Moreover, Guilin rice noodles or Mifen are the most popular and famous local staples. Commonly, people in Guilin tend to eat this dish in the morning. The bowl consists of meat, gravy, fresh rice noodles, and fried peanuts and soybeans. Chili, pickled condiments, and scallion in pieces with spicy taste are also added to it, depending on your taste. The most special rice noodles amongst rice noodles are the horseflesh rice noodles.
There is no denying that the Guilin rice noodles are a delicious and cheap staple.
Guilin Rice Noodle Taste Reviews
Guilin rice noodle is famous for its delicate taste in China, and the taste of it is quite distinct from some other rice noodles in China. The most significant factor, which makes the Guilin rice noodles so distinctive is that the ingredients that they use in making their soup or sauce. As a matter of fact, there are about 28 spices that they use in cooking the sauce. Nevertheless, depending on your flavor preference, the recipe may vary from a shop to another. Below are the different types of Guilin rice noodles –read on to know how they taste like.
1. Gravy Noodles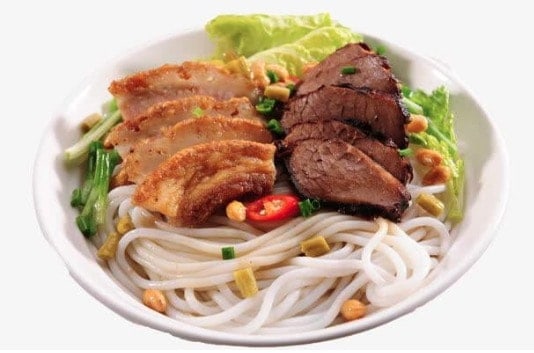 The gravy rice noodles are actually the most typical version of the Guilin rice noodles. In preparing the rice noodle, the chef places them in a skimmer spoon or sieve ladle and heat them up in boiling water, right before placing them in a bowl.
Oil, pickled beans, thin cuts of marinated meat, chopped scallion, fried peanuts, and gravy are put on top of the rice noodles. If you want your dish spicy, you can opt to add some pepper oil yourself. Look at the color mixture, as well as the smell of the bowl's fragrance before you stir them evenly.
The most common way to eat gravy noodles is to eat most of the rice noodles first, and then add some scallions and broth and then slurp up the remaining. You may also add the meat to the noodles to eat right at the start.
The taste of the gravy rice noodles is very creamy as it is boiled slowly for many hours with more or less 20 spices and ingredients like ginger, cinnamon, and tangerine peel. Adding some toppings on your bowls like chili, pickled white radish in chili sauce, pickled beans, and spring onions will even enhance its rich taste.
2. Broth Rice Noodles
There are actually different recipes in making broth rice noodles –it varies from a store to another. Nonetheless, the most common ingredients in this kind of rice noodle are the entrails, pigskin, and pork. The chef may add the broth to the rice noodles together with some chopped scallions, vegetables, and fried beans.
The taste of the broth rice noodles is fresh and hot, most especially since the broth is boiled for hours with lots of spices and ingredients. The broth rice noodle is particularly ideal for those who like light flavors and wish to get warm in the winter season.
3. Boiled Rice Noodles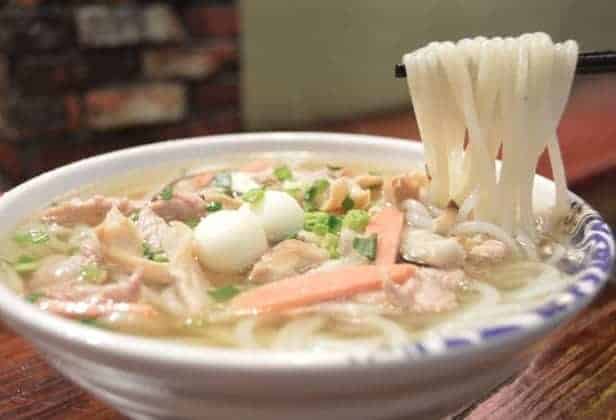 In comparison to the abovementioned two kinds of rice noodles that are prepared by way of adding ingredients to pre-boiled noodles, the boiled rice noodles are boiled freshly after you order. There are 2 kinds – the sour and spicy boiled noodles, then the 'three fresh' boiled noodles.
Upon ordering and paying, the chef will put the ingredients and spices in an iron cooking vessel. For the sour and spicy boiled rice noodles, they use pickled chilies; while for the 'three fresh' boiled rice noodles, they use quail egg, pig intestines, pig liver, and pork.
The chef then adds condiments such as chicken powder and salt, vegetables, and lastly lay the plain rice noodles in a thick soup to boil a moment or two to let it absorb the flavor. The sour, spicy, and meaty flavor may be absorbed by the rice noodles, making even more savory.
Is Guilin Rice Noodle Healthy?
The Guilin rice noodles are made from ground rice. Nutritionally, these rice noodles are high in carbohydrates and calorie-dense, yet is nearly low in sodium and is free of fat. With about 214 calories in a 2 oz. serving, it is high in energy. high-energy-dense foods like this aren't as filling as the low-energy-dense foods. If you aren't careful, you may eat more calories than you intended. When you eat noodles as a part of a soup, like the Guilin rice, it may help in filling you up, so you will just eat fewer noodles.
While rice noodles are an essential source of carbs, they aren't a good fiber source, a kind of carbohydrate that the body can't digest. Fiber helps in preventing constipation and may assist in reducing the risk of obesity, certain kinds of cancer, and heart disease. Furthermore, it also has an insignificant amount of fat, as well as no cholesterol. Remember, fat is an important nutrient that the body uses as an energy source and in absorbing fat-soluble vitamins.
The noodle also contains about 3 grams of protein every 2 oz. serving. Since the noodles are mainly from rice, they don't contain all of the important amino acids necessary for the body. This is what makes them an inadequate source of protein. However, you may meet the daily protein needs when you eat some other foods all over the day, even though they're non-meat sources, just like vegetables, beans, and grains.
The Guilin rice noodles are also a great meal if you want to try limiting your sodium intake. Getting an excessive amount of sodium in the diet may increase the risk of developing high blood pressure. If you combine Guilin rice noodles with some other low-sodium foods, that would be very beneficial for you. As a matter of fact, 2 oz. serving of it only has 10 milligrams of sodium. You should limit your everyday consumption of sodium to a minimum of 2,300 milligrams per day.
Where to Buy Guilin Rice Noodle?
Guilin rice noodle store can be found everywhere in China. A lot of snack stores, such as Sha-Xian snack or Ramen store. However, the best rice noodle is still in Guilin. Due to the production process and delivery issue, all the taste is totally different.
Guilin rice noodle also can be found in Asian markets all around the world. It is packed as dried noodle with 4-5 small seasoning packets. It sounds like an instant noodle but the taste these noodles are also similar to Guilin rice noodle. Here we found the best rice noodles that are close to the authentic Guilin rice noodle.
Conclusion
Guilin rice noodles or Mifen is one of the most popular and famous local staples in Guilin, China. Commonly, folks in Guilin usually eat this in the morning–but it can also be eaten during lunch or even dinner. The dish is comprised of meat, gravy, fresh rice noodles, and fried peanuts and soybeans.
It is also famous for its delicate taste in China, and the taste of it is fairly unique compared to some other rice noodles available in China. The most essential factor, which makes the Guilin rice noodles so characteristic is the ingredients they use in cooking their soup or sauce. In fact, they use about 28 spices in cooking the sauce. The pungent and spice-rich flavor of it is what we love the most.
So if you happen to visit China, don't forget to visit Guilin. And if you do, you shouldn't miss the chance of trying their authentic Guilin rice noodles. For sure, this will be a hit for you, or anyone who loves trying delicious, authentic dishes!
---
Disclosure: We may get an affiliate commission when you purchase products via links on our site. Although we may receive compensation, we only offer our 100% honest reviews, experience, and comments. Learn more.
---
Rate This Article