10 Best Pottery Teapots Reviews and Buying Guide
Why You Need a Pottery Teapot?
The tea experience is not only dependent on the leaves and the water used while brewing. The teapot is also a significant factor that affects the flavor of your beverage. It's essential to get the best teapot and perform proper maintenance to make your teapot last. The pottery teaspoon's tea soup is much strong and authentic than making tea with automatic tea makers. Although automatic tea makers are fast, the ingredients of tea leaves have less time to dissolve into the water.
Here are the things you need to consider when shopping for a new teapot set.
Quick Summary
Top Pick Pottery Teapots
1. Overall Best Tea Pottery – SAKI Large Porcelain Teapot
This large porcelain teapot from SAKI comes in a 48 Ounce capacity. The sparkling white pot will fit perfectly on your dining set. The teapot is made from the best porcelain material and if you love traditional tea pottery, you will love this teapot. It also makes an excellent gift for your loved ones who love to drink tea.
You can brew tea easily in this porcelain teapot and its size is enough to fill up 6 mugs conveniently. The SAKI teapots are perfect for brewing herbal tea. It can withstand high temperatures and won't crack. It is durable and won't change the taste of your tea even after years of brewing with it.
This teapot also comes with a stainless steel infuser to help you sieve small particles or leaves floating in your tea, so you can enjoy it. The strainer ensures your brew is perfect and tastes great. This teapot is perfect for family size and large groups. Cleaning is easy as you can easily wash in your dishwasher.
2. Best Premium Teapot – FORLIFE Curve Teapot with Infuser
ForLife is one of the reputable brands known to make the best pottery. You should get this teapot which also comes with an infuser to get a smooth brew. The teapot comes in ten bold colors so you have plenty of options to choose from. This teapot comes in a traditional ceramic design and has a homely appeal. The teapot is really attractive and ForLife decided to give tea lovers a mix of traditional style fused with modern modifications.
The teapot comes with a special infuser that can easily be inserted in the teapot to hold any of the loose leaves in place. This way you can enjoy your tea without consuming any of the loose particles. Another quality of this teapot is that it retains heat for a long time. The ceramic material is one of the finest and is completely lead-free.
The teapot comes with a matching lid made from stainless steel to help with heat retention. So if you don't plan to have your tea immediately, you won't need to worry about it getting cold. The overall design is impressive and most importantly it is easy to brew fresh tea with this teapot.
3. Best Colorful Teapot – Rsvp Stoneware Teapot
This RSVP teapot takes you back to the classic teapot designs. If you love traditional dishware, you can get this to blend with your dining set. This beautiful stoneware teapot comes in 7 different colors and with a matching lid to go with it. It is a highly durable material and of the best stoneware material. The RSVP stoneware teapot will serve you for a long time.
The teapot is dishwasher safe and can even be used in your microwave. The design is easy to use and is recommended for family use. The teapot can hold 48 ounces of tea, enough to serve a large number of guests. The design features a special spout that has large drainage holes to pour the tea quickly into your mug.
Although this design does not come with a strainer to hold the loose leaves, you can get this as an additional part. The teapot can comfortably hold a tea strainer underneath its spout to hold back the loose particles.
4. Best Teapot for Gifts – Pavilion Gift Company Ceramic Teapot
This teapot makes a perfect gift for mothers especially when they love tea. It comes in a very fanciful design and has this feminine appeal which they will love. The teapot comes in a stackable design which makes it easy to store after use. Also, the design is unique and very convenient to use.
The Pavilion Gift Teapot is a one teapot and can hold about 15 ounces of tea. Although, you can still serve two medium-sized mugs with this teapot. Its stackable feature also gives room for a matching mug that is placed just at the bottom of the teapot. The mug can hold up to 8 ounces of tea. The ceramic teapot also comes is dishwasher safe and also microwave oven safe. Maintaining this teapot is easy and you can opt to hand wash it to preserve the vibrant design of the teapot.
5. Best Two in One Teapot – Bits and Pieces Teapot
This teapot comes in a very beautiful design. It can also make for a perfect gift to a loved one. The teapot is designed with a tassel accessory that is attached to the handle and also a complimentary box to go with it just in case you want to send it out as a gift. The floral design is very eye-catching and will be appreciated by mothers. The teapot is designed for one, so you can have your tea in the office or at home.
The teapot is easy to use and it has a two-in-one setup. When you brew your tea, you can lift the lid off and drink. Although this teapot is fanciful we recommend you not wash in a dishwasher but only hand wash. Also, it is not microwave compatible but you can have delicious hot tea in this teapot.
6. Best Porcelain Teapot – Maxwell & Williams Teapot
This teapot is designed with non -toxic porcelain material. You can comfortably serve your tea for three. The design of this teapot is inspired by the Moroccan tile patterns. Traditional tableware lovers will appreciate having this handcrafted style teapot. The tessellating pink pattern was specially hand-painted with real gold detailing.
The teapot comes in an easy-to-use design, and its stainless filter blocks the loose leaves from getting into your brew. You can enjoy that smooth brew you've always loved. Apart from its appealing design, this teapot can also be gifted to loved ones. It comes with a gifted box to help you package the gift nicely.
The porcelain teapot also comes with a drip-free spout that makes it easy to pour the tea content fast. The wide-set handle is also there to protect your hands from your hot tea. Also, it is easy to clean and we recommend hand washing. The
7. Best Royal-Style Teapot – SWEEJAR Royal Teapot
This teapot from Sweejar comes in a unique design. Sweetjar is a reputable brand that is managed by internationally recognized designers in the United States and Europe. The company is known to make a variety of home products including tableware. This high-quality teapot is one of their unique products and it is guaranteed that users will get value for their money.
The teapot comes in a British-style design with the shape of a pumpkin. If you want to impress your guests, you should get out this classy teapot to serve them tea. The teapot can hold up to 28 ounces of tea and includes a stainless steel infuser to hold back loose leaves.
The teapot also preserves the heat so your tea tastes great. You can use the Sweetjar teapot for any occasion. The high-quality ceramic is safe to use and is lead-free. It can be used in both a dishwasher and microwave.
8. Best Vacuum Bottle – Certified International Ceramic Tea Pot
This brand has a collection of designs and high-quality home products. This teapot from Certified International Ceramic comes in an innovative design. You can trust this brand as they have the best designers around the world. They designed this floral teapot which can be used for any occasion or event. You can also use it to complement your home décor but most importantly for serving tea.
The classy design ceramic teapot is lead-free and does not contain cadmium. The ceramic teapot won't contaminate your tea. It is durable and can be hand washed. The teapot is hand-painted and crafted from durable earthenware material. However, it is not microwave safe but still has impressive heat retention.
The teapot can hold up to 40 ounces of tea which is enough to serve up to six guests. The design is easy to pour and won't make a mess.
9. Best Budget Teapot – Royal Albert Teapot
The Royal Albert speaks royalty in every sense of the word. The design is very attractive and you may be tempted to include it in your home décor. Royal Albert is a reputable brand that makes high-quality China. The best part is that it is also very affordable. If you are on a budget, you should look at this amazing teapot. The design is suited for one person, so you can have your tea anytime you want.
The teapot comes with a fitting lid and when you lift it, then it is transformed into a cup. So you can brew your tea and drink from it at the same time. The design like we already mentioned is very appealing, it is among the polka rose collection of this brand. It is made from fine bone China and can hold 16 ounces of tea.
10. Best Stoneware Teapot – Le Creuset Traditional Teapot
For Traditional teapot lovers, the Let Creuset product comes in a classic design. It is a large capacity teapot and made from the best quality material. The stoneware teapot gives a timeless look and also has a touch of modern features. It is durable and chip resistant which makes it safe to clean in your dishwasher.
The teapot has excellent heat retention and a rounded handle to protect your hands from the heat. The design also features an elongated spout to make it easy to pour tea. Also included is a tea infuser that holds back the loose leaves from your tea.
How to Choose the Best Pottery Teapot?
To choose the right pottery teapot, there are summarised keypoints that you mush consider when selecting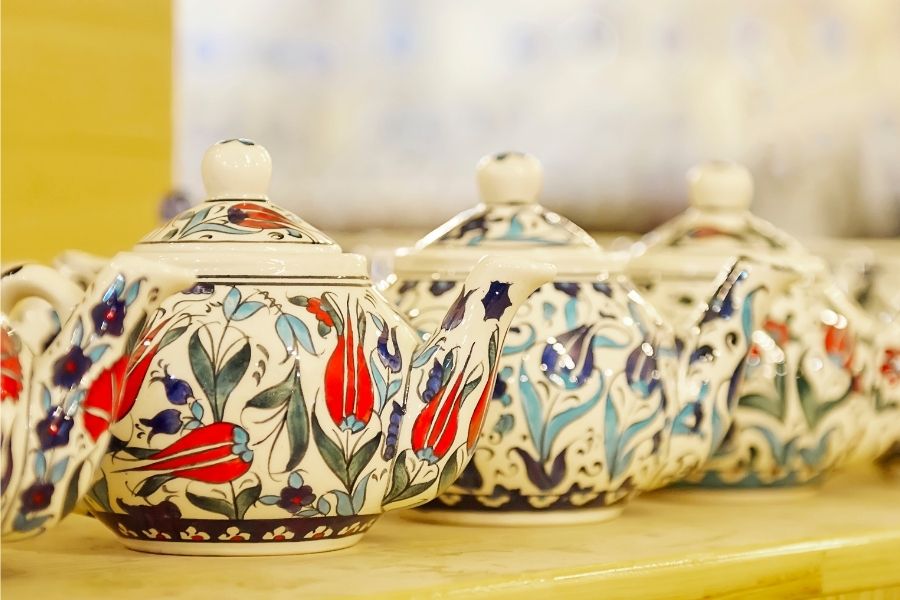 #1 Knock the body of the teapot
Teapots that are made with a higher fire point are favored by a lot of tea shoppers out there. If a lump of clay is cooked at a higher temperature, the final product would be more durable. You can make a quick comparison by knocking the body of the teapot gently with the lid. Teapots with higher pitch are cooked at higher temperatures, and therefore, will last longer.
#2 The three-point method
Nothing is more frustrating than a teapot that leaks the tea when you're pouring it. Before you buy a teapot, make sure that the build will allow easy pouring without any leaks and other nuisances. One way to test a pot without using liquid is through the three-point method. The handle, teapot opening, and the mouth should be leveled at one equal point. To check this, turn the teapot upside down on a flat surface. There should be no balance disturbance if the three points are leveled properly. This test might not be applicable for pots that have specific designs. But for standard shaped ones, this test will always work.
#3 Well-fitted and loose of opening
Well-made teapots are easy to use and clean. With this principle, the lid should be easy to remove and put back at a moment's notice. However, a poorly made lid would let the aroma of the tea escape, diminishing the enjoyment you get when drinking. Therefore, a teapot lid should be well-fitted. To test this, the lid should be at the same size as the opening. If the opening is too wide, the lid will fall to the pot. Meanwhile, a smaller opening will make lifting the lid harder.
#4 Filter check
Take a look at the inside of the teapot, you might or might not find a filter near the mouth. There are different kind of filters which is perfect for different kind of teas. Consider what type of tea you will brew before taking a teapot home. For example, if the pot has no filter, that pot is best used for smaller tea leaves. On the other hand, if the teapot has a nested round ball filter (a ball filter with a lot of holes), larger tea leaves are the best.
#5 Materials used
Different teapots are made with different materials throughout the years. Some pots are made with glass, ceramic, and even cast iron. If you want to buy a teapot for blooming teas or if you want to watch the liquid action while pouring, glass teapots are for you. Meanwhile, Ceramic pots are best for those who want easy cleaning. Cast iron pots are for those who want to retain the heat of the tea for an extended amount of time. A good pottery teapot may not be expensive but it will enhance the flavor of the teas brewed on it as time goes by.
How to take care of pottery teapots?
1. Wash the teapot without soap
To clean your pottery teapot, the best way to do so is to rinse it with hot water. Because of its flavor-absorbing properties, it is better to avoid soap altogether. Soap counteracts the flavor retaining of the pot. But what about stains? Fortunately, a pottery teapot pot with more stains tends to represent age and rarity. Teas that are brewed in older pottery teapot have more flavor and more aroma. For the other type of teapots, you can wash with soap to avoid developing stains, especially with glass pots.
2. Pour warm water in the teapot before usage
This is an essential tip in taking care of your teapot, especially if you live in a location with a colder climate. Before pouring hot water altogether, slowly pour lukewarm water inside the pot. This is to avoid the cracks that usually formed because of instant change in temperature. This tip is applicable for pottery and ceramic pots.
3. Make sure the inside and outside is dry
Before storing your pot, make sure that all the nooks and crannies are dry. Separate the pot from its lid when storing the items and place it upside down to let the air dry the insides. If the pot is not cleaned and dried correctly, there would be a moldy or musty smell that will ruin your next brew. If a mold growing in your pottery teapot, boil it with water and use baking soda to get rid of the smell.
4. Use soft cloth instead of a sponge when cleaning
For delicate pots, make sure to handle your wares gently. Instead of using a sponge or any abrasive cleaning materials, use a soft cloth, and gently apply pressure. Because pottery teapot is not like a food container, it has no oily ingredients. Air-drying is preferred because it reduces the damage done from cleaning.
5. Let the pot rest before using again
Instead of using a teapot every single day of the week, it is recommended to let the pot rest. This way, the pot would have an easier time absorbing the flavor for the next usage. Store it in a well-ventilated place shielded with soot and dust. If you make multiple kinds of tea at home, get a separate pot to avoid mixing of flavor.
Final Thought
Buying and maintaining a teapot regularly might be a very arduous task, but it would be worth it in the long run. If you clean the pot regularly, you would have a better tea time with your friends and avoid buying a new set altogether. However, regular maintenance is not enough to make sure that a teapot would last for a long time. Make sure that you're getting a pot with excellent durability, build, and is easy to use.
If you are considering getting a traditionally designed tea pottery, you should check out these amazing collections. You can use them for any occasion, whether weddings, birthdays, mother's day, Thanksgiving, or Christmas. These tea pots come in very impressive designs and are versatile. They can be used for home décor or for their original use which is to serve tea. So if you have guests, why not serve them in style.
We recommend our top pick the SAKI Large Porcelain Teapot if you are looking for a classic traditional design tea pottery. The sparkling white design is classy and the ceramic material is very durable. You should also check out the FORLIFE Curve Teapot With Infuser, which comes in a variety of colors and a fanciful design. It also has a strainer to keep the loose leaves from your brew. If you have large guests to cater for, we recommend the Rsvp Stoneware Teapot which can hold up to 48 ounces of tea.
---
---
Rate This Article