Top 7 Best Iced Tea Makers Reviews and Buying Guide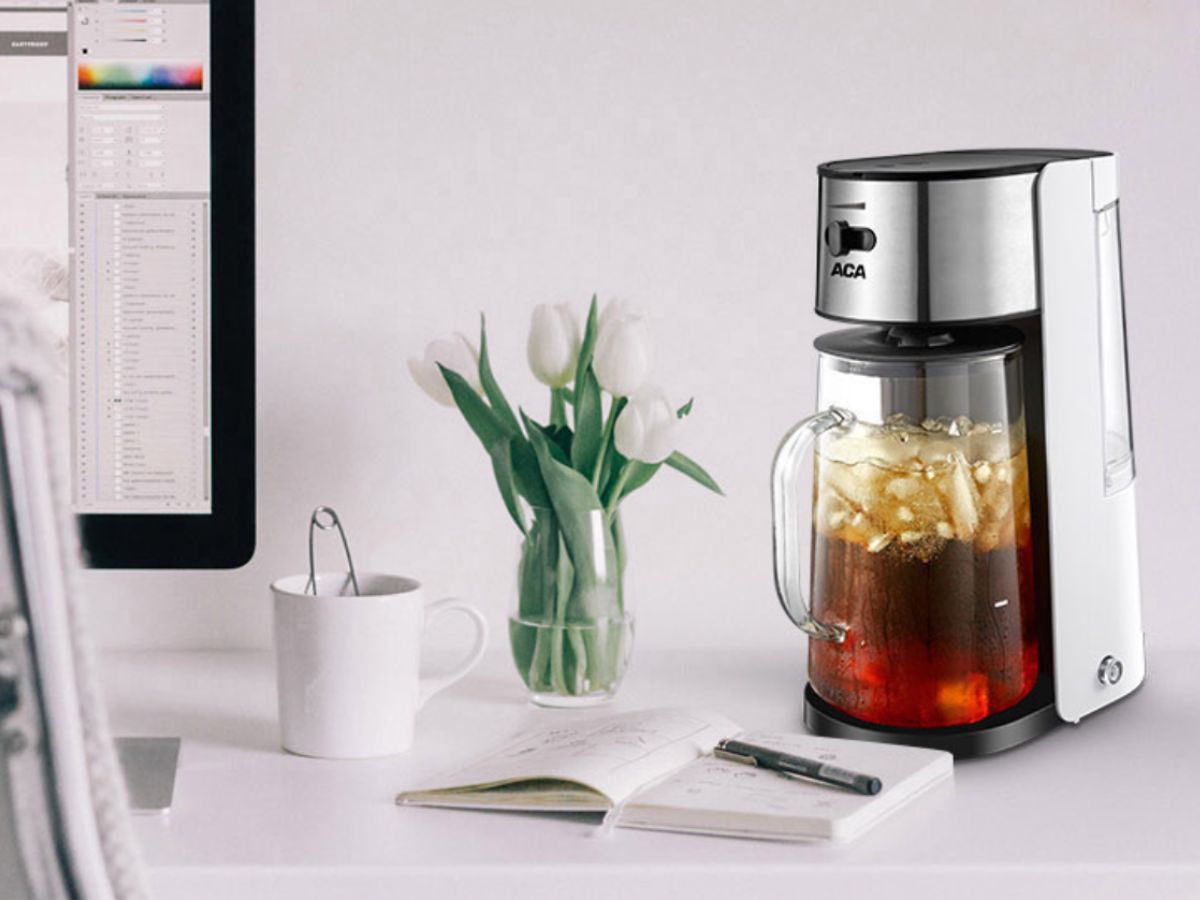 An iced tea maker is a popular gadget used to brew iced tea in households and restaurants. It functions similarly to a coffee maker and is available in different price and size variants. It mostly runs on electricity and has components like reservoirs and tea baskets.
The significant advantage of an iced tea maker is the flexibility that it offers. You can make any flavor or kind of iced tea in the comfort of your home using an iced tea maker. If you are an avid tea lover, an iced tea maker would also help make iced tea based on your preferences, like the brew strength, temperature, etc.
This is an automatic iced tea maker. It can brew tea from both tea leaves and tea bags. The highest advantage of this iced tea maker is the unique Brew Strength Selector. The Selector is adjustable according to your brew strength preference.
It only takes several minutes to brew around 2.5 quarts of iced tea, which is a relatively quick pace. It is highly safe to use, thanks to the auto shut-off feature that switches off once the brewing is over. It comes with a glass pitcher and a glass lid which are easy to clean using a dishwasher.
Pros
Filters around 97% of chlorine to help create better-tasting iced tea
The tea basket has a liftable filter for easy cleaning
The water reservoir has a window to help see the water levels to avoid overfilling
Quick brew cycle
Drip-resistant
Cons
Not BPA free
The one-year product warranty does not cover the glass pitcher.
This multifunctional iced tea maker can also make iced lattes, iced coffees, etc. It supports both tea leaves and tea bags. The easy-to-adjust selector dial can be used to choose the preferable brew strength.
The small size of this iced tea maker with 12x7x5 inches dimensions makes it compact enough for camping and other outdoor use. It comes with a glass infusion pitcher that helps in adding necessary flavorings to the iced tea. This pitcher is dishwasher safe and comes with a lid that converts it into a refrigerator-friendly vessel.
Pros
Reusable infusion tube
Dripless spout
The removable tea basket filter makes cleaning easy
Can brew up to 12 cups of iced tea in a single usage
Automatic shut-off
Cons
The pitcher is made of thin glass and is easy to shatter
This iced tea maker can brew up to twelve cups of iced tea in a single usage. The adjustable brew cycle is highly convenient and safe as it has an auto shut-off function. It supports both tea bags and tea leaves.
The pitcher has a relatively wider mouth which makes cleaning much more convenient. It brews relatively quicker. It only takes less than 20 minutes to brew enough liquid to fill the pitcher.
Pros
The plastic pitcher is heat-resistant
The tea basket is removable and easy to clean
Dishwasher safe
It can also be used to make coffee
Cons
There is no stop button to stop brewing in between. You must unplug the product if you want to interrupt the brewing cycle.
The adjustable brew strength regulator is subpar in performance.
This multifunctional iced tea maker is helpful in brewing coffee, tea, latte, lemonade, and many more. It has a thick glass pitcher that can accommodate up to 3 quarts.
It has an impressive user interface. The power button serves both on and off functions. It has a helpful auto shut-off feature, which also ensures safety. The filter in the tea basket is removable and reusable, making the cleaning process much more manageable.
Pros
Can make up to twelve servings at a time
Easy one-touch operation
The brew strength selector dial helps to choose between mild and strong
Heat-resistant food-grade glass pitcher
Cons
The chilling feature is inadequate
This is an iced tea maker cum coffee maker. It comes with a 64 oz pitcher that contains tea for up to eight servings. The user interface is very straightforward, with a basic on/off switch.
It has an adjustable brew strength dial, which makes it versatile enough to be used by many. The reusable filter basket makes it very easy to clean too.
Pros
Auto shut-off feature for safety
Compact enough to fit into tight spaces
Features a showerhead design
It comes with cord storage
Cons
The hard-plastic pitcher is easy to break
The iced tea maker from Capresso has a convenient one-touch operation mechanism. It alleviates the effort and saves a significant amount of time. It is compatible with both loose tea leaves and tea bags.
It can be easily called an all-in-one iced tea maker, as it comes with a high-capacity pitcher with a lid that transforms it into a refrigeration pitcher and a serving pitcher.
Pros
An adjustable dial to choose the brew strength
The pitcher has an easy pour spout to prevent any spillage
The water reservoir or tank is removable and easy-to-clean
Automatic shut-off
It comes with a recipe booklet
Cons
No indicator light to show the machine's working status
The glass pitcher is relatively thin and is easy to break
This iced tea maker is made of stainless steel and is durable. It has a unique infusion tube inside the pitcher that helps flavor the iced tea. The perforated infusion tube can be filled with fruits or flavoring of your choice to customize your iced tea.
The infusion tube is removable and is easy-to-clean. It is even compatible with a dishwasher. It is compatible with both tea leaves and tea bags.
Pros
It has a brew strength selector dial
The glass pitcher has a capacity of three quartz
One-touch button control
Auto shut-off function
Compact enough to store conveniently
Cons
Causes spillage while pouring
The lid is flimsy and is of low-quality plastic
How to Choose the Best Iced Tea Maker?
The essential features that constitute a perfect iced tea maker are:
Capacity
Capacity is a crucial feature that has to be looked at closely while purchasing an iced tea maker. If you are not buying a tea maker with a suitable capacity, the product would have to continuously go through multiple brew cycles, which could affect the product's longevity.
Brew Strength Selector
The primary advantage of owning an iced tea maker is the personal customization possible in brewing. A brew strength selector is crucial in actualizing this customization. With a brew strength selector, you can easily prepare iced tea based on personal preferences. Especially if the iced tea maker is for a family, a brew strength selector is inevitable.
User Interface
Buying an iced tea maker with a simple user interface is extremely important. Being a piece of daily-use equipment, the product must be simple enough to operate with a couple of clicks. A clear control panel, easy-to-clean filters, dishwasher-friendly pitchers, etc., are all critical regarding the ideal user interface for an iced tea maker.
Water Filters
The capability of filters decides the quality of an iced tea maker. Filters should not only sieve through visible pollutants but should also be able to filter possible metal elements in the water. Prominent metal elements like chlorine and iron are harmful to the human body if consumed continuously. This is why efficient water filters are essential for an iced tea maker.
Pitcher
A pitcher may seem like a trivial component of an iced tea maker. But having a high-capacity and heat-resistant pitcher is crucial to the quality of the iced tea. The pitcher has to be either glass-made or high-quality plastic-made. While choosing plastic pitchers, ensure they do not release any toxins from heat. Also, while choosing glass pitchers, buy reasonably thicker ones to avoid easy breaking.
Conclusion
Iced tea makers are popular as the easiest and most convenient way to make iced tea. They have gained considerable popularity over recent years. Our experts reviewed several popular iced tea makers and have observed that Mr. Coffee's 2.5-Quarts Two-in-one Iced Tea Maker is the best among the lot. It exhibits excellent versatility, an easy user interface, efficient filters, and a practical design.
---
Rate This Article