9 Best Popcorn Machines Reviews and Buying Guide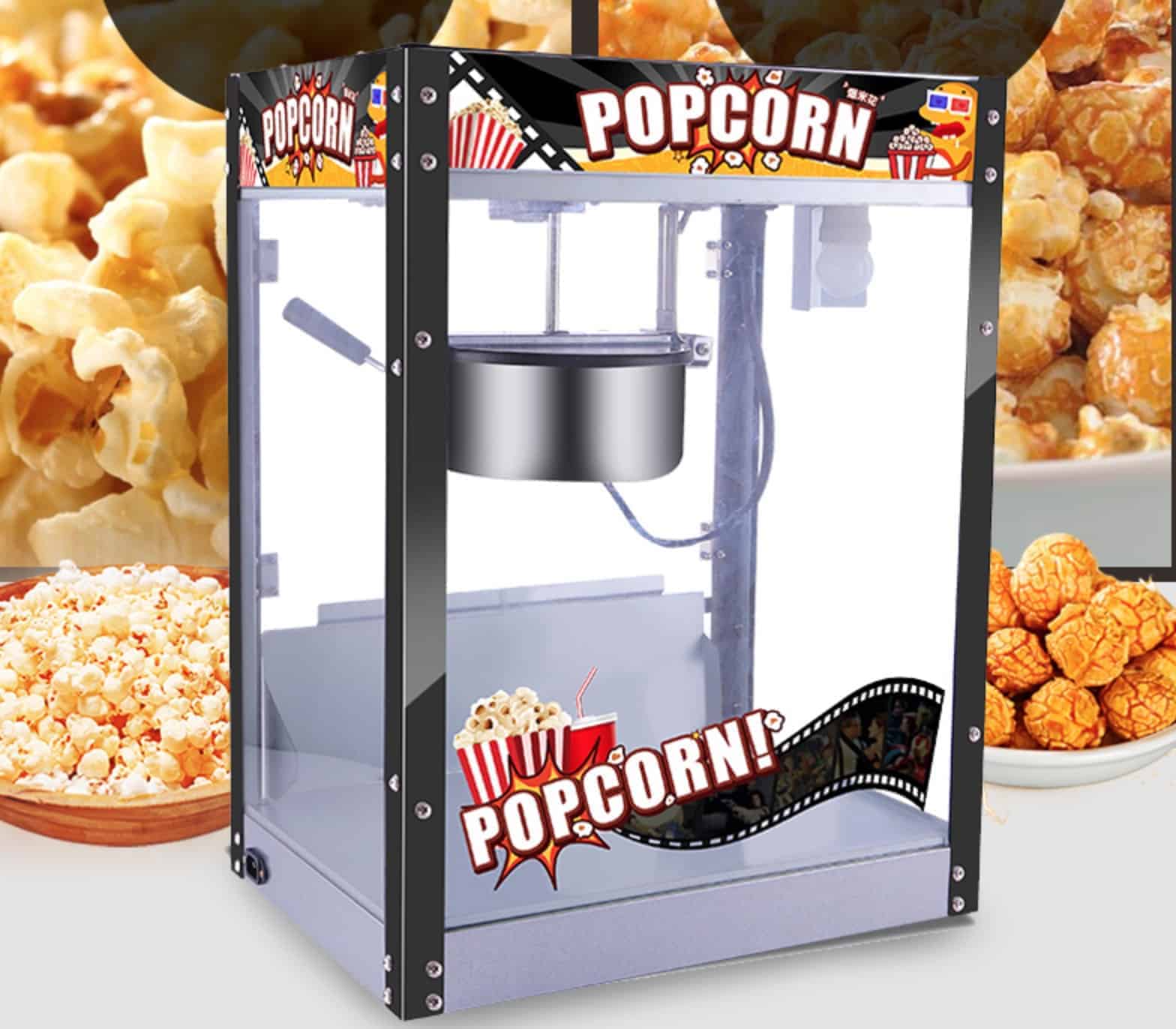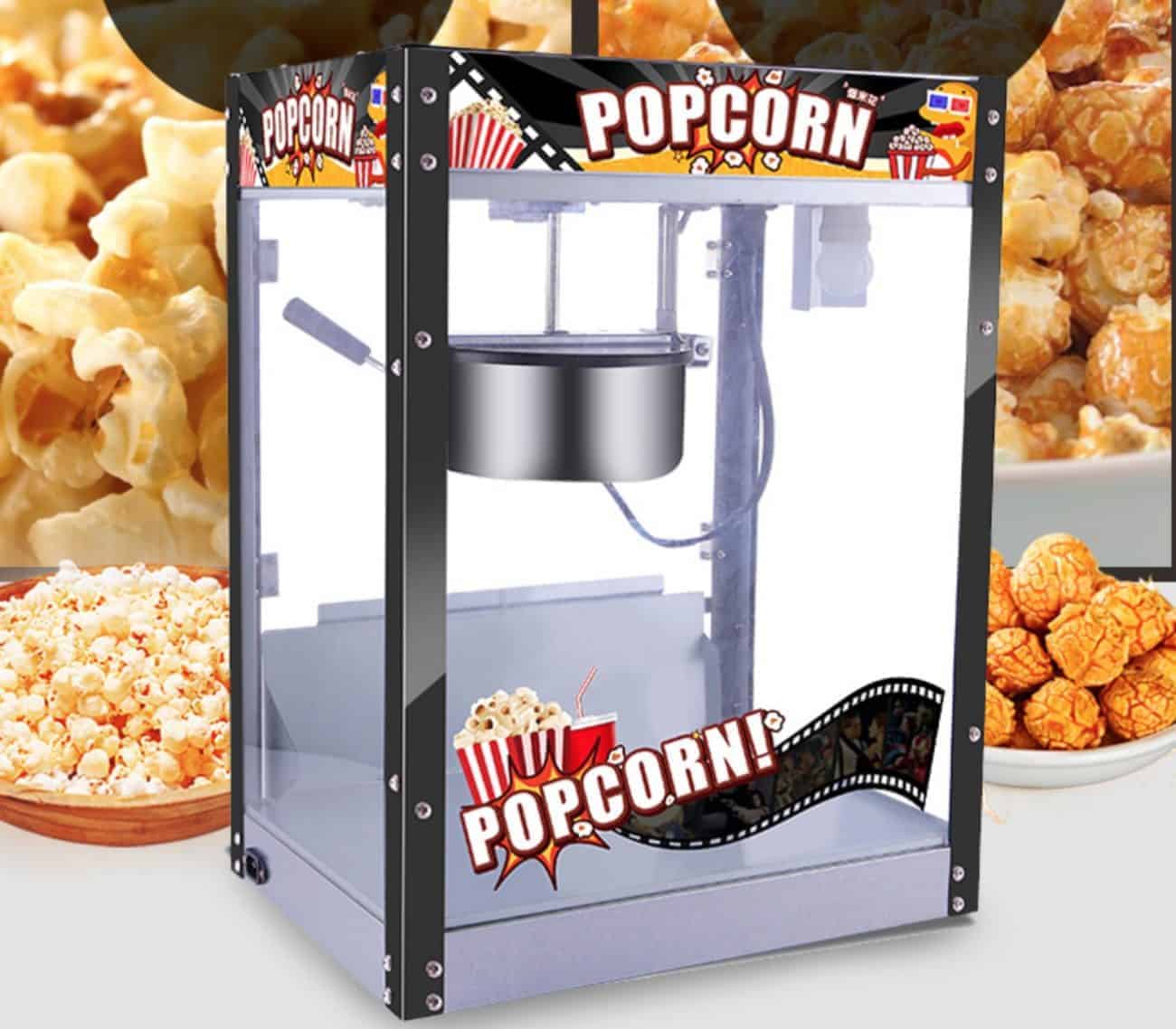 Why You Need a Popcorn Machine at Home?
It's hard to see anyone who doesn't like popcorn! Virtually everyone loves these little exploded corn balls. Light, healthy, tasty – it is a treat.
If you want solo movie nights with family or friends worthy of the name, with a huge bowl of tasty popcorn, you know what you have to do! Simple, practical, and effective in providing good popcorn to bite into: the popcorn machine is the device you need. It is also a machine used professionally for commercial purposes.
Quick Summary
Top Best Popcorn Machines Reviews
1. Editor's Choice – DASH DAPP150V2AQ04 Hot Air Popcorn Popper Maker
Don't want to eat too much fat? Here's the good news: the Dash DAPP150V2AQ04 is a hot air popcorn popper. So there is no oil to add. To start the machine, it's very simple, just press the button at the bottom, and that's it!
A container acts as a measuring cup. You can take the popcorn and put it in the hole above the device. Then you can insert this container in the same hole: you can then place butter there so that it melts during the operation! You are then free to pour it over the popcorn.
This device is available in three colors, aqua, red, and white. It has a nice retro look. It is space-saving and easy to clean, but quite noisy. You can get up to 16 cups of popcorn from it in a cycle.
2. Best Cinema Style Popcorn Machine – West Bend 82515
The West Bend 82515 is one of the best options in the cinema-style popcorn popper category. It's not the most practical, but if you get used to it, it will become an essential companion on your movie nights. It's designed in red although there's the black and blue option.
When the process is complete, the container can flip over with a simple flick to empty any remaining popcorn. The door opens from the top to allow you to collect all the popcorn. It does take some practice not to get it all over the place, and you will need to shovel the popcorn with a scooping utensil that's provided to get it out of the machine.
The container is made of stainless steel. It is non-stick and easy to clean.
3. Best Low Budget Popcorn Maker – Presto 04820 PopLite Hot Air Popper
Do you want to share popcorn with your family once in a while, but want to limit the intake of fat and candy? We advise you to get a simple and efficient model like the Presto PopLite, which goes to the essentials and is easy to store.
The Presto PopLite is a machine that combines good power (1475 watts) and a compact dimension. It is indeed very compact and can be easily stored in an ordinary kitchen cupboard. In addition, it has small support around which you can wind the cord: it does not interfere during storage.
To use it, all you need to do is insert your puffs. To dose, you can place them in the butter scoop integrated with the lid.
4. Best Countertop Popcorn Machine – Northern Popcorn Pop Pup Countertop Popcorn Machine
The Northern Popcorn Pop Pup Countertop Popcorn Machine is a practical and chic cinema-style machine that comes at a low price.
First of all, note that the Kettle of the Northern Popcorn Machine can only hold up to 2.5 oz of grains. This is less than the average observed on popcorners at a similar price.
There is a three-month warranty for the popcorn maker itself and 30 days for the kettle. One of the real strengths of the machine, in our opinion, is also its style. It adopts a cinema aesthetic that knows how to remain chic and elegant. So, with the red design, it can integrate quite easily into any movie-seeing environment.
5. Best Popcorn Maker + Serving Bowl – WestBend Stir Crazy
If, in your opinion, a popcorn maker should allow immediate and spontaneous tasting, the WestBend Stir Crazy should meet your requirements. The WestBend Stir Crazy is the ideal corn popper in these situations. It is very easy to use, it's an all-in-one popcorn maker and in a ready-to-eat format.
You turn it on, put in the oil and kernels, flip the power switch, and, within minutes, the popcorn is yours. It is even already served without serving as the machine's cover lid can be used as a bowl.
However, the handles do not heat up but you can move the object without getting burned. Another advantage of the WestBend Stir Crazy is that it is easy to store.
6. Best Popcorn Machine for the Home Cinema – West Bend 82515B
West Bend 82515B is the machine that makes you feel like you're at the movies. For many people, when it comes to popcorn, the first thing that comes to mind is the movie theater counter with the popcorn machine. With the West Bend 82515B, you will be able to relive this dream every day!
Don't imagine an oversized machine, however: the West Bend 82515B is quite compact. It has a capacity of 4 quarts or about 5 to 6 servings. Good for two people, but maybe not for all of your guests, unless they just want a snack! This machine is equipped with Stir Crazy technology, which allows for better performance and prevents unbroken kernels from remaining after the process is complete.
7. A Great Alternative for Those on a Budget – Hamilton-Beach 73400 Hot Air Popcorn Popper
Love the idea of ​​finally owning a popcorn popper, but don't want to spend a fortune on it? However, beware of the entry-level prices which often present reliability problems. In this category, the Hamilton-Beach 73400 is one of the models that do the best!
The Hamilton-Beach 73400 is a very simple device, you just need to pour the popcorn and start the machine. No added fat? No, it is an oil-free system, which is appreciable for its low price.
With this popcorn maker, there is a system used in other models: a container serves as a measuring cup, and you can place it at the top of the device during the process with butter so that it melts. All you have to do is cover your popcorn with it if you wish.
8. Our Premium Pick – Nostalgia SP6SS 2nd Generation Pop Corn Maker 
The Nostalgia SP6SS is a stainless steel base popcorn maker with a plastic lid. It has a motorized stirring rod that stirs the corn during the whole process, to better distribute the fat. This stalk also allows already popped corn not to burn.
The corn obtained is very good and you will get a substantial amount of it. On the other hand, for this to work, you have to follow the instructions to the letter and distribute the oil well at the start of the process, otherwise, the results will be disappointing (burnt grains, loss, etc.).
This device is also very easy to clean: just clean the cover and the plate. You won't have any hard-to-reach nooks and crannies. The Nostalgia SP6SS Second Generation is available in several other colors and versions. Note that the price may vary depending on the color chosen.
9. Best Family Popcorn Maker – Cuisinart EasyPop
Are you looking for a family popcorn maker, offering comfortable capacity and healthier popcorn? Then the Cuisinart Easypop, which operates without oil and is great value for money, is a solution you can consider.
What we love about this model is its simplicity. You have the main unit and two removable parts: a butter heater, and a burst chute. The first allows the butter to be melted when the appliance heats up, and the second also serves as a cover. Both are dishwasher safe and it's easy to make popcorn in them.
You can use the buttercup as a measuring cup. Just place the beans in the machine and press the side start button. After about three minutes, it's ready! All you need is a bowl under the chute to collect everything.
10 Factors to Consider When Buying a Popcorn Machine
Choosing one is not as easy as it sounds. Like all household appliances, there are many popcorn machines out there today. So you have to know what criteria to consider before buying a pop machine! That's why we're here to offer you a complete buying guide.
1. Choose the Type of Popcorn Machines
There is a lot of variety of these machines. Some can serve you according to the occasion or when you simply want to buy one just to have it around for occasional use. There are others that are also suitable if you plan to start a business.
Professional or Industrial Popcorn Machines: With this type of machine, you can make a huge amount of popcorn because of its high capacity. You can use these for parties, fairs, businesses, cinemas, events, weddings or children parties.
Gas Popcorn Machine: They are very similar to the manual or traditional pots that are prepared on stoves that come with a handle. However, the only difference is that they come with all the complete equipment for gas cooking.
Popcorn Machine Vending Machine: You can even get music on this. These machines are often seen in fairs and cinemas. It's an automatic vending machine. It doesn't need someone who is eternally next to the machine to supervise it. Totally industrial, all you need to do is just to insert your coins, and it gives you popcorn.
2. The Power
Like many electrical devices, popcorn machines are equipped with a motor that enables them to operate. This is what determines the cooking duration of the popcorn. The more powerful it is, the faster it heats, and the quicker you have the popcorn ready. And the reverse is also true.
There is quite a difference as far as this criterion is concerned today. You'll find a popcorn machine with a power of 70/80 W and another with more than 1000 W. It varies. However, below this range, there are strong possibilities that the device will not be very efficient.
For general use, a popcorn machine with a power of about 650 W is sufficient. But if the family is large, you plan a high production of popcorn, for example, for the birthday of your child, or other festivities, opt for a device with a power higher than 700 W.
Otherwise, the quantity of popcorn and especially the speed with which they would be supplied could prove to be insufficient. Likewise, the popcorn machine could heat up in the long run, and the young ones could get impatient.
To give you an idea, the popcorn is made between 5 and 10 minutes, depending on the machine used. But the quantity can again vary considerably.
3. Production Capacity
The bowl capacity and the machine's power are criteria that work hand in hand. One of the questions you need to ask yourself is how much popcorn you or your family would like to make?
If you have an answer to this, you have to refer to the size of the bowl of the popcorn machine. The larger the bowl, the higher its corn kernel capacity. Adequate capacity will prevent the machine from being cluttered with popcorn kernels every time.
The quantity that a popcorn machine can prepare varies from simple to double of this or even triple. The majority of the devices thus offer a capacity that oscillates between 50 and 100 grams of popcorn at every cycle. But some machines can produce up to 170 grams of popcorn all at once!
However, in general, a machine that produces 75 or 80 g of popcorn each time should be sufficient.
To get an idea, you can always look at the photo of the product. Often, the bowl in which the popcorn will be produced is always visible. This gives you an overview of how much the device can prepare at a time.
4. The Construction Material
The strongest and most durable popcorn machines are made of tough steel and glass. Those made of plastics are less durable.
Indeed, no one wants to own an appliance that breaks down only after a few uses. This is the reason why those that are often recommended are those made from thermal shock-resistant glass and stainless steel. Also, there are many differences between brands.
5. Fat or Hot Air Cooking Modes?
Popcorn machines generally have two different cooking modes, one is from oil and another one is from hot air. When deciding on a model, it is better to choose a device that works without fat.
In addition to being more economical, it is also much healthier and without any oil or fat intake. Therefore, it is highly suggested to choose the hot air cooking model.
6. Included Features
Popcorn-making is quick. In reality, pop machines have little or no special features. Only one functionality still seems very interesting. The one that keeps your popcorn warm.
The best popcorn machines have the keep-warm function. This feature is nothing other than the warning light. It keeps your popcorn warm, crisp, delicious, and fresh.
Asides from this, accessories like the bowl, the small shovel to collect them, the removable measuring cup, measuring spoon, and pullout tray are also useful.
For those who need a mobile machine for professional use, there are popcorn machines with a cart system. The possibility of using a trolley allows you to make an offer of popcorn to customers while on the go. For large establishments, the cart types will be a real asset.
7. Ease of Maintenance
Like any food preparation appliance, the popcorn machine must be maintained to keep it clean, but also to aid its longevity.
This particularity is important because having a clean appliance is appreciable when talking about food. This criterion will also be more significant if you want to go from sweet pop to salty pop.
So check that the machine or its removable parts are easily washable with water to get rid of traces of oil or sugar.
Some people still prefer caramel machines. In these cases, cleaning can become much more problematic. It is not always easy to take off caramel. This is why a pop machine whose parts are removable is always very significant. They make cleaning a breeze.
8. The Practicality of the Machine
A popcorn maker needs to be practical. Make sure yours has the options and accessories necessary to ensure optimal use. Your equipment should be able to be moved easily from one place to another.
It has large wheels and a handlebar at the back for easy transport. You can then change its location according to your preferences.
In addition, it comes with a shovel and specific doses to give you satisfaction in terms of practicality.
9. Design and Ease of Storage
This criterion is associated with everyone's tastes and desires. The makers of popcorn machines are innovative in the design of these devices. From retro to modern to classic, everything will depend on your cuisines and your desires. Some have a design similar to those seen in modern movies (like Star Wars).
Also, there are those designed to be easily disassembled and take up little space for storage.
10. Other Essential Criteria
The strength of the popcorn machine is also of paramount importance. Weight should also not be taken lightly when making your choice. This is because, as mentioned, on some occasions, you may need to move your machine or transport them to another location of use.
The models that weigh just a few hundred grams are the best, it is simply because they are much easier to transport.
As for prices and style, they vary from one device to another. The prices are also not standard. They change according to the functionalities and the range. So make your choice based on your budget.
Wrapping It Up
With any of these machines, you can give your home that little touch of a cinematic feel. The most popular types of popcorn machines today are compact, small size, and ideal for the family. This is why the DASH Hot Air Popcorn Popper Maker is our Editor's Choice. Meanwhile, for those who want a real cinema-style machine that can be placed on a countertop or a cart, the West Bend 82515 is what you need in this case.
Do you want homemade popcorn? Or perhaps you need it for commercial reasons. In order to choose the ideal machine for your family or customers, save your time and money by following the guide to buying the best popcorn machines.
To understand how to buy a popcorn machine with better value for money, it is necessary to look at the following three main characteristics: power, capacity, and finally the quality of the material.
Now you know everything there is to know about a good popcorn machine. Go have a good time popping!
---
Rate This Article