10 Best Portable Grills Reviews and Buying Guide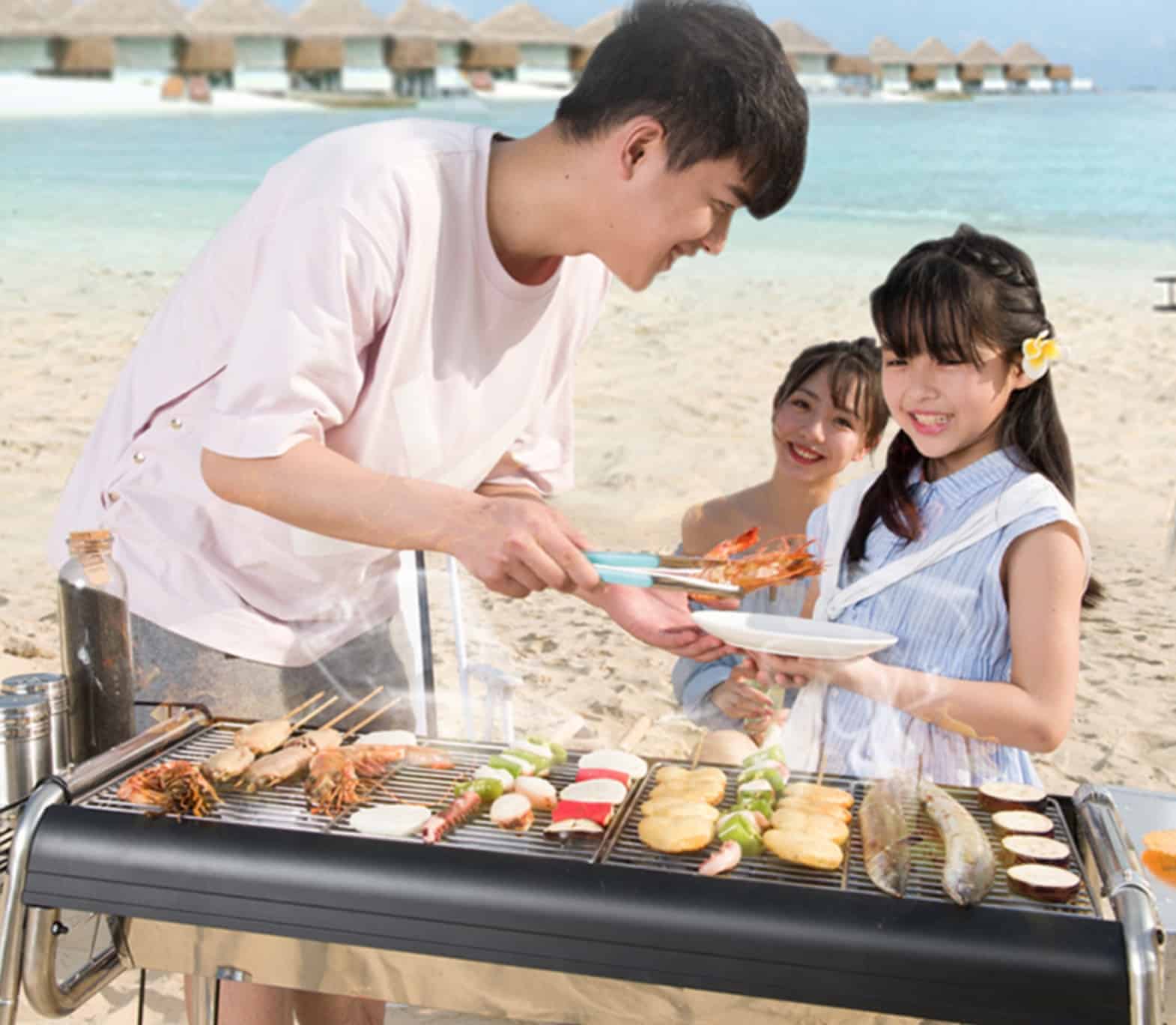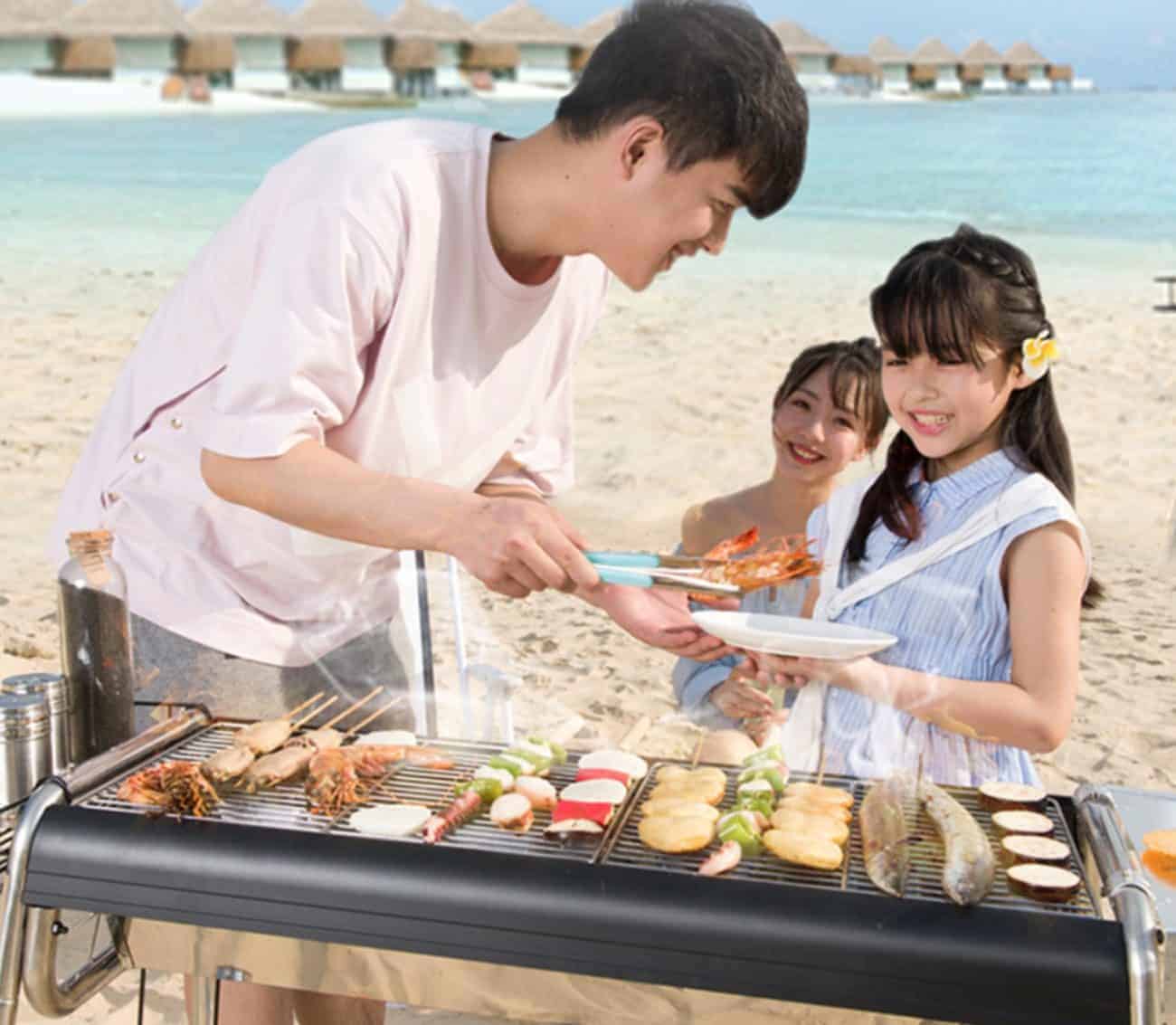 How to Choose a Portable Grills?
Choosing a portable grill might look like a pretty straightforward job – just visit a store and buy the first one that meets your eyes. Well, that doesn't certainly work all the time.
Quick Summary
1. Our First Choice for a Portable Grill – Coleman Roadtrip 225
2. Best Portable Charcoal Grill – Weber Jumbo Joe 18″ Portable Charcoal Grill
3. Best Portable Grill With Two Burners – Pit Boss 75275
4. Best Portable Electric Grill – Hamilton Beach 25370C
5. Best Budget Portable Gas Grill – Camplux JK-6320
6. Best Budget Portable Charcoal Grill – Samdray Charcoal Grill
7. Best for Picnics – Martin GR14
8. Best Grill With Stand – Cuisinart CGG-180 Portable Gas Grill with VersaStand
9. The Most Affordable and Spacious – Weber Smokey Joe 14″ Portable Grill
10. Best Smart Grill – Breville Smart Grill BREBGR820XL
Top Rated Portable Grills Reviews
1. Our First Choice for a Portable Grill – Coleman Roadtrip 225
If you want a rugged model for camping, go for the Coleman Roadtrip 225. It is a little more expensive than the market average but it is a rugged device. This makes it a little less convenient to carry due to its heavyweight, but it is very durable.
This propane grill uses small 1 lb cylinders to supply it with gas. It offers power ranging from 2,500 to 11,000 BTUs, depending on your needs. It is a model with two burners, one being in the center of the other. You can control them independently. For maximum power, you can use both at the same time.
Its cooking surface is rather large. It has an area of 225 square inches. The grate is the basis of its robustness, with its cast-iron design.
2. Best Portable Charcoal Grill – Weber Jumbo Joe 18″ Portable Charcoal Grill
The Weber Jumbo Joe is a model that works with charcoal. It offers good durability thanks to the materials that are used in its design. In addition, it is rather elegant. Its round shape gives it a classic look, while its black color enhances its design.
The charcoal compartment and its cover are made of porcelain enamel. The latter is topped with a nylon handle to avoid burning yourself when handling it.
The cooking surface is a bit large. It offers an area enough for several pieces of meat and vegetables. Its grille is made entirely of solid steel. Although its dimensions are quite large, it is still easy to transport. A handle is available to you and its cover locks in place when moving.
3. Best Portable Grill With Two Burners – Pit Boss 75275
A complete meal involves a variety of foods. However, your meat and your vegetables do not necessarily require the same cooking temperature. For you to control their cooking independently, you need a two-burner grill, such as the Pit Boss 75275.
The Pit Boss 75275 is a handy portable barbecue when you are looking for power. This is what explains its price, which is slightly higher than the average.
Indeed, you benefit from two burners of 10,000 BTU each, for a maximum power of 20,000 BTU. They can effectively cook the food on a large cooking surface of 275 square inches.
4. Best Portable Electric Grill – Hamilton Beach 25370C
A well-designed grill is often a sign of practicality and ease of use. If you're looking for a portable and electric product, one name comes up often: Hamilton Beach. With the 25370C, you can enjoy barbecue fun indoors and out.
The Hamilton Beach 25370C has the advantage of being offered at an affordable price. It might not be the finest in design, but its electric operation means you can use it year-round.
According to the manufacturer, this is a family model. Although its cooking surface of 122 square inches may seem limited for some, it can contain up to eight small burgers. The power of this product is equivalent to 10,000 BTUs, which is relatively good. Usually, it can cook your food in less than ten minutes.
5. Best Budget Portable Gas Grill – Camplux JK-6320
Do you want to rediscover the pleasure of cooking with gas and doing your meals outside? This is what the Camplux JK-6320 allows you. The Camplux JK-6320 has a good power of 20,000 BTU: you will get the right cooking temperature in a few seconds.
A button allows the gas to be ignited. Practical, this makes it possible to avoid using matches. Another button allows you to adjust the firepower. It is not really possible to set the heat to a low temperature, but this is not a problem as simmering is rarely on the program when cooking outdoors!
Energy is supplied by a propane cylinder that you will need to hook up to the stove. One cylinder allows continuous use of approximately 2 hours. The lid cleverly acts as a windbreak when opened, helping to protect the flames. A handle allows the Camplux JK-6320 to be transported easily. The surface, made of stainless steel, is easy to clean.
6. Best Budget Portable Charcoal Grill – Samdray Charcoal Grill 
Are you one of those people who consider cooking with charcoal to be the one that gives food the most flavor? With a portable barbecue of this type, you can enjoy it wherever you want. For a simple and affordable model, opt for the Samdray.
The Samdray is a grill that heats food using charcoal. The relatively large cooking surface it offers allows you to prepare a complete meal quickly.
Overall, this is a very basic model. You just have to place the charcoal under the grill and light everything. It doesn't have a cover. This simplicity explains why the selling price is so affordable.
This does not prevent it from being designed sustainably. Made of stainless steel, it resists abrasion very well and does not rust. In addition, it is quite light.
7. Best Controls – Martin GR14
Are you a big fan of barbecues and would like to be able to enjoy them during your picnics or camping vacation? For greater control, choose the Martin GR14.
Let's start first with the small negative side of the Martin GR14. Its assembly instructions leave much to be desired, to say the least. On the other hand, once you understand the principle, you will have no trouble using it.
It uses propane cylinders to provide heat to your food. You can connect small tanks directly to it, or even use an adapter for larger ones. For ignition, this grill uses a piezoelectric button. You just have to press it to activate the flames. It offers good power, up to 14,000 BTUs per hour. Perfect for camping, this barbecue heats up quickly and doesn't take up too much storage space. It cooks steaks and burgers to perfection.
8. Best Grill With Stand – Cuisinart CGG-180 Portable Gas Grill with VersaStand
Most portable grills are designed to take up little space and most sit on a table. But what if you're camping and there isn't a flat surface to put your device on? Avoid putting it on the ground by opting for the Cuisinart CGG-180.
The Cuisinart CGG-180 is a compact grill that can be used by a small family. Indeed, its grid porcelain enamel has a cooking area of 145 square inches.
Although some find it small, its size means that it requires less power to reach a good temperature to cook your food. It only uses a single 5500 BTU burner. This gas-powered appliance has a connector for small propane cylinders. To use a larger tank, you must have an appropriate adapter.
9. The Most Affordable and Spacious – Weber Smokey Joe 14″ Portable Grill
The objective of the Weber Smokey Joe is very clear: to offer the largest possible cooking surface while having a rather low price. It is therefore possible to acquire it most often for less than $50 on the web. It is ideal for those who wish to organize family meals or outdoor parties.
With a cooking surface of 240 sq in, you will have no trouble preparing meals for a large number of diners. However, the device remains rather compact and it weighs 9.5 lb.
It has been thought out in an ingenious enough way to be able to keep the lid open without it slipping. In addition, the handle on the top makes it very easy to grab it and move it absolutely where you want without feeling like you're putting in a lot of effort.
10. Best Smart Grill – Breville Smart Grill BREBGR820XL
The Breville BGR820XL can be used both indoors as a hob and outdoors as a barbecue, thanks to the Element IQ technology. It allows you to have control over how you want to cook food.
The main particularity of this product is that it can be used both closed as a simple hob and open as a barbecue. The respective cooking surfaces are 260 sq in. It is an ideal device for large families.
If this large surface is very pleasant, the grill remains limited by an electrical supply which does not make it usable everywhere. However, it is perfectly compact.
To keep an eye on what you're doing, an LCD screen is cleverly integrated between the two switches. It displays the temperature and the time remaining, and also serves as an indicator light: when it is blue the device is heating up and when it is red it is ready to be used.
10 Factors to Know When Buying a Portable Grills
If you want to grab the best deal on the market, you will need to consider a few things. And by few things, we mean a set of features that determine the overall quality of the portable grill.
Here are the 10 factors to consider when choosing a portable grill.
1. Cart Style or Tabletop
Tabletop grills are much easier to carry around, even when you plan to camp on some remote location. On the other hand, cart-style grills can weigh from 10 to 60 pounds. But if you don't go too far from your vehicle, they are very convenient as most come with wheels.
The biggest downside of tabletop grills is that you need to place them on top of something or the ground. If you plan to have a barbecue in nature, then a table might not be in the picture. Instead, you might need to place it on the ground and cook sitting or squatting next to it.
2. Size Up the Portable Grills
Portable grills come in various sizes and shapes. Some are rectangular; some are flat, some are barrel-shaped, while others resemble a big stovetop featuring a domed lid on its top.
Almost all can be fitted in a car trunk or a seat. However, some are quite massive and yet somehow are categorized as portable grills. Size can be an issue if you have a small car with a small trunk. And even if it fits, it might take a lot of the trunk's space, leaving no room for your other stuff.
Therefore, it is recommended to measure the available space before choosing.
3. Cooktop Size
Portable grills have a cooking area that ranges from 150 to 350 square inches. The smallest ones can take up to four hamburgers at once, while the 250 inches cooking tops are sufficient for up to six hamburgers.
250 square inches is suitable for a group of four, while for a group of six or more, you better look for the biggest, 350 square inches cooktops.
The smallest one, the 150 square inches, are suitable for two or three people at max.
4. Weigh Your Options
Before making your mind, ask yourself: how much weight are you willing to carry from the house to the backyard, from the car to some picnic table, and back again. And you will need to repeat that from time to time.
The thing is portable grills can weigh from 10 to 35 pounds. That's quite a big weight span. Dragging out your 35-pound portable grill every few days is no easy task or something that can be taken lightly.
Also, keep in mind that often size and weight don't correspond, so it is possible to buy a rather small portable grill, but one that weighs a lot. Or it can be a big massive grill, but to be quite lightweight.
The point is to check the weight before buying. Don't be fooled by the size of it or its overall appearance.
5. Fuel Type
Portable grills can be powered by charcoal, gas, or electricity. There are pros and cons to every type of grill. Here are the main arguments why people prefer some on account of other types of grills.
Everything is much faster and easier with gas grills. Plus, there isn't much maintenance. On the downside, they are a bit more expensive than charcoal grills and lack the charcoal flavor.
Charcoal is more demanding than propane-fueled grills. It can be quite messy, it takes time to reach the cooking temperature, it's hard to move, and maintaining the right temperature can sometimes be challenging. But the flavor that you get from charcoal-powered grills is unmatched.
There are two sub-types of electrical grills. One type uses heated grill plates, while the other type is based on infrared heaters. Infrared grills are very convenient as they can cook any meal faster than anything else.
However, electric grills require a power outlet so they can get their electricity. If you are far in the wild or some park, that can be a deal-breaker for electricity-powered grills.
6. Grilling Performance
If you only make hot dogs and burgers, any grill will do. But if your cooking enthusiasm goes beyond hot dogs and burgers, and leans toward more sophisticated meals, you will need to consider a grill with features like BTU output, wind resistance, and burn control. That way, you can have better control over the cooking temperature, which is a crucial factor in creating the best possible meal.
Here are the most crucial factors that impact grilling performance:
British thermal unit is a measurement of the energy required to heat a single pound of water by a single degree. For simple meals like veggie kabobs, burgers, and brats, you don't need BTU output to be higher.
A grill with low BTU is more suitable for meals that require slow cooking at low temperatures. Grills with higher BTUs are excellent for everything else, and they are very fast. However, they tend to spend quite a lot of fuel.
Some grills are designed a bit narrow and with burners that are not very exposed. That way, when cooking outdoors, the grill works well, even with the wind blowing around.
Wind resistance is a recent thing, and there are no clear guidelines as to what exactly makes a wind-resistant grill. To that end, the best way to assess grills is by reading user reviews and seeing what other people are saying about this.
This is the most critical metric to take into consideration. Generally speaking, the more burners, the better. Inadequate burner control can be the cause of a lot of frustration and ultimately bad-cooked meals.
One of the best things about grills with multiple burners is that you can make one side to be cooler or hotter than the other. That way, you can cook all sorts of foods on the same grill.
7. Cooking Grates
Almost all cooking grates are made of stainless steel, cast iron, or coated aluminum. Each has its distinctive features. Here are their main advantages, as well as their disadvantages.
These types of grates are very durable, easy to maintain, and corrosion-resistant. Their biggest downsides are they can't keep a steady temperature for too long as cast iron can, and they are less conductive than aluminum.
These are the most common types of grates. Their conductivity is excellent, but their durability is not as good as it is with stainless steel and cast iron. But they provide an excellent value for the price, and that's why they are so popular.
They can retain temperature like no other material used for making grill grates. Their conductivity is far from the one seen with the aluminum grates. Plus, they are prone to thermal shock and can sometimes crack due to it.
8. Thermometer
A thermometer is one of the best addition to any portable grill. That way, you can know the temperature at all times and make adjustments when needed. Some grills come with a built-in thermometer, while others allow for one to be added.
9. Storage Space and Smoker Box
Storage space can also be helpful. However, only some models, usually the biggest ones, come with additional storage space.
A smoker box can be an excellent addition to your charcoal grill. If you are into creating a smoky flavor that will enhance your food, then you might consider buying a smoker box.
10. Added Features
Some add-ons can be quite helpful in preparing the best possible meals, and that can make the cooking experience more enjoyable.
Some portable grills come with a backup burner lighting chain system in case the automatic ignition stops working. This is especially important if you plan to spend some time far in the woods and there is no hardware shop nearby.
Lighting attached to the grill can make your life much easier if you are camping in the woods. That way, you don't have to ask anyone to come and light up the barbecue with a light torch or their phone while you cook.
A rotisseries motor can further enhance your food as it can provide evenly distributed heat. However, before you buy one, make sure that your portable grill can support a rotisseries motor. In most cases, the smallest one, and the flat type grills, can't support a rotisseries motor.
Wrapping It Up
The design of any portable grill is based on its mobility. Find the right one for you based on its weight, properties, or dimensions. Keep in mind that each type of grill will produce different cooking results. It depends on the aroma, taste, or temperature you want to give your food.
There are many portable grills on the market. However, the purchase decision depends on the location or the intended use. We think the best model for both indoor and outdoor use is the Breville Smart Grill BREBGR820XL. Those who like the barbecue aroma charcoal grills offer will like the Weber Jumbo Joe 18″ Portable Charcoal Grill. But we think the Coleman Roadtrip 225 is generally the best for camping and other outdoor use.
Choosing a portable grill can be nuance and challenging only if you don't know what to look for, which features matter most, and what your needs are. The part about the features that matter most is well-covered here.
The other part, what are your needs and preferences, is an individual thing that you need to answer yourself. But once you make your mind to what you need, the selection part will be pretty straightforward.
---
Rate This Article