10 Best Vacuum Sealers Reviews and Buying Guide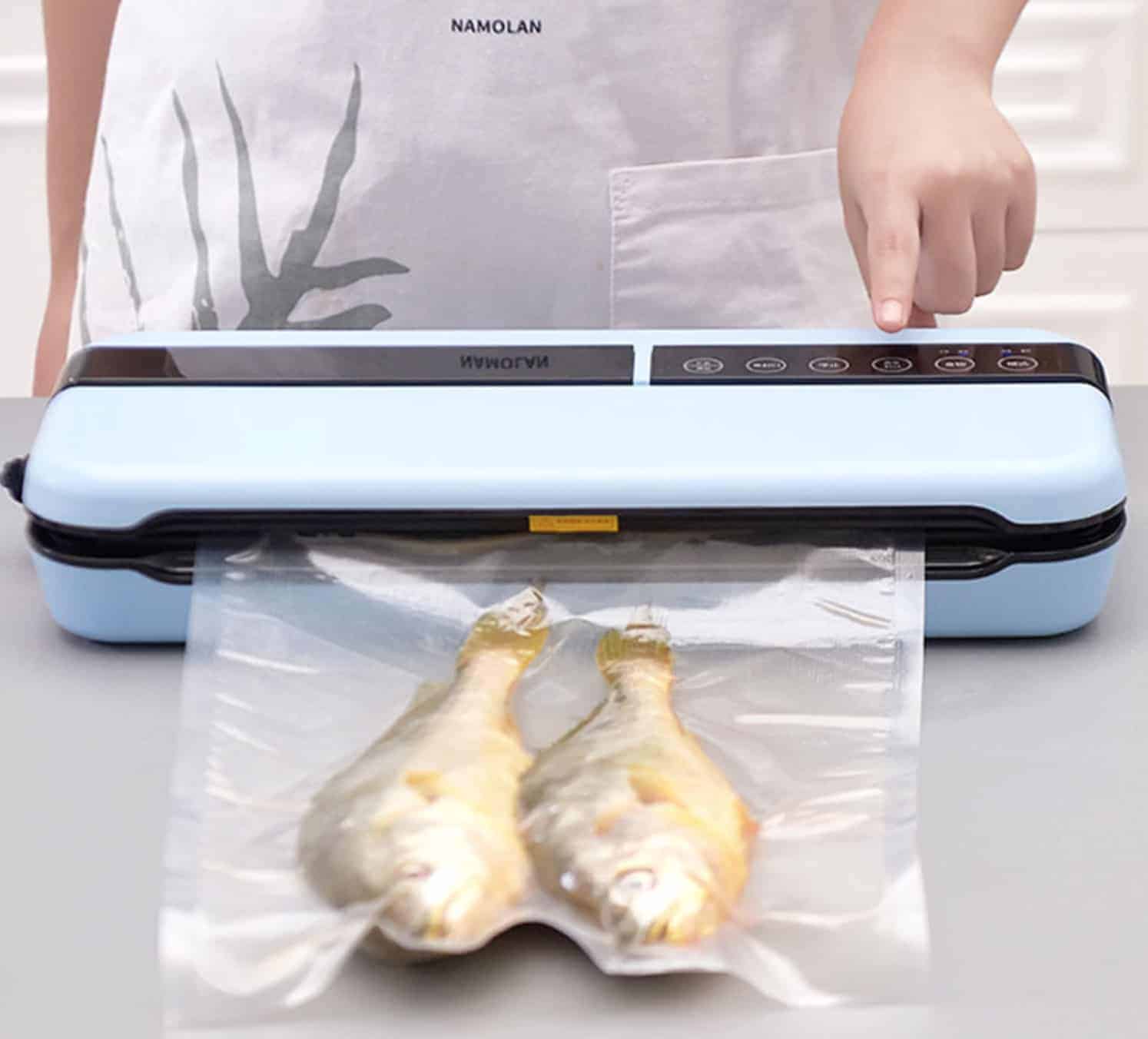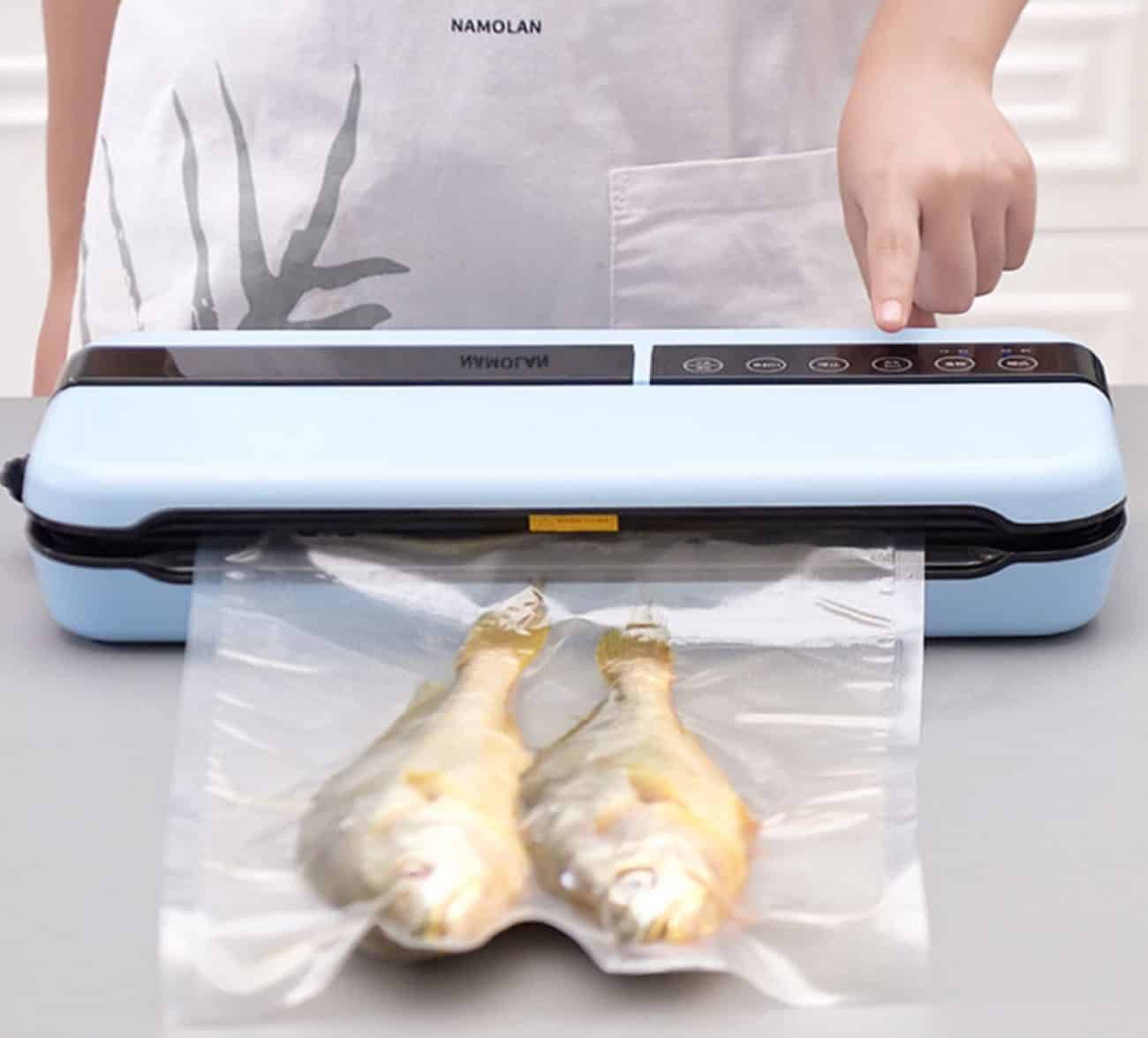 Why You Need a Good Vacuum Sealer?
With vacuum sealers, you can pack your foods in a film package, remove air, seal and keep them fresh in the fridge. With these machines, as with most household and kitchen appliances, you get what you pay for. And if you need more bells and whistles and advanced features, the more you can allocate a high budget, the better.
But there are a few models whose face value exceeds their price and vice versa. This is why you need to be well-armed with good purchase information before the acquisition process.
Quick Summary
Top Rated Vacuum Sealers Reviews
1. Editor's Choice – NutriChef PKVS18SL Vacuum Sealer
Undisputedly the best model on the market, the NutriChef PKVS18SL Vacuum Sealer is the bestselling vacuum sealing machine on the market. For this product, you can choose between two colors: silver or black. If you choose the second option, you may have to shell out a few extra dollars.
Anyway, regardless of the model chosen, the aesthetic aspect is rather successful: the object is sufficiently elegant and sober while being quite discreet. It must be said that this discretion is also explained by its dimensions which remain modest. If desired, this device can be stored perfectly in a closet. In addition, it is very light, so no problem with moving it from one worksurface to another.
2. Most Versatile – Nesco VS-12
It is possible to vacuum seal all types of food, but not all sealers are effective with soft or more liquid foods. If you do not want to limit yourself to dry food, then you will have to turn to a more versatile product, such as the Nesco VS-12.
The Nesco VS-12 is a small device with a rather industrial look. This may be due to its robust design, or its many buttons that allow you to choose from a wide variety of functions.
It is not limited to dry or wet options. You can also select dual mode when your bag contains both types of food. In addition, you have the choice between two pressures; normal or soft. The latter prevents softer foods from being crushed. Other functions are also available, such as emptying a container or marinating meat. You just need to press the corresponding button.
3. Our Budget Pick – Geryon E2900MS Automatic Vacuum Sealer
You want to vacuum seal and don't need different modes or options. Do you want to focus on the essentials and avoid big expenses? There is an affordable model that caught our eye: the Geryon E2900MS.
The main advantage of the Geryon E2900MS is that it takes up much less space than most competing vacuum sealers. It can even fit on a small work surface. If your kitchen is already overflowing with utensils of all kinds, this is a good choice.
Despite its relatively low price, we have nothing to complain about in terms of manufacturing quality: you benefit from a completely solid product, which can last you a long time. In addition, Geryon accompanies your purchase with a 1-year warranty and support. This model is designed in silver color, which is the cheapest in the E2900 range.
4. Best Simple and Compact Vacuum Sealer – FoodSaver PowerVac VS0160
Vacuum sealers are one of those kitchen gadgets you can't live without. Its usefulness is well established. However, it is also one more device in the cabinets and the space is not always there. For a compact yet equally efficient model, opt for the FoodSaver PowerVac VS-0160.
Where the FoodSaver PowerVac VS-0160 wins the most points is in its design. It is simple and modern and you can choose between white or black models, both of which have a metallic center.
Very compact, this wrapping machine takes up little space in a cupboard. Being designed slim, it is space-saving. You can also store it vertically for even more convenience. Only three buttons are present, making its use very simple. One of them is for suction while another is for sealing. The last allows you to indicate whether the contents of your bag are dry or wet.
5. Best Wet and Dry Vacuum Sealer – Nutrichef PKVS25BK Vacuum Sealer
Sold for the same price as the NutriChef PKVS18SL, the difference here with the NutriChef PKVS25SL Vacuum Sealer is that it has a different design. This machine is designed in stainless steel construction with a black color finish.
The machine has touch-sensitive keys on the top, as well as indicator lights. It has two modes, wet and dry, to adapt to different types of food.
NutriChef is one of the brands displaying the suction power of their product, which we like: it is 12l/min. The NutriChef PKVS25 comes with a few accessories, including 5 sachets already prepared, to test it as soon as you receive it. There's also a small roller, a hose, and a wine pump.
6. Best Easy to Use Vacuum Sealer – Geryon 0301-E2900-M-BK
In terms of use, you will hardly find a machine that is easier to handle than this Geryon model. There are only 3 buttons. One is used to seal without sucking in the air, the other to seal by sucking in the air beforehand, and the last to stop the device, which is very practical if you have chosen the wrong option, for example.
You can use bags with a maximum width of 30.48 cm, or 12 in. During vacuuming, an indicator light shows you the status of the process.
We advise you not to force too much on the quantity that you put in each bag: the device is not as fast as some more expensive models, and it can be a little difficult if you want to make it pack very quickly. Note that this model is the same as the GERYON E2900MS in terms of features and functionality. However, this one is designed in black and is a bit more expensive.
7. Most Practical and Complete – FoodSaver FM5200 2-in-1 Food Preservation System
Are you a fan of preserving and cooking sous vide? If you like to buy in large quantities or bulk, then a higher caliber vacuum sealer would be a good investment for you. With the FoodSaver FM5200, you'll enjoy some of the best features on the market.
The FoodSaver FM5200 is a device that is slightly larger than what is usually found in products of the same type. However, it remains compact enough to be placed on a counter without interfering with your movements.
This wrapper uses an internal roller system for automatic feeding. However, the wrapper remains visible, which lets you know when it is time to change it. Its built-in sliding blade is perfectly positioned to help you cut your bags to the right length. Once the roll is sliced, this wrapper seals the bottom of the next bag. This considerably reduces the duration of the process.
8. Best for External Sous Vide – KOIOS Vacuum Sealer Machine
The standard of the machine says it all. It is recognized as a top-rated model due to its amazing performance and features. It can withstand up to 300 degrees Fahrenheit of temperature. The sealing system comes with an integrated cutter that makes it easy to cut this sheet easily.
There is the dry and moist mode that can be used for various foods. The vacuum procedure is so powerful it keeps food fresh five times longer than other versions.
It can make 40 consecutive seals. In the package, you will also get a replacement sealing sponge and 10 specific bags.
9. Best for Marinating Food – FoodSaver V4440  
FoodSaver is one of the leading brands making vacuum sealers for sous vide. The V4440 is an outdoor vacuum with powerful yet simple features. For starters, it's compatible with vacuum springs and bags of all sizes. It has up to 6.1m of alignment of varying widths.
It is possible to take advantage of several different features such as wet and dry food. There is also a quick marinating mode which also helps to produce sous vide foods quickly once you want to store them in the fridge overnight.
Plus, there's a great kit you get with this particular item that includes a few bags and vacuum sealer rolls to get you started. However, the disappointing part is the heavyweight of the item. In addition, its price is higher than that of competing versions offering almost the same features.
10. Best Premium Sous Vide Vacuum Sealer – FoodSaver V4840
The V4840 looks a lot like the previous version, the V4800 previously discussed on our list. But it is a little less expensive. The built-in features also remain the same. It includes an automatic bag sensor that saves a lot of time when sealing. Then there is also automatic humidity detection and ensures the humidity of the food remains intact.
Then there's built-in roll storage and a cutter that allow for easy customization of the rolls. LED lighting helps throughout the sealing procedure.
Additionally, this item comes with a 5-year guarantee from FoodSaver. However, the drip tray of the version is made from poor-quality material. Moreover, just like the previous version, moving this device will probably be difficult due to its heavyweight.
10 Things to Know Before Buying a Vacuum Sealer
Below are some of our most important recommendations on what to watch out for in your high-quality vacuum sealers:
1. Types of Vacuum Sealers
If you have already started your research on the subject, you will have discovered that there are two different types of food sealers. You can find smaller external sealers and larger chamber models.
Generally speaking, they both work the same way with regard to extracting air and sealing air and humidity, which can then return to it. Let's just take a brief overview of the main differences between the two machines.
In the end, you'll discover which would work best for you. Each of these offers advantages and disadvantages. Therefore, it is good that you take them into account when purchasing one:
Air removal from a vacuum bag before storage can take place either inside a vacuum package or outside. The first is called a chamber-type vacuum machine. With this, the bag with the item to be sealed is placed inside a vacuum chamber, and the lid is closed.
So everything from creating the vacuum to sealing the bag takes place inside the vacuum machine. As a result, these vacuum sealers produce the exact amount of sealing elements in a bag. They are therefore better suited for large volume packaging.
Much larger and bulkier, these machines do all the work inside. They are equipped with high-power pumps that are capable of extracting much more air at once. This facilitates the sealing of large pieces of meat with their natural juice.
However, the chamber vacuum sealers are costlier than the external sealers. They are generally preferred for commercial or professional uses, in establishments that need large-scale sealing of products. They often have adjustable suction levels, instead of a single standard setting.
If you need an easy-to-use sealer that you can use occasionally, these types of sealers will do just that. You just have to ensure that you insert the open end of the vacuum bag or pouch correctly into the device. Because the air extraction process of the sealing bags occurs outside of the device, this gives the sealer some compactness.
The operation of these devices is quite simple. You place the product to be sealed in the vacuum bag, and you introduce it into the mouth of the device. The sealing head is then tightened. After this, the internal vacuum pumps take over for the suction of air from the bag. Once all of the air and moisture have been sucked out, the bag is heat-sealed and ready to be stored.
With an external vacuum sealer, you also have more flexibility and space. These are smaller, less expensive devices. They are suitable for more casual use than everyday use. Most of them are easily installed on a kitchen counter. You should also be able to use them with a versatile range of bags to seal your products.
2. Performance
The performance of a vac sealer also has to be considered. It means the force with which the product operates. The performance is marked in watts and is represented by the letter "W". All these machines range between 100 and 200. However, the ideal would be a minimum of 110W. With any number from that upward, you can buy with confidence.
3. Integrated rollers and knives
Vacuum sealers need bags to store the food you seal in these airtight conditions. You may not have to go through the rigors of determining the correct size and shape of a bag yourself from a long plastic roll. Then you have to invest in a machine equipped with a system of integrated cutters and rollers. With this type of machine and function, it is one less hassle for you and one more function that your sealer can have.
4. Wet Sealing Function
There is a very popular movement in the culinary world towards the use of the vacuum method. It's simply because it produces tender and succulent results. If you want to be able to seal your sauces and marinades, you will need a machine that allows you to wet-seal or better yet, a machine that also has a marinade mode. If you like barbecues, this is an essential characteristic.
Marinating can often require that your vegetables, fish, and poultry, for example, be left overnight for the best results. So imagine if you can speed up this process and serve tasty and juicy foods that are bursting with all that marinade flavor.
An additional word of warning, if you intend to seal and marinate in the wet, simply check that the machine you are purchasing is equipped with a drip tray to collect all this extra liquid. Otherwise, your food may end up in a big mess. A removable drip tray is your best option.
5. Pulse Vacuum Feature
Depending on the types of food you want to seal more regularly, a pulse mode is a feature you can find useful. For example, leafy greens are more likely to decompose and disintegrate if you apply too much pressure at a time. If you like these foods, then a controlled pulsed mode will be very useful.
This way, you can closely monitor the exhaust air and stop it if your food is about to be crushed and spoiled!
6. Storage and Space
It seems elementary, but it is an often ignored point. In addition to the size of the sealer, you must think of factors such as the space to accommodate the products and the mobility corridors for the operator.
Most vacuum packing machines are of immense sizes. Some can occupy the same space as three or four plates of food. That can be a real nightmare because it may be challenging to find a suitable place to store them.
However, many models bring freedom of horizontal and vertical storage. With the latter, you can recline the sealing machine and turn it into a kind of tall cube. You will only have to ensure that you will not damage any important component by doing so.
7. Sealing Speed
Many people end up buying a machine that slows down the production line or ends up being an unnecessary investment. Instead, look for a machine that can seal at least 200 bags in an hour.
Business projections play an important role at this point. If you're looking to increase production in a short time, choose to buy a high-capacity machine. Acquiring low-performance balers over time only makes the investment in machinery greater. And ironically, you will need more operators for handling these machines.
8. Ease of Use
This point is also essential to consider. Your machine of choice must not be too bulky, difficult to clean or require a lot of routine maintenance. If it is, chances are, that it will be pushed to the back of the cabinet never to see the light of day again! Instead, opt for a user-friendly model.
Choose one that is easy to clean and maintain. But ensure it still has the good manufacturing quality and excellent value for money.
9. Included Products
As with the variety of functions, you must also take into account the accessories incorporated by the manufacturers. Most models always come with bags. Some can include the cutter on the surface, rolls of various sizes, thermal containers, vacuum tubes, among others.
Obviously, the more products the sealer has, the more beneficial it will be. So keep this factor in mind whenever you go to make a purchase.
10. Other Functions
There is an infinite number of models that offer several additional functions. These functions vary according to the brand, price, and performance. We already mentioned the Pulse Mode (for delicate foods), the removable trays, integrated rollers and cutters, and the Wet-seal feature. However, other basic functions that a good vacuum sealing machine usually include are:
Container packaging
Transparent lid
Accessory hose
Seal-Only Button
Summary
Vacuum sealers are now popular appliances used in industrial or small-scale commercial food production and for use at home. It's a device that can help you prepare food for refrigeration or simply pack food so it can be airtight. 
All 10 products are popular as thousands of users have attested to. However, the best of them all seems to be the NutriChef PKVS18SL Vacuum Sealer. Those on a tight budget can select the Geryon E2900MS Automatic Vacuum Sealer.
Given a large number of solutions with various features, functionalities, and prices, choosing a functional vacuum sealer doesn't come in a breeze. And this process cannot be left to chance. It is a process that requires subtle keys that go beyond the purchase budget and the brand.
Knowing them is extremely important for you to make an intelligent decision that guarantees the success of your business and does not compromise production lines or customer satisfaction.
Our in-depth guide, if followed, will prevent you from making a blind purchase. They include real factors that you must consider to know how to choose the perfect vacuum packaging machine.
---
Rate This Article