9 Best Waffle Makers Reviews and Buying Guide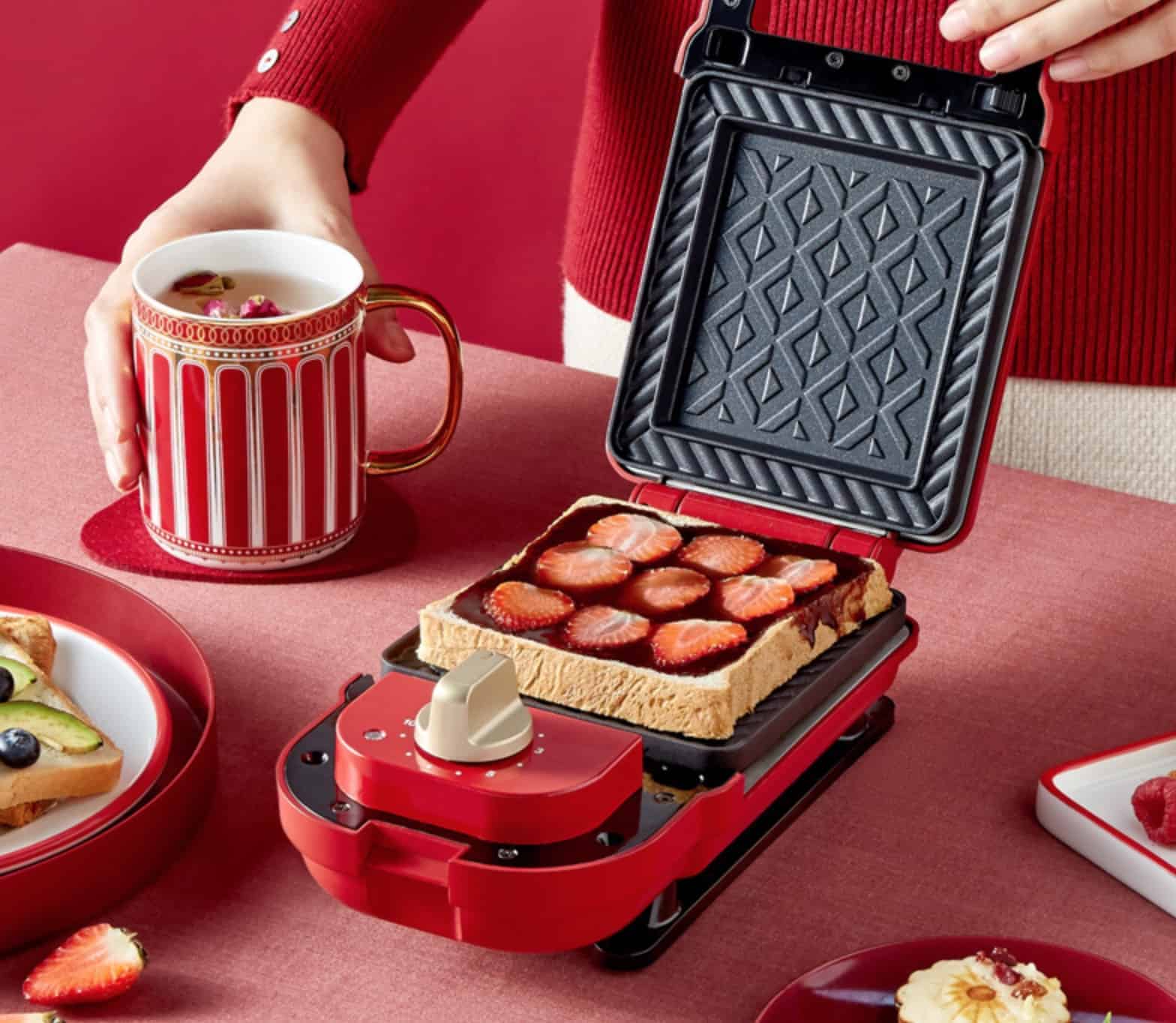 How to Choose a Waffle Maker?
A waffle maker is an appliance designed to make flat pastries that are like a cookie made of crunchy dough. These devices have a grid-shaped mold. There are basically two hot irons where the dough is cooked to perfection. Its design and operation are similar to a sandwich maker.
Nothing is better than homemade waffles. For the children's snack, for a small gift, or for dessert after a meal with friends, waffles are delicious pastries for everyone. But to make them tasty, you need the right recipe and the right waffle maker. The range is wide, and the choice is not lacking.
Quick Summary
1. Editors Pick – Hamilton Beach 26031 Belgian Waffle Maker
2. Best Waffle Maker + Norpro Grip – BELLA 4 Slice Non-Stick Belgian Waffle Maker
3. Best Lightweight Belgian Waffle Maker – Oster Belgian Waffle Maker
4. Best Traditional Thin Waffles – Cuisinart WMR-CA Round Classic Waffle Maker
5. Best Family Size – KRUPS Belgian Waffle Maker
6. The Multi-purpose Waffle Maker – Dash Mini Waffle Maker AQUA
7. High Strength Belgian Waffle Maker – Cuisinart Waffle Maker, Round Flip Belgian
8. Best Stuffed Waffle Makers – Presto 03512 Stuffler Stuffed Waffle Maker
9. Best Crispy Waffle Toasting Shades – All-Clad WD700162 Stainless Steel Classic Round Waffle
Top Pick Waffle Makers Reviews
1. Editors Pick- Hamilton Beach 26031 Belgian Waffle Maker
The Hamilton Beach Belgian Waffle Maker is known for its durability in different aspects. First, talking about its stainless steel housing, it's an extensive restaurant-quality product that's efficient and long-lasting. It also has four times more durability than a traditional non-stick and does not have PFOA and PTFE in its make-up. It gives a perfect browning transitioning from light to dark according to your taste with its easily modifiable browning control and doesn't leave out the fluffy inside. You don't have to think about waiting for a long time for your waffles to fill you up because it takes 5-8 minutes to finish up that great taste. It's also convenient for thick textured fluffy waffles by giving convenience to flip during cooking.
2. Best Waffle Maker + Norpro Grip – BELLA 4 Slice Non-Stick Belgian Waffle Maker
If you need a waffle maker that gives a crispy outwards taste and a soft inner taste as low as $40, makes it ready under 6 minutes, and wants to make more than one waffle at a time, here's your big hit. It's not only easy to use as a reliable stainless steel structure with PFOA-free non-stick covering to obtain an easy to clean process. It can accommodate approximately 5×5 waffles at a time, and its indicators light helps to tell when your tasty waffles are cooked evenly from every corner. Of course, it has a power light as well. It's huge, less expensive, and you can also get it with a Norpro Grip at an accessible price.
3. Best Lightweight Belgian Waffle Maker – Oster Belgian Waffle Maker
The Oster Belgian Waffle Maker is a great commodity for someone who wants to make waffles for home or occasions. It's one of the most affordable for its price if you are looking for a low-priced waffle maker. It produces large, round waffles with pockets that encourage plenty of frostings and syrup.
With its 8 inches non-stick plate, your waffles come out in no time with no stress and easily. Its strong Stainless steel comes with a cord length of 27.5 inches; 1080w, which is safe to touch, protect from burns and hold firm.
You can make a perfect waffle from different types of batters with its adjustable temperature control while cooking.
4. Best Traditional Thin Waffles -Cuisinart WMR-CA Round Classic Waffle Maker
The Cuisinart Products are well known in America for their top quality and their comparability being affordable and having great quality, accessibility, and incredible functions.
The Cuisinart WMR-CA Round Waffle Maker is unmatched when it comes to traditional thin waffles made as a BPA- free waffle maker to suit your needs. It has dual indicator lights to give you the precision you need and a 5-setting browning control to help give you the desired browning of your taste. It's most suitable for compact storage and its non-stick plate with four quarters releases your ready-made waffles. It has a quick 'warm up' and 'cool time' with accurate light functionality.
5. Best Family Size – KRUPS Belgian Waffle Maker
The KRUPS Waffle Maker is a substantial product for the family-size waffle. It helps to bake up to four succulent Belgian-style waffles at a time.
Furthermore, the GQ502 gives it a thin and fluffy inside and crispy outside. Its stainless steel structure is made with an unusual modern style which has easy storage, and it is pretty sleek. For this price, it comes with a comfy distinct beep and indicator lights, each for ready and done respectively. It bakes a perfect texture waffle for your family. If you've never tried using waffle makers that have removable plates, it's good you try this one. It has a cord wrap, a beneficial handle lock, and an adjustable thermostat.
6. The Best Multi-purpose- Dash Mini Waffle Maker AQUA
You might think the Mini Waffle Maker is too small to be as efficient and filling. But here comes the small-sized; perfect for individual serving, making pancakes, eggs, and even French toast. It has a 4″ non-stick cooking surface, which is great with any batter, be it for cookies or even biscuit batters—no stress or wasting time. Just get your waffles out. Clean up is also made easy, and it's great on the go, in smaller kitchens, and for families. It also has non-stick plates, which remove dirt, clean easily, and ensure easy removal of waffles. It's 1-year Manufacturers guarantee to cool your fears. It helps you do so much with little.
It comes with the tag "Mini is mighty" because it does so much with a small size. Also perfect for giftings for the holiday seasons, birthdays, or special occasions. Just plug into a socket and begin to make your favorite waffled hash browns and any other preference of your choice.
7. High Strength Belgian Waffle Maker – Cuisinart Waffle Maker, Round Flip Belgian
The Cuisinart Round Flip Waffle Maker has a cord length of 36 inches with 1000 watts of power which has incredible strength as an electric appliance. Its unique rotatory feature is effortless-to-handle and helps flip waffles at 180 degrees to ensure uniform baking at the top, bottom, and on all sides of the heating battery. It's easy to make your waffles when you don't feel pressured about them becoming too hard because its blue led lights are ready for the batter.
It has 6-settings tailored to cook as a Browning control knob, ensuring the exact browning type you need. It also has a non-stick coating to salvage food quickly and guarantees effortless cleanup.
8. Best Stuffed Waffle Makers – Presto 03512 Stuffler Stuffed Waffle Maker
The Presto 03512 Stuffler Stuffed is a different brand of waffle makers, which makes another type known as the stuffed waffles. You can load the waffles with cheese, fresh fruits, candy chocolate, meats, and lots more. You can evenly spread the batter and fill batter with the 180° rotating design flips. They also have inbuilt waffle tongs for easy removal, lifting, and servings.
You can make low-carb batters and stuff them with veggies, chicken, and lots more. They have a non-stick grid that divides waffles into four sections. Its non-stick grid allows for easy cleaning and ease of use.
9. Best Crispy Waffle toasting shades- All-Clad WD700162 Stainless Steel Classic Round Waffle
The All-Clad Classic Round Waffle Maker has flexible browning specks with 7-features to create a crispy waffle to your desired taste. The 7 Browning levels are of a steam release system. They are PFOA-free coated on all sides to allow waffles to slide off easily. They make round shapes that are thick, massive, and easy to cut into four sections. It has an alert system that informs you when to pour four batters and when your crispy interior waffled is perfectly made. It comes with a non-stick cooking exterior that allows you to clean and remove your made waffles without breaking a sweat.
Top 10 Factors to Consider When Buying a Waffle Maker
There are many criteria to consider according to your needs. Here is our guide on what to consider to choose the right waffle maker!
#1 Different Types of Waffle Maker
Before buying a waffle maker, you should know that there are different types of them. These not only vary in size and shape but also in their operation. Therefore, we introduce to you the three main types of waffle irons that you can find in the market.
The Belgian waffle iron is the traditional machine in which square and even round waffles can be made. The squares are the most classic and are characterized by having a surface with larger grids and variable width. This device prepares more inflated and soft waffles, although crispy on the surface.
There are also rotating waffles, which are plates that are installed on a mobile body. Thus the dough is distributed more evenly, and the waffle is baked on both sides in the same way. With these machines, you get well-cooked waffles. But their use requires the skills of more advanced chefs.
Another type is the 3 in 1 waffle makers, which is the machines that have waffle/sandwiches and plate. It is possible to have all this in the same appliance because there are waffles with interchangeable plates. These are basically a hybrid between a sandwich maker, a toaster, and a waffle maker. Thus these models come with different plates that are mounted and disassembled according to what you want to do.
#2 Opening System
The opening of your waffle can be done in three different ways:
90° Opening
This type of waffle is highly recommended for reheating frozen waffles or pre-cooked waffles. They are very suitable for establishments that sell waffles occasionally or with a low or medium type of work production.
180° Opening
This system allows you to cook the dough evenly on both sides. This is because the rotary movement of the waffle maker makes the waffle dough perfectly distributed in the two baking trays. This kind of machine allows the production of homemade-style waffles, cooked to perfection for the most demanding palate. They are the most recommended for medium to high-performance businesses.
Rotating Waffle Maker
This waffle maker shares characteristics with the previous model. It only differs in that the rotation of the waffle trays makes the operator's job easier. This type of rotating movement is shorter, but also faster. This offers an enormous advantage for the increased level of production of waffles of high quality.
#3 Power
The higher the power, the faster the cooking. However, you should consider that the energy expenditure will also be higher.
The industrial waffle irons can have high powers. But the homemade ones can be found with powers between 700 and 1200 W. The electric waffle makers need a source of heat powerful enough for a good result.
Therefore, the thermostat is your best ally. Thanks to this, you can regulate the cooking temperature to make your waffles in different ways and according to your tastes: roasted, golden, fluffy, crispy or caramelized.
#4 Capacity
How many people are you going to make waffles for? You must have this answer to be able to choose a device with adequate capacity.
Some models allow you to make up to two waffles. But if you want to prepare more, perhaps if there are several people at home, it is better to opt for larger capacity models that allow you to make 4 or 6 units simultaneously.
#5 Shape and Size
When talking about waffles, it is common to think of a rectangular cookie. However, in the market, there are devices of very different forms: round, elongated, and square.
There are also heart waffles and flower-shaped or even those with motifs of animated characters.
You should also pay attention to the size of waffles, especially their thickness. You can get more or less thick waffles, depending on the depth of the waffle rack. If you prefer thin results, you should choose a shallow and upside-down grid. However, don't forget that the thicker the waffles, the longer they will need cooking.
#6 Cooking Zone Materials
You should also pay attention to the material with which the waffle cooking zone has been prepared. This is what will determine whether the heat will be distributed evenly or not.
They can be made of iron or stainless steel. Most have a non-stick material that prevents the mixture from sticking on the surface.
However, some devices have ceramics as a coating material. These allow a little less fat to be used. Keep in mind that, while you should always use little fat, the better the quality of the coating material, the lower the amount you will need.
#7 Waffle Plates
There are lots of plate types available in waffle makers. And the plating is important enough to influence your decision. Prioritize the cast iron plate with a high level of conduction. This helps the waffle maker to produce golden and crispy waffles.
The Barquillo type plate, which some manufacturers simply call "classic", is the most popular on the market. This type gives the waffle its characteristic shape. Most models come with fixed plates. A few brands have interchangeable plates.
In other cases, the manufacturer makes available to the buyer plates with different molds, such as Amore, Bruxelles, Waffelino, Ti Amo, or Gelato. These waffles are equipped with a triple non-stick layer that is very easy to clean. The printing of the baking plate can be of different dimensions and shapes.
Here are the most common forms of waffle plate models:
These models offer 4 × 6 square and 4 × 7 square waffles, respectively. Some waffle makers are committed to originality.
As mentioned earlier, their machines incorporate waffle plates with round, triangular, rectangular, spike, heart, fish, ear, corn cobs and even bubble-shaped shapes instead of squares.
#8 A Multifunctional Device
Waffle makers don't just make waffles. Some offer, for example, Croque monsieur dishes. If you want this type of waffle maker, make sure the model you want comes with this type of plate. Also keep in mind that some high-end waffle makers allow you to cook meat or bake pancakes, for example.
#9 Functionalities
Although the waffle maker is a fairly simple device, not all models have the same functions. The main one that the waffle maker must have is a temperature regulator with varying levels.
The best models offer a temperature range between 50 and 300°C. In this way, you can choose the one you prefer according to the cooking level.
It is also advisable to choose a model that integrates a timer. With this function, you can automatically control the duration of preparation. So when they are ready, the machine will shut down.
Hence, preventing burning and consumption of more energy than necessary. Some waffles also include warning lights to indicate when it is on, running or when it reaches the ideal temperature.
#10 Plate Maintenance
Most waffle warming plates are made of cast iron. Unlike plates made of non-stick material, cast iron plates offer greater resistance to the passage of time. The smelting plates must undergo a process before their first use.
This is done as follows:
Heat the waffle maker for half an hour at a temperature of around 280°C.
Using a cooking brush, apply cooking oil on every corner of the plate.
Do not let the plate be filled with oil. Spread it by creating a thin film.
Let the oil act for at least 10 minutes.
Then apply a second layer of oil in the same way as the first and wait another 10 minutes.
Once this operation is finished, you can now put your waffle maker to work.
Takeaway
We all want our waffles tasty, crispy, delightful, and healthy. You can achieve this with our top 10 selections of waffle makers.
We recommend these 3 waffle makers for your crispy waffles. First, we have the Hamilton Beach 26031 Belgian Waffle Maker. It's PFOA and PTFE free, and you can use it to make a browny waffle within minutes. The next on our list is the BELLA 4 Slice Non-Stick Belgian Waffle Maker. It is also PFOA free but low budget, and it comes with the features needed to make a good waffle. Our final pick is Dash Mini Waffle Maker AQUA, which is effective not just for waffle making but for other cookings.
To choose a waffle iron/maker, the first thing to do is to define your needs. This allows you to reduce the available range of waffle makers to a few. If you only use it a few times a year, a conventional and economical device will be enough for you. If, on the other hand, you use it at least once a week, take a semi-professional device that can make your life easier.
Beyond choosing a round or square waffle maker, you must look at certain key aspects for its functionality. If you consider all the criteria we have listed, all you have to do is prepare the waffle dough and enjoy it!
Therefore, we advise you to pay attention to the suggested features before buying one of these devices.
---
Rate This Article