Century Eggs Taste Reviews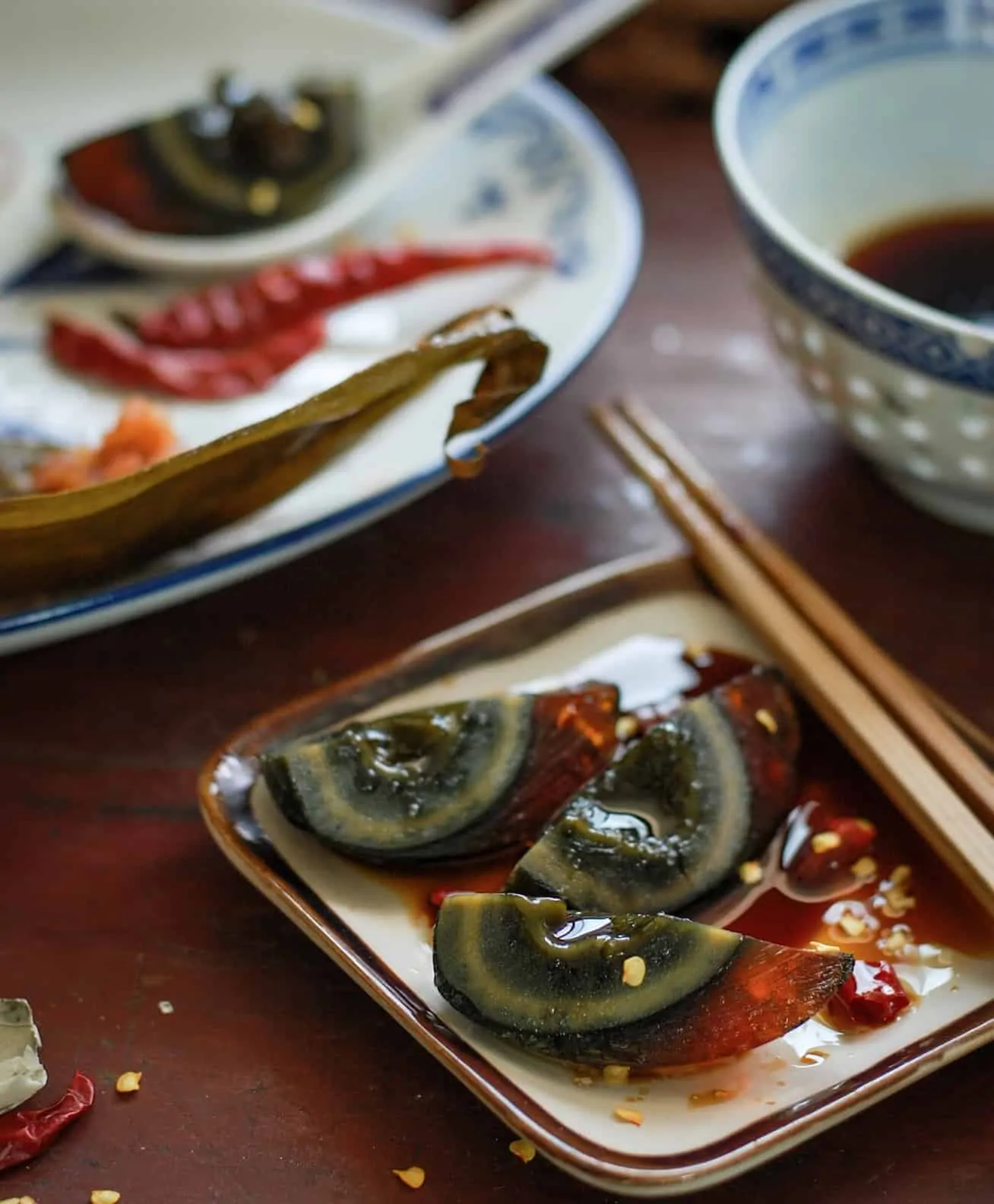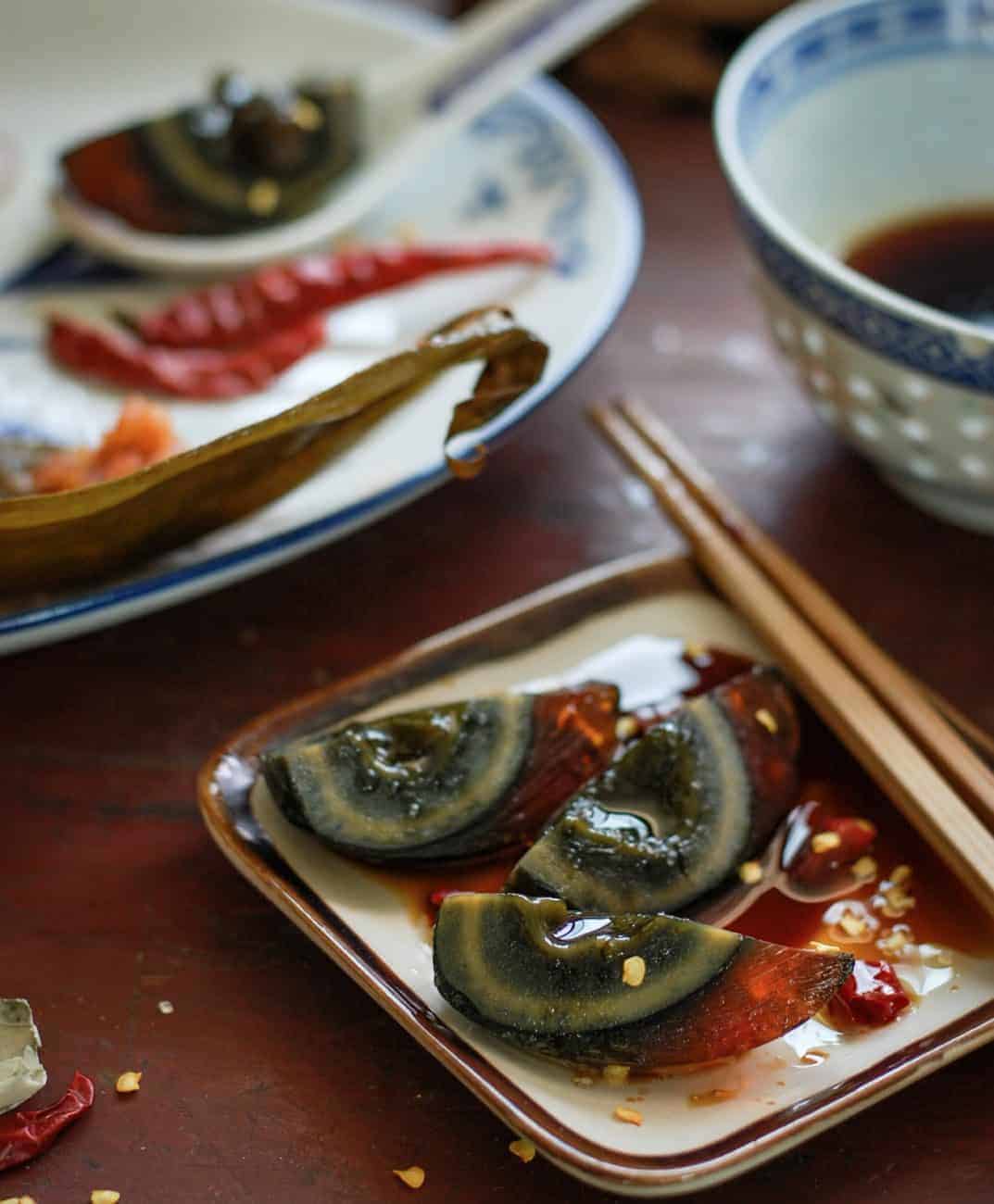 Why Century Eggs is Popular in China?
The reasons why the Chinese love century Eggs are quite numerous. From its savory taste to its texture which is most times elastic. From a distance, you might want to throw up at the sight of someone enjoying this savory dish, and at some point, you might want to ask: why will anyone eat those stinky black eggs? Like the saying goes: "you have no idea what you've been missing."
Like stinky tofu, century eggs leave much to be desired in terms of appearance. Most people believe century eggs are duck eggs soaked in horse urine, but that's completely false. You might not like the smell, but you will undoubtedly fall in love with its luxurious taste. Since black isn't the most attractive color, it's easy to overlook century eggs, but if you're in China, you will know that you can't do without it when you need something to improve the taste of your dish.
What Does Century Eggs Taste Like?
Century Eggs tastes like normal hard-boiled egg except that the yolk is creamy and soft. Most times, it can easily get sticky. When cooked, they easily peel which contradicts most people's believe of the shell being hard.
The taste of century eggs is also influenced by the method of cooking. If cooked, it tastes like a hard-boiled egg except for the slimy yolk. However, the most detestable taste of century eggs comes from when it's deep-fried. If not properly done, it tastes like an oily sponge which is far from spectacular.
Unlike regular boiled eggs that you can eat alone, century eggs have to be eaten with a pepper sauce or combined with a tasty dish. When consumed alone, the taste isn't something to write home about. The taste is a cross between yolk and ammonia. The more you try to get the real taste, the more it gets irritating. At first, it tastes like yolk except that the flavor is stronger. The longer it stays in the mouth, the more you find the yolk-like taste fading away.
Most Chinese have come to love century eggs for its strong flavor, but some people also dislike it for the same reason. The smell is relatively hard to describe, but it's easier to imagine when you say it smells like ammonia or hydrogen sulfide. Most times, you have to endure its smell before having a taste of it. If the stink lures you to like the dish, you have no reason not to like its taste.
How To Use Century Eggs For Chinese Cuisines?
Century egg isn't like a regular egg which you can cook, fry, boil, or even scramble. The preparation of century eggs makes it a bit rigid. You can't actually do a lot with it. Most times it's used as a side dish or as an appetizer.
You can't cook century eggs for long hours. As you already know, most of its part has already been solidified. It's not like you can crack the egg open and whisk all the contents before frying. Hence, you have to be creative when using century eggs in any dish.
Boiled Century Eggs
In China, it's possible to get century eggs from stores. Out of the pack, the eggs are covered with husk. To prepare any dish with century eggs, you have to first remove the husk to reveal the eggs. The century egg still has a shell, only when it's removed will you see the hard-boiled eggs.
Just like normal eggs, century eggs are cooked over low heat and don't take long to prepare. If you want to serve as an appetizer, cut into a wedge-sized length and if you're going to garnish a dish with it, dice into small pieces. Boiled Century Eggs taste like normal boiled eggs. It's mostly served with pickled ginger to reduce the strong flavor that's attributed to its raw form.
Century Eggs with Porridge
You do not need to be the best cook in the world to incorporate century eggs into dishes. The Chinese normally combine century eggs with salad, porridge or spinach dish. All you have to do is slice the egg into wedges and serve with the dish. In the case of porridge rice, you can add slices of century egg at the end of cooking. Here, your aim is to steam the century eggs and absorb as much ingredient as possible.
In porridge, the pungent taste of sulfur and ammonia which has become the trademark of this dish is quite faint.
Century Eggs Congee
When preparing century egg congee, you can add the eggs at the beginning or end of cooking. However, if you add at the end of cooking, the texture of the eggs are preserved, and the yolk doesn't solidify that much. To get the best result, you should add the century eggs 15 minutes to the end of your cooking. This ensures the eggs blends with the dish but don't change the taste of the Congee.
Is Century Eggs Healthy?
Century eggs are very fit for consumption, but given the circumstances surrounding its preparation, most people have come to believe that century eggs are unhealthy. This is one primary reason why they're confiscated from most Chinese restaurants. In China, century eggs are originally made by marinating duck eggs with salt, lime, and ash in rice ducks for about 100 days. This explains why it has a pungent smell like that of ammonia.
This method poses little risk to the health of individuals since the ingredients preserve the eggs. Unfortunately, the process of making century eggs have been altered as several measures were taken to speed up the process. If properly cooked, century eggs are even more nutritious than normal eggs.
You'll be awestruck to know that century eggs have a higher protein content than regular eggs. This protein serves as fuel for the body. Just like normal eggs, century eggs are low in carbs but high in selenium. It's also a rich source of iron, thereby facilitating the distribution of oxygen around the body.
Final Thoughts
Century Eggs aren't the most versatile ingredients for cooking. Whether you decide to prepare with soup, salad or spinach, the pungent taste of ammonia and sulfur doesn't completely fade away. You can try to minimize it by adding more spice, especially in the case of pickled ginger.
Rate This Article