Best 5 Asian Plum Sauces Taste Reviews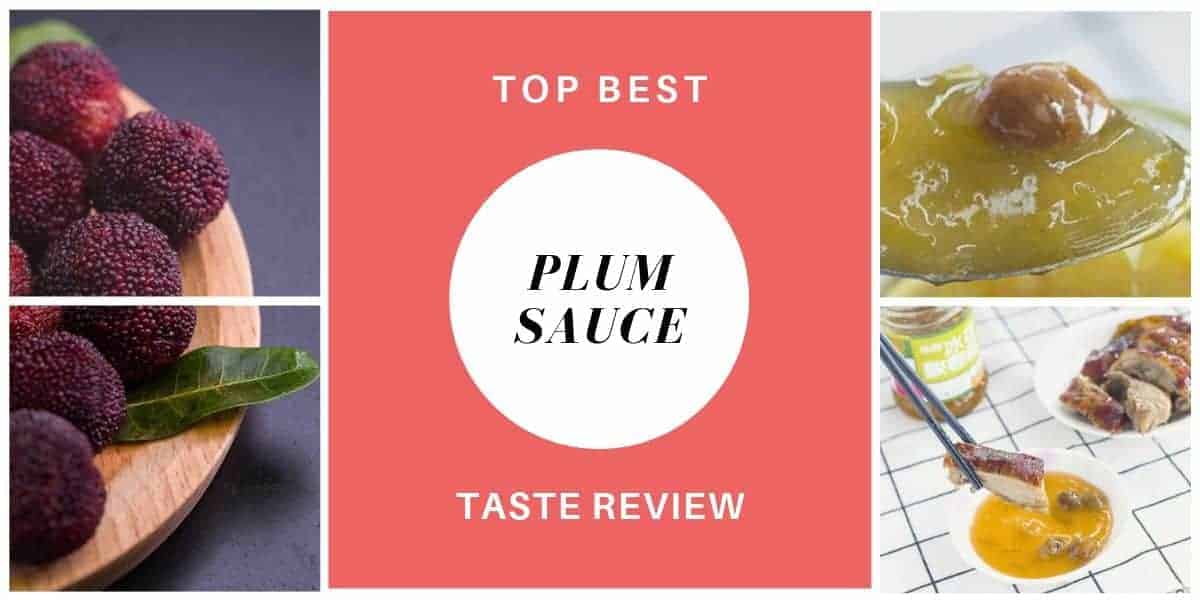 Introduction
If you've ever ordered Peking duck (a Chinese dish of a skinned duck flavored with herbs), at any Chinese restaurant, you're probably familiar with the sweet, tasty sauce that is provided for dipping. It can be hard finding a suitable substitution for when you want it at home. That is why we are here to help you find the best plum sauce for you.
We rank these sauces from the best downwards. There is also a buying guide that is there to help you determine the best choice that fits your individual preferences. This can help you find the sauce that is used in restaurants; you might even end up finding a better choice.
Why do you need plum sauces?
Plum sauce is a light sauce that has a sweet and sour flavor. People sometimes call it "duck sauce", probably since it is served with a duck dish. It is primarily made from sweet plums, but occasionally, other fruits like apricots or peaches can be incorporated.
It usually contains sugar, salt, vinegar, ginger, chili pepper and sometimes garlic. It is used in many traditional Chinese dishes, but it is popularly served with Peking duck. We can use this plum sauce in a variety of meals as a condiment, dipping sauce and even as a basting liquid. Plum sauce can be made at home, but buying it can prove to be less stressful and cheaper than attempting to make it yourself.
Buying guide
You can enjoy plum sauce in a variety of Chinese and non-Chinese meals, but the first step is buying that sauce for yourself. Some plum sauces don't contain just plums; they also include other fruits like peaches, and sometimes pineapple. They also have different levels of spice and flavor. This buying guide will help you choose the best plum sauce for you.
As always, there are various questions that you have to ask yourself before buying a product. What kind of meals do you want to prepare? Do you have any health issues or food preferences? What is your budget?
These questions will guide you to pick the best plum sauce for you. Some sauces are wholly organic, while others contain some artificial preservatives. Just because a sauce is ranked last in a list, doesn't mean it is terrible. It could only mean that the ones ahead had a better price, or are preferred by more people.
1. What plum sauce you want?
Plum sauces usually have a dominantly sweet taste. However, some aren't as sweet as the others, or they have other dominant flavors that balance up the sweetness. If you prefer a more exciting flavor profile, go for the ones that have a bit more vinegar, salt, and ginger. They have a tangy, sour taste that contrasts with the sweetness from the plums and sugar.
2. Artificial ingredients
While some people don't mind the addition of artificial preservatives and colors to their food, many people notice it. Artificial preservatives are not deadly or poisonous immediately, but they can lead to health issues after excessive and prolonged use. Because of this, some manufacturers are branching into producing sauces from entirely organic components. Some others provide an organic version of their already existing sauces.
Other examples of artificial ingredients are GMOs and MSG. GMOs stand for genetically modified organisms. Manufacturers usually state that their product is GMO-free, so make sure to look out for that tag. MSG stands for monosodium glutamate. It is a compound that is used to trigger your umami taste receptors. Many people react to MSG, and manufacturers are expected to state that their product contains MSG.
3. Health preferences
In this age of health-consciousness, many are now looking for healthier substitutes for their favorite products. Many manufacturers now produce sauces with lower cholesterol, fat, and sodium. The amount of sodium considered low is at most 140g per serving, and the product should not contain sodium chloride.
Before buying a sauce, always go through the list of ingredients and nutritional information provided on the label of the bottle/jar. People that react to gluten should go for gluten-free options and ensure they don't contain any form of wheat.
4. Price
The price of the product has to match your budget. Having a budget beforehand will help you narrow out your options. It will also keep you from spending more than you should on the product. Different things can affect the price of plum sauces. Organic products are usually a bit more expensive than others, and plum sauces that make special provisions for health and lifestyle might cost more. Just keep in mind that the most expensive plum sauce is not necessarily the best plum sauce.
5. Expiry date
This is a step many people overlook. Always check the expiry date of the plum sauce you're about to purchase. Make sure it is safe for at least three more months, to give you ample time to use it up.
Our Top 5 Plum Sauce Reviews
The Kikkoman plum sauce is not like the average plum sauce that is just sweet with no complexity in flavor. This sauce packs a mix of intense flavors that provide a perfect balance of sweet and tangy. It complements savory dishes perfectly. It contains sugar, vinegar, plum puree, ginger, modified corn starch, and fermented wheat protein.
The meal plum sauce is mainly used for Peking duck. It also works well with fish, beef, and chicken. You can use it in a variety of dishes like plum-ginger chicken, cashew chicken, coconut shrimp, and pulled pork.
It works as a marinade and a basting liquid. It gives your meats an inviting glaze and a sticky look. It is a good dipping sauce, on its own or mixed with a little bit of another sauce of your choice. It also goes great in stir-fries.
Taste test
It has a mostly sweet taste with a tangy aftertaste. It also has some strong notes of heat from the ginger that works well with savory dishes.
Pros:
It is cholesterol-free.
It is budget-friendly.
Cons:
The ginger flavor can be a bit overwhelming.
This plum sauce is inarguably one of the best plum sauces available. It has strong flavors that are bound to excite your taste buds. It contains plum pulp, vinegar, salt, ginger, chili, and garlic. This combination of ingredients gives it an unusual and sophisticated flavor. It contrasts beautifully with both savory and spicy meals, rather than just tasting like a sweet, syrupy sauce.
It can be used as either a dipping sauce or a marinade for the duck dish for which it is popular. It is also a good option for other savory and spicy meals like boiled pork in plum sauce, mandarin chicken, roast lamb and veggies and roast pork. It works well with non-Asian foods like grilled steak and vegetables and pulled pork sandwiches. It gives your grilled foods a beautiful, caramelized look and unique taste.
Taste test
It is sweet and sour, with a little bit of spiciness. You start with some robust flavors from the plums and ginger, and it leaves a slightly bitter aftertaste. It is not too sweet or too sour; very balanced.
Pros:
It is made from organic products.
It isn't too sweet.
Cons:
It has a slightly bitter aftertaste.

This plum sauce is the best choice for those of us that prefer natural ingredients. Wok Mei plum sauce is made from natural and organic ingredients. It got sweetness from cane syrup and brown sugar rather than refined sugars. It doesn't contain any MSG, modified corn starch, GMO or sodium benzoate. It is completely gluten-free.
Despite all this, it still retains an authentic and original Chinese plum sauce flavor. It makes a great addition to your Peking duck and sweet and sour chicken. It is also suitable for Chinese staples like Moo Shu Pork, and it works well as a glaze for all your other pork-based meals. It makes a good dipping sauce for egg rolls, spring rolls, and even your chicken nuggets. It works with everything.
Taste test
It is a mix of sweet and sour. You get the sweetness from the cane syrup and also from the plum concentrate, and then you get a tangy bite from the vinegar and salt at the end.
Pros:
It is gluten-free.
It is completely organic.
Cons:
It is a bit too sour. It isn't as sweet as other plum sauces.
This plum sauce from Lee Kum Kee follows in the steps of other products from these producers of Asian condiments. It is thick and creamy, perfect to use as a dipping sauce or in a cooking recipe. This sauce is made with salted Chinese plums and sugar as its main ingredients. This sweet mixture is then toned down with ginger, chilies, and rice vinegar.
It is light brown and is a bit lighter in consistency than a jam. This sauce is tasty on its own, but it also compliments some other sauces and seasonings well, when used together. You can make a sweet chicken in plum sauce, served on a bed of rice.
Also try it with roast duck, beef, and other meats and stir-fries. It is a great dipping sauce for spring rolls. It is good with Chinese food mostly, although it goes well with Malaysian, Thai and even Singaporean cuisine.
Taste test
It is very sweet and tangy and with a little hint of spiciness. The almost overwhelming sweetness is cut down with the tang from the rice vinegar.
Pros:
It is versatile.
It has a balanced trio of flavors.
Cons:
It is too sweet.
Not gluten-free.
Few sauces have the ability as this sauce to be versatile enough to be used as a condiment and as a dipping sauce. It works great mainly with Chinese recipes, but it has been used in other food with quite a lot of success. It contains sugar, plum juice, tomatoes, Hoisin sauce, garlic, and ginger.
The addition of tomatoes to the sauce gives it a unique flavor, different from your regular plum sauce. It has a thicker consistency, and it isn't as sugary sweet as most other plum sauces. This flavor makes it suitable for cooking meat, especially barbeques.
We can use it in preparing Moo Shu pork, beef and rice, and plum and ginger chicken. It makes a fantastic dipping sauce for spring rolls and egg rolls. You can add a dash of this to your stir-fries to give them an authentic Chinese flavor.
Taste test
This sauce has the typical sweetness of a plum sauce, but it also has an underlying sourness from the tomatoes ingredient in it. It has a complex mix of sweetness, sourness, and a slight spiciness from the ginger.
Pros:
It is budget-friendly.
It has a unique flavor.
Cons:
It has a slightly bitter and sour taste.
Conclusion
The sauces reviewed in this article are some of the best plum sauces available. We thoroughly reviewed them and carried out taste tests to conclude which ones have the best taste, prices, and general features. The Kikkoman plum sauce came out on top with rave reviews. It was described as "very tasty indeed" and "yummy stuff". It goes with everything, especially the Peking duck for which it is famous. It also shines in chicken, beef and fish dishes.
The Koon Chun plum sauce, at a close second, is also a strong contender. This plum sauce goes against the grain and gives you flavors different from those with which traditional plum sauce is known, and it works! Try using it as a glaze or marinade for your barbeque.
The plum sauces from Lee Kum Kee were close, but the Wok Mei sauce came out on top because of its gluten-free ingredients. They both taste good, although the plum sauce from Lee Kum Kee might be considered too sweet by some people. The last on the list, Dynasty plum sauce is a versatile and tasty sauce. However, the other sauces did better. It is still a good choice, especially for those that don't want a very sweet sauce.
Disclosure: We may get an affiliate commission when you purchase products via links on our site. Although we may receive compensation, we only offer our 100% honest reviews, experience, and comments. Learn more.
---
Rate This Article