Chicken Gristle Taste Review and Cooking Tips
Why We Love Chicken Gristle?
Have you ever wondered why most people eat their chicken to the bones? Chewing the bones like their life depends on it. While we're fond of reacting negatively to this act, it should be known that every part of the chicken comes with its own nutritional benefits, including the skin, bones, and even the gristle.
Most people enjoy the taste of chicken. It is evident in the number of dishes they're incorporated in. While we regularly see people eating only the flesh of the chicken, leaving the gristle and bones out, the craziest aspect is that chicken gristle is the best part. Even though this is presumed as an Asian thing, chicken gristle is utilized in a lot of dishes for their texture as well as taste.
What Does Chicken Gristle Taste Like?
To most people, chicken gristle is tough, flavorless, and less appealing compared to other parts. Since gristle is a kind of connective tissue that holds the muscle to the bone, it's expected for it to have a tough texture. It tends to soften and become tender when cooked.
Basically, gristles are cut from the legs and other body parts where bones are connected to a muscle. Gristles tend to taste better when cut after cooking rather than before. Not only will you get a clean cut, but the knife easily slides over making the whole process faster. Gristle tends to come with fat which melts when they're cooked. It tends to have this greasy taste when cooked.
Generally, gristle adds no additional taste to your dish. It comes handy if you want to have your mouthful by chewing for long hours. Since gristle adds a little flavor to your dish, ensure you're eating locally raised chicken. Avoid the industrially raised chicken as much as possible.
It's not the healthiest way to rear animals and what they're fed with is what we end up eating. Secondly, locally-reared chicken tends to have tougher gristle which is ideal for someone who would like to get their mouth chewy for long hours.
How to Use Chicken Gristle in Asian Cuisines?
Considering the fact that most of these Cuisines use gristle, I recommend getting a whole nee chicken and learning how to dress them. The dressed chicken will still contain skin, muscle, and ligaments. Even though all of these parts are tasty and edible, each requires a specific cooking method to bring out it's the best taste.
Gristle has a different taste to all other connective tissue and tends to stick to the bones, which makes it quite hard to separate.
Spicy Chicken Gristle
Although most Chinese foods are short of ingredients, the texture of gristle makes it necessary for it to be heavily spiced. It basically adds nothing to a dish which means either you spice it up or end up with an utterly tasteless dish.
When making this dish, you can add as much spice as you want. As you might have predicted, spices like garlic and chili pepper are an ever-present figure in this dish. The only difference is that you will be using dry chili pepper rather than powdered one. The dry chili pepper adds more taste and garnishes the dish at the same time.
Due to the greasy nature of chicken gristles, it's important to stir fry for a very long time and ensure it turns golden brown before serving.
Kung Pao Stir-frying Chicken Gristle
Kung Pao chicken recipe uses a lot of chicken parts including the tendons and in some cases, the gristle. Generally, this dish works with boneless parts of the chicken. Hence, you need to be good at deboning chicken to prepare this dish.
When using chicken gristle for Kung Pao, they're bound to be greasier and less tasty at the same time. Fortunately, the addition of the Asian chili paste gives it more taste. Using regular chicken, the texture of this is a bit tender, but with gristles, it's tough and chewy at the same time. This simply means you will spend more time frying.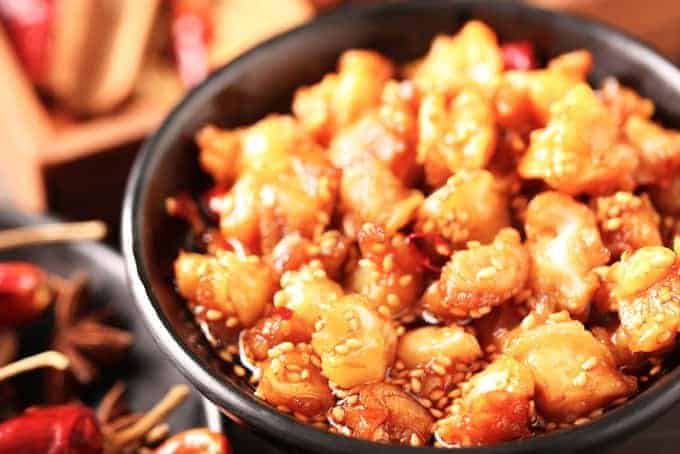 Deep-Fried Chicken Gristle
Most people actually hate the chewy texture of gristles which is one reason why they're rarely used. On the contrary, deep-fried chicken gristle tends to be actually tender and crispy, but it takes a whole lot of effort to arrive at that.
If you want crispy gristle, you must first get rid of the fat portion before cooking. With the fat portion, it tends to get a bit greasy, which isn't quite edible. Before frying, ensure you cook over low heat for a very long time. No matter how long you cook, don't expect it to get tender like the real flesh.
Is Chicken Gristle Healthy?
Chicken gristle is not the tastiest ingredient used in preparing Asian Cuisines, but it sure comes with a lot of health benefits. For years, most people have frowned at the idea of consuming chicken with its gristle and feels irritated at the sight of someone else doing so. In the western world, you will hardly find people preparing a meal with just gristle when they have access to the real flesh.
If you're fond of leaving the gristle behind when consuming chicken, you will be surprised at the numbers of nutrients you've been leaving behind. According to studies, chicken gristle along with other tissues like cartilage and tendons contain collagen, a substance which reduces joint pain.
Gristle also contains glucosamine and chondroitin, both of which stimulates the production of cartilage in the body.
If you're going to be cooking with chicken gristle, avoid those fed with processed farm products. It's important to be aware of what the animals are fed with and how they can affect your health.
Conclusion
Cooking with gristles is seen as an Asian thing. Due to its texture, its often overlooked and in most cases never utilized. While it takes a whole of tricks to get the most of gristle, its addition brings a whole lot of nutrient into any side dish.
---
Rate This Article