Lunch Meat Taste Review and Uses in Chinese Cooking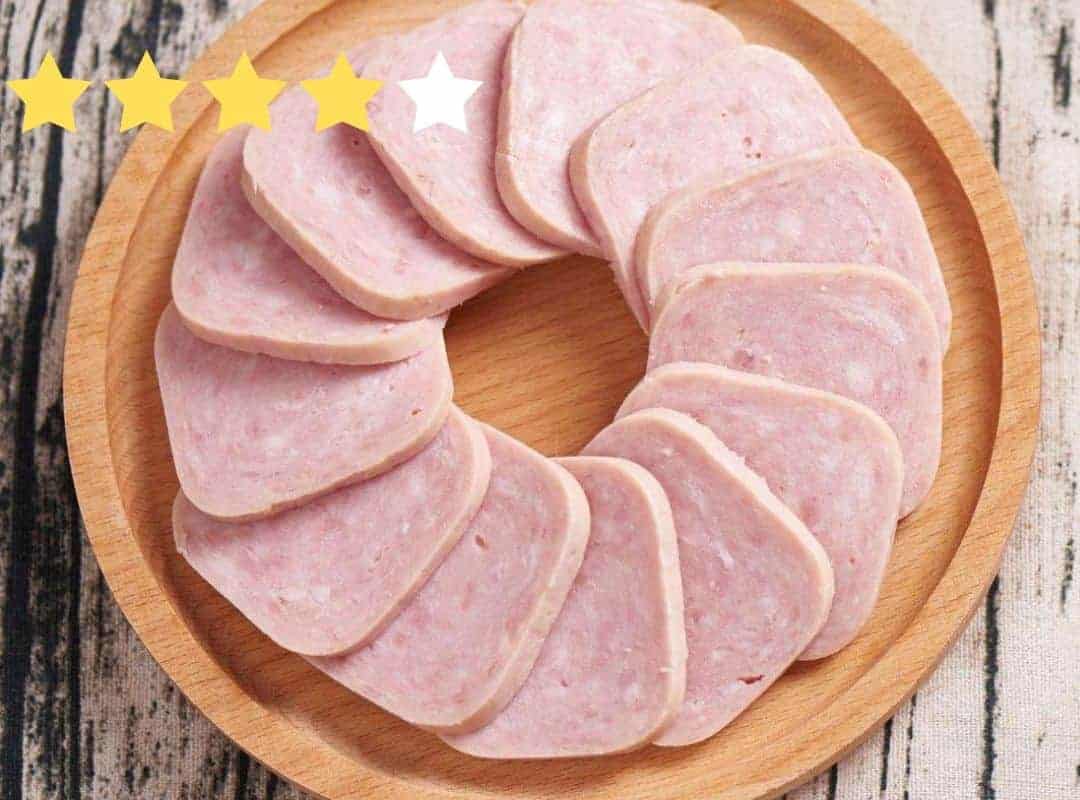 Top Best Lunch Meat Products Based on Reviews and Price
Last updated on May 3, 2023 8:45 pm
Why do we love it?
Lunch meat is meat packaged in a can. The name lunch meat translates into lunch meat although it is also prepared for breakfast, dinner or basically at any time of the day. Lunch meat is a food staple in Asia which can be found in most households as it is cheap and quick to prepare. You have got to wonder why people living in bustling Chinese territory are crazy about lunch meat. If you have not tried lunch meat, you must be wondering how meat in a can is able to attract so much attention in the Asian market. With its convenience and delicious taste, it is well preferred by many.
What does lunch meat taste like?
Lunch meat is greasy with a slight salty taste which makes it an ideal combination with spices. It is made up of a combination of pork, water, starch, salt, spices, and sodium nitrate. It is a meal which can be enjoyed with simplicity. Lunch meat can be prepared with different cooking methods which can produce different texture and taste depending on how you would prefer it. Lunch meat can also be eaten cold cut as it is because it has been pre-cooked.
Fried Lunch Meat
This is the most common method of cooking lunch meat in Asian cuisines. I personally love frying the sliced lunch meat to crisp on the sides with brown bits. It goes perfectly in a bowl of soup or instant noodles. Fried lunch meat boosts its slight salty taste and a texture that is delicious to chew on.
Steamed Lunch Meat
Yes, steaming lunch meat is definitely possible and is safe to eat. A simple and delicious way to prepare steamed lunch meat is steamed lunch meat buns. The texture will be softer than its original state, and the moisture in the meat is retained. The salty taste will still be present but not as salty as fried lunch meat.
How to use lunch meat for Chinese cooking?
Chinese Fried Rice
Lunch meat is such a versatile ingredient in the kitchen which can be used at any time of the day. One of the most popular dishes which uses lunch meat is fried rice. For best results, it is recommended to use cooked rice which has been refrigerated or cooled overnight. If you choose to use freshly cooked rice, it is recommended to cool the rice in the fridge two hours before using it. This will help to prevent the rice from sticking during stir-frying. Simply diced or sliced the lunch meat and fry it before combining it with the other ingredients in the fried rice.
The common hotpot preparations: raw foods that are ready to be cooked in hot broth at the center of the table. Hotpot is also known as the steamboat, which is a Chinese cooking method, prepared with simmering or boiling pot of soup, containing a variety of meat, vegetables, and other ingredients. Lunch meat is usually sliced into thin slices to be cooked in the hot broth for a few minutes and served with sauces on the sides.
Instant Noodles
Another popular dish which uses lunch meat is the Cantonese instant noodles. The instant noodles are cooked as per instructions on the packaging. You can choose to either have it with broth or dry. Fried lunch meat is usually placed on top of the noodles accompanied by sunny side up egg and a small bunch of bok choy. This simple preparation is quick to prepare when you are in a rush at any time of the day.
Stir Fry Lunch Meat and Eggs
The simplest and delicious way to use lunch meat is frying diced or sliced lunch meat accompanied by sunny side up or scrambled eggs. It is the perfect dish for breakfast which is quick and convenient to prepare. It can also be placed in between two breads to make a sandwich. Lunch meat taste best when it is lightly fried as it boosts the saltiness of the meat compared to eating it cold cut.
Is lunch meat healthy?
Although lunch meat is known for its long shelf-life, it is very high in fat, sodium and calories and low in important nutrients, such as vitamins, minerals and protein. There are different ways lunch meat can be paired with healthier options to make a well-balanced meal.
Generally, in Asian cooking, it involves a lot of usage of garlic, ginger, and chili. These ingredients could be a perfect match with lunch meat. There are massive health benefits of using these tasty trios. Garlic is good for the heart and it boosts your immune system, ginger aids in digestion and chili are packed with vitamins. Stir fry these tasty trios with lunch meat to produce a well-balanced meal.
Lunch meat can also be paired with healthy broths which are easy to make and are delicious. All you need is some ingredients to make a filling and tasty broth. The recommended ingredients are organic vegetable bouillon, dried Chinese mushrooms, spring onions and sliced lunch meat to top with. Usage of the bouillon is optional as lunch meat can provide some saltiness to the broth. It will help to balance out the flavor of the broth. Season with some white pepper to taste.
Other than that, Chinese cuisines use a lot of rice and noodles which would be ideal with lunch meat. If you are watching the amount of carbohydrate you consume, choose to use rice noodles or mung bean noodles instead and opt for fiber-rich brown rice.
Where to buy lunch meat?
Lunchmeat is widely used in worldwide cuisine. It is convenient to purchase in retail stores or online markets. And some of them have a different flavor, such as smoked flavor and chili flavor.
Conclusion
Last but not least, lunch meat is still a popular option and widely used in Chinese cuisines today. It gains its popularity because it is convenient, cheap, and simple to prepare within minutes. The slight salty taste from the lunch meat pairs well with most of the Chinese cuisines. It is a match made in heaven with vegetables, rice, noodles, eggs, hotpot, you name it. Pairing lunch meat with healthier options can produce a well-balanced and filling meal.
---
Disclosure: We may get an affiliate commission when you purchase products via links on our site. Although we may receive compensation, we only offer our 100% honest reviews, experience, and comments. Learn more.
---
Rate This Article