10 Best Food Graters Reviews and Buying Guide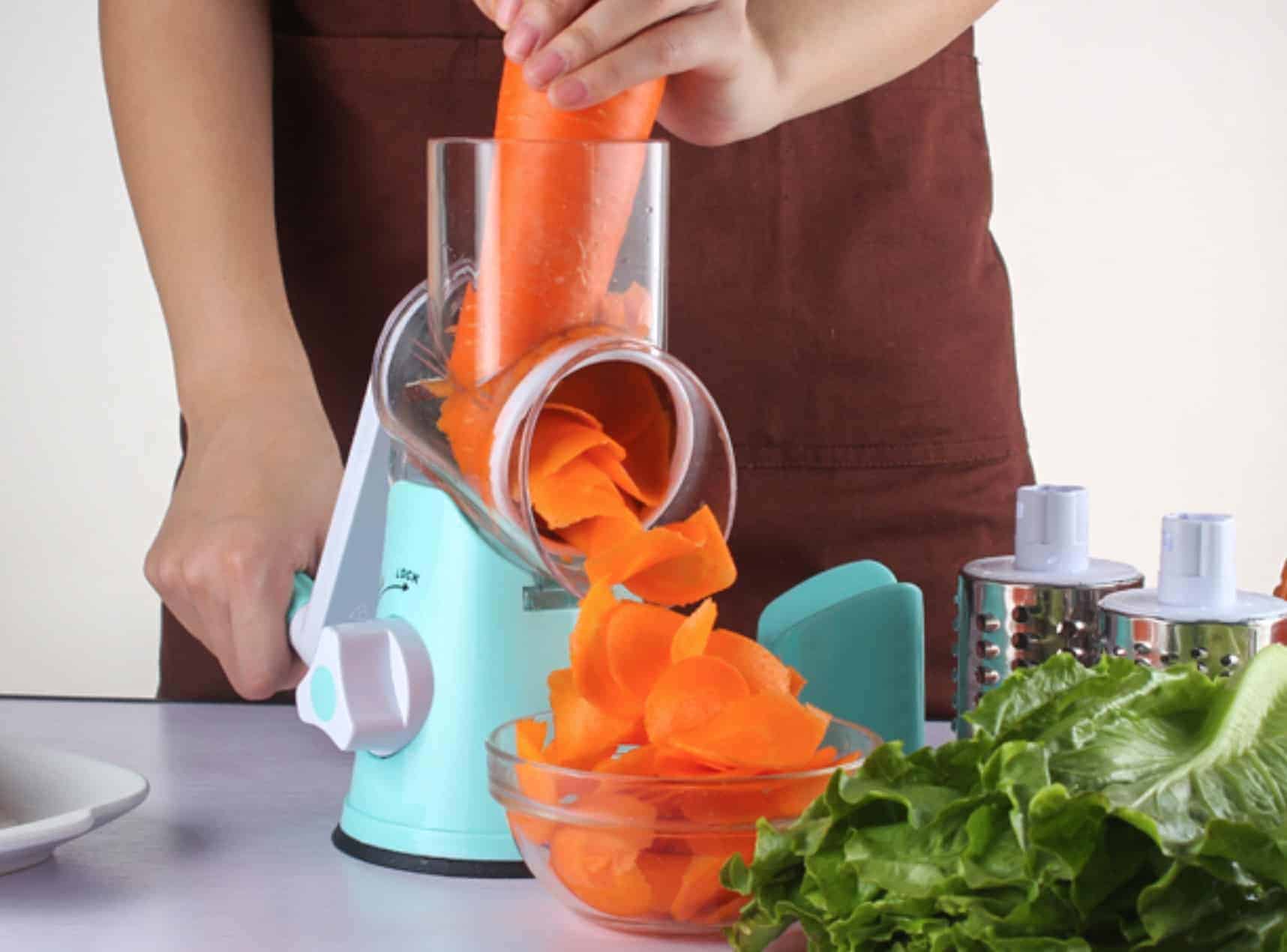 What is Food Grater?
Food Grater, an essential gadget for every kitchen, everyone deserves to own it. A food grater is a utensil or kitchen device used to grate down the ingredients. It was invented in the 1540s by Francois Boullier. Definitely a thing with sharp edges used to crush any of the food items into several small pieces; it can be a carrot, radish, or cheese, even nutmeg to grind it into a fine powder. Essential for creating different cuisine, or giving a nice touch to food by adding finely grated cheese or to make zest, out of orange and lemon peel.
Quick Summary
1. Best of All – Spring Chef Professional Box Grater
2. Best Electric Grater – Moulinex DJ755G 150 W Grater
3. Best Cuisinart Grater – Cuisinart CTG00BG Box Grater
4. Best for Grating Cheese  – K Basix Professional Cheese Shredder
5. Best Grater With Four Sides – Cuisipro Surface Glide Technology Grater
6. Best with Integrated Food Container – OXO Good Grips Box Grater  
7. Our Budget Pick – Norpro 339 Stainless Steel Grater 
8. Best Durable Grater – Prepsolutions By Progressive 2-Way Grate & Measure 
9. Best Set – OXO Good Grips Complete Grater and Slicer Set
10. Best 6-Sided Grater – AmazonCommercial Heavy-Duty Stainless Steel Cheese Grater
Top Rated Food Graters Reviews
1. Best of All – Spring Chef Professional Box Grater
Tailored to your needs, the Spring Chef Professional Grater is a big 10″ four-sided stainless steel grater for grating your parmesan cheese, vegetables, and ginger. The grater has a spacious, curved handle and plenty of space to keep you hand gripped when grating.
Its sleek design allows you to hold it securely and grate foods with just one turn. It is designed with different grating levels – course shredding (for different cheeses and vegetables), medium grated (for vegetables such as zucchini or carrots), sliced ​​(for grating potatoes or cucumbers.), and fine grated (for making food into pulp or adding citrus and other intense taste to the food).
What is surprising most for this type of product with under $20 is the lifetime warranty. However, the truth is, with the stainless steel material and construction, you won't need the warranty.  
2. Best Electric Grater – Moulinex DJ755G 150 W Grater
You'll discover the ease of grating and slicing all kinds of vegetables, fruits, and cheeses with this multifunctional chopper from the Moulinex brand.
You can cut a large number of vegetables quickly with the 5 large reinforced metal cones of the grater which guarantee optimal results. The grater gets you grated food of fine, extra-fine, or thick size and a thin slice too. It also has a special carrot cone and another for easily crushing ice cream.
In addition to that, this electric grater works at high power (150W) to generate better efficiency. With the help of a simple, practical button, you can choose the operating mode that suits you between the turbo and normal. Note that the grater also has an ergonomic round shape that lets you work in complete comfort.
3. Best Cuisinart Grater – Cuisinart CTG00BG Box Grater
Crafted from quality stainless steel, this Cuisinart Grater is one of the best gifts for a chef or housewife as it is ideal for coarse grating, finely grating, blade slicing, and finely grating food.
The grater has a non-slip base and a non-slip handle to easily grate cheese. This stainless steel grater is safe for the dishwasher and is ideal for grating, slicing, or shredding food. It's made of stainless steel with a base of rubber and a comfortable grip that doesn't slip.
It is more like traditional boxed graters used for cheese. However, it can be used to grate different vegetables and cheeses in different slit patterns. It works as advertised and has four sharp sides. The stainless steel is non-slip and rustproof.
4. Best for Grating Cheese – K Basix Professional Cheese Shredder
K Basix Grater is one of ​​the best, quick, and easy grating solutions for quickly and easily grating hard cheeses, zucchini, carrots, vegetables, chocolate, and other food products. This is constructed of sturdy stainless steel with sharp and sturdy blades. The tool features a reinforced frame that makes it durable and it will not bend while in use.
This is a tool designed with an ergonomic grip to be easy to hold and use. It has a thick, soft rubber handle and fits well when held in the hand. The superior grip means that you can grate various amounts of food easily. The grater is also made of commercial-grade stainless steel and can be washed in the dishwasher.
5. Best Grater With Four Sides – Cuisipro Surface Glide Technology Grater 
The Cuisipro Grater is a cut above the rest. The blades are razor-sharp and the innovative Surface Glide Technology also ensures effortless use. It has a larger cutting surface that comes in contact with the food, resulting in more grids per stroke.
It works (no one questions it) and it's simple to use. It has a rating of 4.8/5 online. It includes a few extra features, like a ginger grater base that shreds the ginger root.
It includes a 25-year warranty, which tells you they are pretty confident it will last at least 25 decades. The Cuisipro is praised for its sharpness and durability.
6. Best with Integrated Food Container – OXO Good Grips Box Grater
This OXO grater is made of stainless steel and has 4 sides. It has a few features that set it apart. From the sides of the item, you can slice and grate cheese.
It has a background which means you don't have to think about it while you are using it. And, this item has a container that fits over the base of the grater to catch your cheese. In addition, it has a removable zester by the side.
Asides from the zester side, you have the medium grater, the coarse grater, and the slicer. Dishwasher safe, it's great for professional use. However, if you have a family, it's also ideal.
7. Our Budget Pick – Norpro 339 Stainless Steel Grater
When looking at this grater, the words "classic" and "minimalist" come to mind. It's very simple: a 4-sided grater with holes of different dimensions. It's stainless steel, but a few users have complained of the grater rusting over time.
This is why users are advised to dry and wash it to prevent rusting. This kitchen tool is ideal for those who don't cook too often, need something that could grate cheese and don't want to spend a lot of money either.
Users claim that this instrument does its job and can turn a block of cheese into fine strips.
8. Best Durable Grater – Prepsolutions By Progressive 2-Way Grate & Measure 
This item includes 4 sides and a box to catch/store anything you grate. It is easy to store and is dishwasher safe. This may be the product for you… if it is just for you or if you just want to grater your food, and probably keep it in the refrigerator.
You can put it in a drawer instead of making it take up cupboard space, but it depends on where you have space in your kitchen. Made of stainless steel, it's designed to last and be easy to clean.
Users have said over and over again that this is a product that works. It works best on cheese but can be used for vegetables. While it is not the Cadillac of all graters, it has a good design and is competitively priced.
9. Best Set – OXO Good Grips Complete Grater and Slicer Set
This is truly the "jack of all trades", and it is brightly colored! This collection will split and grate, cut and julienne. If you don't have a mandolin, a very thin slicer and you need to grate, this is a great product for all requirements.
It includes a container for catching the food. This also functions as a storage device for the toolset. Plus, it includes a food holder, to protect your hands and keep your hands safe.
This will be ideal for you if you don't own a mandolin and want to do more than just grate veggies and cheese.
10. Best Grater With Four Sides – AmazonCommercial Heav-Duty Stainless Steel Cheese Grater
If you ever used and enjoyed the 4-sided grater before, wait till you get a 6-sided grater. This version from AmazonCommercial includes a cheese, vegetable, and chocolate side, which means you can create dessert recipes.
It is as powerful as the 4-sided models but this has a good design and superior durability. It's constructed from 95 percent stainless steel for a long period of use.
This model has enough capacity to take loads of vegetables, that it could replace a mandolin and a zester.
How to Choose a Good Food Grater?
They come in different shapes and sizes, which makes it even more attractive and a requirement, indeed. One cannot accurately grate the cheese or shred the potatoes in equal size and shape; you will always need a food grater to acquire a perfect way which will make it look beautiful while the decoration of the food at the end.
Want to make pizza at home? It would help if you had cheese, and therefore, definitely a food grater with a perfect blade, oh yes, blades are such an essential factor when you think of buying a grater.
10 Factors to Consider Before Buying a Food Grater
Now let's consider the crucial factors that need to be in your mind before you choose the perfect grater for your kitchen. Given below are certain factors, we urge you to go through them to get a perfect piece.
1. Safety Measures
One of the crucial factors that should always be given a thought while you look for anything be it grater or any other stuff. The blades or even the entire food grater are often made up of stainless steel, which is undoubtedly the best metal to be used in the kitchen since it doesn't have any side effects when they come in contact with food.
But, on the other hand, you should always think of your hands. A box-shaped grater is already, but it's just a plain, tower grater then one should be careful because at last the fingers, most probably one's knuckles can be grated with the food items, hence, be on alert mood while grating.
2. The Critical Purpose of a Food Grater
Initially, to preserve your time and yes, your effort also. Even chopping with a knife isn't preferred these days, people buy chopper and slicer to chop onions, potatoes, garlic, meat or anything, the grating is something on other levels, it requires much more effort and time than chopping. Time is an essential factor; therefore, choose the right tools that are handy, easily usable, and cleaned.
Food grater is one such thing which is perfect for doing all the previously mentioned work, just the difference of blade, add and replace as per requirement, be it of larger holes or smaller, the slicing or grating, everything.
3. The Material of a Food Grater
Often the food grater is made up of metals, stainless steel. Also, there are some Ceramic or even wood food graters. The ones made up of steel are frequently used since the blades are effective as compared to the other ones.
Stainless steel food graters have sharp edges and are pointed enough to make it easy to grate and shred food items, at the same time it should be kept in mind that you're careful enough not to grate your fingers.
Recently, ceramic food grater is high on demand, as they are easily accessible and safe, also they look good and are clean without constant effort of cleaning.
4. Different Types of Food Graters
Mostly, these are for different sides in the food grater, obviously of different sizes and shapes to make sure you get the best out of it. Also, there is a single sider like zester, for grating peels of lemon and orange.
We suggest you go for a Microplane type grater if you want to grate parmesan, garlic or ginger, they give a finely chopped grating.
A hand grater is something that is one-sided and can be kept over a plate to get small grating; they are flat ones.
Then comes the rotary grater, which is suitable for grating chocolates and cheese for decoration purposes.
5. Cleanliness
The hectic work after cooking is of cleaning, maybe something which requires more time than cooking. You can cook something that is your favorite and eat it.
Further, when you visit the kitchen, you feel a sense of regret while looking at so much to clean. Hence, cleaning is one hell of a factor in deciding if you should buy it or not, everyone wants those stuff which is easily cleaned, same goes for a food grater.
Not just the blade or holes of the more significant but the container as well, the grater used for powdery substances like spices are easily cleaned, on the other hand, the one used for shredding cheese requires a lot of effort.
6. Is Electric Graters Worth It?
The grater is not just restricted to using them by constantly grating with your hands; there are several gadgets which are electronics lately, and so is the food grater.
You can go for an electric grater if you need so they are easily usable as they do not require a constant effort of moving your hands, but things always come with at least a bit of demerit, since nothing is perfect.
When the electricity isn't available and you need your food item to be grated, it will be a problem if you don't have a non-electric grater. So we suggest always to keep handy graters other than an electronic one.
7. Handy or Large
We spend much time of the day in the kitchen preparing food for our people, so definitely we need the elements over there to be good enough. Be it small or large, it should work well, small food grater like zester or Microplane grater are easy kept while the larger ones require more space, but there is not much to worry about, you can remove the container and keep it leaned on the wall.
Choose anything, according to your will, both are good.
8. Size and Shape of the Blade and Box
The holes of the grater are one crucial factor deciding the fate of the food which will be coming in contact with the grater.
If you choose a box grater, then you get four sides of it, the one with large holes, medium holes.
Small holes and the slicing slots, mainly for salad or potato slicing. There several shapes and sizes, choose accordingly.
Smaller holes for finely shredding of cheese like parmesan, or garlic and ginger.
The larger shedding holes are for mozzarella cheese grating.
The common ones are perfect for small shreds like shredding of potatoes and onions to decorate or use it in any way to decorate the cuisine.
9. Size of the Item Being Grated
This factor is the decider to choose which blade or greater to opt for. Since the size, shape, and texture, everything matters. You can never grate some nutmeg with a slicing slot or use a zester to slice the potato; both are irrelevant as both of them require separate shapes of holes to be shredded or grated.
Also, the orange or lemon peel is used as zest and can be grated by zester to make the best use, slicing it won't make sense, or even using larger-sized holes will do no justice to what we want. Therefore, always look for a straight blade for the size and what sort of item it is.
10. Box or Container Attached to the Greater
You can use any, it could be with a container or without it, and probably people choose without the box since they are easily usable by just keeping it in any plate or pot and start grating.
If you have a small kitchen and do not want to make it overcrowded by adding too many things, then it's better to go for a food grater that is without a container. Although there is no harm in buying the one including a box if you're okay to adjust it in the place, we urge you to buy according to space in your kitchen, choose things accordingly.
Wrapping It Up
In every house, it is unthinkable not to have a vegetable grater and each device has its specificities. The one you have at home must meet your exact needs and thus serve you optimally. The criteria to consider during your purchase, therefore, concern the intended use, the blades, the material of construction, and the necessary maintenance.
Would you like to acquire the appropriate model, but you do not have time to read our review? We present you with the two most popular choices of the moment. First of all, the Spring Chef Professional Box Grater is a very interesting model due to the fact that it is extremely sharp and offers four levels of grating your vegetables. Most of the elements that constitute it are made of stainless steel. Maintaining it also becomes easy with this material. This is the ideal grater if you want very fine, thin, or otherwise larger slices. In addition, the Moulinex DJ755G 150 W Grater is a robust device for those looking for an electric device.
Always look for at least these ten factors before opting for a food grater as it will make your choice capable and worthy. Things that come in handy are easily usable, require less space are efficient and productive, are easily cleaned, their materials, the purpose of the item, everything is essential and crucial.
A grater is an ultimate requirement in any house; hands can work efficiently and accurately the way food grater works. But yes, always be careful and stay alert while grating, it is prone to damage, but only if you aren't aware enough of it. Work as per the requirement, here we have mentioned all the essential details, be it the safety measures, their size or everything else.
---
Rate This Article