Duck Tongue Taste Reviews and Cooking Guides
Is Duck Tongue Edible?
Yes, duck tongue is edible and they are delicious! Ducks may be a reference to a variety of species in the waterfowl family Anatidae and it includes geese and swan too. When we look at the duck as food, it filters down to a few species found in both fresh and saltwater. One such duck species is the mallard, a freshwater duck. Other species of ducks whose tongue can be used in cooking are the pintail, canvasbacks, geese, spoonies a lot of other species. Let us look at why duck tongue is a delicacy in Chinese cuisine.
Why Do We Love Duck Tongue So Much?
A duck's tongue is a small, squirmy thing which is devoid of meat. It consists of few bones and some cartilage hedged in rubbery skin. Chinese are known for their weird flesh choices in their cuisine and duck's tongue is a special delicacy in Chinese cuisine. It is so special because of its smooth texture.
Chinese gastronomy believes that pleasure is derived from the overall sensory experience and they also believe that mouthfeel plays an important part along with aroma and taste. The rubbery texture, the soft mouthfeel and the delightful aroma all count for the uniqueness and specialty of duck tongue.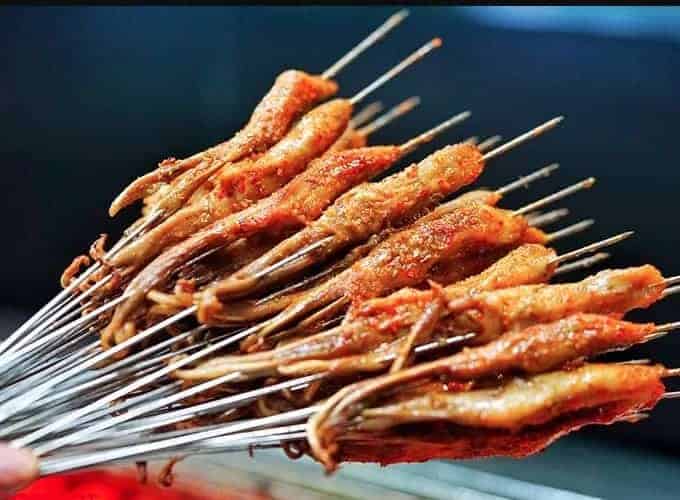 What Does Duck Tongue Taste Like?
Ever had the tingling taste or fantasized about eating a tongue? Duck tongue which is a delicacy in China may just be the right thing. It has a rich, super savory and fatty taste to it. Surrounded by slight flesh and paper-like thin layers of cartilage, duck tongues are juice packets of fat, neither meaty nor tough, neither greasy nor oily.
Though very small they are very rich in taste and Chinese love to experiment by cooking it in so many different ways. They are amazingly addictive when they are crispy on the outside and creamy inside with a fatty mouthfeel.
Another reason for them being so special in Chinese cuisine is their nutritional value and medicinal benefits every food item carries with them. Chinese are known to eat a wide variety of flesh and food, probably due to their curiosity to discover medicinal benefits of these food items or their need to feed themselves during the scarcity of other common eatables.
Chinese are particularly interested or are intrigued by texture. If the tongues are cooked right, you'll love the intense flavor and the fact that the fat just melts in your mouth.
How to Use Duck Tongues in Chinese cooking?
The idea of eating duck tongue may sound very strange to anyone outside of China but in Chinese cuisine its a delicacy, a small steamed, fried or skewed savory dumpling containing various fillings.
Unlike the tongue of other animals, duck tongues have a bone running in its central part but the good thing is its mostly cartilage so you can eat that too. Chinese use duck tongues in various ways.
Stir-fried Duck Tongues
As the duck tongue is relatively neutral in taste so it is generally combined with spices or sauces to get the flavor we need. To stir fry a duck tongue first it is generally washed and some people prefer to briefly boil it since according to them the duck tongue is dirty. One can combine it with oyster sauce, soy sauce or rice wine. Do this stir-frying in plenty of oil with spices of your choice. The important thing here is that the tongue should be crisp and dry. So when it is cooked it should be crispy on the outside and tender inside.
Deep-fried Duck Tongues
Alternatively, you can also deep fry a duck tongue to give it a rich taste and aroma. Combine it with thin coating of egg white, cornstarch and spices to make it crispy enough. When freshly fried they can be as addictive as the potato chips.
Duck Tongues Tacos
Who doesn't love tacos. If you like to munch on something so rich in taste then why not an amazing duck tongue taco. Best served with chili sauce. The duck tongue is poached in broth to make it tender. Tacos are great for snacking. Pair up the duck tongue taco with your favorite sauce and enjoy munching the soft and crispy bites.
Braised Duck Tongues
Fried in a container and then stewed slowly. You can combine this with your favorite sauces or add these braised duck tongues to fermented chili bean paste if you like to eat spicy food. Your flavors and the rich taste of duck tongue softly melting in your mouth is finger-licking good.
Where to Get Duck Tongues?
It is highly suggested to purchase ready-made duck tongue. It has duck tongue snacks in vacuum-sealed packages. Most of this snack is hot and chili. It is perfect for spicy and snack lovers.
Duck tongues products also can be got from deli shops. It is well-marinade and cooked. Purchasing from deli shop can save a lot of time if you want to have duck tongues. This kinds of duck tongues are like the taste of Soya Sauce Chicken with a crispy mouthfeel. It also has spicy marinated duck tongs.
Here are duck tongues that are offered on popular platforms with reasonable price and quality.
out of stock
as of September 15, 2023 1:41 am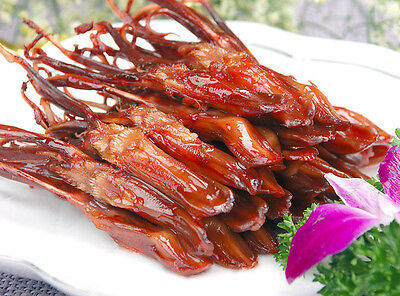 Is Eating Duck Tongues Healthy?
Wondering if this delicacy has some health benefits too? Or is it just healthy to eat a duck tongue? Don't worry about this exotic food with its amazing texture or mouthful causes no harm. It is rich in calories and fatty acids. This is considered benefitting to those recovering from some sort of illness or for pregnant women. A duck tongue is rich in Zinc, Iron, and Vitamin B12. The folate present in the flesh is considered to be beneficial for fertility and can help in avoiding fetal defects in babies.
If the duck tongue doesn't come with a bag full of benefits, it neither is harmful in any way. So whenever you get a chance to order a dish with duck tongue at a restaurant or you happen to be at some dim sum place in China, don't forget to try this amazing thing. For all those food lovers out there, it's an amazing savory you don't want to miss on.
Summary
Chinese love this nasty bite and we're sure you'd love it too. The intense taste of duck tongue with its flimsy texture and the way it just melts in your mouth will leave you addicted to it. Though it is rich in calories, gaining some won't cause much harm especially if its for a dish so amazing. A dish of duck tongue is a must-try if you ever visit China.
---
---
Rate This Article