How to Choose the Best Food Container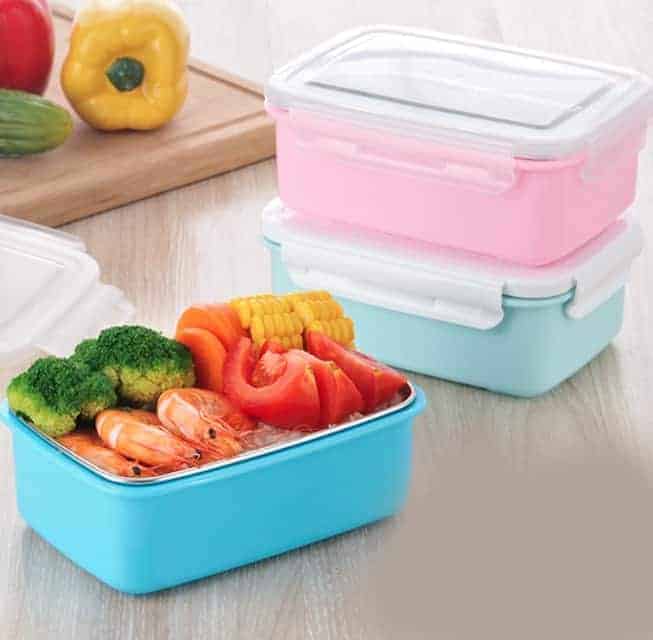 Top Best Food Container on Amazon
Last updated on January 17, 2021 4:48 am
Why You Should Pay Attention to Your Food Containers?
Hippocrates says: "Our food should be our medicine and our medicine should be our food". When food holds this much importance, you should give equal importance to the containers in which you store it. In our families, most of us have food containers in our refrigerators that we use for preserving and storing foods. Most food containers are available at low prices and are made of plastic. Of course, they offer the convenience of easy cleaning as well.
However, poor quality plastic containers can cause ill-effects to your health. So, here are some tips to help you with the selection of the best food container.
10 Factors to Consider When Buying Food Containers
1. Check Whether it is Oven Safe
At times, you feel like heating the food stored in the food container before consuming it. This is particularly true during colder seasons. So, check whether the container is oven safe. Only then, you can pre-heat your foods before consuming them. For most of the Chinese food, it is better to enjoy when it is hot, thus, if you use it for Asian food, the oven-safe is an essential factor.
2. The Brand is Important
Nowadays, branded food containers are available in the market. It is something that is going to handle your food. So, your health will be at concern, if you choose a poor-quality container. Going for a branded product will help avoid doubts about the quality of the product.
3. Consider the Type of Plastic
If you have decided to go for a plastic container, you should be particular about the type of plastic. Poor quality plastic can be harmful as mentioned earlier. So, here are the types of plastics you should know about:
This type of plastic is called polyethylene terephthalate or PETE. It is safe. However, this type of plastic is recommended for single-time usage only. The reason is that it capable of accumulating bacteria on the surface.
This type of plastic is referred to as HDPE and it is considered relatively safe. The reason is its ability to accumulate bacteria is low. Nevertheless, the con of this material is its milky color. This type of plastic container can be used for water, juice, and milk.
This type of plastic, otherwise, called PVC is dangerous to use. It is known to cause infertility issues when used continuously for storing foods and drinks for long. It is known to contribute to infertility by inhibiting hormone production.
Both these are more or less similar in functions and structure. The former is generally used for producing all types of food wrap film and wrapping paper. The latter is used in making plastic food storage containers and bottles. Both of these types are safe for human health. However, make sure to purchase containers with number 5 on the surface. It will help you prevent toxicity.
This type is more or less similar to type 1. The reason is that it is used for preparing containers for a single-time use. Nevertheless, this type has harmful substances that affect human health. The reason is that when the container made out of type 6 plastic is subjected to high temperature it will start to immerse into the food.
It is a combination of BPA and Polycarbonate. It is widely used for food packing. The reason is that it contains substances that do not have any effect on human health.
If you have decided to choose a plastic food storage container, make sure to choose types 2, 4 or 5. However, when you go for this material, it is better to restrict the exposure to heat sources. The reason is that foods stored in a plastic container when heated can turn toxic.
4. Consider Longevity
When you choose less-expensive containers to store foods, they tend to create odor. Even, they can break quickly as compared to high-quality containers. So, if you are particular that your investment should stay longer, you should go for a quality product and avoid low-cost variants.
5. Stackability
In case, you plan to shop for more than a single container, you should be able to store them all without occupying much space. So, consider whether you can stack them one above the other. This is a space-saving feature for storing in the refrigerator as well.
6. Dishwasher Safety
If you are a busy person, you cannot wash the container every time after use. When the container turns out to be dishwasher safe, you can easily get it washed along with other utensils in your dishwasher. So, consider your dishwasher, so that you can easily wash your food containers.
7. Stain and Odor Resistance
Some foods tend to stain the container. If stains are present, you might feel uncomfortable to use the container. So, it is better to check whether the container that you plan to choose has stain resistance and even odor resistance features.
8. Looks and Design
Irrespective of whether you look for the food container for home storage or you plan to get it for carrying foods to your office, you should consider the looks and the design. But if you want o store seal, you can simply choose a cereal dispenser which functions as a food container as well. Nowadays, containers come with floral designs and attractive looks.
9. Size and Shape Matters
When you get food containers in sets, you will get them in different sizes starting from smaller to bigger ones that look similar in design. If you need the same type of container in different sizes, you can look for such sets. In the same way, the shape also matters. The containers come in different shapes like square, oval, rectangle, etc. So, you can consider the shape as a factor in selecting the container for storing food.
10. Lid System
Yes, airtight containers can withstand the freshness of foods for long as you know. So, the lid system used should be given the utmost importance when you shop for food containers. The lids snap together in some models and they do not let foods spill out even when you travel.
Summary
Your health begins with the foods you consume. So, you should give the best importance to the food containers you shop in. You can take the tips given above and can end up with the best container for storing your foods fresh and healthy for long.
---
---
Rate This Article