How to Choose the Best Kitchen Glove?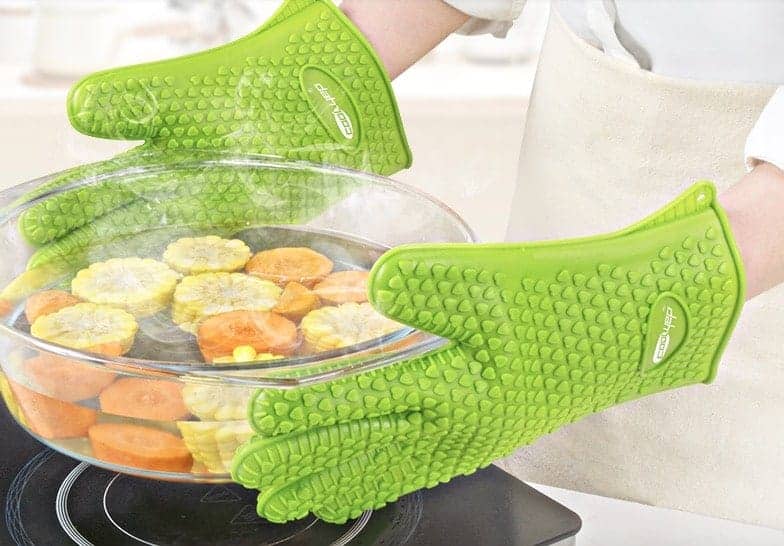 Top Best Kitchen Gloves Based on Reviews and Price
Last updated on September 18, 2021 3:59 am
Why You Need a Good Kitchen Gloves?
An attractive kitchen quote reads "If you organize your kitchen, you can organize your life". When it comes to keeping things organized in your kitchen, different things are to be done. For instance, having the best kitchen glove handy is one of the ways to organize your activities in the kitchen.
As you know, using gloves will help with protecting your hands from heat. Even, some people use them for protecting themselves from extreme cold dealing with water during cold climatic conditions. If you are thinking about buying the right kitchen glove, you will have to consider different factors. Here are a few of them to consider:
Top 10 Factors to Consider Before Buying Kitchen Gloves
1. Consider the Types of Materials Used in Cleaning Gloves
Just in case, you plan to buy cleaning gloves for your kitchen, you should be aware of some details about the different materials used in making cleaning gloves. Some of the examples include:
If you are new to the term latex, you might have heard it like a rubber. In dishwashing gloves, latex is the most commonly used material. The good thing about latex is that it is biodegradable and cheap. So, you can affordably buy a kitchen glove with a latex material.
The chemical and water-resistant properties of latex and its utmost durable properties make it the ideal choice when it comes to dishwashing gloves. However, latex does not suit all and some people might be allergic to this material as mentioned earlier. Also, if not properly cared for, it can fade over time. Also, you cannot use it with oils.
Nitrile is a synthetic rubber copolymer material. This is the best alternative to Latex, thereby making it the ideal choice for those with latex allergy. The good thing about this material is that it is resistant to abrasion, puncture, solvents, and oil. These features make it the best choice for cleaning gloves. However, this material does not go with certain organic solvents and ketones.
Vinyl is also an alternative to latex. The good thing about this material is that it is resistant to high temperatures, certain chemicals and cracking. Otherwise called PVC as vinyl is an anti-static polyvinyl polymer material. Further, it is friendly to the environment as well. However, vinyl is not durable like latex and nitrile as it is prone to leakage.
2. Usage and Purpose
The purpose for which you wish to buy the kitchen glove is the first factor to consider. The reason is that this glove is available in the market for different purposes.
For instance, you will come across cleaning gloves, cooking gloves, disposable gloves, and dishwashing gloves. So, the first thing you should decide is the purpose for which you need the gloves. Then, you can accordingly make your move with the selection of a suitable option.
3. Heat Resistance
When you plan to buy cooking gloves, you will have to consider whether the kitchen glove is heat resistant. When this feature is not available, the glove will scare if you accidentally touch any hot utensils with boiling water or other substances.
This feature will ensure flexibility in use. If it turns out to be a multipurpose glove, not just during cooking, you can use it even when you will have to wash an oily pan in hot water to get rid of oily substance. In addition to heat resistance, some gloves also offer fire resistance, which will be of great help when you will be engaged in BBQ cooking.
4. Can the Glove Resist Cutting?
When you are engaged in cooking, you will have to cut vegetables and even meat at times. In these instances, when the kitchen glove is cut-resistant, it will be safe on your hands. This feature will help even if you use this multipurpose kitchen glove when washing utensils. The reason is that some utensils might have sharp edges and handling them safely will become possible with this feature of the glove.
5. Will the Glove Keep Your Hands Free of Wetness?
Some people perspire a lot when they use hand gloves. When your palm perspires, there are chances that the glove will slip from your palm or you might feel uncomfortable when using the glove with wetness inside. So, it would be better to check whether the glove will absorb the wetness within. In other words, it should have a water-resistant coating inside as well similar to the exterior part.
For instance, when the glove has a latex covering on the interior part, it will provide a protective layer inside. This layer will protect your palm from wetness, thereby helping you feel comfortable all through the cooking process.
6. Skin-friendly Material
As you can very well understand that you are going to wear the kitchen glove close to your skin in the palm. So, the glove should be skin-friendly. Only then, you can use it for long without fearing any sort of irritation and other skin problems.
To ensure the skin-friendliness, you should have a look at the specifications to know whether the material used in the interior of the glove will be safe like cotton. The thing to remember here is that latex is allergic to some individuals. Due to the severity and prevalence of latex allergies, manufacturers generally specify in the product label that their glove is latex-free.
Another good indicator if you have sensitive skin is to see whether the product description says that the product is phthalate and BPA-free. When you plan to buy a dishwasher glove, vinyl is one of the materials for individuals with skin allergies. Vinyl material is used mainly for helping people with sensitive skin and skin allergies.
7. Tips of the Best Materials for Food Prep Gloves
Just, in case, you plan to buy kitchen glove that you plan to use for cooking, you should be aware of the materials that will be suitable for food preparation. Here are the details to help you with arriving at the right decision:
When it comes to food prep gloves, nitrile, vinyl, latex and polyethylene are suitable materials. These are the popular materials used in kitchen gloves these days. So, your selection will become easier.
As you look for food prep gloves for your kitchen, it is better to keep away from the ones that are made using Neoprene material. Also, avoid latex if you are allergic to this material.
If you will be frequently changing the gloves during your food preparation process, it is better to choose the ones with poly material. This type of glove will help with food prep tasks that do not need a high level of dexterity.
If your food preparation task needs more fingertip use, you can choose the ones with vinyl material.
If you are not allergic and if you are a person interested in choosing an eco-friendly kitchen glove, the best thing you can do is to choose the one that is made using latex material. Mostly, latex gloves are made using renewable resources.
If you wish to buy kitchen gloves for single-use tasks, you can choose powder-free white latex gloves.
8. Consider the Length of the Kitchen Gloves
The length of the gloves you buy will decide the comfort level you will get in using. You will come across gloves in cuff lengths and other standard sizes when it comes to gloves for dishwashing. It will provide better coverage and protection.
Even, some brands produce dishwashing gloves that come in shoulder and elbow-length. It means that it will provide complete protection from soaking as well.
9. Better grip
Only when the kitchen glove offers better grip, it will be easier to handle them the utensils that you use for cooking or even for dishwashing. When the glove prevents you from holding plates when cleaning, you might not feel like using the glove anymore.
To ensure non-slippery nature, dishwashing gloves generally come with anti-skid patches, bristles, patterns and ridges on the palm and finger area. When you choose the gloves with bristles, they will extend as sponges and gloves, which, in turn, will bring more convenience in washing dishes.
10. Should You Need See-through Gloves?
As you plan to buy a kitchen glove, you should decide whether you need see-through gloves. As the name implies, you can see your fingers placed within the gloves clearly. See-through gloves are generally made using high-density polyethylene and will be comfortable for most users. Mostly, they come with angle-cut cuffs.
When this feature is present, you can easily use them on and off. In some instances, you will have to change gloves between tasks. For instance, you might not be interested in using the same gloves when you will have to cut vegetables after cutting meat.
Wrapping It Up
A kitchen glove is truly the best companion for any task in your kitchen. You can consider the factors mentioned above in the selection of the best gloves based on whether you need them for cooking, dishwashing or other tasks in your kitchen. The right selection will ensure better longevity and safe use.
---
Rate This Article