Jellyfish Taste Reviews and Cooking Guides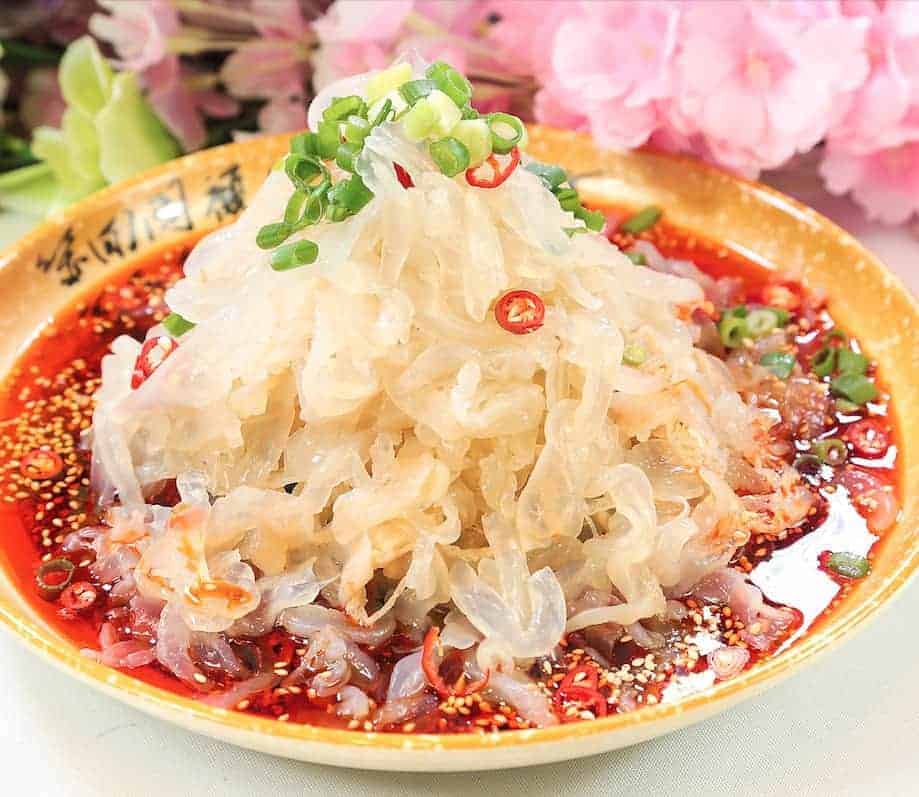 Why Is Jellyfish Popular in Chinese Cooking?
If you live in Europe or the US, chances are the mention of jellyfish would sooner make you think of a painful encounter at sea rather than a nice meal.
However, if you're already familiar with Chinese cuisine, be it by living in China or its periphery, or out of personal interest, you will recognize this ingredient as a great addition to any table and a downright staple of Chinese banquets, in which it is almost always served as an appetizer at the beginning of a full course meal.
The unique, superb texture it brings to the palate is the reason this apparently odd item of seafood is now a favorite among both locals and foreign Chinese cooking enthusiasts.
Despite becoming less and less expensive over the past few decades, jellyfish is still considered somewhat of a delicacy in most of Southeast Asia and Japan. It's been that way for hundreds of years, but nowadays it's a far more common sight on the average family's table.
How Does Jellyfish Taste Like?
The taste of the jellyfish itself is usually described as very mild. If you're not especially partial to it, you'd be forgiven for finding it somewhat bland.
Though it sometimes retains a tinge of saltiness from the curing process it generally undergoes before finding its way to the kitchen table, more often than not it simply takes on the flavor of whatever ingredients it's prepared with. Usually, it's served with sesame oil, chili flakes or a vinegar and garlic marinade.
What truly shines about jellyfish is its unique texture: Soft on the tongue, while retaining a fresh kind of crisp. It's also firmer that you might expect at first glance! As you bite into it, that firmness slowly gives in, a bit like gelatin would.
It's this complex, unique and multifaceted consistency that makes jellyfish such an enticing element to cook with. Its neutral taste makes it a wonderful vehicle for whatever flavors the cook wants to shine in the final product. So, even if the flavor itself is not much to talk about, in the right hands this exotic fruit of the sea will be nothing short of a tactile delight.
How to Use Jellyfish in Chinese Cooking?
Despite the inclusion of jellyfish being the main apparent feature of any course that has it, you shouldn't think of it as the main ingredient for flavor. Instead, think of it as something akin to noodles. Both depend on other elements in order to truly shine.
In Chinese cuisine, this is done with a variety of marinades and sauces that can produce some truly sublime results when paired with this seawater delight. Cooking with jellyfish is all about finding the right balance between the meat's delicate and delicious texture and the flavors it's accompanied by.
Because jellyfish are about 95% water, your options in regards to the actual cooking can be a bit limited. For example, leaving it on a grill would just make it shrivel until there was nothing but tiny pieces. For this reason, there are only a few ways jellyfish can be used. Most of them involve cooking with wet heat, if at all.
Jellyfish Recipes
Jellyfish Salad
The classic jellyfish salad is the most common use of jellyfish in China, often as a delicate entree in a restaurant. However, thanks to its relatively easy preparation, it's not too odd a sight at the common household table.
It's served at room temperature or even chilled, which further highlights the crisp of the jellyfish.
You can find a myriad of recipes online for this popular dish, most of which include sesame oil, rice vinegar, and soy sauce. This combination brings a very refreshing feel to the palate, which makes great to eat during the hot summer months.
More elaborate versions include chili oil and sesame seeds. The spicier finish and subtle garnish make it an overall more interesting dish.
If you want the jellyfish to remain crisp for longer after serving, it's advisable to blanch it after rinsing the salt off. This will keep your slices from becoming soggy quite as fast.
Grilled Jellyfish
Despite the issues with dry heat, some places in Thailand offer "grilled" jellyfish as popular street food. They use the tentacles as opposed to the bell, which is the part most often consumed in China and the rest of the world, and serve it dipped in seasoning after very short cooking times to help it keep its moisture.
The result is a partially raw skewer that tastes entirely like the seasoning and has a rubbery, chewy texture to it.
Cold Servings
Aside from the regular jellyfish salad, there are a few other less common ways to serve jellyfish, either raw or blanched.
In sushi restaurants, you can often find spicy marinated jellyfish as a side-dish, and some places even have jellyfish tempura on their menu. It is also served in some bars in China alongside cucumber strips as a drinking snack or in large pieces for dipping.
Another interesting use of this unique ingredient is found in modern iterations of the Yusheng Salad, a famous Cantonese-style salad eaten in Southeast Asia during the Chinese New Year festivities to invite prosperity into people's households.
Is Jellyfish Healthy?
Given their reputation as dangerous sea creatures, it's natural for some people to be reluctant to try jellyfish.
However, as long as you get your produce from a trustworthy source – preferably already salt-dried and in sealed bags – you can rest assured there will be no risk to your health whatsoever. All commercially available jellyfish comes from one of the many edible species, and as long as you properly refrigerate the meat after re-hydrating it, the chances of harmful toxins or bacteria making it to your table are none.
As a matter of fact, you most likely stand to gain from adding jellyfish to your diet.
For starters, it has almost no calories. One cup of dried jellyfish only has around 20! It has no carbohydrates or saturated fats, and it's about 80% protein, which makes it ideal for weight loss. It's also likely to have a positive impact on your joints and connective tissue due to its high collagen concentration.
Final Thoughts
All things considered, jellyfish is always an exciting addition to any cook's repertoire, and you don't need much previous experience to properly prepare it. It'd be hard to find another ingredient quite so unique and palatable to experiment with that's also so easy to include in any diet.
If you are passionate about Chinese Cuisine and you're feeling adventurous, it's an absolute no-brainer to try your hand at cooking with this exotic fish and create a memorable experience for yourself and your loved ones!
---
Rate This Article